The word "obey" appears 170 times throughout the books of the Bible. The graph below shows the locations of each appearance. It begins with Genesis in the top left and concludes with Revelation in the bottom right.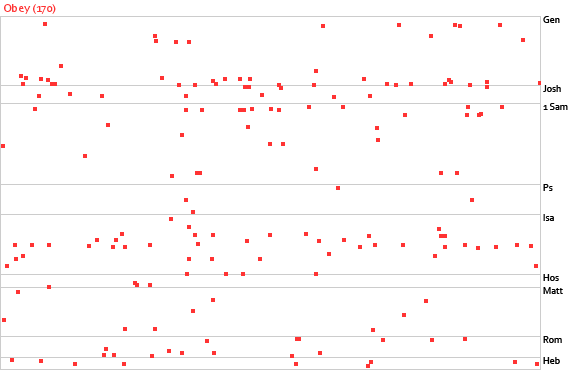 Here are the 40 most powerful Bible scriptures on obeying God.
John 14:15
"If you love me, you will keep my commandments."
Luke 11:28
But he said, "Blessed rather are those who hear the word of God and keep it!"
Acts 5:29
But Peter and the apostles answered, "We must obey God rather than men."
Psalm 119:105
Your word is a lamp to my feet and a light to my path.
John 3:36
"Whoever believes in the Son has eternal life; whoever does not obey the Son shall not see life, but the wrath of God remains on him."
1 Peter 1:14
As obedient children, do not be conformed to the passions of your former ignorance.
1 Samuel 15:22
And Samuel said, "Has the Lord as great delight in burnt offerings and sacrifices, as in obeying the voice of the Lord? Behold, to obey is better than sacrifice, and to listen than the fat of rams."
2 Chronicles 7:14
If my people who are called by my name humble themselves, and pray and seek my face and turn from their wicked ways, then I will hear from heaven and will forgive their sin and heal their land.
2 Corinthians 10:5
We destroy arguments and every lofty opinion raised against the knowledge of God, and take every thought captive to obey Christ.
2 John 1:6
And this is love, that we walk according to his commandments; this is the commandment, just as you have heard from the beginning, so that you should walk in it.
2 Timothy 3:16
All Scripture is breathed out by God and profitable for teaching, for reproof, for correction, and for training in righteousness.
Acts 17:11
Now these Jews were more noble than those in Thessalonica; they received the word with all eagerness, examining the Scriptures daily to see if these things were so.
Acts 4:12
And there is salvation in no one else, for there is no other name under heaven given among men by which we must be saved.
Ephesians 6:17
And take the helmet of salvation, and the sword of the Spirit, which is the word of God.
Exodus 19:5
"Now therefore, if you will indeed obey my voice and keep my covenant, you shall be my treasured possession among all peoples, for all the earth is mine."
Ezekiel 18:9
"Walks in my statutes, and keeps my rules by acting faithfully—he is righteous; he shall surely live," declares the Lord God.
Galatians 3:11
Now it is evident that no one is justified before God by the law, for "The righteous shall live by faith."
Genesis 1:28
And God blessed them. And God said to them, "Be fruitful and multiply and fill the earth and subdue it and have dominion over the fish of the sea and over the birds of the heavens and over every living thing that moves on the earth."
Genesis 26:5
"Because Abraham obeyed my voice and kept my charge, my commandments, my statutes, and my laws."
Hebrews 13:16
Do not neglect to do good and to share what you have, for such sacrifices are pleasing to God.
Hebrews 4:12
For the word of God is living and active, sharper than any two-edged sword, piercing to the division of soul and of spirit, of joints and of marrow, and discerning the thoughts and intentions of the heart.
James 1:22
But be doers of the word, and not hearers only, deceiving yourselves.
James 1:27
Religion that is pure and undefiled before God, the Father, is this: to visit orphans and widows in their affliction, and to keep oneself unstained from the world.
John 14:21
"Whoever has my commandments and keeps them, he it is who loves me. And he who loves me will be loved by my Father, and I will love him and manifest myself to him."
John 14:23
Jesus answered him, "If anyone loves me, he will keep my word, and my Father will love him, and we will come to him and make our home with him."
John 14:6
Jesus said to him, "I am the way, and the truth, and the life. No one comes to the Father except through me."
John 3:16
For God so loved the world, that he gave his only Son, that whoever believes in him should not perish but have eternal life.
Luke 13:3
"No, I tell you; but unless you repent, you will all likewise perish."
Luke 16:13
"No servant can serve two masters, for either he will hate the one and love the other, or he will be devoted to the one and despise the other. You cannot serve God and money."
Luke 6:46
"Why do you call me 'Lord, Lord,' and not do what I tell you?"
Mark 16:16
"Whoever believes and is baptized will be saved, but whoever does not believe will be condemned."
Matthew 22:21
They said, "Caesar's." Then he said to them, "Therefore render to Caesar the things that are Caesar's, and to God the things that are God's."
Matthew 6:24
"No one can serve two masters, for either he will hate the one and love the other, or he will be devoted to the one and despise the other. You cannot serve God and money."
Psalm 103:20
Bless the Lord, O you his angels, you mighty ones who do his word, obeying the voice of his word!
Psalm 119:9
How can a young man keep his way pure? By guarding it according to your word.
Psalm 145:8
The Lord is gracious and merciful, slow to anger and abounding in steadfast love.
Romans 13:1
Let every person be subject to the governing authorities. For there is no authority except from God, and those that exist have been instituted by God.
Romans 5:19
For as by the one man's disobedience the many were made sinners, so by the one man's obedience the many will be made righteous.
Romans 6:22
But now that you have been set free from sin and have become slaves of God, the fruit you get leads to sanctification and its end, eternal life.
Titus 3:1
Remind them to be submissive to rulers and authorities, to be obedient, to be ready for every good work.
More Bible Verses that Will Move You
50 Most Powerful Scriptures on Faith
60 Transcendent Verses on Trust
50 Strong Scriptures on Perseverance
68 Powerful Verses on Forgiveness
40 Uplifting Scriptures on Patience
Add Our Infographic Below to Your Pinterest Board
Hit the pin button below to add our infographic, with all the verses, to one of your Pinterest boards.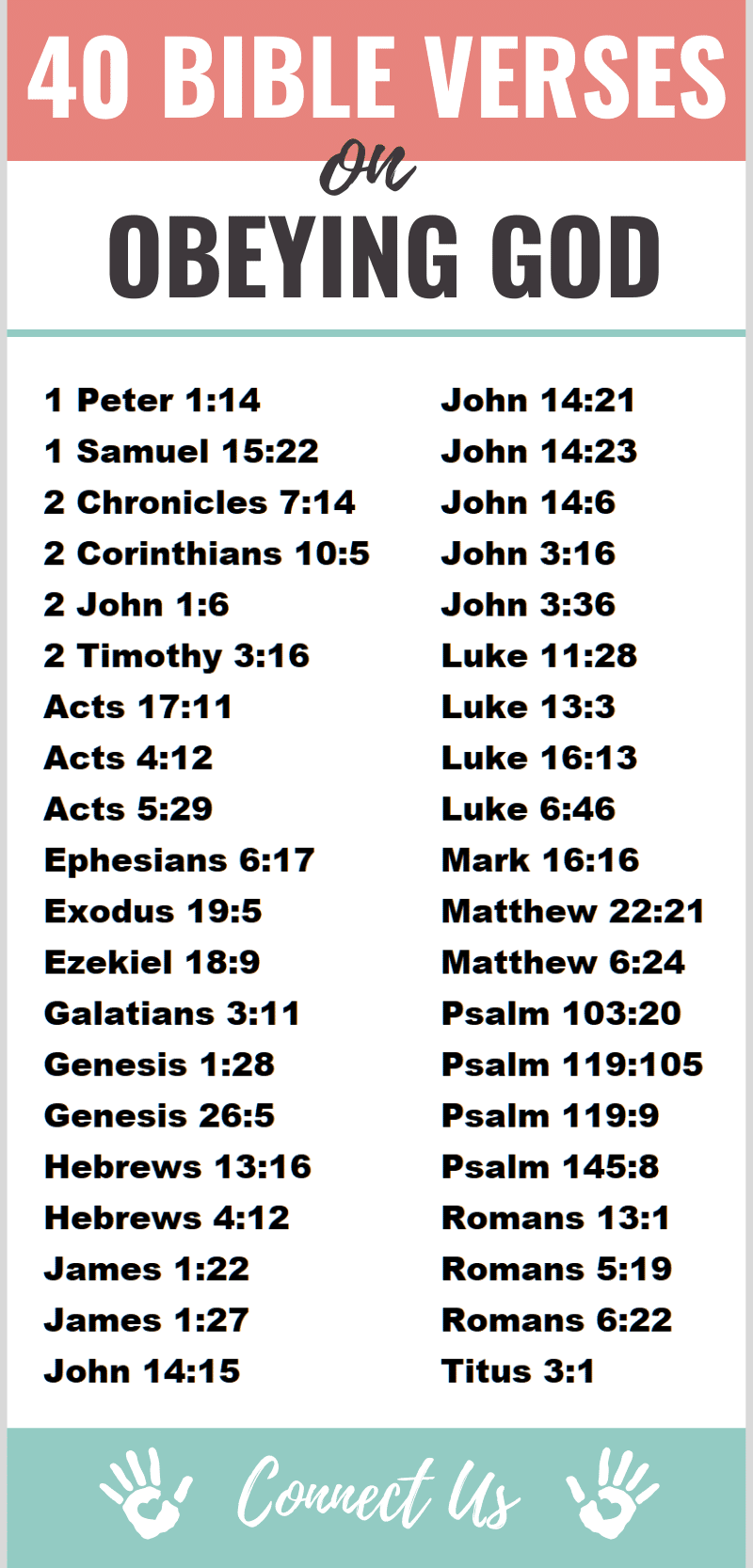 Author Bio
Natalie Regoli is a child of God, devoted wife, and mother of two boys. She has a Master's Degree in Law from The University of Texas. Natalie has been published in several national journals and has been practicing law for 18 years.