Here are the 40 most powerful Bible scriptures on being like Christ.
1 John 2:6
Whoever says he abides in him ought to walk in the same way in which he walked.
1 Corinthians 11:1
Be imitators of me, as I am of Christ.
1 Peter 2:21
For to this you have been called, because Christ also suffered for you, leaving you an example, so that you might follow in his steps.
John 14:15
"If you love me, you will keep my commandments."
Romans 8:29
For those whom he foreknew he also predestined to be conformed to the image of his Son, in order that he might be the firstborn among many brothers.
1 John 2:29
If you know that he is righteous, you may be sure that everyone who practices righteousness has been born of him.
1 John 3:2
Beloved, we are God's children now, and what we will be has not yet appeared; but we know that when he appears we shall be like him, because we shall see him as he is.
1 John 3:7
Little children, let no one deceive you. Whoever practices righteousness is righteous, as he is righteous.
1 John 4:15
Whoever confesses that Jesus is the Son of God, God abides in him, and he in God.
1 John 4:17
By this is love perfected with us, so that we may have confidence for the day of judgment, because as he is so also are we in this world.
1 Peter 2:9
But you are a chosen race, a royal priesthood, a holy nation, a people for his own possession, that you may proclaim the excellencies of him who called you out of darkness into his marvelous light.
2 Corinthians 2:14
But thanks be to God, who in Christ always leads us in triumphal procession, and through us spreads the fragrance of the knowledge of him everywhere.
2 Corinthians 3:18
And we all, with unveiled face, beholding the glory of the Lord, are being transformed into the same image from one degree of glory to another. For this comes from the Lord who is the Spirit.
2 Corinthians 5:17
Therefore, if anyone is in Christ, he is a new creation. The old has passed away; behold, the new has come.
Ephesians 2:10
For we are his workmanship, created in Christ Jesus for good works, which God prepared beforehand, that we should walk in them.
Ephesians 5:1
Therefore be imitators of God, as beloved children.
Ephesians 5:2
And walk in love, as Christ loved us and gave himself up for us, a fragrant offering and sacrifice to God.
Galatians 2:20
I have been crucified with Christ. It is no longer I who live, but Christ who lives in me. And the life I now live in the flesh I live by faith in the Son of God, who loved me and gave himself for me.
Galatians 3:27
For as many of you as were baptized into Christ have put on Christ.
Hebrews 12:2
Looking to Jesus, the founder and perfecter of our faith, who for the joy that was set before him endured the cross, despising the shame, and is seated at the right hand of the throne of God.
John 15:12
"This is my commandment, that you love one another as I have loved you."
John 15:20
"Remember the word that I said to you: 'A servant is not greater than his master.' If they persecuted me, they will also persecute you. If they kept my word, they will also keep yours."
John 3:16
For God so loved the world, that he gave his only Son, that whoever believes in him should not perish but have eternal life.
John 3:30
"He must increase, but I must decrease."
Luke 6:40
"A disciple is not above his teacher, but everyone when he is fully trained will be like his teacher."
Luke 6:46
"Why do you call me 'Lord, Lord,' and not do what I tell you?"
Matthew 11:29
"Take my yoke upon you, and learn from me, for I am gentle and lowly in heart, and you will find rest for your souls."
Matthew 5:48
"You therefore must be perfect, as your heavenly Father is perfect."
Philippians 1:6
And I am sure of this, that he who began a good work in you will bring it to completion at the day of Jesus Christ.
Philippians 2:5
Have this mind among yourselves, which is yours in Christ Jesus.
Philippians 4:13
I can do all things through him who strengthens me.
Philippians 4:19
And my God will supply every need of yours according to his riches in glory in Christ Jesus.
Psalm 17:15
As for me, I shall behold your face in righteousness; when I awake, I shall be satisfied with your likeness.
Romans 10:9
Because, if you confess with your mouth that Jesus is Lord and believe in your heart that God raised him from the dead, you will be saved.
Romans 12:2
Do not be conformed to this world, but be transformed by the renewal of your mind, that by testing you may discern what is the will of God, what is good and acceptable and perfect.
Romans 5:8
But God shows his love for us in that while we were still sinners, Christ died for us.
Romans 6:11
So you also must consider yourselves dead to sin and alive to God in Christ Jesus.
Romans 6:4
We were buried therefore with him by baptism into death, in order that, just as Christ was raised from the dead by the glory of the Father, we too might walk in newness of life.
Romans 8:28
And we know that for those who love God all things work together for good, for those who are called according to his purpose.
Zephaniah 3:17
The Lord your God is in your midst, a mighty one who will save; he will rejoice over you with gladness; he will quiet you by his love; he will exult over you with loud singing.
More Bible Verses that Will Move You
50 Most Powerful Scriptures on Faith
60 Transcendent Verses on Trust
50 Strong Scriptures on Perseverance
68 Powerful Verses on Forgiveness
40 Uplifting Scriptures on Patience
Add Our Infographic Below to Your Pinterest Board
Hit the pin button below to add our infographic, with all the verses, to one of your Pinterest boards.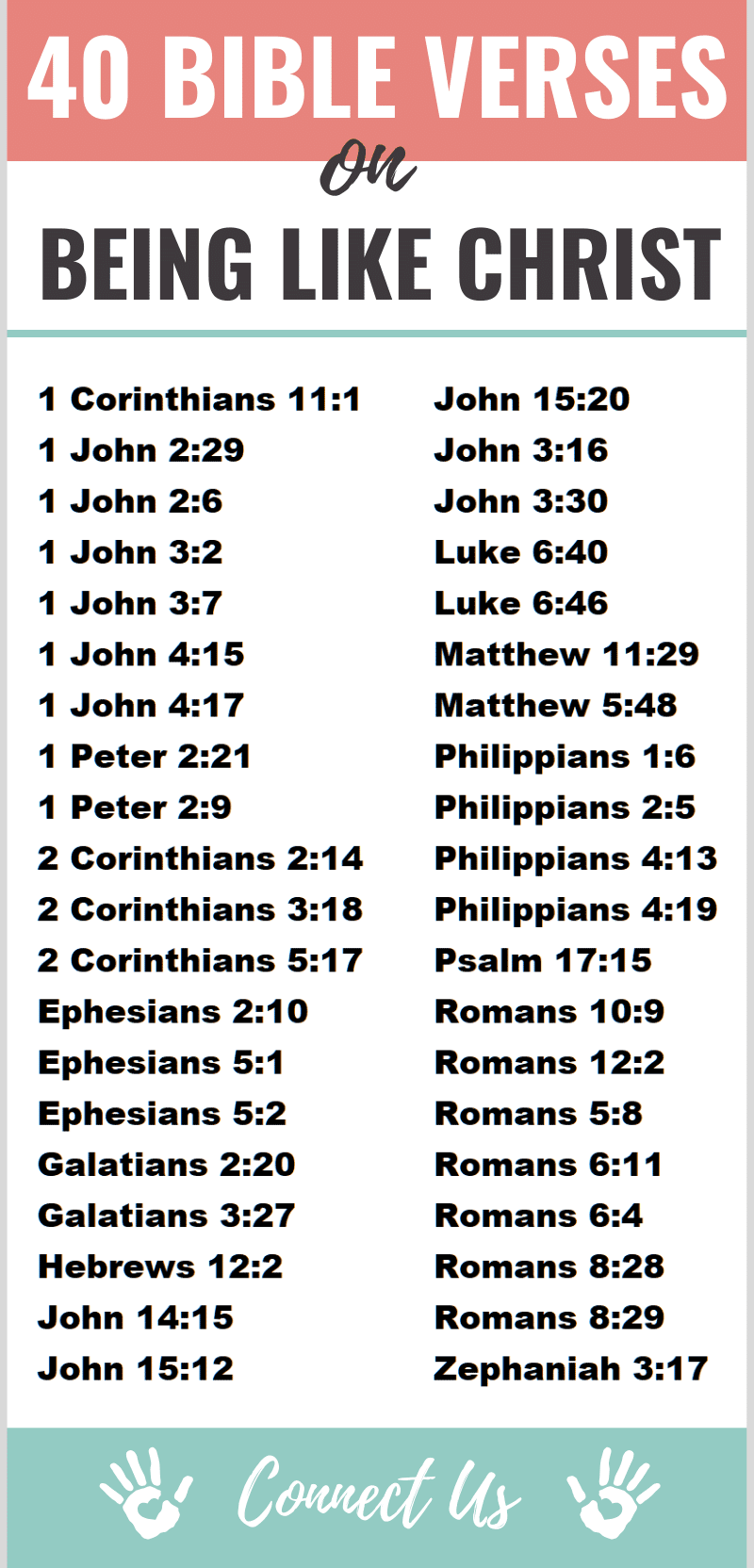 Author Bio
Natalie Regoli is a child of God, devoted wife, and mother of two boys. She has a Master's Degree in Law from The University of Texas. Natalie has been published in several national journals and has been practicing law for 18 years.