The word "bitter" appears 88 times throughout the books of the Bible. The graph below shows the locations of each appearance. It begins with Genesis in the top left and concludes with Revelation in the bottom right.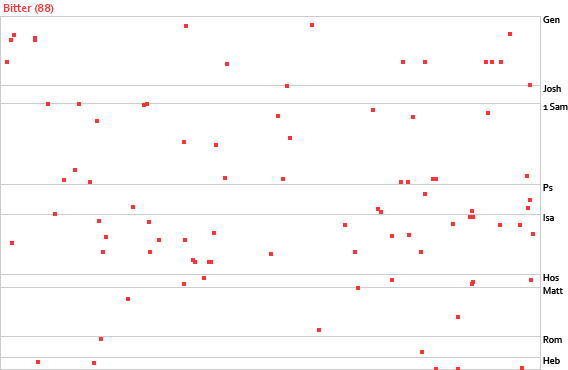 Here are the 40 most powerful Bible scriptures on bitterness.
Hebrews 12:15
See to it that no one fails to obtain the grace of God; that no "root of bitterness" springs up and causes trouble, and by it many become defiled.
Ephesians 4:31
Let all bitterness and wrath and anger and clamor and slander be put away from you, along with all malice.
Acts 8:23
For I see that you are in the gall of bitterness and in the bond of iniquity.
Ephesians 4:26
Be angry and do not sin; do not let the sun go down on your anger.
Romans 3:14
"Their mouth is full of curses and bitterness."
1 Corinthians 14:20
Brothers, do not be children in your thinking. Be infants in evil, but in your thinking be mature.
1 Corinthians 5:8
Let us therefore celebrate the festival, not with the old leaven, the leaven of malice and evil, but with the unleavened bread of sincerity and truth.
1 John 1:9
If we confess our sins, he is faithful and just to forgive us our sins and to cleanse us from all unrighteousness.
1 Peter 2:1
So put away all malice and all deceit and hypocrisy and envy and all slander.
1 Samuel 1:10
She was deeply distressed and prayed to the Lord and wept bitterly.
1 Samuel 15:32
Then Samuel said, "Bring here to me Agag the king of the Amalekites." And Agag came to him cheerfully. Agag said, "Surely the bitterness of death is past."
1 Samuel 30:6
And David was greatly distressed, for the people spoke of stoning him, because all the people were bitter in soul, each for his sons and daughters. But David strengthened himself in the Lord his God.
2 Samuel 2:26
Then Abner called to Joab, "Shall the sword devour forever? Do you not know that the end will be bitter? How long will it be before you tell your people to turn from the pursuit of their brothers?"
Colossians 3:13
Bearing with one another and, if one has a complaint against another, forgiving each other; as the Lord has forgiven you, so you also must forgive.
Colossians 3:8
But now you must put them all away: anger, wrath, malice, slander, and obscene talk from your mouth.
Ecclesiastes 7:9
Be not quick in your spirit to become angry, for anger lodges in the bosom of fools.
Ephesians 4:32
Be kind to one another, tenderhearted, forgiving one another, as God in Christ forgave you.
Ezekiel 27:31
They make themselves bald for you and put sackcloth on their waist, and they weep over you in bitterness of soul, with bitter mourning.
Ezekiel 3:14
The Spirit lifted me up and took me away, and I went in bitterness in the heat of my spirit, the hand of the Lord being strong upon me.
Hebrews 10:30
For we know him who said, "Vengeance is mine; I will repay." And again, "The Lord will judge his people."
Isaiah 38:15
What shall I say? For he has spoken to me, and he himself has done it. I walk slowly all my years because of the bitterness of my soul.
Isaiah 38:17
Behold, it was for my welfare that I had great bitterness; but in love you have delivered my life from the pit of destruction, for you have cast all my sins behind your back.
James 1:19
Know this, my beloved brothers: let every person be quick to hear, slow to speak, slow to anger.
James 3:14
But if you have bitter jealousy and selfish ambition in your hearts, do not boast and be false to the truth.
Job 10:1
I loathe my life; I will give free utterance to my complaint; I will speak in the bitterness of my soul.
Job 21:25
Another dies in bitterness of soul, never having tasted of prosperity.
Job 7:11
Therefore I will not restrain my mouth; I will speak in the anguish of my spirit; I will complain in the bitterness of my soul.
Job 9:18
He will not let me get my breath, but fills me with bitterness.
Lamentations 3:15
He has filled me with bitterness; he has sated me with wormwood.
Mark 11:25
"And whenever you stand praying, forgive, if you have anything against anyone, so that your Father also who is in heaven may forgive you your trespasses."
Proverbs 10:12
Hatred stirs up strife, but love covers all offenses.
Proverbs 14:10
The heart knows its own bitterness, and no stranger shares its joy.
Proverbs 15:1
A soft answer turns away wrath, but a harsh word stirs up anger.
Proverbs 15:18
A hot-tempered man stirs up strife, but he who is slow to anger quiets contention.
Proverbs 17:25
A foolish son is a grief to his father and bitterness to her who bore him.
Proverbs 19:11
Good sense makes one slow to anger, and it is his glory to overlook an offense.
Proverbs 20:22
Do not say, "I will repay evil"; wait for the Lord, and he will deliver you.
Psalm 37:8
Refrain from anger, and forsake wrath! Fret not yourself; it tends only to evil.
Romans 12:2
Do not be conformed to this world, but be transformed by the renewal of your mind, that by testing you may discern what is the will of God, what is good and acceptable and perfect.
Romans 5:8
But God shows his love for us in that while we were still sinners, Christ died for us.
More Bible Verses that Will Move You
50 Most Powerful Scriptures on Faith
60 Transcendent Verses on Trust
50 Strong Scriptures on Perseverance
68 Powerful Verses on Forgiveness
40 Uplifting Scriptures on Patience
Add Our Infographic Below to Your Pinterest Board
Hit the pin button below to add our infographic, with all the verses, to one of your Pinterest boards.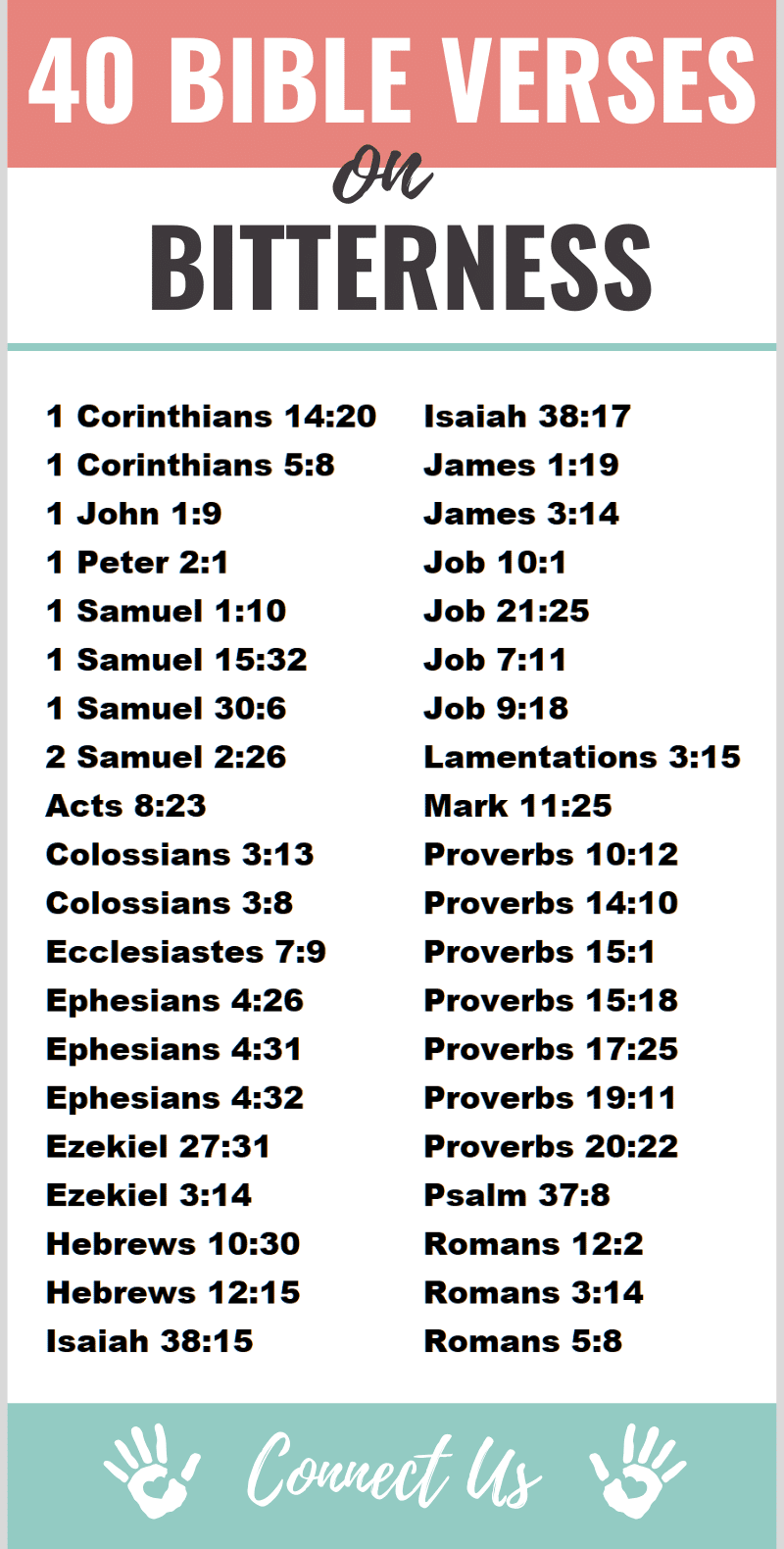 Author Bio
Natalie Regoli is a child of God, devoted wife, and mother of two boys. She has a Master's Degree in Law from The University of Texas. Natalie has been published in several national journals and has been practicing law for 18 years.