Here are the 40 most powerful bible scriptures on consecration.
Romans 12:1
I appeal to you therefore, brothers, by the mercies of God, to present your bodies as a living sacrifice, holy and acceptable to God, which is your spiritual worship.
1 Peter 2:9
But you are a chosen race, a royal priesthood, a holy nation, a people for his own possession, that you may proclaim the excellencies of him who called you out of darkness into his marvelous light.
Romans 6:13
Do not present your members to sin as instruments for unrighteousness, but present yourselves to God as those who have been brought from death to life, and your members to God as instruments for righteousness.
1 Corinthians 6:20
For you were bought with a price. So glorify God in your body.
Joshua 3:5
Then Joshua said to the people, "Consecrate yourselves, for tomorrow the Lord will do wonders among you."
Romans 6:19
I am speaking in human terms, because of your natural limitations. For just as you once presented your members as slaves to impurity and to lawlessness leading to more lawlessness, so now present your members as slaves to righteousness leading to sanctification.
1 Kings 13:33
After this thing Jeroboam did not turn from his evil way, but made priests for the high places again from among all the people. Any who would, he ordained to be priests of the high places.
1 Peter 2:24
He himself bore our sins in his body on the tree, that we might die to sin and live to righteousness. By his wounds you have been healed.
1 Samuel 1:11
And she vowed a vow and said, "O Lord of hosts, if you will indeed look on the affliction of your servant and remember me and not forget your servant, but will give to your servant a son, then I will give him to the Lord all the days of his life, and no razor shall touch his head."
2 Chronicles 26:18
And they withstood King Uzziah and said to him, "It is not for you, Uzziah, to burn incense to the Lord, but for the priests, the sons of Aaron, who are consecrated to burn incense. Go out of the sanctuary, for you have done wrong, and it will bring you no honor from the Lord God."
2 Corinthians 8:5
And this, not as we expected, but they gave themselves first to the Lord and then by the will of God to us.
2 Samuel 15:8
For your servant vowed a vow while I lived at Geshur in Aram, saying, "If the Lord will indeed bring me back to Jerusalem, then I will offer worship to the Lord."
2 Samuel 23:16
Then the three mighty men broke through the camp of the Philistines and drew water out of the well of Bethlehem that was by the gate and carried and brought it to David. But he would not drink of it. He poured it out to the Lord.
Colossians 1:27
To them God chose to make known how great among the Gentiles are the riches of the glory of this mystery, which is Christ in you, the hope of glory.
Deuteronomy 18:15
The Lord your God will raise up for you a prophet like me from among you, from your brothers—it is to him you shall listen.
Exodus 13:12
You shall set apart to the Lord all that first opens the womb. All the firstborn of your animals that are males shall be the Lord's.
Exodus 13:2
"Consecrate to me all the firstborn. Whatever is the first to open the womb among the people of Israel, both of man and of beast, is mine."
Exodus 19:10
The Lord said to Moses, "Go to the people and consecrate them today and tomorrow, and let them wash their garments."
Exodus 19:22
"Also let the priests who come near to the Lord consecrate themselves, lest the Lord break out against them."
Exodus 20:25
"If you make me an altar of stone, you shall not build it of hewn stones, for if you wield your tool on it you profane it."
Exodus 28:3
"You shall speak to all the skillful, whom I have filled with a spirit of skill, that they make Aaron's garments to consecrate him for my priesthood."
Exodus 29:22
"You shall also take the fat from the ram and the fat tail and the fat that covers the entrails, and the long lobe of the liver and the two kidneys with the fat that is on them, and the right thigh (for it is a ram of ordination)."
Exodus 30:30
"You shall anoint Aaron and his sons, and consecrate them, that they may serve me as priests."
Genesis 17:23
Then Abraham took Ishmael his son and all those born in his house or bought with his money, every male among the men of Abraham's house, and he circumcised the flesh of their foreskins that very day, as God had said to him.
Genesis 17:25
And Ishmael his son was thirteen years old when he was circumcised in the flesh of his foreskin.
Genesis 25:18
They settled from Havilah to Shur, which is opposite Egypt in the direction of Assyria. He settled over against all his kinsmen.
Hebrews 10:20
By the new and living way that he opened for us through the curtain, that is, through his flesh.
Hebrews 12:14
Strive for peace with everyone, and for the holiness without which no one will see the Lord.
Hebrews 7:28
For the law appoints men in their weakness as high priests, but the word of the oath, which came later than the law, appoints a Son who has been made perfect forever.
Isaiah 44:3
"For I will pour water on the thirsty land, and streams on the dry ground; I will pour my Spirit upon your offspring, and my blessing on your descendants."
Isaiah 45:1
Thus says the Lord to his anointed, to Cyrus, whose right hand I have grasped, to subdue nations before him and to loose the belts of kings, to open doors before him that gates may not be closed.
Jeremiah 31:33
"But this is the covenant that I will make with the house of Israel after those days," declares the Lord: "I will put my law within them, and I will write it on their hearts. And I will be their God, and they shall be my people."
John 18:36
Jesus answered, "My kingdom is not of this world. If my kingdom were of this world, my servants would have been fighting, that I might not be delivered over to the Jews. But my kingdom is not from the world."
John 4:24
"God is spirit, and those who worship him must worship in spirit and truth."
Judges 11:31
Then whatever comes out from the doors of my house to meet me when I return in peace from the Ammonites shall be the Lord's, and I will offer it up for a burnt offering.
Judges 13:15
Manoah said to the angel of the Lord, "Please let us detain you and prepare a young goat for you."
Numbers 11:18
And say to the people, "Consecrate yourselves for tomorrow, and you shall eat meat, for you have wept in the hearing of the Lord, saying, "Who will give us meat to eat? For it was better for us in Egypt." Therefore the Lord will give you meat, and you shall eat.
Psalm 51:10
Create in me a clean heart, O God, and renew a right spirit within me.
Psalm 51:17
The sacrifices of God are a broken spirit; a broken and contrite heart, O God, you will not despise.
Romans 6:16
Do you not know that if you present yourselves to anyone as obedient slaves, you are slaves of the one whom you obey, either of sin, which leads to death, or of obedience, which leads to righteousness?

More Bible Verses that Will Move You
50 Most Powerful Scriptures on Faith
60 Transcendent Verses on Trust
50 Strong Scriptures on Perseverance
68 Powerful Verses on Forgiveness
40 Uplifting Scriptures on Patience
Add Our Infographic Below to Your Pinterest Board
Hit the pin button below to add our infographic, with all the verses, to one of your Pinterest boards.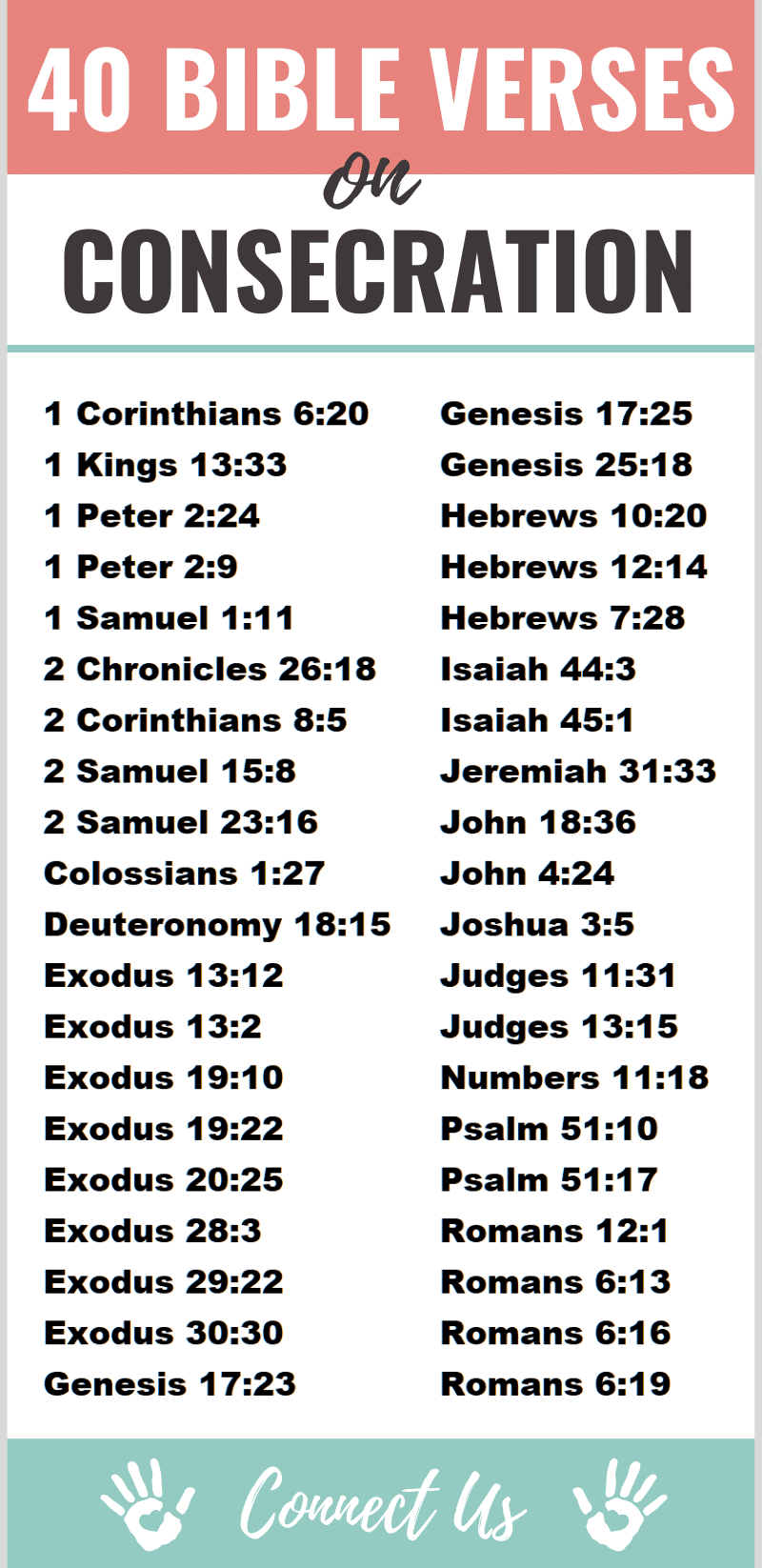 Author Bio
Natalie Regoli is a child of God, devoted wife, and mother of two boys. She has a Master's Degree in Law from The University of Texas. Natalie has been published in several national journals and has been practicing law for 18 years.