Here are the 40 most powerful Bible scriptures on contentment.
Hebrews 13:5
Keep your life free from love of money, and be content with what you have, for he has said, "I will never leave you nor forsake you."
Matthew 6:33
"But seek first the kingdom of God and his righteousness, and all these things will be added to you."
Philippians 4:11
Not that I am speaking of being in need, for I have learned in whatever situation I am to be content.
Luke 12:15
And he said to them, "Take care, and be on your guard against all covetousness, for one's life does not consist in the abundance of his possessions."
1 Timothy 6:6
Now there is great gain in godliness with contentment.
1 Corinthians 7:17
Only let each person lead the life that the Lord has assigned to him, and to which God has called him. This is my rule in all the churches.
1 Corinthians 7:24
So, brothers, in whatever condition each was called, there let him remain with God.
2 Corinthians 12:10
For the sake of Christ, then, I am content with weaknesses, insults, hardships, persecutions, and calamities. For when I am weak, then I am strong.
Ecclesiastes 3:12
I perceived that there is nothing better for them than to be joyful and to do good as long as they live.
Ecclesiastes 3:13
Also that everyone should eat and drink and take pleasure in all his toil—this is God's gift to man.
Ecclesiastes 4:6
Better is a handful of quietness than two hands full of toil and a striving after wind.
Ecclesiastes 6:9
Better is the sight of the eyes than the wandering of the appetite: this also is vanity and a striving after wind.
Isaiah 26:3
You keep him in perfect peace whose mind is stayed on you, because he trusts in you.
James 2:5
Listen, my beloved brothers, has not God chosen those who are poor in the world to be rich in faith and heirs of the kingdom, which he has promised to those who love him?
James 4:2
You desire and do not have, so you murder. You covet and cannot obtain, so you fight and quarrel. You do not have, because you do not ask.
James 4:8
Draw near to God, and he will draw near to you. Cleanse your hands, you sinners, and purify your hearts, you double-minded.
Job 36:11
If they listen and serve him, they complete their days in prosperity, and their years in pleasantness.
Luke 3:14
Soldiers also asked him, "And we, what shall we do?" And he said to them, "Do not extort money from anyone by threats or by false accusation, and be content with your wages."
Matthew 24:45
"Who then is the faithful and wise servant, whom his master has set over his household, to give them their food at the proper time?"
Matthew 5:6
"Blessed are those who hunger and thirst for righteousness, for they shall be satisfied."
Matthew 6:25
"Therefore I tell you, do not be anxious about your life, what you will eat or what you will drink, nor about your body, what you will put on. Is not life more than food, and the body more than clothing?"
Philippians 4:12
I know how to be brought low, and I know how to abound. In any and every circumstance, I have learned the secret of facing plenty and hunger, abundance and need.
Philippians 4:19
And my God will supply every need of yours according to his riches in glory in Christ Jesus.
Proverbs 10:22
The blessing of the Lord makes rich, and he adds no sorrow with it.
Proverbs 14:14
The backslider in heart will be filled with the fruit of his ways, and a good man will be filled with the fruit of his ways.
Proverbs 16:8
Better is a little with righteousness than great revenues with injustice.
Proverbs 19:23
The fear of the Lord leads to life, and whoever has it rests satisfied; he will not be visited by harm.
Proverbs 28:20
A faithful man will abound with blessings, but whoever hastens to be rich will not go unpunished.
Proverbs 28:25
A greedy man stirs up strife, but the one who trusts in the Lord will be enriched.
Proverbs 28:6
Better is a poor man who walks in his integrity than a rich man who is crooked in his ways.
Proverbs 3:5
Trust in the Lord with all your heart, and do not lean on your own understanding.
Proverbs 30:8
Remove far from me falsehood and lying; give me neither poverty nor riches; feed me with the food that is needful for me.
Psalm 118:24
This is the day that the Lord has made; let us rejoice and be glad in it.
Psalm 16:11
You make known to me the path of life; in your presence there is fullness of joy; at your right hand are pleasures forevermore.
Psalm 23:1
A Psalm of David. The Lord is my shepherd; I shall not want.
Psalm 34:8
Oh, taste and see that the Lord is good! Blessed is the man who takes refuge in him!
Psalm 37:16
Better is the little that the righteous has than the abundance of many wicked.
Psalm 37:7
Be still before the Lord and wait patiently for him; fret not yourself over the one who prospers in his way, over the man who carries out evil devices!
Psalm 55:22
Cast your burden on the Lord, and he will sustain you; he will never permit the righteous to be moved.
Romans 14:17
For the kingdom of God is not a matter of eating and drinking but of righteousness and peace and joy in the Holy Spirit.
More Bible Verses that Will Move You
50 Most Powerful Scriptures on Faith
60 Transcendent Verses on Trust
50 Strong Scriptures on Perseverance
68 Powerful Verses on Forgiveness
40 Uplifting Scriptures on Patience
Add Our Infographic Below to Your Pinterest Board
Hit the pin button below to add our infographic, with all the verses, to one of your Pinterest boards.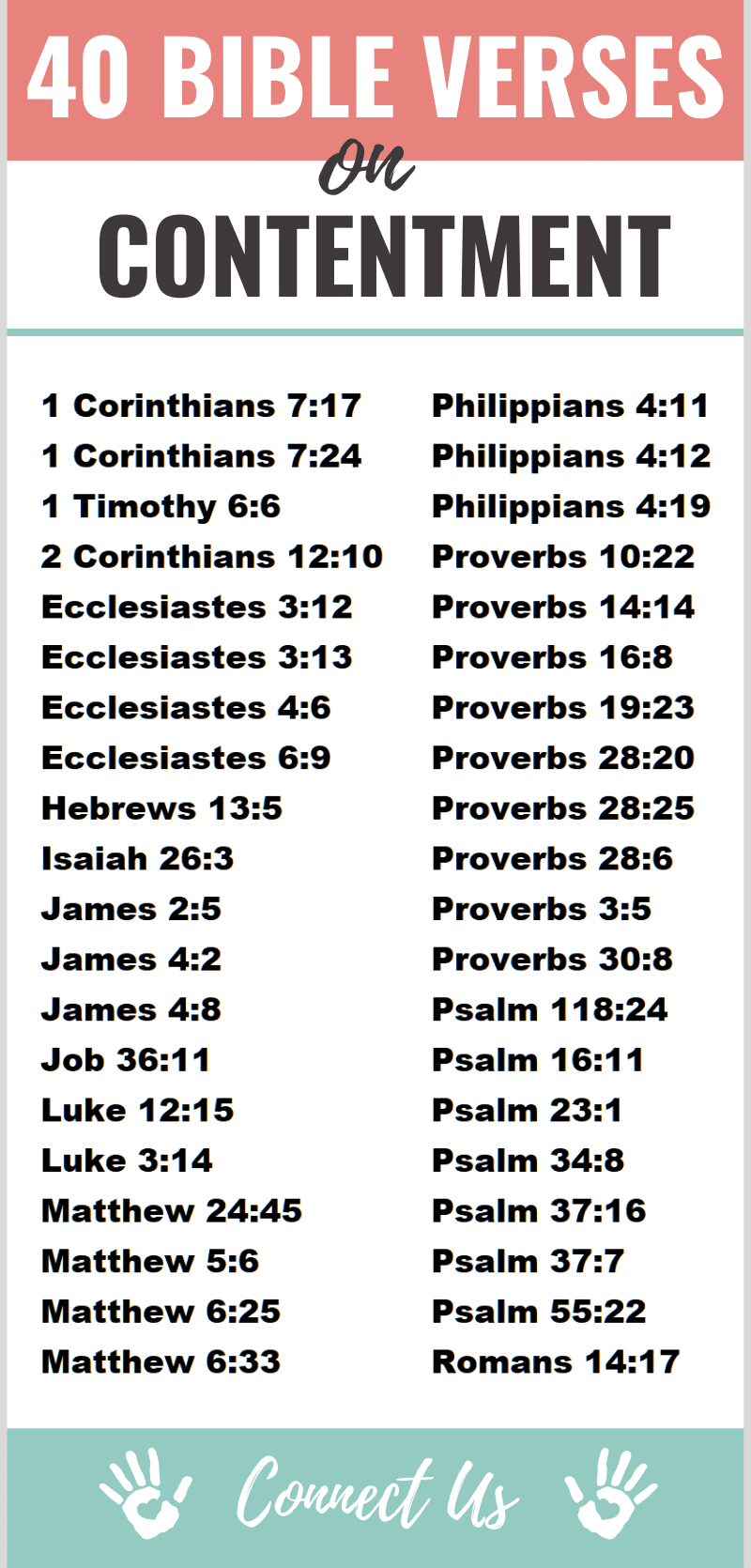 Author Bio
Natalie Regoli is a child of God, devoted wife, and mother of two boys. She has a Master's Degree in Law from The University of Texas. Natalie has been published in several national journals and has been practicing law for 18 years.