The word "dominion" is found 44 times in the Old and New Testament. The image below reveals the locations of each occurrence. This cool graph starts with Genesis in the top left and ends with Revelation in the bottom right.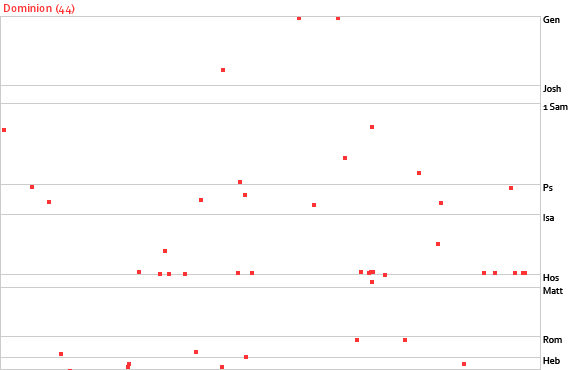 Here are the 40 most powerful bible scriptures on dominion and authority.
Genesis 1:26
Then God said, "Let us make man in our image, after our likeness. And let them have dominion over the fish of the sea and over the birds of the heavens and over the livestock and over all the earth and over every creeping thing that creeps on the earth."
Genesis 1:28
And God blessed them. And God said to them, "Be fruitful and multiply and fill the earth and subdue it and have dominion over the fish of the sea and over the birds of the heavens and over every living thing that moves on the earth."
Luke 10:19
"Behold, I have given you authority to tread on serpents and scorpions, and over all the power of the enemy, and nothing shall hurt you."
Psalm 8:6
You have given him dominion over the works of your hands; you have put all things under his feet.
Romans 6:14
For sin will have no dominion over you, since you are not under law but under grace.
1 John 3:2
Beloved, we are God's children now, and what we will be has not yet appeared; but we know that when he appears we shall be like him, because we shall see him as he is.
1 John 5:19
We know that we are from God, and the whole world lies in the power of the evil one.
1 Kings 4:24
For he had dominion over all the region west of the Euphrates from Tiphsah to Gaza, over all the kings west of the Euphrates. And he had peace on all sides around him.
1 Peter 3:18
For Christ also suffered once for sins, the righteous for the unrighteous, that he might bring us to God, being put to death in the flesh but made alive in the spirit.
1 Peter 4:11
Whoever speaks, as one who speaks oracles of God; whoever serves, as one who serves by the strength that God supplies—in order that in everything God may be glorified through Jesus Christ. To him belong glory and dominion forever and ever. Amen.
1 Peter 5:11
To him be the dominion forever and ever. Amen.
1 Peter 5:3
Not domineering over those in your charge, but being examples to the flock.
2 Corinthians 5:20
Therefore, we are ambassadors for Christ, God making his appeal through us. We implore you on behalf of Christ, be reconciled to God.
Colossians 1:16
For by him all things were created, in heaven and on earth, visible and invisible, whether thrones or dominions or rulers or authorities—all things were created through him and for him.
Colossians 1:18
And he is the head of the body, the church. He is the beginning, the firstborn from the dead, that in everything he might be preeminent.
Colossians 2:14
By canceling the record of debt that stood against us with its legal demands. This he set aside, nailing it to the cross.
Daniel 7:14
And to him was given dominion and glory and a kingdom, that all peoples, nations, and languages should serve him; his dominion is an everlasting dominion, which shall not pass away, and his kingdom one that shall not be destroyed.
Ephesians 1:21
Far above all rule and authority and power and dominion, and above every name that is named, not only in this age but also in the one to come.
Ephesians 2:8
For by grace you have been saved through faith. And this is not your own doing; it is the gift of God.
Genesis 2:15
The Lord God took the man and put him in the garden of Eden to work it and keep it.
Genesis 3:16
To the woman he said, "I will surely multiply your pain in childbearing; in pain you shall bring forth children. Your desire shall be for your husband, and he shall rule over you."
Genesis 9:2
"The fear of you and the dread of you shall be upon every beast of the earth and upon every bird of the heavens, upon everything that creeps on the ground and all the fish of the sea. Into your hand they are delivered."
James 3:7
For every kind of beast and bird, of reptile and sea creature, can be tamed and has been tamed by mankind.
Job 38:33
Do you know the ordinances of the heavens? Can you establish their rule on the earth?
John 3:16
For God so loved the world, that he gave his only Son, that whoever believes in him should not perish but have eternal life.
Jude 1:8
Yet in like manner these people also, relying on their dreams, defile the flesh, reject authority, and blaspheme the glorious ones.
Judges 14:4
His father and mother did not know that it was from the Lord, for he was seeking an opportunity against the Philistines. At that time the Philistines ruled over Israel.
Nehemiah 9:28
But after they had rest they did evil again before you, and you abandoned them to the hand of their enemies, so that they had dominion over them. Yet when they turned and cried to you, you heard from heaven, and many times you delivered them according to your mercies.
Numbers 24:19
And one from Jacob shall exercise dominion and destroy the survivors of cities!
Proverbs 12:10
Whoever is righteous has regard for the life of his beast, but the mercy of the wicked is cruel.
Proverbs 18:21
Death and life are in the power of the tongue, and those who love it will eat its fruits.
Proverbs 3:6
In all your ways acknowledge him, and he will make straight your paths.
Psalm 145:13
Your kingdom is an everlasting kingdom, and your dominion endures throughout all generations. The Lord is faithful in all his words and kind in all his works.
Psalm 19:13
Keep back your servant also from presumptuous sins; let them not have dominion over me! Then I shall be blameless, and innocent of great transgression.
Psalm 72:8
May he have dominion from sea to sea, and from the River to the ends of the earth!
Revelation 21:3
And I heard a loud voice from the throne saying, "Behold, the dwelling place of God is with man. He will dwell with them, and they will be his people, and God himself will be with them as their God."
Revelation 4:7
The first living creature like a lion, the second living creature like an ox, the third living creature with the face of a man, and the fourth living creature like an eagle in flight.
Romans 6:9
We know that Christ, being raised from the dead, will never die again; death no longer has dominion over him.
Romans 7:1
Or do you not know, brothers—for I am speaking to those who know the law—that the law is binding on a person only as long as he lives?
Zechariah 9:10
"I will cut off the chariot from Ephraim and the war horse from Jerusalem; and the battle bow shall be cut off, and he shall speak peace to the nations; his rule shall be from sea to sea, and from the River to the ends of the earth."
More Bible Verses that Will Move You
50 Most Powerful Scriptures on Faith
60 Transcendent Verses on Trust
50 Strong Scriptures on Perseverance
68 Powerful Verses on Forgiveness
40 Uplifting Scriptures on Patience
Add Our Infographic Below to Your Pinterest Board
Hit the pin button below to add our infographic, with all the verses, to one of your Pinterest boards.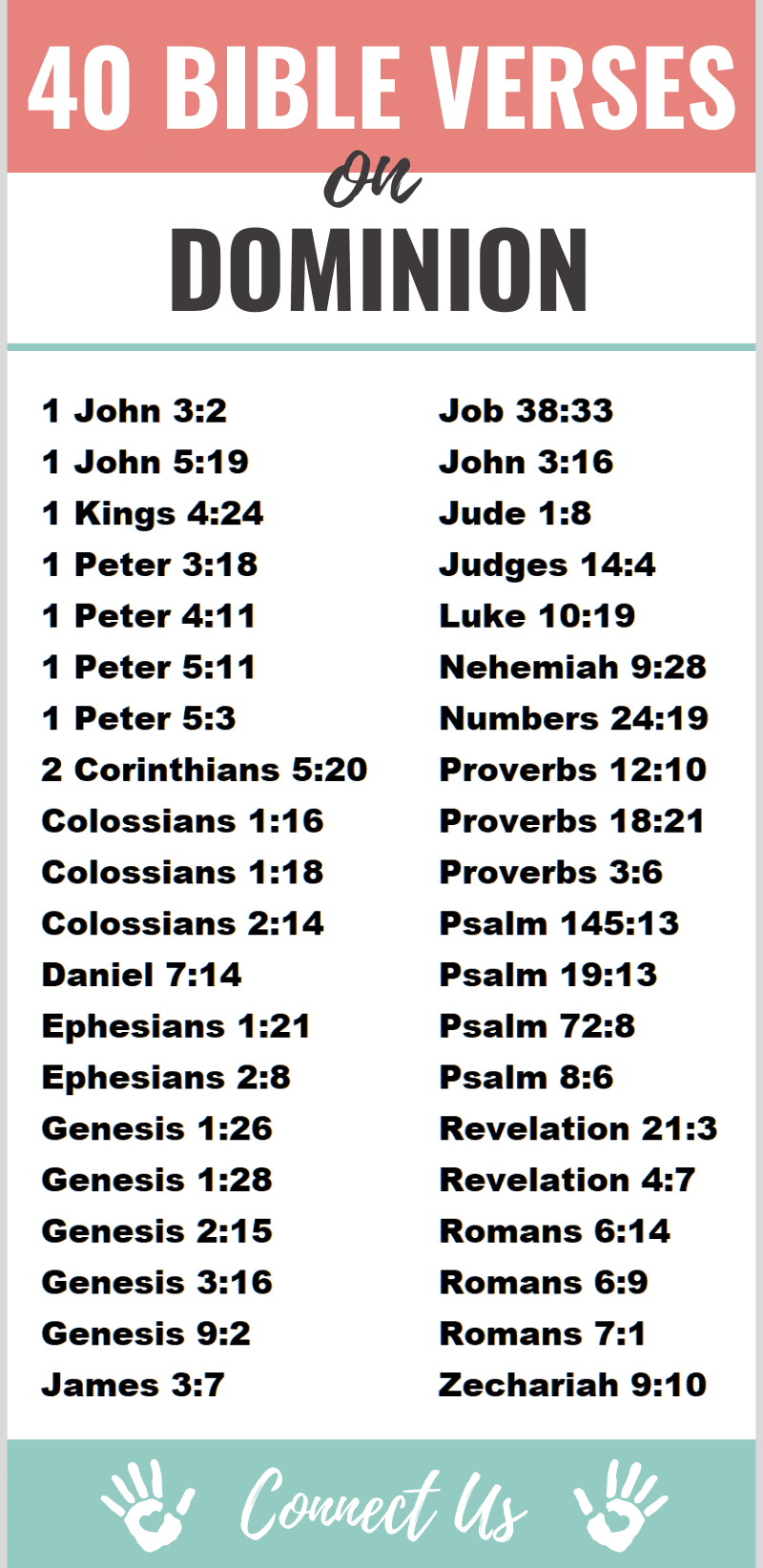 Author Bio
Natalie Regoli is a child of God, devoted wife, and mother of two boys. She has a Master's Degree in Law from The University of Texas. Natalie has been published in several national journals and has been practicing law for 18 years.