The word "hate" appears 178 times throughout the books of the Bible. The graph below shows the locations of each appearance. It begins with Genesis in the top left and concludes with Revelation in the bottom right.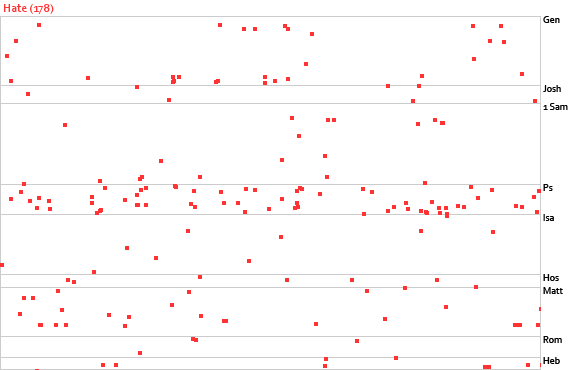 Here are the 40 most powerful Bible scriptures on hate.
1 John 4:20
If anyone says, "I love God," and hates his brother, he is a liar; for he who does not love his brother whom he has seen cannot love God whom he has not seen.
Proverbs 10:12
Hatred stirs up strife, but love covers all offenses.
1 John 3:15
Everyone who hates his brother is a murderer, and you know that no murderer has eternal life abiding in him.
Leviticus 19:17
"You shall not hate your brother in your heart, but you shall reason frankly with your neighbor, lest you incur sin because of him."
1 John 2:9
Whoever says he is in the light and hates his brother is still in darkness.
1 John 1:9
If we confess our sins, he is faithful and just to forgive us our sins and to cleanse us from all unrighteousness.
1 John 2:11
But whoever hates his brother is in the darkness and walks in the darkness, and does not know where he is going, because the darkness has blinded his eyes.
1 John 3:13
Do not be surprised, brothers, that the world hates you.
Ecclesiastes 3:8
A time to love, and a time to hate; a time for war, and a time for peace.
Ephesians 4:26
Be angry and do not sin; do not let the sun go down on your anger.
Ephesians 4:29
Let no corrupting talk come out of your mouths, but only such as is good for building up, as fits the occasion, that it may give grace to those who hear.
Ephesians 4:31
Let all bitterness and wrath and anger and clamor and slander be put away from you, along with all malice.
John 15:18
"If the world hates you, know that it has hated me before it hated you."
John 17:14
"I have given them your word, and the world has hated them because they are not of the world, just as I am not of the world."
John 3:20
"For everyone who does wicked things hates the light and does not come to the light, lest his works should be exposed."
John 7:7
"The world cannot hate you, but it hates me because I testify about it that its works are evil."
Luke 14:26
"If anyone comes to me and does not hate his own father and mother and wife and children and brothers and sisters, yes, and even his own life, he cannot be my disciple."
Luke 6:27
"But I say to you who hear, Love your enemies, do good to those who hate you."
Malachi 1:3
"But Esau I have hated. I have laid waste his hill country and left his heritage to jackals of the desert."
Mark 13:13
"And you will be hated by all for my name's sake. But the one who endures to the end will be saved."
Matthew 10:22
"And you will be hated by all for my name's sake. But the one who endures to the end will be saved."
Matthew 24:12
"And because lawlessness will be increased, the love of many will grow cold."
Matthew 24:9
"Then they will deliver you up to tribulation and put you to death, and you will be hated by all nations for my name's sake."
Matthew 6:24
"No one can serve two masters, for either he will hate the one and love the other, or he will be devoted to the one and despise the other. You cannot serve God and money."
Proverbs 10:18
The one who conceals hatred has lying lips, and whoever utters slander is a fool.
Proverbs 15:1
A soft answer turns away wrath, but a harsh word stirs up anger.
Proverbs 15:17
Better is a dinner of herbs where love is than a fattened ox and hatred with it.
Proverbs 20:22
Do not say, "I will repay evil"; wait for the Lord, and he will deliver you.
Proverbs 8:13
The fear of the Lord is hatred of evil. Pride and arrogance and the way of evil and perverted speech I hate.
Psalm 101:3
I will not set before my eyes anything that is worthless. I hate the work of those who fall away; it shall not cling to me.
Psalm 11:5
The Lord tests the righteous, but his soul hates the wicked and the one who loves violence.
Psalm 119:104
Through your precepts I get understanding; therefore I hate every false way.
Psalm 119:163
I hate and abhor falsehood, but I love your law.
Psalm 26:5
I hate the assembly of evildoers, and I will not sit with the wicked.
Psalm 31:6
I hate those who pay regard to worthless idols, but I trust in the Lord.
Psalm 45:7
You have loved righteousness and hated wickedness. Therefore God, your God, has anointed you with the oil of gladness beyond your companions.
Psalm 5:5
The boastful shall not stand before your eyes; you hate all evildoers.
Psalm 97:10
O you who love the Lord, hate evil! He preserves the lives of his saints; he delivers them from the hand of the wicked.
Romans 12:9
Let love be genuine. Abhor what is evil; hold fast to what is good.
Romans 5:8
But God shows his love for us in that while we were still sinners, Christ died for us.
More Bible Verses that Will Move You
50 Most Powerful Scriptures on Faith
60 Transcendent Verses on Trust
50 Strong Scriptures on Perseverance
68 Powerful Verses on Forgiveness
40 Uplifting Scriptures on Patience
Add Our Infographic Below to Your Pinterest Board
Hit the pin button below to add our infographic, with all the verses, to one of your Pinterest boards.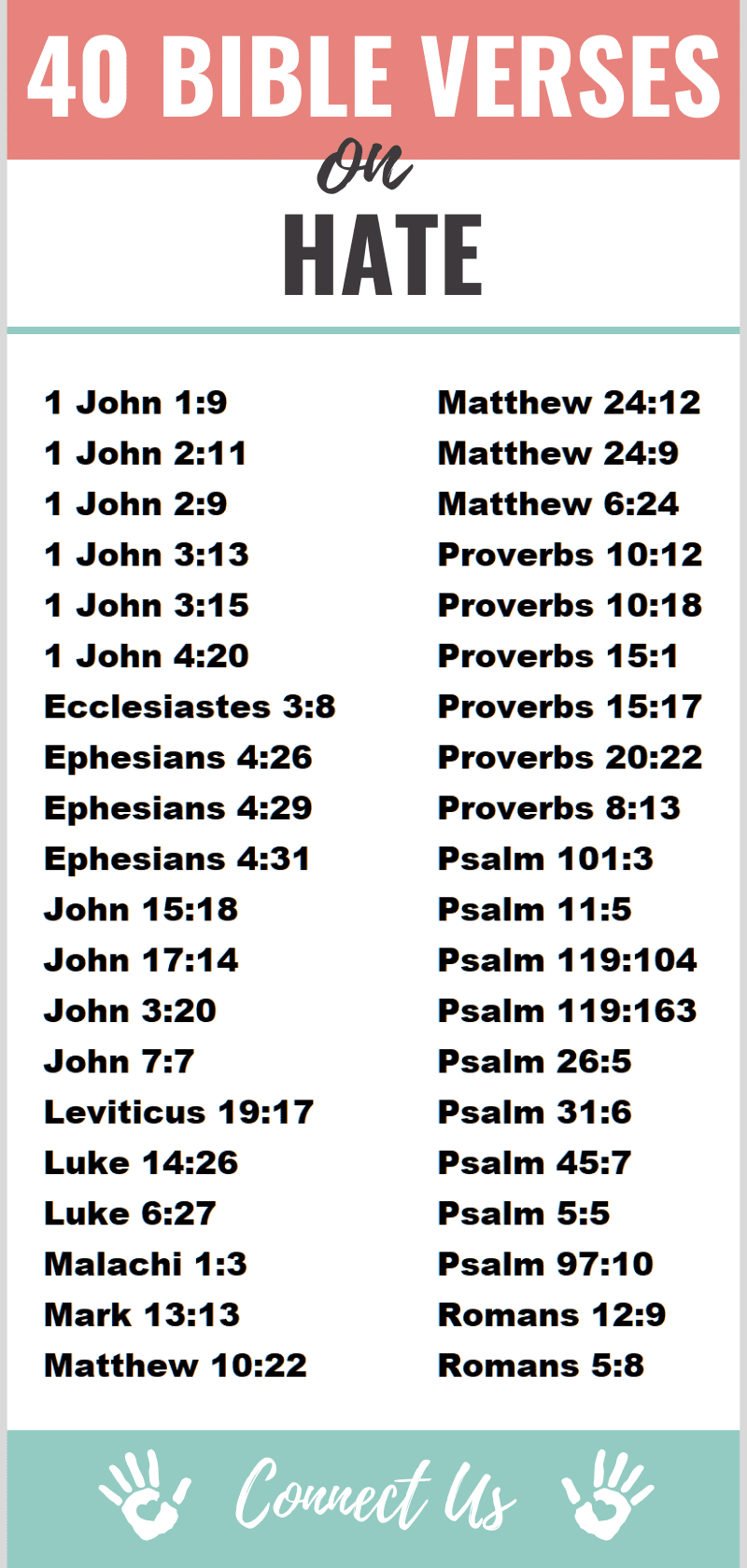 Author Bio
Natalie Regoli is a child of God, devoted wife, and mother of two boys. She has a Master's Degree in Law from The University of Texas. Natalie has been published in several national journals and has been practicing law for 18 years.