The word "spirit" appears 659 times throughout the books of the Bible. The graph below shows the locations of each appearance. It begins with Genesis in the top left and concludes with Revelation in the bottom right. The second-to-last line is Hebrews, and the very last line (unlabeled) is Revelations, showing the appearances between Hebrews and Revelations.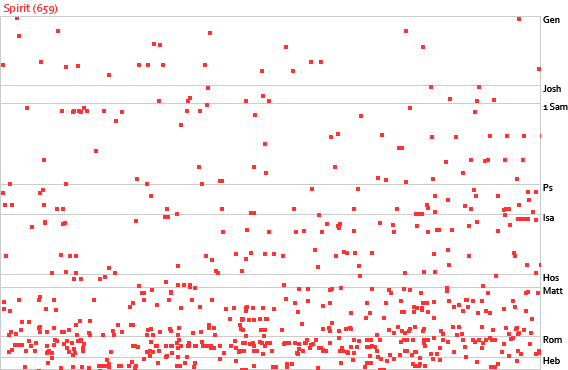 Here are the 40 most powerful Bible scriptures on receiving the Holy Spirit.
Acts 2:38
And Peter said to them, "Repent and be baptized every one of you in the name of Jesus Christ for the forgiveness of your sins, and you will receive the gift of the Holy Spirit."
Acts 2:4
And they were all filled with the Holy Spirit and began to speak in other tongues as the Spirit gave them utterance.
John 15:26
"But when the Helper comes, whom I will send to you from the Father, the Spirit of truth, who proceeds from the Father, he will bear witness about me."
Romans 8:9
You, however, are not in the flesh but in the Spirit, if in fact the Spirit of God dwells in you. Anyone who does not have the Spirit of Christ does not belong to him.
Acts 1:5
"For John baptized with water, but you will be baptized with the Holy Spirit not many days from now."
1 Corinthians 12:13
For in one Spirit we were all baptized into one body—Jews or Greeks, slaves or free—and all were made to drink of one Spirit.
1 Corinthians 13:1
If I speak in the tongues of men and of angels, but have not love, I am a noisy gong or a clanging cymbal.
1 Corinthians 14:4
The one who speaks in a tongue builds up himself, but the one who prophesies builds up the church.
1 Corinthians 14:5
Now I want you all to speak in tongues, but even more to prophesy. The one who prophesies is greater than the one who speaks in tongues, unless someone interprets, so that the church may be built up.
1 Corinthians 6:19
Or do you not know that your body is a temple of the Holy Spirit within you, whom you have from God? You are not your own.
1 John 3:4
Everyone who makes a practice of sinning also practices lawlessness; sin is lawlessness.
2 Peter 1:21
For no prophecy was ever produced by the will of man, but men spoke from God as they were carried along by the Holy Spirit.
2 Timothy 1:7
For God gave us a spirit not of fear but of power and love and self-control.
Acts 1:4
And while staying with them he ordered them not to depart from Jerusalem, but to wait for the promise of the Father, which, he said, "you heard from me."
Acts 1:8
"But you will receive power when the Holy Spirit has come upon you, and you will be my witnesses in Jerusalem and in all Judea and Samaria, and to the end of the earth."
Acts 11:15
As I began to speak, the Holy Spirit fell on them just as on us at the beginning.
Acts 11:17
If then God gave the same gift to them as he gave to us when we believed in the Lord Jesus Christ, who was I that I could stand in God's way?
Acts 19:6
And when Paul had laid his hands on them, the Holy Spirit came on them, and they began speaking in tongues and prophesying.
Acts 4:31
And when they had prayed, the place in which they were gathered together was shaken, and they were all filled with the Holy Spirit and continued to speak the word of God with boldness.
Acts 4:8
Then Peter, filled with the Holy Spirit, said to them, "Rulers of the people and elders."
Acts 5:32
And we are witnesses to these things, and so is the Holy Spirit, whom God has given to those who obey him.
Ephesians 5:18
And do not get drunk with wine, for that is debauchery, but be filled with the Spirit.
Galatians 3:14
So that in Christ Jesus the blessing of Abraham might come to the Gentiles, so that we might receive the promised Spirit through faith.
Galatians 4:6
And because you are sons, God has sent the Spirit of his Son into our hearts, crying, "Abba! Father!"
Joel 2:28
"And it shall come to pass afterward, that I will pour out my Spirit on all flesh; your sons and your daughters shall prophesy, your old men shall dream dreams, and your young men shall see visions."
John 14:17
"Even the Spirit of truth, whom the world cannot receive, because it neither sees him nor knows him. You know him, for he dwells with you and will be in you."
John 16:13
"When the Spirit of truth comes, he will guide you into all the truth, for he will not speak on his own authority, but whatever he hears he will speak, and he will declare to you the things that are to come."
John 16:7
"Nevertheless, I tell you the truth: it is to your advantage that I go away, for if I do not go away, the Helper will not come to you. But if I go, I will send him to you."
John 20:22
And when he had said this, he breathed on them and said to them, "Receive the Holy Spirit."
John 3:5
Jesus answered, "Truly, truly, I say to you, unless one is born of water and the Spirit, he cannot enter the kingdom of God."
John 3:6
"That which is born of the flesh is flesh, and that which is born of the Spirit is spirit."
John 7:39
Now this he said about the Spirit, whom those who believed in him were to receive, for as yet the Spirit had not been given, because Jesus was not yet glorified.
Luke 11:13
"If you then, who are evil, know how to give good gifts to your children, how much more will the heavenly Father give the Holy Spirit to those who ask him!"
Luke 24:49
"And behold, I am sending the promise of my Father upon you. But stay in the city until you are clothed with power from on high."
Luke 3:16
John answered them all, saying, "I baptize you with water, but he who is mightier than I is coming, the strap of whose sandals I am not worthy to untie. He will baptize you with the Holy Spirit and with fire."
Mark 1:8
"I have baptized you with water, but he will baptize you with the Holy Spirit."
Matthew 3:11
"I baptize you with water for repentance, but he who is coming after me is mightier than I, whose sandals I am not worthy to carry. He will baptize you with the Holy Spirit and fire."
Revelation 3:20
"Behold, I stand at the door and knock. If anyone hears my voice and opens the door, I will come in to him and eat with him, and he with me."
Romans 8:14
For all who are led by the Spirit of God are sons of God.
Romans 8:26
Likewise the Spirit helps us in our weakness. For we do not know what to pray for as we ought, but the Spirit himself intercedes for us with groanings too deep for words.
More Bible Verses that Will Move You
50 Most Powerful Scriptures on Faith
60 Transcendent Verses on Trust
50 Strong Scriptures on Perseverance
68 Powerful Verses on Forgiveness
40 Uplifting Scriptures on Patience
Add Our Infographic Below to Your Pinterest Board
Hit the pin button below to add our infographic, with all the verses, to one of your Pinterest boards.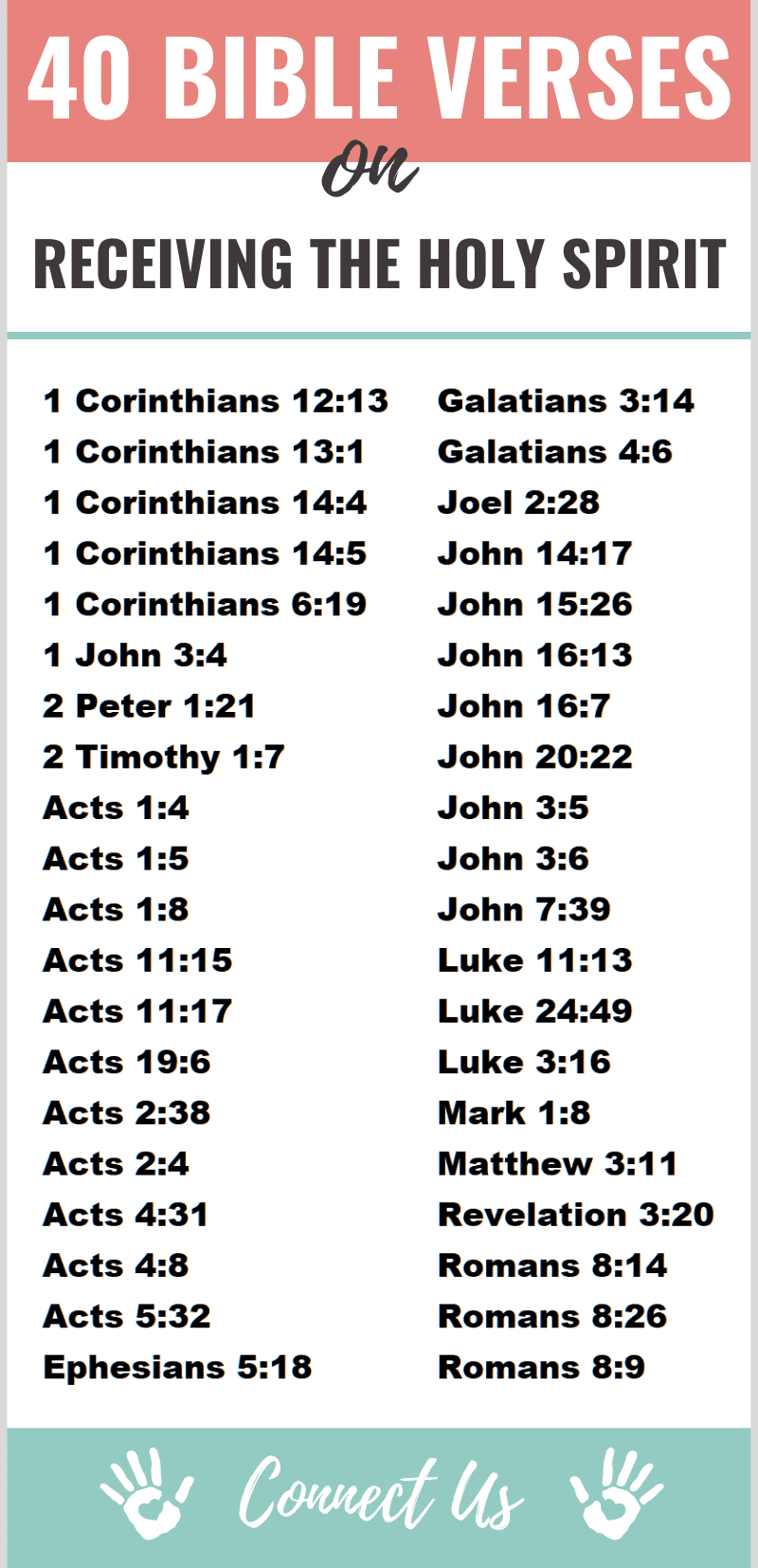 Author Bio
Natalie Regoli is a child of God, devoted wife, and mother of two boys. She has a Master's Degree in Law from The University of Texas. Natalie has been published in several national journals and has been practicing law for 18 years.