The word "account" occurs 68 times in the Bible. The infographic below identifies the points of each occurrence. This graphic presentation starts with Genesis in the top left and concludes with Revelation in the bottom right.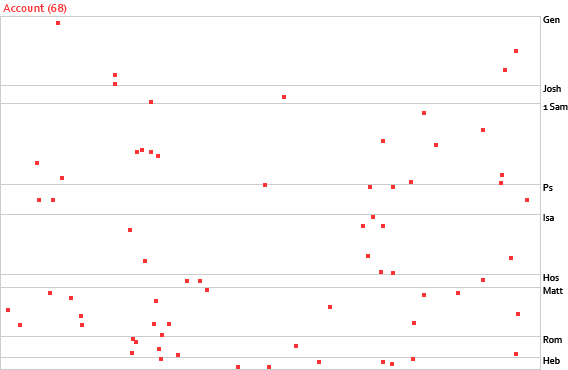 Here are the 40 strongest Bible scriptures on accountability.
Romans 14:12
So then each of us will give an account of himself to God.
James 5:16
Therefore, confess your sins to one another and pray for one another, that you may be healed. The prayer of a righteous person has great power as it is working.
1 Thessalonians 5:11
Therefore encourage one another and build one another up, just as you are doing.
Proverbs 27:17
Iron sharpens iron, and one man sharpens another.
Luke 17:3
"Pay attention to yourselves! If your brother sins, rebuke him, and if he repents, forgive him."
1 Corinthians 14:33
For God is not a God of confusion but of peace. As in all the churches of the saints.
1 John 2:2
He is the propitiation for our sins, and not for ours only but also for the sins of the whole world.
1 Timothy 3:4
He must manage his own household well, with all dignity keeping his children submissive.
2 Corinthians 5:10
For we must all appear before the judgment seat of Christ, so that each one may receive what is due for what he has done in the body, whether good or evil.
2 Samuel 12:23
But now he is dead. Why should I fast? Can I bring him back again? I shall go to him, but he will not return to me."
Acts 4:12
And there is salvation in no one else, for there is no other name under heaven given among men by which we must be saved.
Colossians 3:16
Let the word of Christ dwell in you richly, teaching and admonishing one another in all wisdom, singing psalms and hymns and spiritual songs, with thankfulness in your hearts to God.
Deuteronomy 1:39
And as for your little ones, who you said would become a prey, and your children, who today have no knowledge of good or evil, they shall go in there. And to them I will give it, and they shall possess it.
Ephesians 4:25
Therefore, having put away falsehood, let each one of you speak the truth with his neighbor, for we are members one of another.
Ephesians 4:32
Be kind to one another, tenderhearted, forgiving one another, as God in Christ forgave you.
Ephesians 6:12
For we do not wrestle against flesh and blood, but against the rulers, against the authorities, against the cosmic powers over this present darkness, against the spiritual forces of evil in the heavenly places.
Ezekiel 18:20
The soul who sins shall die. The son shall not suffer for the iniquity of the father, nor the father suffer for the iniquity of the son. The righteousness of the righteous shall be upon himself, and the wickedness of the wicked shall be upon himself.
Ezekiel 33:8
"If I say to the wicked, O wicked one, you shall surely die, and you do not speak to warn the wicked to turn from his way, that wicked person shall die in his iniquity, but his blood I will require at your hand."
Galatians 6:1
Brothers, if anyone is caught in any transgression, you who are spiritual should restore him in a spirit of gentleness. Keep watch on yourself, lest you too be tempted.
Galatians 6:2
Bear one another's burdens, and so fulfill the law of Christ.
Hebrews 10:25
Not neglecting to meet together, as is the habit of some, but encouraging one another, and all the more as you see the Day drawing near.
Hebrews 13:17
Obey your leaders and submit to them, for they are keeping watch over your souls, as those who will have to give an account. Let them do this with joy and not with groaning, for that would be of no advantage to you.
Hebrews 4:13
And no creature is hidden from his sight, but all are naked and exposed to the eyes of him to whom we must give account.
Isaiah 7:15
"He shall eat curds and honey when he knows how to refuse the evil and choose the good."
James 1:19
Know this, my beloved brothers: let every person be quick to hear, slow to speak, slow to anger.
James 3:1
Not many of you should become teachers, my brothers, for you know that we who teach will be judged with greater strictness.
James 4:17
So whoever knows the right thing to do and fails to do it, for him it is sin.
Jeremiah 17:10
"I the Lord search the heart and test the mind, to give every man according to his ways, according to the fruit of his deeds."
Jeremiah 17:9
"The heart is deceitful above all things, and desperately sick; who can understand it?"
Luke 12:48
"But the one who did not know, and did what deserved a beating, will receive a light beating. Everyone to whom much was given, of him much will be required, and from him to whom they entrusted much, they will demand the more."
Matthew 12:36
"I tell you, on the day of judgment people will give account for every careless word they speak."
Matthew 19:14
But Jesus said, "Let the little children come to me and do not hinder them, for to such belongs the kingdom of heaven."
Proverbs 12:15
The way of a fool is right in his own eyes, but a wise man listens to advice.
Proverbs 15:22
Without counsel plans fail, but with many advisers they succeed.
Psalm 51:5
Behold, I was brought forth in iniquity, and in sin did my mother conceive me.
Revelation 20:12
And I saw the dead, great and small, standing before the throne, and books were opened. Then another book was opened, which is the book of life. And the dead were judged by what was written in the books, according to what they had done.
Romans 1:20
For his invisible attributes, namely, his eternal power and divine nature, have been clearly perceived, ever since the creation of the world, in the things that have been made. So they are without excuse.
Romans 12:1
I appeal to you therefore, brothers, by the mercies of God, to present your bodies as a living sacrifice, holy and acceptable to God, which is your spiritual worship.
Romans 2:12
For all who have sinned without the law will also perish without the law, and all who have sinned under the law will be judged by the law.
Romans 3:23
For all have sinned and fall short of the glory of God.
More Bible Verses that Will Move You
50 Most Powerful Scriptures on Faith
60 Transcendent Verses on Trust
50 Strong Scriptures on Perseverance
68 Powerful Verses on Forgiveness
40 Uplifting Scriptures on Patience
Add Our Infographic Below to Your Pinterest Board
Hit the pin button below to add our infographic, with all the verses, to one of your Pinterest boards.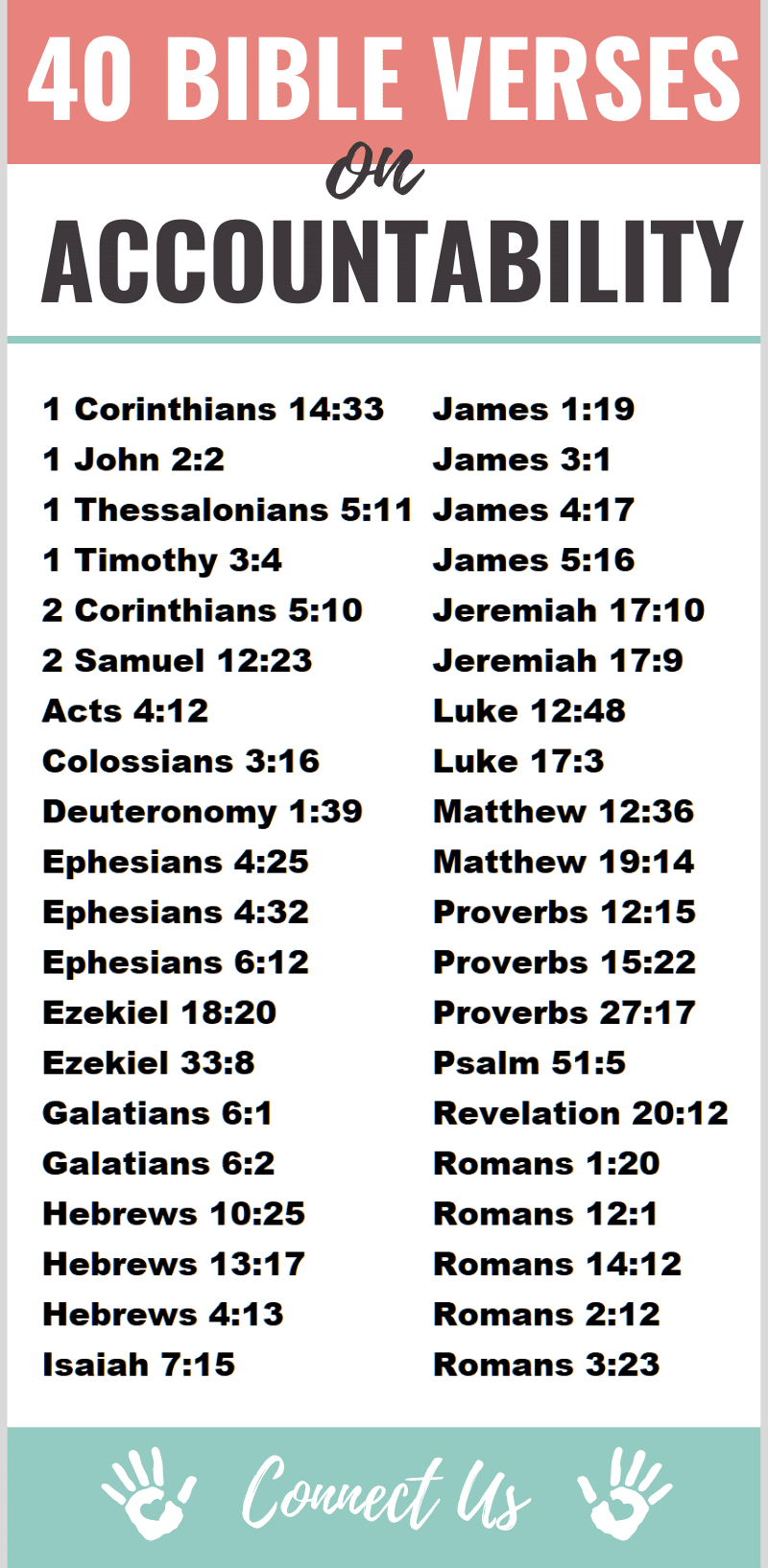 Author Bio
Natalie Regoli is a child of God, devoted wife, and mother of two boys. She has a Master's Degree in Law from The University of Texas. Natalie has been published in several national journals and has been practicing law for 18 years.