The word "heart" occurs 925 times in the Bible. The infographic below identifies the points of each occurrence. This graphic presentation starts with Genesis in the top left and concludes with Revelation in the bottom right.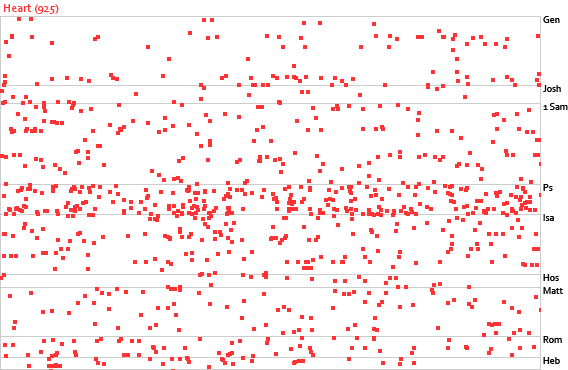 Here are the 40 strongest Bible scriptures on character.
1 Samuel 16:7
But the Lord said to Samuel, "Do not look on his appearance or on the height of his stature, because I have rejected him. For the Lord sees not as man sees: man looks on the outward appearance, but the Lord looks on the heart."
Philippians 4:8
Finally, brothers, whatever is true, whatever is honorable, whatever is just, whatever is pure, whatever is lovely, whatever is commendable, if there is any excellence, if there is anything worthy of praise, think about these things.
Romans 12:2
Do not be conformed to this world, but be transformed by the renewal of your mind, that by testing you may discern what is the will of God, what is good and acceptable and perfect.
Proverbs 10:9
Whoever walks in integrity walks securely, but he who makes his ways crooked will be found out.
Hebrews 4:12
For the word of God is living and active, sharper than any two-edged sword, piercing to the division of soul and of spirit, of joints and of marrow, and discerning the thoughts and intentions of the heart.
1 Chronicles 16:11
Seek the Lord and his strength; seek his presence continually!
1 Corinthians 15:33
Do not be deceived: "Bad company ruins good morals."
1 John 2:5
But whoever keeps his word, in him truly the love of God is perfected. By this we may know that we are in him.
1 John 3:16
By this we know love, that he laid down his life for us, and we ought to lay down our lives for the brothers.
1 John 4:8
Anyone who does not love does not know God, because God is love.
1 John 5:3
For this is the love of God, that we keep his commandments. And his commandments are not burdensome.
1 Peter 1:14
As obedient children, do not be conformed to the passions of your former ignorance.
1 Samuel 18:5
And David went out and was successful wherever Saul sent him, so that Saul set him over the men of war. And this was good in the sight of all the people and also in the sight of Saul's servants.
1 Timothy 4:12
Let no one despise you for your youth, but set the believers an example in speech, in conduct, in love, in faith, in purity.
2 Corinthians 8:21
For we aim at what is honorable not only in the Lord's sight but also in the sight of man.
2 Timothy 2:22
So flee youthful passions and pursue righteousness, faith, love, and peace, along with those who call on the Lord from a pure heart.
2 Timothy 3:16
All Scripture is breathed out by God and profitable for teaching, for reproof, for correction, and for training in righteousness.
Acts 17:11
Now these Jews were more noble than those in Thessalonica; they received the word with all eagerness, examining the Scriptures daily to see if these things were so.
Galatians 2:20
I have been crucified with Christ. It is no longer I who live, but Christ who lives in me. And the life I now live in the flesh I live by faith in the Son of God, who loved me and gave himself for me.
Hebrews 12:1
Therefore, since we are surrounded by so great a cloud of witnesses, let us also lay aside every weight, and sin which clings so closely, and let us run with endurance the race that is set before us.
Hebrews 13:5
Keep your life free from love of money, and be content with what you have, for he has said, "I will never leave you nor forsake you."
James 1:12
Blessed is the man who remains steadfast under trial, for when he has stood the test he will receive the crown of life, which God has promised to those who love him.
James 1:27
Religion that is pure and undefiled before God, the Father, is this: to visit orphans and widows in their affliction, and to keep oneself unstained from the world.
John 14:6
Jesus said to him, "I am the way, and the truth, and the life. No one comes to the Father except through me."
John 15:13
"Greater love has no one than this, that someone lay down his life for his friends."
John 17:17
"Sanctify them in the truth; your word is truth."
John 3:16
For God so loved the world, that he gave his only Son, that whoever believes in him should not perish but have eternal life.
Luke 6:31
"And as you wish that others would do to you, do so to them."
Matthew 5:48
"You therefore must be perfect, as your heavenly Father is perfect."
Matthew 6:33
"But seek first the kingdom of God and his righteousness, and all these things will be added to you."
Proverbs 12:4
An excellent wife is the crown of her husband, but she who brings shame is like rottenness in his bones.
Proverbs 28:6
Better is a poor man who walks in his integrity than a rich man who is crooked in his ways.
Proverbs 31:10
An excellent wife who can find? She is far more precious than jewels.
Psalm 119:1
Blessed are those whose way is blameless, who walk in the law of the Lord!
Romans 13:14
But put on the Lord Jesus Christ, and make no provision for the flesh, to gratify its desires.
Romans 5:4
And endurance produces character, and character produces hope.
Romans 5:5
And hope does not put us to shame, because God's love has been poured into our hearts through the Holy Spirit who has been given to us.
Romans 5:8
But God shows his love for us in that while we were still sinners, Christ died for us.
Ruth 3:11
And now, my daughter, do not fear. I will do for you all that you ask, for all my fellow townsmen know that you are a worthy woman.
Titus 2:14
Who gave himself for us to redeem us from all lawlessness and to purify for himself a people for his own possession who are zealous for good works.
More Bible Verses that Will Move You
50 Most Powerful Scriptures on Faith
60 Transcendent Verses on Trust
50 Strong Scriptures on Perseverance
68 Powerful Verses on Forgiveness
40 Uplifting Scriptures on Patience
Add Our Infographic Below to Your Pinterest Board
Hit the pin button below to add our infographic, with all the verses, to one of your Pinterest boards.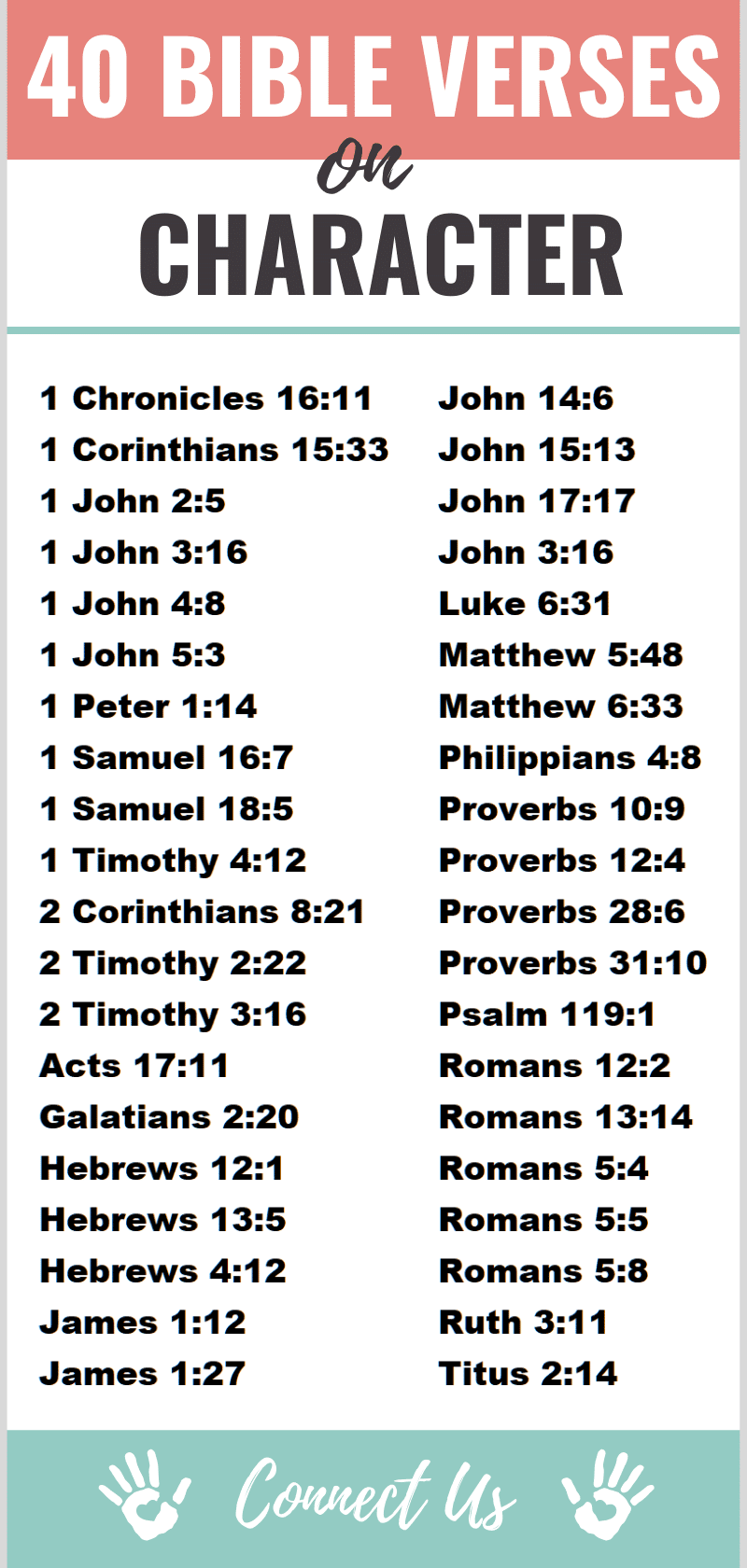 Author Bio
Natalie Regoli is a child of God, devoted wife, and mother of two boys. She has a Master's Degree in Law from The University of Texas. Natalie has been published in several national journals and has been practicing law for 18 years.