The word "deceive" appears 67 times throughout the books of the Bible. The graph below shows the locations of each appearance. It begins with Genesis in the top left and concludes with Revelation in the bottom right.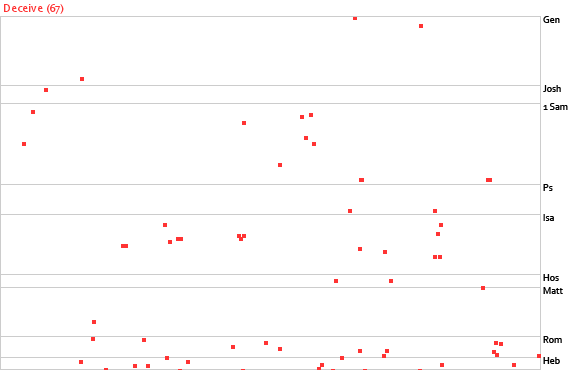 Here are the 40 strongest Bible scriptures on deception.
Proverbs 10:9
Whoever walks in integrity walks securely, but he who makes his ways crooked will be found out.
Proverbs 12:22
Lying lips are an abomination to the Lord, but those who act faithfully are his delight.
Psalm 52:2
Your tongue plots destruction, like a sharp razor, you worker of deceit.
Romans 12:2
Do not be conformed to this world, but be transformed by the renewal of your mind, that by testing you may discern what is the will of God, what is good and acceptable and perfect.
James 1:22
But be doers of the word, and not hearers only, deceiving yourselves.
John 8:44
"You are of your father the devil, and your will is to do your father's desires. He was a murderer from the beginning, and has nothing to do with the truth, because there is no truth in him. When he lies, he speaks out of his own character, for he is a liar and the father of lies."
1 John 1:8
If we say we have no sin, we deceive ourselves, and the truth is not in us.
1 John 2:16
For all that is in the world—the desires of the flesh and the desires of the eyes and pride in possessions—is not from the Father but is from the world.
1 John 4:1
Beloved, do not believe every spirit, but test the spirits to see whether they are from God, for many false prophets have gone out into the world.
1 John 5:19
We know that we are from God, and the whole world lies in the power of the evil one.
1 Timothy 2:14
And Adam was not deceived, but the woman was deceived and became a transgressor.
1 Timothy 4:1
Now the Spirit expressly says that in later times some will depart from the faith by devoting themselves to deceitful spirits and teachings of demons.
2 Corinthians 11:3
But I am afraid that as the serpent deceived Eve by his cunning, your thoughts will be led astray from a sincere and pure devotion to Christ.
2 Corinthians 4:4
In their case the god of this world has blinded the minds of the unbelievers, to keep them from seeing the light of the gospel of the glory of Christ, who is the image of God.
2 Thessalonians 2:3
Let no one deceive you in any way. For that day will not come, unless the rebellion comes first, and the man of lawlessness is revealed, the son of destruction.
Colossians 2:8
See to it that no one takes you captive by philosophy and empty deceit, according to human tradition, according to the elemental spirits of the world, and not according to Christ.
Colossians 3:9
Do not lie to one another, seeing that you have put off the old self with its practices
Deuteronomy 11:16
Take care lest your heart be deceived, and you turn aside and serve other gods and worship them.
Ephesians 4:25
Therefore, having put away falsehood, let each one of you speak the truth with his neighbor, for we are members one of another.
Ephesians 5:6
Let no one deceive you with empty words, for because of these things the wrath of God comes upon the sons of disobedience.
Exodus 20:16
"You shall not bear false witness against your neighbor."
Galatians 6:7
Do not be deceived: God is not mocked, for whatever one sows, that will he also reap.
Genesis 3:4
But the serpent said to the woman, "You will not surely die."
James 1:26
If anyone thinks he is religious and does not bridle his tongue but deceives his heart, this person's religion is worthless.
James 4:1
What causes quarrels and what causes fights among you? Is it not this, that your passions are at war within you?
Jeremiah 17:9
The heart is deceitful above all things, and desperately sick; who can understand it?
John 14:6
Jesus said to him, "I am the way, and the truth, and the life. No one comes to the Father except through me."
John 16:13
"When the Spirit of truth comes, he will guide you into all the truth, for he will not speak on his own authority, but whatever he hears he will speak, and he will declare to you the things that are to come."
John 8:32
"And you will know the truth, and the truth will set you free."
Luke 6:31
"And as you wish that others would do to you, do so to them."
Mark 12:31
"The second is this: 'You shall love your neighbor as yourself.' There is no other commandment greater than these."
Matthew 24:24
"For false christs and false prophets will arise and perform great signs and wonders, so as to lead astray, if possible, even the elect."
Matthew 24:42
"Therefore, stay awake, for you do not know on what day your Lord is coming."
Proverbs 11:3
The integrity of the upright guides them, but the crookedness of the treacherous destroys them.
Proverbs 15:1
A soft answer turns away wrath, but a harsh word stirs up anger.
Proverbs 24:28
Be not a witness against your neighbor without cause, and do not deceive with your lips.
Psalm 101:7
No one who practices deceit shall dwell in my house; no one who utters lies shall continue before my eyes.
Revelation 12:9
And the great dragon was thrown down, that ancient serpent, who is called the devil and Satan, the deceiver of the whole world—he was thrown down to the earth, and his angels were thrown down with him.
Revelation 21:8
"But as for the cowardly, the faithless, the detestable, as for murderers, the sexually immoral, sorcerers, idolaters, and all liars, their portion will be in the lake that burns with fire and sulfur, which is the second death."
Romans 14:1
As for the one who is weak in faith, welcome him, but not to quarrel over opinions.
More Bible Verses that Will Move You
50 Most Powerful Scriptures on Faith
60 Transcendent Verses on Trust
50 Strong Scriptures on Perseverance
68 Powerful Verses on Forgiveness
40 Uplifting Scriptures on Patience
Add Our Infographic Below to Your Pinterest Board
Hit the pin button below to add our infographic, with all the verses, to one of your Pinterest boards.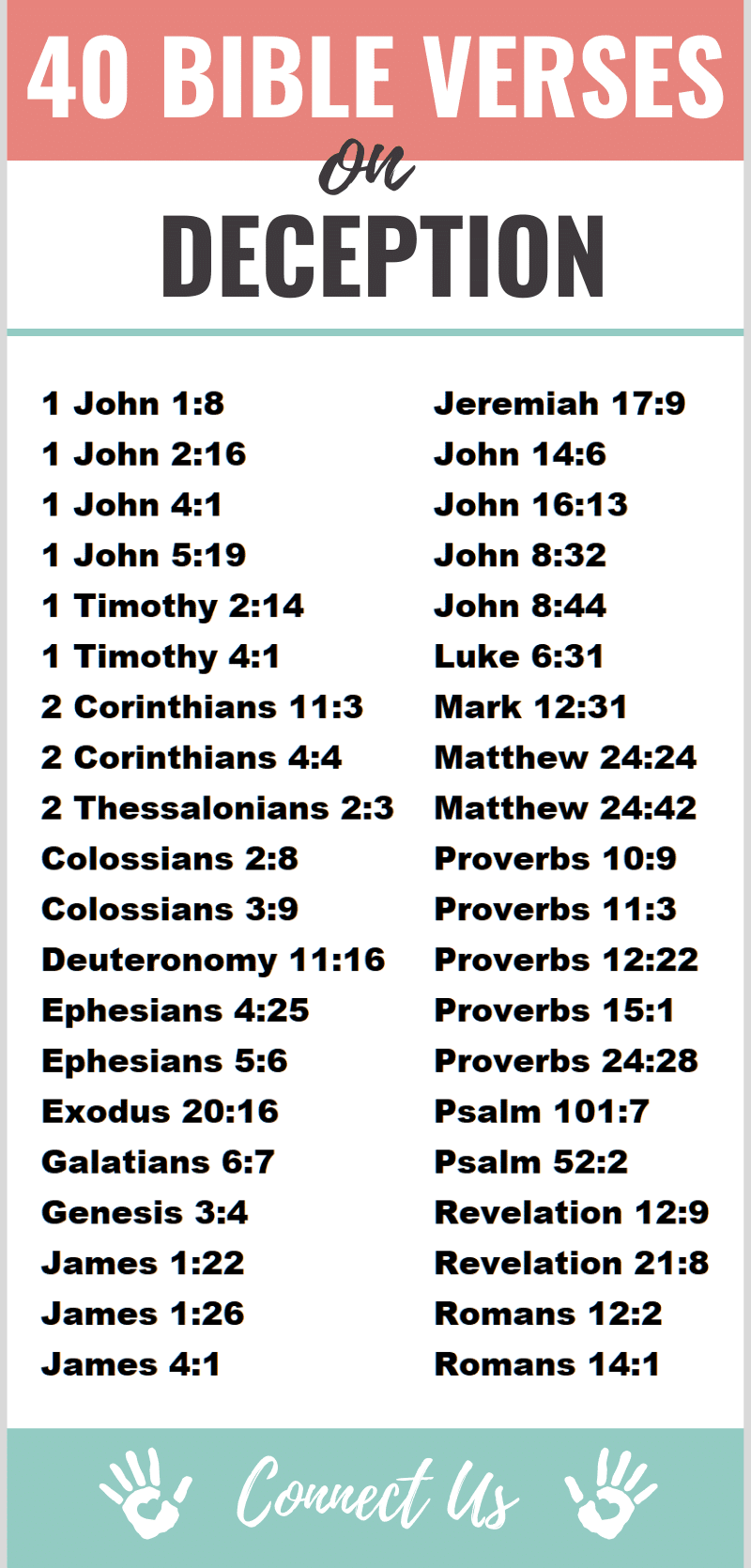 Author Bio
Natalie Regoli is a child of God, devoted wife, and mother of two boys. She has a Master's Degree in Law from The University of Texas. Natalie has been published in several national journals and has been practicing law for 18 years.