Here are the 40 strongest Bible scriptures on integrity.
Proverbs 10:9
Whoever walks in integrity walks securely, but he who makes his ways crooked will be found out.
Proverbs 28:6
Better is a poor man who walks in his integrity than a rich man who is crooked in his ways.
Proverbs 11:3
The integrity of the upright guides them, but the crookedness of the treacherous destroys them.
Proverbs 19:1
Better is a poor person who walks in his integrity than one who is crooked in speech and is a fool.
Proverbs 20:7
The righteous who walks in his integrity— blessed are his children after him!
1 Kings 9:4
And as for you, if you will walk before me, as David your father walked, with integrity of heart and uprightness, doing according to all that I have commanded you, and keeping my statutes and my rules.
1 Peter 2:12
Keep your conduct among the Gentiles honorable, so that when they speak against you as evildoers, they may see your good deeds and glorify God on the day of visitation.
1 Peter 3:16
Having a good conscience, so that, when you are slandered, those who revile your good behavior in Christ may be put to shame.
1 Timothy 1:5
The aim of our charge is love that issues from a pure heart and a good conscience and a sincere faith.
1 Timothy 5:8
But if anyone does not provide for his relatives, and especially for members of his household, he has denied the faith and is worse than an unbeliever.
2 Corinthians 4:2
But we have renounced disgraceful, underhanded ways. We refuse to practice cunning or to tamper with God's word, but by the open statement of the truth we would commend ourselves to everyone's conscience in the sight of God.
2 Corinthians 8:21
For we aim at what is honorable not only in the Lord's sight but also in the sight of man.
Acts 24:16
So I always take pains to have a clear conscience toward both God and man.
Colossians 3:23
Whatever you do, work heartily, as for the Lord and not for men.
Ephesians 6:4
Fathers, do not provoke your children to anger, but bring them up in the discipline and instruction of the Lord.
Ephesians 6:6
Not by the way of eye-service, as people-pleasers, but as servants of Christ, doing the will of God from the heart.
Hebrews 13:18
Pray for us, for we are sure that we have a clear conscience, desiring to act honorably in all things.
Isaiah 26:7
The path of the righteous is level; you make level the way of the righteous.
James 4:17
So whoever knows the right thing to do and fails to do it, for him it is sin.
Job 2:3
And the Lord said to Satan, "Have you considered my servant Job, that there is none like him on the earth, a blameless and upright man, who fears God and turns away from evil? He still holds fast his integrity, although you incited me against him to destroy him without reason."
Job 2:9
Then his wife said to him, "Do you still hold fast your integrity? Curse God and die."
Leviticus 19:11
"You shall not steal; you shall not deal falsely; you shall not lie to one another."
Luke 16:10
"One who is faithful in a very little is also faithful in much, and one who is dishonest in a very little is also dishonest in much."
Luke 6:31
"And as you wish that others would do to you, do so to them."
Micah 6:8
He has told you, O man, what is good; and what does the Lord require of you but to do justice, and to love kindness, and to walk humbly with your God?
Philippians 2:13
For it is God who works in you, both to will and to work for his good pleasure.
Philippians 4:8
Finally, brothers, whatever is true, whatever is honorable, whatever is just, whatever is pure, whatever is lovely, whatever is commendable, if there is any excellence, if there is anything worthy of praise, think about these things.
Proverbs 1:3
To receive instruction in wise dealing, in righteousness, justice, and equity.
Proverbs 12:22
Lying lips are an abomination to the Lord, but those who act faithfully are his delight.
Proverbs 21:3
To do righteousness and justice is more acceptable to the Lord than sacrifice.
Proverbs 22:11
He who loves purity of heart, and whose speech is gracious, will have the king as his friend.
Psalm 18:20
The Lord dealt with me according to my righteousness; according to the cleanness of my hands he rewarded me.
Psalm 25:21
May integrity and uprightness preserve me, for I wait for you.
Psalm 26:1
Of David. Vindicate me, O Lord, for I have walked in my integrity, and I have trusted in the Lord without wavering.
Psalm 7:8
The Lord judges the peoples; judge me, O Lord, according to my righteousness and according to the integrity that is in me.
Romans 9:1
I am speaking the truth in Christ—I am not lying; my conscience bears me witness in the Holy Spirit.
Titus 1:7
For an overseer, as God's steward, must be above reproach. He must not be arrogant or quick-tempered or a drunkard or violent or greedy for gain.
Titus 1:8
But hospitable, a lover of good, self-controlled, upright, holy, and disciplined.
Titus 2:7
Show yourself in all respects to be a model of good works, and in your teaching show integrity, dignity.
Zechariah 7:9
Thus says the Lord of hosts, "Render true judgments, show kindness and mercy to one another."
More Bible Verses that Will Move You
50 Most Powerful Scriptures on Faith
60 Transcendent Verses on Trust
50 Strong Scriptures on Perseverance
68 Powerful Verses on Forgiveness
40 Uplifting Scriptures on Patience
Add Our Infographic Below to Your Pinterest Board
Hit the pin button below to add our infographic, with all the verses, to one of your Pinterest boards.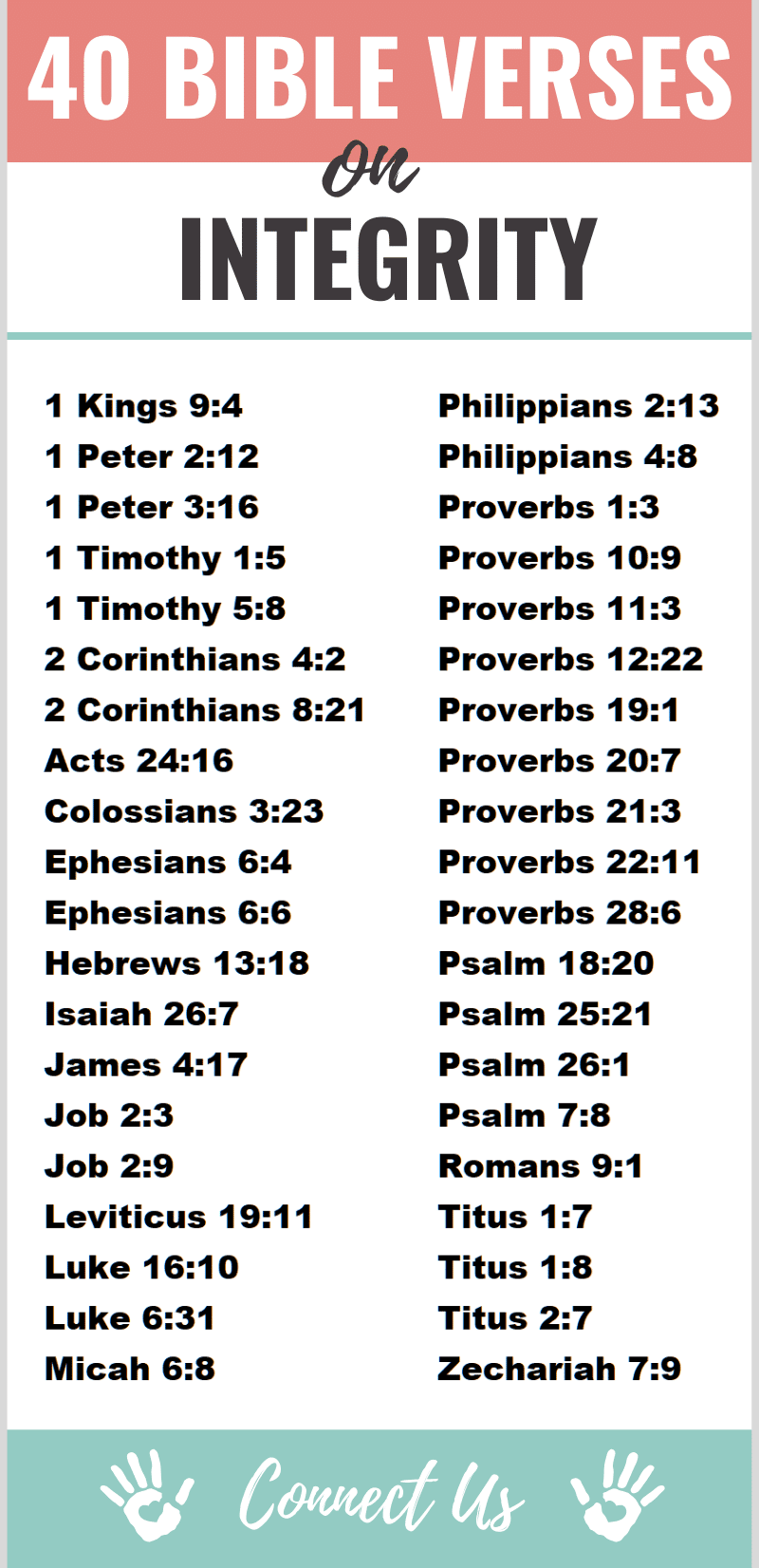 Author Bio
Natalie Regoli is a child of God, devoted wife, and mother of two boys. She has a Master's Degree in Law from The University of Texas. Natalie has been published in several national journals and has been practicing law for 18 years.