Here are the 40 most transcendent Bible scriptures on destiny.
Jeremiah 29:11
"For I know the plans I have for you," declares the Lord, "plans for welfare and not for evil, to give you a future and a hope."
Habakkuk 2:3
For still the vision awaits its appointed time; it hastens to the end—it will not lie. If it seems slow, wait for it; it will surely come; it will not delay.
Psalm 138:8
The Lord will fulfill his purpose for me; your steadfast love, O Lord, endures forever. Do not forsake the work of your hands.
John 16:33
"I have said these things to you, that in me you may have peace. In the world you will have tribulation. But take heart; I have overcome the world."
Isaiah 55:11
"So shall my word be that goes out from my mouth; it shall not return to me empty, but it shall accomplish that which I purpose, and shall succeed in the thing for which I sent it."
2 Thessalonians 1:8
In flaming fire, inflicting vengeance on those who do not know God and on those who do not obey the gospel of our Lord Jesus.
Deuteronomy 30:19
I call heaven and earth to witness against you today, that I have set before you life and death, blessing and curse. Therefore choose life, that you and your offspring may live.
Ecclesiastes 6:10
Whatever has come to be has already been named, and it is known what man is, and that he is not able to dispute with one stronger than he.
Ecclesiastes 9:11
Again I saw that under the sun the race is not to the swift, nor the battle to the strong, nor bread to the wise, nor riches to the intelligent, nor favor to those with knowledge, but time and chance happen to them all.
Ephesians 1:11
In him we have obtained an inheritance, having been predestined according to the purpose of him who works all things according to the counsel of his will.
Ephesians 2:10
For we are his workmanship, created in Christ Jesus for good works, which God prepared beforehand, that we should walk in them.
Galatians 3:27
For as many of you as were baptized into Christ have put on Christ.
Galatians 6:7
Do not be deceived: God is not mocked, for whatever one sows, that will he also reap.
Hebrews 11:7
By faith Noah, being warned by God concerning events as yet unseen, in reverent fear constructed an ark for the saving of his household. By this he condemned the world and became an heir of the righteousness that comes by faith.
Hosea 13:14
Shall I ransom them from the power of Sheol? Shall I redeem them from Death? O Death, where are your plagues? O Sheol, where is your sting? Compassion is hidden from my eyes.
Isaiah 46:10
"Declaring the end from the beginning and from ancient times things not yet done, saying, 'My counsel shall stand, and I will accomplish all my purpose.'"
Isaiah 54:17
"No weapon that is fashioned against you shall succeed, and you shall confute every tongue that rises against you in judgment. This is the heritage of the servants of the Lord and their vindication from me," declares the Lord.
James 1:27
Religion that is pure and undefiled before God, the Father, is this: to visit orphans and widows in their affliction, and to keep oneself unstained from the world.
James 1:4
And let steadfastness have its full effect, that you may be perfect and complete, lacking in nothing.
James 2:24
You see that a person is justified by works and not by faith alone.
Jeremiah 1:5
"Before I formed you in the womb I knew you, and before you were born I consecrated you; I appointed you a prophet to the nations."
Jeremiah 17:10
"I the Lord search the heart and test the mind, to give every man according to his ways, according to the fruit of his deeds."
Jeremiah 17:9
"The heart is deceitful above all things, and desperately sick; who can understand it?"
Job 23:14
For he will complete what he appoints for me, and many such things are in his mind.
Job 42:2
I know that you can do all things, and that no purpose of yours can be thwarted.
John 3:16
For God so loved the world, that he gave his only Son, that whoever believes in him should not perish but have eternal life.
Matthew 19:28
Jesus said to them, "Truly, I say to you, in the new world, when the Son of Man will sit on his glorious throne, you who have followed me will also sit on twelve thrones, judging the twelve tribes of Israel."
Numbers 23:19
God is not man, that he should lie, or a son of man, that he should change his mind. Has he said, and will he not do it? Or has he spoken, and will he not fulfill it?
Philippians 1:6
And I am sure of this, that he who began a good work in you will bring it to completion at the day of Jesus Christ.
Philippians 3:13
Brothers, I do not consider that I have made it my own. But one thing I do: forgetting what lies behind and straining forward to what lies ahead.
Proverbs 16:3
Commit your work to the Lord, and your plans will be established.
Proverbs 19:20
Listen to advice and accept instruction, that you may gain wisdom in the future.
Proverbs 20:24
A man's steps are from the Lord; how then can man understand his way?
Psalm 37:37
Mark the blameless and behold the upright, for there is a future for the man of peace.
Psalm 90:12
So teach us to number our days that we may get a heart of wisdom.
Revelation 20:12
"And I saw the dead, great and small, standing before the throne, and books were opened. Then another book was opened, which is the book of life. And the dead were judged by what was written in the books, according to what they had done."
Romans 12:2
Do not be conformed to this world, but be transformed by the renewal of your mind, that by testing you may discern what is the will of God, what is good and acceptable and perfect.
Romans 3:4
By no means! Let God be true though every one were a liar, as it is written, "That you may be justified in your words, and prevail when you are judged."
Romans 8:28
And we know that for those who love God all things work together for good, for those who are called according to his purpose.
Romans 8:29
For those whom he foreknew he also predestined to be conformed to the image of his Son, in order that he might be the firstborn among many brothers.
More Bible Verses that Will Move You
50 Most Powerful Scriptures on Faith
60 Transcendent Verses on Trust
50 Strong Scriptures on Perseverance
68 Powerful Verses on Forgiveness
40 Uplifting Scriptures on Patience
Add Our Infographic Below to Your Pinterest Board
Hit the pin button below to add our infographic, with all the verses, to one of your Pinterest boards.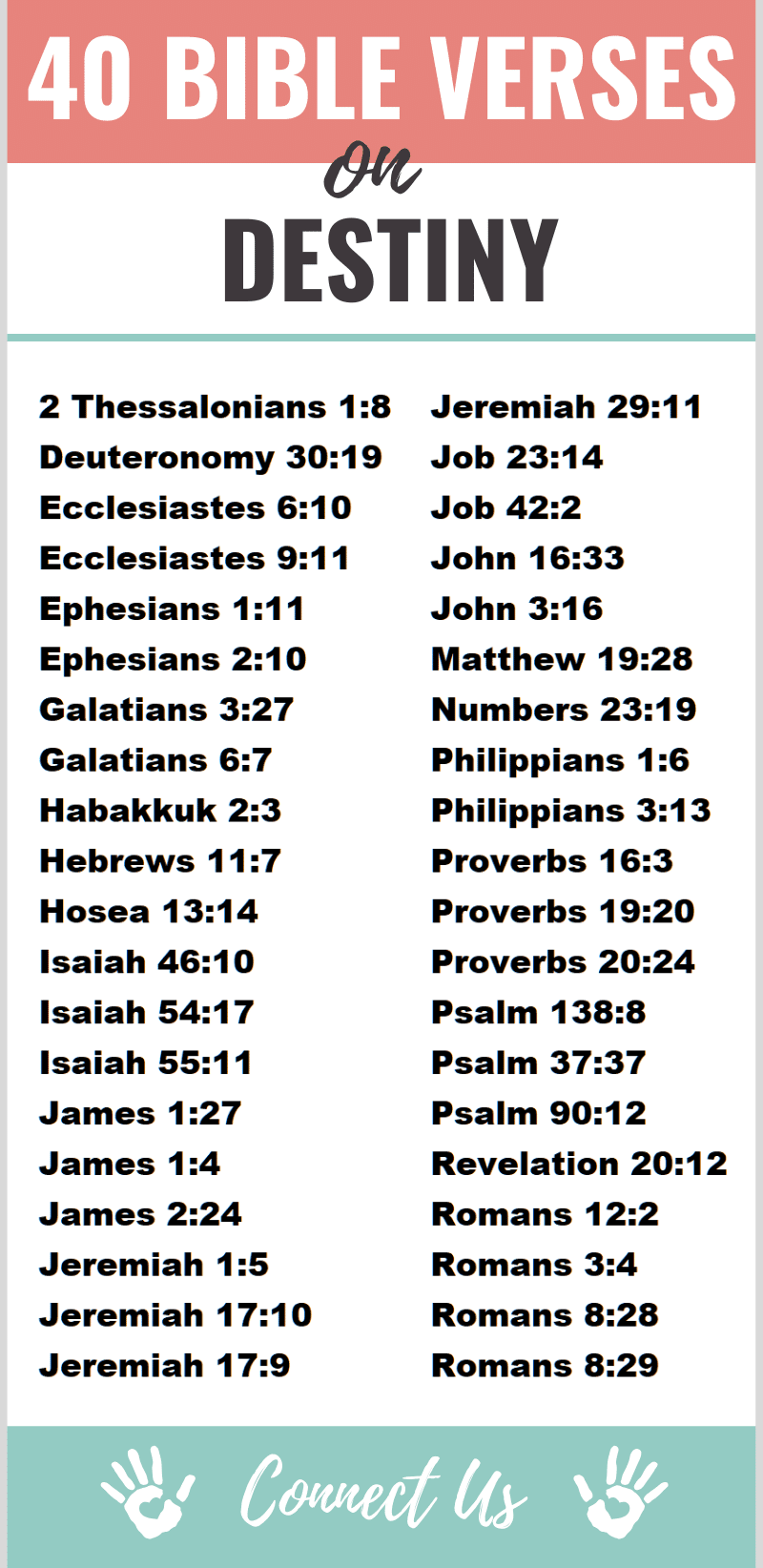 Author Bio
Natalie Regoli is a child of God, devoted wife, and mother of two boys. She has a Master's Degree in Law from The University of Texas. Natalie has been published in several national journals and has been practicing law for 18 years.