Proverbs 16:3
"Commit to the Lord whatever you do, and he will establish your plans."
Explanation and Commentary on Proverbs 16:3
Sadly, many men and women give lip service to this well-known verse.  They think that it means to say the words of the verse, and then do their own thing.  This is not what is meant.
Satan tricks many with this deception.  Rather, a righteous fear of God will cause a man or woman to long to do only what is the will of God.  A wise person will know that they cannot trust their own heart (Jer 17:9), and won't even try.
A painful course is to wait until the very last minute to check in with God, asking him to bless a plan that he never was behind.  It is not that you should pray and wait for prophetic revelation before each tiny step. That would be an invitation to be tricked by satan. God has delegated authority to us to make decisions and move forward. However, there is a way to do that in his presence, abiding in him and seeking his peace along the way that will lead to a fruitful life. Jesus promised that his burden was easy and his yoke was light (Mat 11:30). The reason for this is that truly committing "to the Lord, whatever you do," puts all the heavy lifting on God.
Breaking Down the Key Parts of Proverbs 16:3
#1 "Commit to the Lord…"
Easy believism is the folly of praying a prayer to "ask Jesus into your heart"—not a phrase found in Scripture—and then assuming you can live the rest of your life your own way with your "get out of hell for free" card. Instead, what God wants is commitment to him and his ways. Lay your life down. Take up your cross (Mt 16:24). Die to yourself, and live unto God (Gal 2:20). Commit to the Lord.
#2 "…whatever you do,"
If you are living a life that "whatever you do" cannot be committed to the Lord, go back to square one. Do you believe that without God you are a sinner who deserves his wrath? Believe in Jesus, and give him your life.  He promises an abundant life when we leave our old self behind and follow him as his disciple (Jn 10:10).  Leave nothing back, but give everything to God.
#3 "and he will establish your plans."
The double meaning here is that God will put the right plans, the ones according to his will, into your heart. His plans will become your plans.  And then he will make those plans succeed.  There is absolutely no reason to fret, ever. There is no cause for anxiety. God is the one who will establish you and your plans. If something isn't working, it isn't God, because what God wants to work will work. It is a tremendous blessing to find peace in that truth. Sadly much energy is wasted worrying when Christians think it is their job to "establish" their plans. Commit all to him and live according to his ways. There will be peace, joy, contentment, and abundance.
Expert 8 Minute Overview of the Book of Proverbs
Biblical Translations of Proverbs 16:3
NIV
Commit to the Lord whatever you do, and he will establish your plans.
NLT
Commit your actions to the Lord, and your plans will succeed.
ESV
Commit your work to the Lord, and your plans will be established.
KJV
Commit thy works unto the Lord, and thy thoughts shall be established.
NKJV
Commit your works to the Lord, And your thoughts will be established.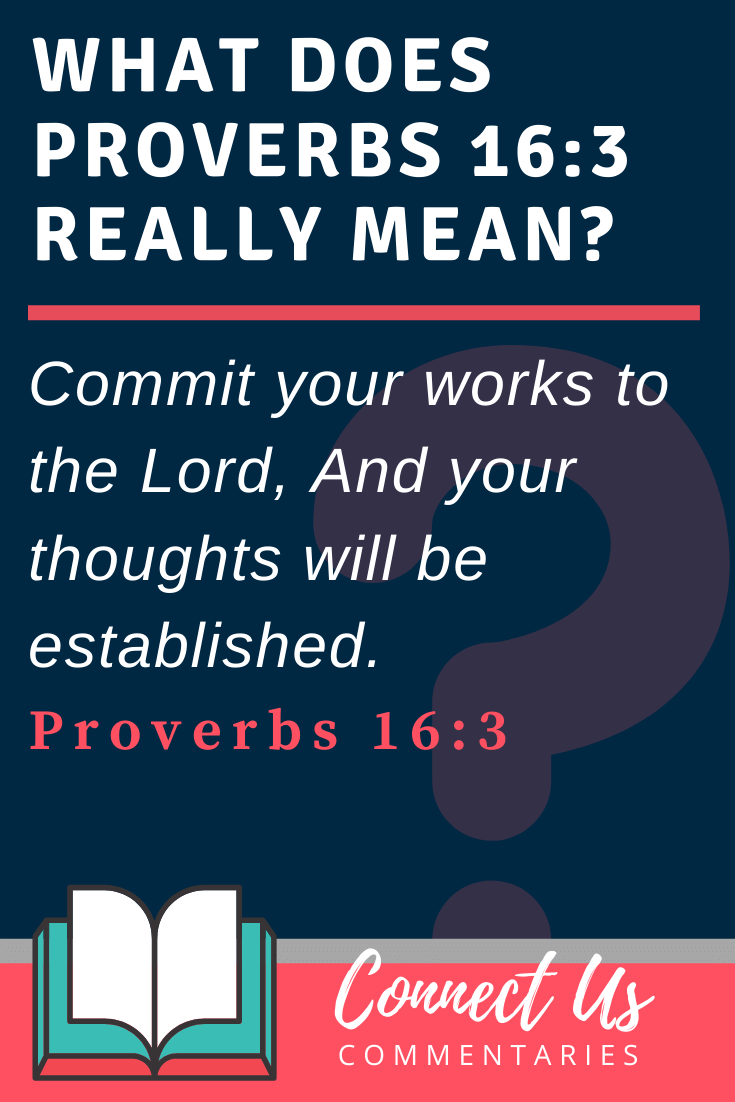 Author Bio
Natalie Regoli is a child of God, devoted wife, and mother of two boys. She has a Master's Degree in Law from The University of Texas. Natalie has been published in several national journals and has been practicing law for 18 years.