The word "light" occurs 319 times in the Bible. The infographic below identifies the points of each occurrence. This graphic presentation starts with Genesis in the top left and concludes with Revelation in the bottom right.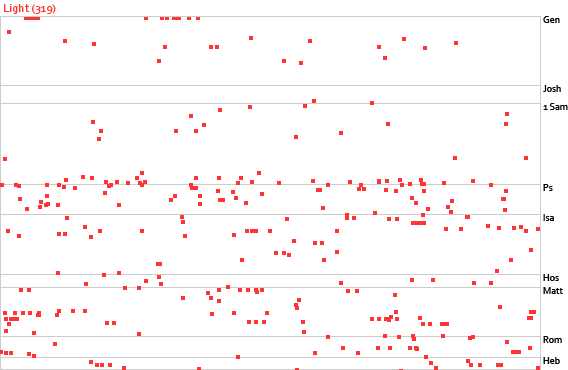 Here are the 40 most transcendent Bible scriptures on light.
John 8:12
Again Jesus spoke to them, saying, "I am the light of the world. Whoever follows me will not walk in darkness, but will have the light of life."
John 1:5
"The light shines in the darkness, and the darkness has not overcome it."
Matthew 5:16
"In the same way, let your light shine before others, so that they may see your good works and give glory to your Father who is in heaven."
1 John 1:7
But if we walk in the light, as he is in the light, we have fellowship with one another, and the blood of Jesus his Son cleanses us from all sin.
Psalm 119:105
Your word is a lamp to my feet and a light to my path.
1 John 1:5
This is the message we have heard from him and proclaim to you, that God is light, and in him is no darkness at all.
1 Peter 2:9
But you are a chosen race, a royal priesthood, a holy nation, a people for his own possession, that you may proclaim the excellencies of him who called you out of darkness into his marvelous light.
1 Thessalonians 5:5
For you are all children of light, children of the day. We are not of the night or of the darkness.
2 Corinthians 4:6
For God, who said, "Let light shine out of darkness," has shone in our hearts to give the light of the knowledge of the glory of God in the face of Jesus Christ.
2 Peter 1:19
And we have something more sure, the prophetic word, to which you will do well to pay attention as to a lamp shining in a dark place, until the day dawns and the morning star rises in your hearts.
Acts 13:47
For so the Lord has commanded us, saying, "I have made you a light for the Gentiles, that you may bring salvation to the ends of the earth."
Acts 26:18
"To open their eyes, so that they may turn from darkness to light and from the power of Satan to God, that they may receive forgiveness of sins and a place among those who are sanctified by faith in me."
Daniel 12:3
And those who are wise shall shine like the brightness of the sky above; and those who turn many to righteousness, like the stars forever and ever.
Ecclesiastes 2:13
Then I saw that there is more gain in wisdom than in folly, as there is more gain in light than in darkness.
Ephesians 5:14
For anything that becomes visible is light. Therefore it says, "Awake, O sleeper, and arise from the dead, and Christ will shine on you."
Ephesians 5:8
For at one time you were darkness, but now you are light in the Lord. Walk as children of light.
Genesis 1:3
And God said, "Let there be light," and there was light.
Isaiah 42:16
"And I will lead the blind in a way that they do not know, in paths that they have not known I will guide them. I will turn the darkness before them into light, the rough places into level ground. These are the things I do, and I do not forsake them."
Isaiah 49:6
He says: "It is too light a thing that you should be my servant to raise up the tribes of Jacob and to bring back the preserved of Israel; I will make you as a light for the nations, that my salvation may reach to the end of the earth."
Isaiah 58:8
Then shall your light break forth like the dawn, and your healing shall spring up speedily; your righteousness shall go before you; the glory of the Lord shall be your rear guard.
Isaiah 60:1
Arise, shine, for your light has come, and the glory of the Lord has risen upon you.
Isaiah 60:20
Your sun shall no more go down, nor your moon withdraw itself; for the Lord will be your everlasting light, and your days of mourning shall be ended.
Isaiah 9:2
The people who walked in darkness have seen a great light; those who dwelt in a land of deep darkness, on them has light shined.
James 1:17
Every good gift and every perfect gift is from above, coming down from the Father of lights with whom there is no variation or shadow due to change.
John 1:4
In him was life, and the life was the light of men.
John 12:35
So Jesus said to them, "The light is among you for a little while longer. Walk while you have the light, lest darkness overtake you. The one who walks in the darkness does not know where he is going."
John 12:36
"While you have the light, believe in the light, that you may become sons of light." When Jesus had said these things, he departed and hid himself from them.
John 5:35
"He was a burning and shining lamp, and you were willing to rejoice for a while in his light."
John 9:5
"As long as I am in the world, I am the light of the world."
Luke 11:34
"Your eye is the lamp of your body. When your eye is healthy, your whole body is full of light, but when it is bad, your body is full of darkness."
Matthew 4:16
"The people dwelling in darkness have seen a great light, and for those dwelling in the region and shadow of death, on them a light has dawned."
Matthew 5:14
"You are the light of the world. A city set on a hill cannot be hidden."
Philippians 2:15
That you may be blameless and innocent, children of God without blemish in the midst of a crooked and twisted generation, among whom you shine as lights in the world.
Proverbs 20:27
The spirit of man is the lamp of the Lord, searching all his innermost parts.
Proverbs 6:23
For the commandment is a lamp and the teaching a light, and the reproofs of discipline are the way of life.
Psalm 119:130
The unfolding of your words gives light; it imparts understanding to the simple.
Psalm 18:28
For it is you who light my lamp; the Lord my God lightens my darkness.
Psalm 27:1
Of David. The Lord is my light and my salvation; whom shall I fear? The Lord is the stronghold of my life; of whom shall I be afraid?
Psalm 36:9
For with you is the fountain of life; in your light do we see light.
Revelation 21:23
And the city has no need of sun or moon to shine on it, for the glory of God gives it light, and its lamp is the Lamb.
More Bible Verses that Will Move You
50 Most Powerful Scriptures on Faith
60 Transcendent Verses on Trust
50 Strong Scriptures on Perseverance
68 Powerful Verses on Forgiveness
40 Uplifting Scriptures on Patience
Add Our Infographic Below to Your Pinterest Board
Hit the pin button below to add our infographic, with all the verses, to one of your Pinterest boards.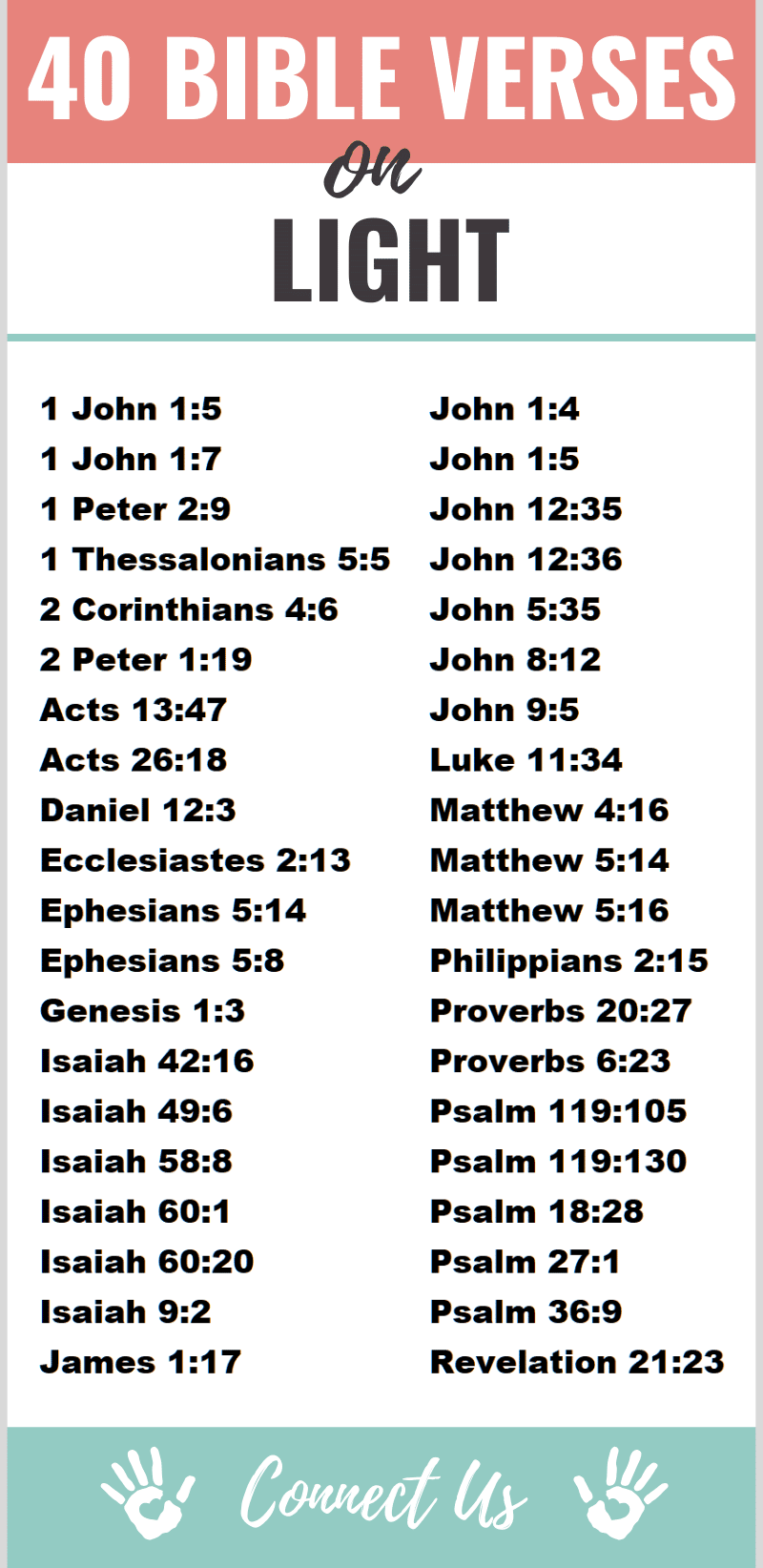 Author Bio
Natalie Regoli is a child of God, devoted wife, and mother of two boys. She has a Master's Degree in Law from The University of Texas. Natalie has been published in several national journals and has been practicing law for 18 years.