Here are the 40 most uplifting Bible scriptures on attitude.
Proverbs 17:22
A joyful heart is good medicine, but a crushed spirit dries up the bones.
Philippians 2:5
Have this mind among yourselves, which is yours in Christ Jesus.
Philippians 4:8
Finally, brothers, whatever is true, whatever is honorable, whatever is just, whatever is pure, whatever is lovely, whatever is commendable, if there is any excellence, if there is anything worthy of praise, think about these things.
Colossians 3:23
Whatever you do, work heartily, as for the Lord and not for men.
Philippians 2:14
Do all things without grumbling or questioning.
1 John 1:9
If we confess our sins, he is faithful and just to forgive us our sins and to cleanse us from all unrighteousness.
1 Peter 4:1
Since therefore Christ suffered in the flesh, arm yourselves with the same way of thinking, for whoever has suffered in the flesh has ceased from sin.
2 Peter 3:9
The Lord is not slow to fulfill his promise as some count slowness, but is patient toward you, not wishing that any should perish, but that all should reach repentance.
Colossians 3:10
And have put on the new self, which is being renewed in knowledge after the image of its creator.
Colossians 3:15
And let the peace of Christ rule in your hearts, to which indeed you were called in one body. And be thankful.
Colossians 3:16
Let the word of Christ dwell in you richly, teaching and admonishing one another in all wisdom, singing psalms and hymns and spiritual songs, with thankfulness in your hearts to God.
Colossians 3:17
And whatever you do, in word or deed, do everything in the name of the Lord Jesus, giving thanks to God the Father through him.
Colossians 4:2
Continue steadfastly in prayer, being watchful in it with thanksgiving.
Ephesians 4:2
With all humility and gentleness, with patience, bearing with one another in love.
Ephesians 4:23
And to be renewed in the spirit of your minds.
Ephesians 4:31
Let all bitterness and wrath and anger and clamor and slander be put away from you, along with all malice.
Ephesians 6:4
Fathers, do not provoke your children to anger, but bring them up in the discipline and instruction of the Lord.
Hebrews 13:15
Through him then let us continually offer up a sacrifice of praise to God, that is, the fruit of lips that acknowledge his name.
Hebrews 13:5
Keep your life free from love of money, and be content with what you have, for he has said, "I will never leave you nor forsake you."
James 4:10
Humble yourselves before the Lord, and he will exalt you.
Jeremiah 17:5
Thus says the Lord: "Cursed is the man who trusts in man and makes flesh his strength, whose heart turns away from the Lord."
Jeremiah 29:11
"For I know the plans I have for you," declares the Lord, "plans for welfare and not for evil, to give you a future and a hope."
John 14:15
"If you love me, you will keep my commandments."
John 3:16
For God so loved the world, that he gave his only Son, that whoever believes in him should not perish but have eternal life.
Matthew 5:22
"But I say to you that everyone who is angry with his brother will be liable to judgment; whoever insults his brother will be liable to the council; and whoever says, 'You fool!' will be liable to the hell of fire."
Matthew 5:3
"Blessed are the poor in spirit, for theirs is the kingdom of heaven."
Matthew 6:33
"But seek first the kingdom of God and his righteousness, and all these things will be added to you."
Philippians 1:27
Only let your manner of life be worthy of the gospel of Christ, so that whether I come and see you or am absent, I may hear of you that you are standing firm in one spirit, with one mind striving side by side for the faith of the gospel.
Philippians 4:6
Do not be anxious about anything, but in everything by prayer and supplication with thanksgiving let your requests be made known to God.
Proverbs 4:23
Keep your heart with all vigilance, for from it flow the springs of life.
Psalm 106:1
Praise the Lord! Oh give thanks to the Lord, for he is good, for his steadfast love endures forever!
Psalm 111:10
The fear of the Lord is the beginning of wisdom; all those who practice it have a good understanding. His praise endures forever!
Psalm 118:24
This is the day that the Lord has made; let us rejoice and be glad in it.
Psalm 139:14
I praise you, for I am fearfully and wonderfully made. Wonderful are your works; my soul knows it very well.
Psalm 28:7
The Lord is my strength and my shield; in him my heart trusts, and I am helped; my heart exults, and with my song I give thanks to him.
Psalm 45:7
You have loved righteousness and hated wickedness. Therefore God, your God, has anointed you with the oil of gladness beyond your companions.
Psalm 7:17
I will give to the Lord the thanks due to his righteousness, and I will sing praise to the name of the Lord, the Most High.
Romans 12:10
Love one another with brotherly affection. Outdo one another in showing honor.
Romans 12:2
Do not be conformed to this world, but be transformed by the renewal of your mind, that by testing you may discern what is the will of God, what is good and acceptable and perfect.
Romans 15:5
May the God of endurance and encouragement grant you to live in such harmony with one another, in accord with Christ Jesus.
More Bible Verses that Will Move You
50 Most Powerful Scriptures on Faith
60 Transcendent Verses on Trust
50 Strong Scriptures on Perseverance
68 Powerful Verses on Forgiveness
40 Uplifting Scriptures on Patience
Add Our Infographic Below to Your Pinterest Board
Hit the pin button below to add our infographic, with all the verses, to one of your Pinterest boards.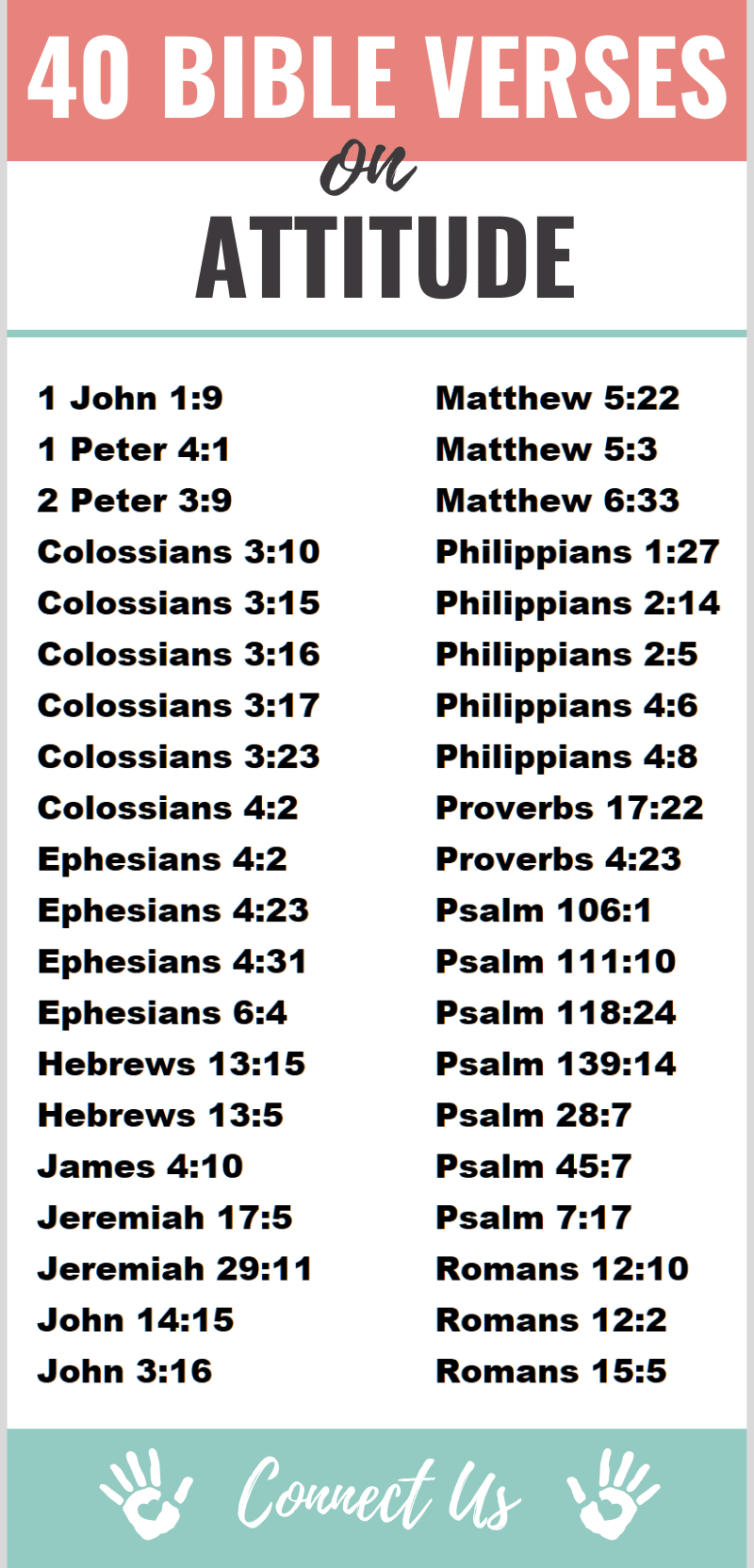 Author Bio
Natalie Regoli is a child of God, devoted wife, and mother of two boys. She has a Master's Degree in Law from The University of Texas. Natalie has been published in several national journals and has been practicing law for 18 years.