Luke 9:23
"Then he said to them all: "Whoever wants to be my disciple must deny themselves and take up their cross daily and follow me."
Explanation and Commentary of Luke 9:23
This is the crux of a life of discipleship to Jesus. God will have nothing else than total surrender. Christ came to pay for the sins of the world. He also came to show how a man or woman was meant to live. The one who would be perfect would be he or she who takes total responsibility for their life and multiplies whatever talents or minas they have been given (Mt 25:14-30). Whoever does that perfectly can begin to be of help to other people. When Christ bids us come and die, he bids us be like him in that we can not only carry our own suffering, but that of others as well. But it starts with the willingness to die to ourselves and live unto him.
There are many ways that Jesus says the same thing. He told a parable about a man who sold everything to buy a field with a great treasure (Mt 13:44). He also spoke of a pearl so precious that a trader in gems traded his whole horde to buy it (Mt 13:45-46). Following Jesus well is total. "I have been crucified with Christ and I no longer live, but Christ lives in me. The life I now live in the body, I live by faith in the Son of God, who loved me and gave himself for me" (Gal 2:20).
Breaking Down the Key Parts of Luke 9:23
#1 "Then he said to them all:"
Peter had just made his famous declaration that Jesus was the Christ. Jesus commended his insight as being of God and then explained how he would suffer. Now he turns his attention to them all to make the following statement.
#2 "Whoever wants to be my disciple…"
The disciples were dreaming of what it meant to them to be Jesus' disciple. He would be king of the world, and they would be his nobles. They would govern alongside him in great honor and glory. Their main concern was which of them would sit highest. Jesus makes one of many attempts to explain what it would truly mean to be his disciple.
#3 "must deny themselves and take up their cross…"
This must have been an enigmatic statement to them since Jesus had yet to die on the cross. They could not have fathomed his fate, though he was attempting to tell them plainly. But to deny oneself is tricky business. Until one actually does denies oneself, they cannot know that who they truly are can only emerge after the denial. The self Jesus has in mind is the false self, marred by sin and pride, desire for recognition, and given to appetites and lusts. The Self Jesus calls us to is that which God designed us to be for eternity with him, once regenerate, our inner man.
#4 "…daily and follow me."
In theory, this death will only need to happen once. In practice men and women find that they are required to say, "Yes" to Jesus every day, to keep going, to finish the race (2 Tim 4:7), to carry the cross to the very end. Satan will never cease to tempt you to put down that cross and give in to the old man in you. We must face him head-on in the Holy Spirit every day until Jesus says, that's enough, and "Well done good and faithful servant" (Mt 25:21).
Bible Study on Luke 9:23
Expert Overview of Luke Ch. 1-9
Biblical Translations of Luke 9:23
NIV
Then he said to them all: "Whoever wants to be my disciple must deny themselves and take up their cross daily and follow me."
NLT
Then he said to the crowd, "If any of you wants to be my follower, you must give up your own way, take up your cross daily, and follow me."
ESV
And he said to all, "If anyone would come after me, let him deny himself and take up his cross daily and follow me."
KJV
And he said to them all, "If any man will come after me, let him deny himself, and take up his cross daily, and follow me."
NKJV
Then He said to them all, "If anyone desires to come after Me, let him deny himself, and take up his cross daily, and follow Me."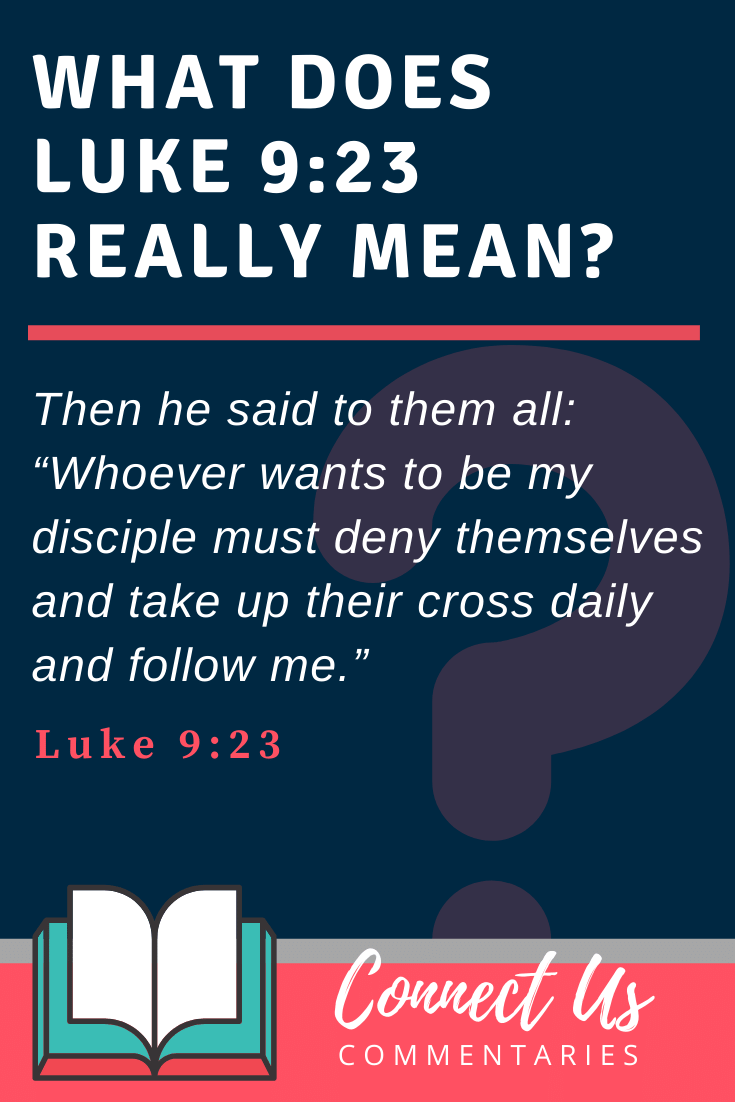 Author Bio
Natalie Regoli is a child of God, devoted wife, and mother of two boys. She has a Master's Degree in Law from The University of Texas. Natalie has been published in several national journals and has been practicing law for 18 years.