The word "joy" occurs 214 times in the Bible. The infographic below identifies the points of each occurrence. This graphic presentation starts with Genesis in the top left and concludes with Revelation in the bottom right.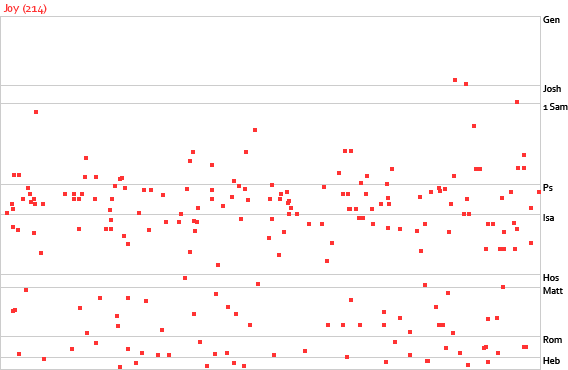 Here are the 40 most uplifting Bible scriptures on joy.
Romans 15:13
May the God of hope fill you with all joy and peace in believing, so that by the power of the Holy Spirit you may abound in hope.
Romans 12:12
Rejoice in hope, be patient in tribulation, be constant in prayer.
James 1:2
Count it all joy, my brothers, when you meet trials of various kinds.
Philippians 4:4
Rejoice in the Lord always; again I will say, Rejoice.
Galatians 5:22
But the fruit of the Spirit is love, joy, peace, patience, kindness, goodness, faithfulness.
1 Chronicles 16:27
Splendor and majesty are before him; strength and joy are in his place.
1 John 1:4
And we are writing these things so that our joy may be complete.
1 Peter 1:8
Though you have not seen him, you love him. Though you do not now see him, you believe in him and rejoice with joy that is inexpressible and filled with glory.
1 Peter 4:13
But rejoice insofar as you share Christ's sufferings, that you may also rejoice and be glad when his glory is revealed.
1 Thessalonians 1:6
And you became imitators of us and of the Lord, for you received the word in much affliction, with the joy of the Holy Spirit.
1 Thessalonians 2:20
For you are our glory and joy.
1 Thessalonians 5:16
Rejoice always.
2 Corinthians 7:4
I am acting with great boldness toward you; I have great pride in you; I am filled with comfort. In all our affliction, I am overflowing with joy.
Colossians 1:11
May you be strengthened with all power, according to his glorious might, for all endurance and patience with joy.
Hebrews 12:2
Looking to Jesus, the founder and perfecter of our faith, who for the joy that was set before him endured the cross, despising the shame, and is seated at the right hand of the throne of God.
Isaiah 55:12
"For you shall go out in joy and be led forth in peace; the mountains and the hills before you shall break forth into singing, and all the trees of the field shall clap their hands."
John 15:11
"These things I have spoken to you, that my joy may be in you, and that your joy may be full."
John 16:22
"So also you have sorrow now, but I will see you again, and your hearts will rejoice, and no one will take your joy from you."
John 16:24
"Until now you have asked nothing in my name. Ask, and you will receive, that your joy may be full."
John 17:13
"But now I am coming to you, and these things I speak in the world, that they may have my joy fulfilled in themselves."
Luke 15:10
"Just so, I tell you, there is joy before the angels of God over one sinner who repents."
Nehemiah 8:10
Then he said to them, "Go your way. Eat the fat and drink sweet wine and send portions to anyone who has nothing ready, for this day is holy to our Lord. And do not be grieved, for the joy of the Lord is your strength."
Proverbs 10:28
The hope of the righteous brings joy, but the expectation of the wicked will perish.
Proverbs 17:22
A joyful heart is good medicine, but a crushed spirit dries up the bones.
Psalm 100:1
A Psalm for giving thanks. Make a joyful noise to the Lord, all the earth!
Psalm 118:24
This is the day that the Lord has made; let us rejoice and be glad in it.
Psalm 126:5
Those who sow in tears shall reap with shouts of joy!
Psalm 16:11
You make known to me the path of life; in your presence there is fullness of joy; at your right hand are pleasures forevermore.
Psalm 16:9
Therefore my heart is glad, and my whole being rejoices; my flesh also dwells secure.
Psalm 27:6
And now my head shall be lifted up above my enemies all around me, and I will offer in his tent sacrifices with shouts of joy; I will sing and make melody to the Lord.
Psalm 28:7
The Lord is my strength and my shield; in him my heart trusts, and I am helped; my heart exults, and with my song I give thanks to him.
Psalm 30:11
You have turned for me my mourning into dancing; you have loosed my sackcloth and clothed me with gladness.
Psalm 30:5
For his anger is but for a moment, and his favor is for a lifetime. Weeping may tarry for the night, but joy comes with the morning.
Psalm 33:21
For our heart is glad in him, because we trust in his holy name.
Psalm 4:7
You have put more joy in my heart than they have when their grain and wine abound.
Psalm 5:11
But let all who take refuge in you rejoice; let them ever sing for joy, and spread your protection over them, that those who love your name may exult in you.
Psalm 51:12
Restore to me the joy of your salvation, and uphold me with a willing spirit.
Psalm 71:23
My lips will shout for joy, when I sing praises to you; my soul also, which you have redeemed.
Romans 14:17
For the kingdom of God is not a matter of eating and drinking but of righteousness and peace and joy in the Holy Spirit.
Romans 15:32
So that by God's will I may come to you with joy and be refreshed in your company.
More Bible Verses that Will Move You
50 Most Powerful Scriptures on Faith
60 Transcendent Verses on Trust
50 Strong Scriptures on Perseverance
68 Powerful Verses on Forgiveness
40 Uplifting Scriptures on Patience
Add Our Infographic Below to Your Pinterest Board
Hit the pin button below to add our infographic, with all the verses, to one of your Pinterest boards.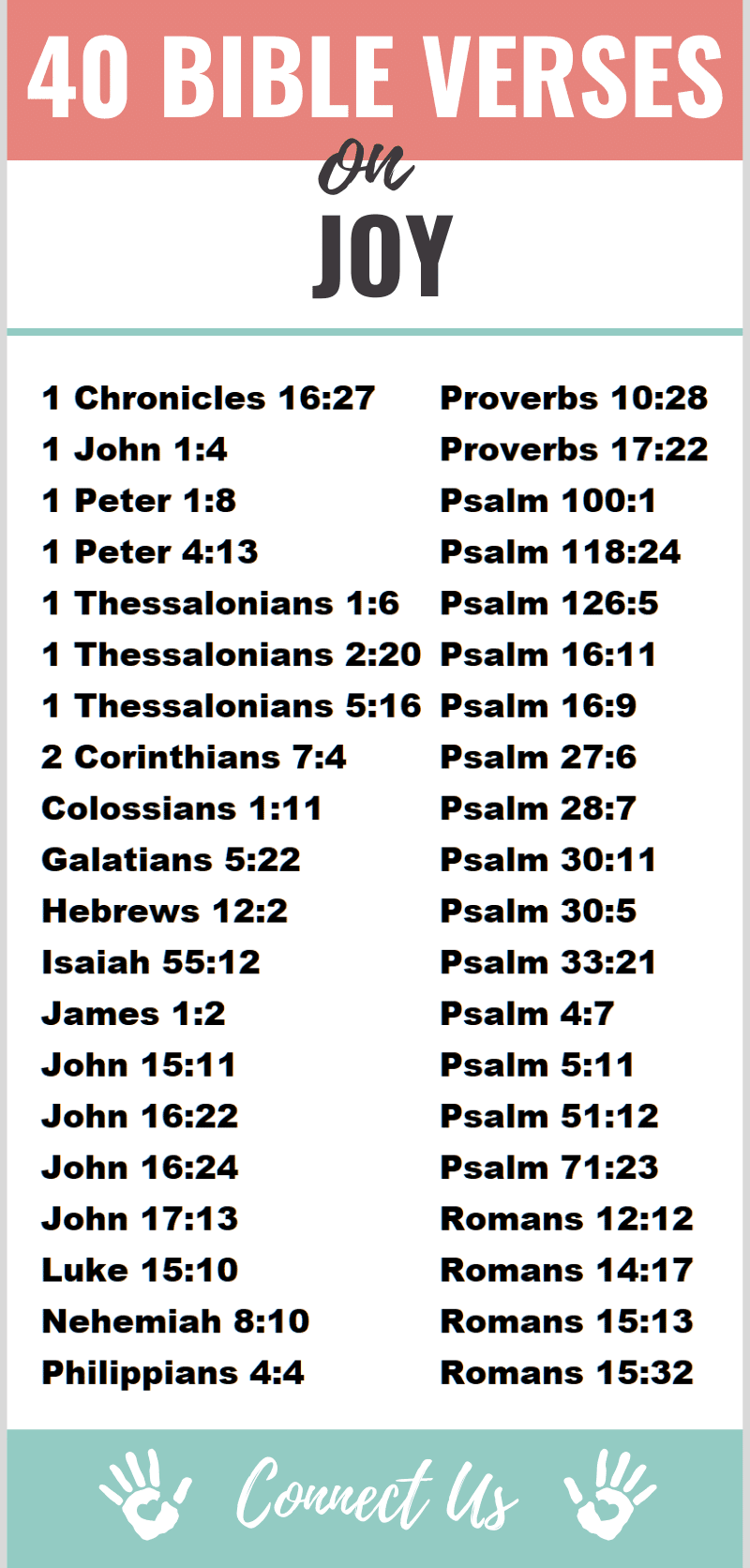 Author Bio
Natalie Regoli is a child of God, devoted wife, and mother of two boys. She has a Master's Degree in Law from The University of Texas. Natalie has been published in several national journals and has been practicing law for 18 years.