Here are the 30 most uplifting Bible scriptures on renewal.
2 Corinthians 5:17
Therefore, if anyone is in Christ, he is a new creation. The old has passed away; behold, the new has come.
Psalm 51:10
Create in me a clean heart, O God, and renew a right spirit within me.
Romans 12:2
Do not be conformed to this world, but be transformed by the renewal of your mind, that by testing you may discern what is the will of God, what is good and acceptable and perfect.
Psalm 51:12
Restore to me the joy of your salvation, and uphold me with a willing spirit.
Isaiah 40:31
But they who wait for the Lord shall renew their strength; they shall mount up with wings like eagles; they shall run and not be weary; they shall walk and not faint.
1 Corinthians 10:13
No temptation has overtaken you that is not common to man. God is faithful, and he will not let you be tempted beyond your ability, but with the temptation he will also provide the way of escape, that you may be able to endure it.
1 John 4:1
Beloved, do not believe every spirit, but test the spirits to see whether they are from God, for many false prophets have gone out into the world.
1 John 4:18
There is no fear in love, but perfect love casts out fear. For fear has to do with punishment, and whoever fears has not been perfected in love.
1 Peter 5:8
Be sober-minded; be watchful. Your adversary the devil prowls around like a roaring lion, seeking someone to devour.
2 Corinthians 4:16
So we do not lose heart. Though our outer self is wasting away, our inner self is being renewed day by day.
2 Corinthians 7:1
Since we have these promises, beloved, let us cleanse ourselves from every defilement of body and spirit, bringing holiness to completion in the fear of God.
2 Timothy 1:6
For this reason I remind you to fan into flame the gift of God, which is in you through the laying on of my hands.
2 Timothy 2:15
Do your best to present yourself to God as one approved, a worker who has no need to be ashamed, rightly handling the word of truth.
Acts 1:8
"But you will receive power when the Holy Spirit has come upon you, and you will be my witnesses in Jerusalem and in all Judea and Samaria, and to the end of the earth."
Acts 2:38
And Peter said to them, "Repent and be baptized every one of you in the name of Jesus Christ for the forgiveness of your sins, and you will receive the gift of the Holy Spirit."
Acts 3:19
Repent therefore, and turn again, that your sins may be blotted out.
Colossians 3:10
And have put on the new self, which is being renewed in knowledge after the image of its creator.
Ephesians 3:16
That according to the riches of his glory he may grant you to be strengthened with power through his Spirit in your inner being.
Ephesians 4:23
And to be renewed in the spirit of your minds.
Ezekiel 11:19
And I will give them one heart, and a new spirit I will put within them. I will remove the heart of stone from their flesh and give them a heart of flesh.
Galatians 1:10
For am I now seeking the approval of man, or of God? Or am I trying to please man? If I were still trying to please man, I would not be a servant of Christ.
Galatians 2:20
I have been crucified with Christ. It is no longer I who live, but Christ who lives in me. And the life I now live in the flesh I live by faith in the Son of God, who loved me and gave himself for me.
Hebrews 10:22
Let us draw near with a true heart in full assurance of faith, with our hearts sprinkled clean from an evil conscience and our bodies washed with pure water.
Hosea 6:3
Let us know; let us press on to know the Lord; his going out is sure as the dawn; he will come to us as the showers, as the spring rains that water the earth."
Isaiah 40:29
He gives power to the faint, and to him who has no might he increases strength.
Isaiah 41:10
"Fear not, for I am with you; be not dismayed, for I am your God; I will strengthen you, I will help you, I will uphold you with my righteous right hand."
Isaiah 57:10
You were wearied with the length of your way, but you did not say, "It is hopeless"; you found new life for your strength, and so you were not faint.
Jeremiah 29:11
"For I know the plans I have for you," declares the Lord, "plans for welfare and not for evil, to give you a future and a hope."
Luke 6:37
"Judge not, and you will not be judged; condemn not, and you will not be condemned; forgive, and you will be forgiven."
Malachi 4:1
"For behold, the day is coming, burning like an oven, when all the arrogant and all evildoers will be stubble. The day that is coming shall set them ablaze, says the Lord of hosts, so that it will leave them neither root nor branch."
Matthew 19:28
Jesus said to them, "Truly, I say to you, in the new world, when the Son of Man will sit on his glorious throne, you who have followed me will also sit on twelve thrones, judging the twelve tribes of Israel."
Philippians 4:13
I can do all things through him who strengthens me.
Philippians 4:8
Finally, brothers, whatever is true, whatever is honorable, whatever is just, whatever is pure, whatever is lovely, whatever is commendable, if there is any excellence, if there is anything worthy of praise, think about these things.
Psalm 46:1
To the choirmaster. Of the Sons of Korah. According to Alamoth. A Song. God is our refuge and strength, a very present help in trouble.
Revelation 21:4
"He will wipe away every tear from their eyes, and death shall be no more, neither shall there be mourning, nor crying, nor pain anymore, for the former things have passed away."
Revelation 21:5
And he who was seated on the throne said, "Behold, I am making all things new." Also he said, "Write this down, for these words are trustworthy and true."
Romans 10:9
Because, if you confess with your mouth that Jesus is Lord and believe in your heart that God raised him from the dead, you will be saved.
Romans 12:1
I appeal to you therefore, brothers, by the mercies of God, to present your bodies as a living sacrifice, holy and acceptable to God, which is your spiritual worship.
Romans 8:6
For to set the mind on the flesh is death, but to set the mind on the Spirit is life and peace.
Titus 3:5
He saved us, not because of works done by us in righteousness, but according to his own mercy, by the washing of regeneration and renewal of the Holy Spirit.
More Bible Verses that Will Move You
50 Most Powerful Scriptures on Faith
60 Transcendent Verses on Trust
50 Strong Scriptures on Perseverance
68 Powerful Verses on Forgiveness
40 Uplifting Scriptures on Patience
Add Our Infographic Below to Your Pinterest Board
Hit the pin button below to add our infographic, with all the verses, to one of your Pinterest boards.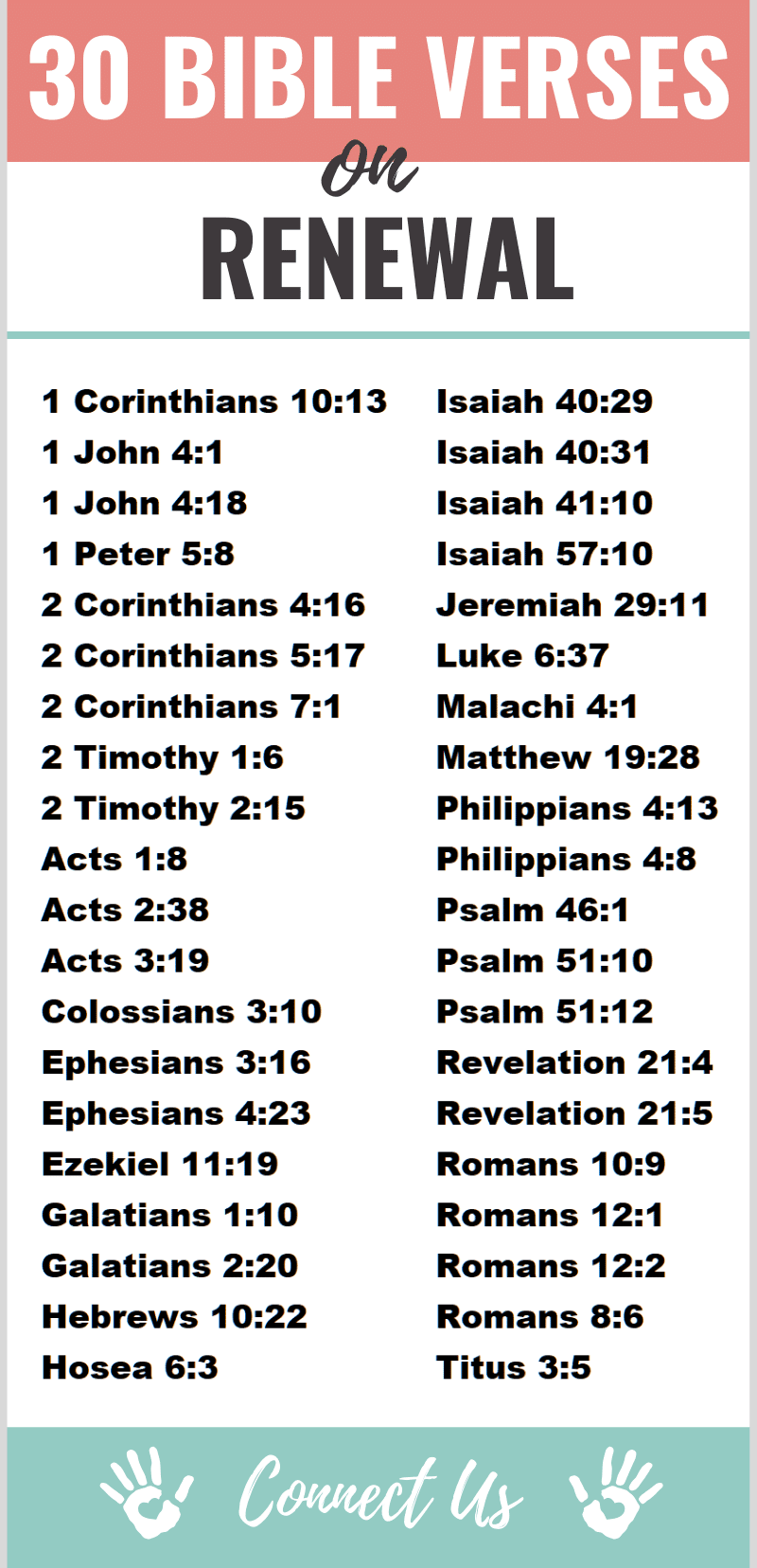 Author Bio
Natalie Regoli is a child of God, devoted wife, and mother of two boys. She has a Master's Degree in Law from The University of Texas. Natalie has been published in several national journals and has been practicing law for 18 years.