Here are the 50 best Bible scriptures on health.
3 John 1:2
Beloved, I pray that all may go well with you and that you may be in good health, as it goes well with your soul.
Proverbs 17:22
A joyful heart is good medicine, but a crushed spirit dries up the bones.
Exodus 15:26
Saying, "If you will diligently listen to the voice of the Lord your God, and do that which is right in his eyes, and give ear to his commandments and keep all his statutes, I will put none of the diseases on you that I put on the Egyptians, for I am the Lord, your healer."
Proverbs 16:24
Gracious words are like a honeycomb, sweetness to the soul and health to the body.
Exodus 23:25
"You shall serve the Lord your God, and he will bless your bread and your water, and I will take sickness away from among you."
1 Corinthians 10:13
No temptation has overtaken you that is not common to man. God is faithful, and he will not let you be tempted beyond your ability, but with the temptation he will also provide the way of escape, that you may be able to endure it.
1 Corinthians 10:31
So, whether you eat or drink, or whatever you do, do all to the glory of God.
1 Corinthians 3:17
If anyone destroys God's temple, God will destroy him. For God's temple is holy, and you are that temple.
1 Corinthians 6:19
Or do you not know that your body is a temple of the Holy Spirit within you, whom you have from God? You are not your own.
1 Corinthians 6:20
For you were bought with a price. So glorify God in your body.
1 Peter 2:24
He himself bore our sins in his body on the tree, that we might die to sin and live to righteousness. By his wounds you have been healed.
1 Timothy 4:8
For while bodily training is of some value, godliness is of value in every way, as it holds promise for the present life and also for the life to come.
Acts 27:34
Therefore I urge you to take some food. For it will give you strength, for not a hair is to perish from the head of any of you.
Deuteronomy 7:15
And the Lord will take away from you all sickness, and none of the evil diseases of Egypt, which you knew, will he inflict on you, but he will lay them on all who hate you.
Ephesians 5:18
And do not get drunk with wine, for that is debauchery, but be filled with the Spirit.
Exodus 15:2
The Lord is my strength and my song, and he has become my salvation; this is my God, and I will praise him, my father's God, and I will exalt him.
Genesis 1:29
And God said, "Behold, I have given you every plant yielding seed that is on the face of all the earth, and every tree with seed in its fruit. You shall have them for food."
Isaiah 41:10
"Fear not, for I am with you; be not dismayed, for I am your God; I will strengthen you, I will help you, I will uphold you with my righteous right hand."
Isaiah 53:5
But he was wounded for our transgressions; he was crushed for our iniquities; upon him was the chastisement that brought us peace, and with his stripes we are healed.
Isaiah 58:11
And the Lord will guide you continually and satisfy your desire in scorched places and make your bones strong; and you shall be like a watered garden, like a spring of water, whose waters do not fail.
James 5:16
Therefore, confess your sins to one another and pray for one another, that you may be healed. The prayer of a righteous person has great power as it is working.
Jeremiah 17:14
Heal me, O Lord, and I shall be healed; save me, and I shall be saved, for you are my praise.
Jeremiah 30:17
"For I will restore health to you, and your wounds I will heal," declares the Lord, "because they have called you an outcast: 'It is Zion, for whom no one cares!'"
Jeremiah 33:6
"Behold, I will bring to it health and healing, and I will heal them and reveal to them abundance of prosperity and security."
John 14:27
"Peace I leave with you; my peace I give to you. Not as the world gives do I give to you. Let not your hearts be troubled, neither let them be afraid."
Luke 9:11
When the crowds learned it, they followed him, and he welcomed them and spoke to them of the kingdom of God and cured those who had need of healing.
Malachi 4:2
"But for you who fear my name, the sun of righteousness shall rise with healing in its wings. You shall go out leaping like calves from the stall."
Mark 5:34
And he said to her, "Daughter, your faith has made you well; go in peace, and be healed of your disease."
Matthew 10:8
"Heal the sick, raise the dead, cleanse lepers, cast out demons. You received without paying; give without pay."
Matthew 19:26
But Jesus looked at them and said, "With man this is impossible, but with God all things are possible."
Matthew 6:34
"Therefore do not be anxious about tomorrow, for tomorrow will be anxious for itself. Sufficient for the day is its own trouble."
Philippians 4:13
I can do all things through him who strengthens me.
Philippians 4:19
And my God will supply every need of yours according to his riches in glory in Christ Jesus.
Proverbs 12:18
There is one whose rash words are like sword thrusts, but the tongue of the wise brings healing.
Proverbs 12:25
Anxiety in a man's heart weighs him down, but a good word makes him glad.
Proverbs 13:12
Hope deferred makes the heart sick, but a desire fulfilled is a tree of life.
Proverbs 14:30
A tranquil heart gives life to the flesh, but envy makes the bones rot.
Proverbs 20:1
Wine is a mocker, strong drink a brawler, and whoever is led astray by it is not wise.
Proverbs 3:8
It will be healing to your flesh and refreshment to your bones.
Proverbs 31:17
She dresses herself with strength and makes her arms strong.
Psalm 107:20
He sent out his word and healed them, and delivered them from their destruction.
Psalm 118:14
The Lord is my strength and my song; he has become my salvation.
Psalm 119:93
I will never forget your precepts, for by them you have given me life.
Psalm 147:3
He heals the brokenhearted and binds up their wounds.
Psalm 28:7
The Lord is my strength and my shield; in him my heart trusts, and I am helped; my heart exults, and with my song I give thanks to him.
Psalm 30:2
O Lord my God, I cried to you for help, and you have healed me.
Psalm 41:3
The Lord sustains him on his sickbed; in his illness you restore him to full health.
Psalm 73:26
My flesh and my heart may fail, but God is the strength of my heart and my portion forever.
Revelation 21:4
"He will wipe away every tear from their eyes, and death shall be no more, neither shall there be mourning, nor crying, nor pain anymore, for the former things have passed away."
Romans 8:28
And we know that for those who love God all things work together for good, for those who are called according to his purpose.
More Bible Verses that Will Move You
50 Most Powerful Scriptures on Faith
60 Transcendent Verses on Trust
50 Strong Scriptures on Perseverance
68 Powerful Verses on Forgiveness
40 Uplifting Scriptures on Patience
Add Our Infographic Below to Your Pinterest Board
Hit the pin button below to add our infographic, with all the verses, to one of your Pinterest boards.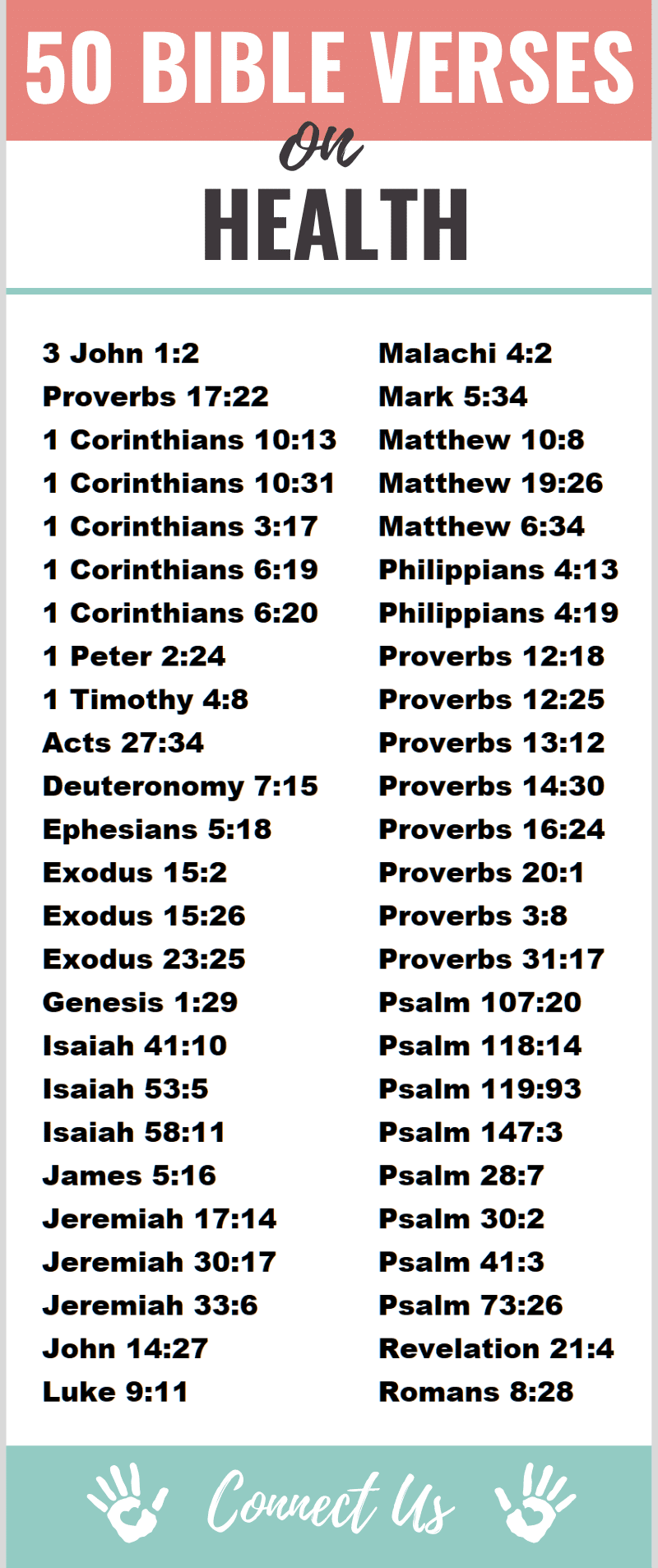 Author Bio
Natalie Regoli is a child of God, devoted wife, and mother of two boys. She has a Master's Degree in Law from The University of Texas. Natalie has been published in several national journals and has been practicing law for 18 years.