Here are the 50 best Bible scriptures on selfishness.
Philippians 2:4
Let each of you look not only to his own interests, but also to the interests of others.
1 John 3:17
But if anyone has the world's goods and sees his brother in need, yet closes his heart against him, how does God's love abide in him?
1 Corinthians 10:24
Let no one seek his own good, but the good of his neighbor.
Philippians 2:21
For they all seek their own interests, not those of Jesus Christ.
Galatians 6:2
Bear one another's burdens, and so fulfill the law of Christ.
2 Corinthians 5:15
And he died for all, that those who live might no longer live for themselves but for him who for their sake died and was raised.
2 Corinthians 8:9
For you know the grace of our Lord Jesus Christ, that though he was rich, yet for your sake he became poor, so that you by his poverty might become rich.
2 Peter 2:1
But false prophets also arose among the people, just as there will be false teachers among you, who will secretly bring in destructive heresies, even denying the Master who bought them, bringing upon themselves swift destruction.
2 Timothy 2:4
No soldier gets entangled in civilian pursuits, since his aim is to please the one who enlisted him.
3 John 1:9
I have written something to the church, but Diotrephes, who likes to put himself first, does not acknowledge our authority.
Acts 20:35
In all things I have shown you that by working hard in this way we must help the weak and remember the words of the Lord Jesus, how he himself said, "It is more blessed to give than to receive."
Ephesians 5:21
Submitting to one another out of reverence for Christ.
Ezekiel 34:18
Is it not enough for you to feed on the good pasture, that you must tread down with your feet the rest of your pasture; and to drink of clear water, that you must muddy the rest of the water with your feet?
Galatians 2:20
I have been crucified with Christ. It is no longer I who live, but Christ who lives in me. And the life I now live in the flesh I live by faith in the Son of God, who loved me and gave himself for me.
Galatians 5:24
And those who belong to Christ Jesus have crucified the flesh with its passions and desires.
Galatians 5:26
Let us not become conceited, provoking one another, envying one another.
Genesis 4:9
Then the Lord said to Cain, "Where is Abel your brother?" He said, "I do not know; am I my brother's keeper?"
Haggai 1:4
Is it a time for you yourselves to dwell in your paneled houses, while this house lies in ruins?
Haggai 1:9
You looked for much, and behold, it came to little. And when you brought it home, I blew it away. Why? declares the Lord of hosts. Because of my house that lies in ruins, while each of you busies himself with his own house.
Hebrews 13:16
Do not neglect to do good and to share what you have, for such sacrifices are pleasing to God.
Isaiah 5:20
Woe to those who call evil good and good evil, who put darkness for light and light for darkness, who put bitter for sweet and sweet for bitter!
James 2:16
And one of you says to them, "Go in peace, be warmed and filled," without giving them the things needed for the body, what good is that?
James 3:14
But if you have bitter jealousy and selfish ambition in your hearts, do not boast and be false to the truth.
James 3:16
For where jealousy and selfish ambition exist, there will be disorder and every vile practice.
John 15:13
"Greater love has no one than this, that someone lay down his life for his friends."
Luke 17:33
"Whoever seeks to preserve his life will lose it, but whoever loses his life will keep it."
Luke 9:23
And he said to all, "If anyone would come after me, let him deny himself and take up his cross daily and follow me."
Malachi 1:10
"Oh that there were one among you who would shut the doors, that you might not kindle fire on my altar in vain! I have no pleasure in you," says the Lord of hosts, "and I will not accept an offering from your hand."
Mark 12:31
"The second is this: 'You shall love your neighbor as yourself.' There is no other commandment greater than these."
Matthew 19:21
Jesus said to him, "If you would be perfect, go, sell what you possess and give to the poor, and you will have treasure in heaven; and come, follow me."
Matthew 20:16
"So the last will be first, and the first last."
Micah 3:11
Its heads give judgment for a bribe; its priests teach for a price; its prophets practice divination for money; yet they lean on the Lord and say, "Is not the Lord in the midst of us? No disaster shall come upon us."
Philippians 1:17
The former proclaim Christ out of rivalry, not sincerely but thinking to afflict me in my imprisonment.
Philippians 2:3
Do nothing from rivalry or conceit, but in humility count others more significant than yourselves.
Philippians 4:19
And my God will supply every need of yours according to his riches in glory in Christ Jesus.
Proverbs 11:26
The people curse him who holds back grain, but a blessing is on the head of him who sells it.
Proverbs 18:1
Whoever isolates himself seeks his own desire; he breaks out against all sound judgment.
Proverbs 18:17
The one who states his case first seems right, until the other comes and examines him.
Proverbs 21:13
Whoever closes his ear to the cry of the poor will himself call out and not be answered.
Proverbs 21:15
When justice is done, it is a joy to the righteous but terror to evildoers.
Proverbs 26:12
Do you see a man who is wise in his own eyes? There is more hope for a fool than for him.
Proverbs 28:27
Whoever gives to the poor will not want, but he who hides his eyes will get many a curse.
Psalm 119:36
Incline my heart to your testimonies, and not to selfish gain!
Romans 12:13
Contribute to the needs of the saints and seek to show hospitality.
Romans 14:15
For if your brother is grieved by what you eat, you are no longer walking in love. By what you eat, do not destroy the one for whom Christ died.
Romans 2:8
But for those who are self-seeking and do not obey the truth, but obey unrighteousness, there will be wrath and fury.
Romans 6:16
Do you not know that if you present yourselves to anyone as obedient slaves, you are slaves of the one whom you obey, either of sin, which leads to death, or of obedience, which leads to righteousness?
Romans 8:14
For all who are led by the Spirit of God are sons of God.
Romans 8:5
For those who live according to the flesh set their minds on the things of the flesh, but those who live according to the Spirit set their minds on the things of the Spirit.
Zechariah 7:6
And when you eat and when you drink, do you not eat for yourselves and drink for yourselves?
More Bible Verses that Will Move You
50 Most Powerful Scriptures on Faith
60 Transcendent Verses on Trust
50 Strong Scriptures on Perseverance
68 Powerful Verses on Forgiveness
40 Uplifting Scriptures on Patience
Add Our Infographic Below to Your Pinterest Board
Hit the pin button below to add our infographic, with all the verses, to one of your Pinterest boards.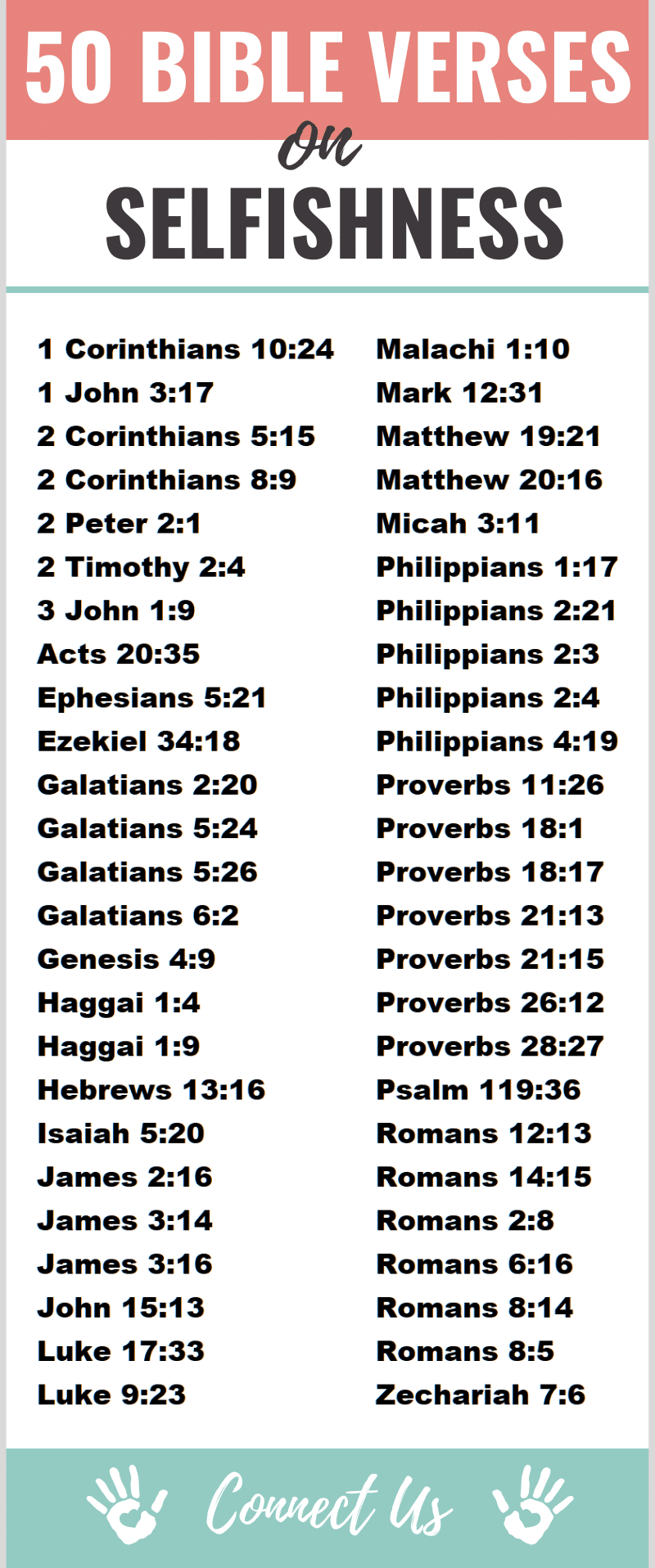 Author Bio
Natalie Regoli is a child of God, devoted wife, and mother of two boys. She has a Master's Degree in Law from The University of Texas. Natalie has been published in several national journals and has been practicing law for 18 years.