The word "faithfulness" appears 79 times throughout the books of the Bible. The graph below shows the locations of each appearance. It begins with Genesis in the top left and concludes with Revelation in the bottom right.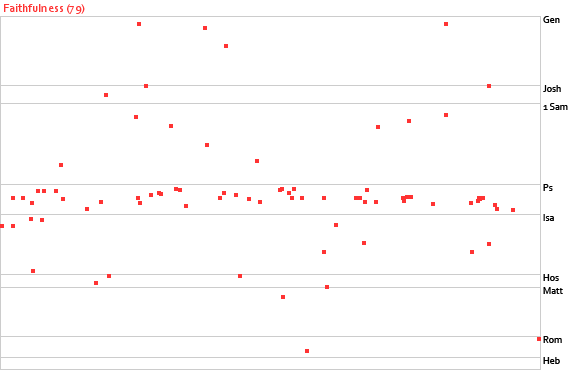 Here are the 50 most encouraging Bible scriptures on God's faithfulness.
2 Timothy 2:13
If we are faithless, he remains faithful— for he cannot deny himself.
Deuteronomy 7:9
Know therefore that the Lord your God is God, the faithful God who keeps covenant and steadfast love with those who love him and keep his commandments, to a thousand generations.
2 Thessalonians 3:3
But the Lord is faithful. He will establish you and guard you against the evil one.
1 Corinthians 10:13
No temptation has overtaken you that is not common to man. God is faithful, and he will not let you be tempted beyond your ability, but with the temptation he will also provide the way of escape, that you may be able to endure it.
1 Corinthians 1:9
God is faithful, by whom you were called into the fellowship of his Son, Jesus Christ our Lord.
1 Corinthians 4:2
Moreover, it is required of stewards that they be found trustworthy.
1 John 1:9
If we confess our sins, he is faithful and just to forgive us our sins and to cleanse us from all unrighteousness.
1 Kings 8:56
Blessed be the Lord who has given rest to his people Israel, according to all that he promised. Not one word has failed of all his good promise, which he spoke by Moses his servant.
1 Peter 4:19
Therefore let those who suffer according to God's will entrust their souls to a faithful Creator while doing good.
1 Samuel 26:23
The Lord rewards every man for his righteousness and his faithfulness, for the Lord gave you into my hand today, and I would not put out my hand against the Lord's anointed.
1 Thessalonians 5:24
He who calls you is faithful; he will surely do it.
Deuteronomy 32:4
The Rock, his work is perfect, for all his ways are justice. A God of faithfulness and without iniquity, just and upright is he.
Ephesians 1:1
Paul, an apostle of Christ Jesus by the will of God, To the saints who are in Ephesus, and are faithful in Christ Jesus.
Exodus 34:6
The Lord passed before him and proclaimed, "The Lord, the Lord, a God merciful and gracious, slow to anger, and abounding in steadfast love and faithfulness."
Galatians 5:22
But the fruit of the Spirit is love, joy, peace, patience, kindness, goodness, faithfulness.
Hebrews 10:23
Let us hold fast the confession of our hope without wavering, for he who promised is faithful.
Hebrews 11:1
Now faith is the assurance of things hoped for, the conviction of things not seen.
Hebrews 11:11
By faith Sarah herself received power to conceive, even when she was past the age, since she considered him faithful who had promised.
Hebrews 11:6
And without faith it is impossible to please him, for whoever would draw near to God must believe that he exists and that he rewards those who seek him.
Hebrews 13:5
Keep your life free from love of money, and be content with what you have, for he has said, "I will never leave you nor forsake you."
Hebrews 13:8
Jesus Christ is the same yesterday and today and forever.
Hebrews 3:2
Who was faithful to him who appointed him, just as Moses also was faithful in all God's house.
Isaiah 25:1
O Lord, you are my God; I will exalt you; I will praise your name, for you have done wonderful things, plans formed of old, faithful and sure.
John 16:33
I have said these things to you, that in me you may have peace. In the world you will have tribulation. But take heart; I have overcome the world."
John 3:16
For God so loved the world, that he gave his only Son, that whoever believes in him should not perish but have eternal life.
Lamentations 3:23
They are new every morning; great is your faithfulness.
Luke 16:10
"One who is faithful in a very little is also faithful in much, and one who is dishonest in a very little is also dishonest in much."
Malachi 3:6
"For I the Lord do not change; therefore you, O children of Jacob, are not consumed."
Matthew 24:35
"Heaven and earth will pass away, but my words will not pass away."
Matthew 25:21
His master said to him, "Well done, good and faithful servant. You have been faithful over a little; I will set you over much. Enter into the joy of your master."
Numbers 23:19
God is not man, that he should lie, or a son of man, that he should change his mind. Has he said, and will he not do it? Or has he spoken, and will he not fulfill it?
Philippians 1:6
And I am sure of this, that he who began a good work in you will bring it to completion at the day of Jesus Christ.
Proverbs 18:24
A man of many companions may come to ruin, but there is a friend who sticks closer than a brother.
Proverbs 20:6
Many a man proclaims his own steadfast love, but a faithful man who can find?
Proverbs 28:20
A faithful man will abound with blessings, but whoever hastens to be rich will not go unpunished.
Psalm 119:75
I know, O Lord, that your rules are righteous, and that in faithfulness you have afflicted me.
Psalm 119:90
Your faithfulness endures to all generations; you have established the earth, and it stands fast.
Psalm 33:4
For the word of the Lord is upright, and all his work is done in faithfulness.
Psalm 36:5
Your steadfast love, O Lord, extends to the heavens, your faithfulness to the clouds.
Psalm 40:10
I have not hidden your deliverance within my heart; I have spoken of your faithfulness and your salvation; I have not concealed your steadfast love and your faithfulness from the great congregation.
Psalm 86:15
But you, O Lord, are a God merciful and gracious, slow to anger and abounding in steadfast love and faithfulness.
Psalm 89:2
For I said, "Steadfast love will be built up forever; in the heavens you will establish your faithfulness."
Psalm 89:33
But I will not remove from him my steadfast love or be false to my faithfulness.
Psalm 89:8
O Lord God of hosts, who is mighty as you are, O Lord, with your faithfulness all around you?
Psalm 9:10
And those who know your name put their trust in you, for you, O Lord, have not forsaken those who seek you.
Psalm 91:4
He will cover you with his pinions, and under his wings you will find refuge; his faithfulness is a shield and buckler.
Revelation 19:11
Then I saw heaven opened, and behold, a white horse! The one sitting on it is called Faithful and True, and in righteousness he judges and makes war.
Revelation 3:14
"And to the angel of the church in Laodicea write: 'The words of the Amen, the faithful and true witness, the beginning of God's creation.'"
Romans 3:3
What if some were unfaithful? Does their faithlessness nullify the faithfulness of God?
Romans 8:28
And we know that for those who love God all things work together for good, for those who are called according to his purpose.
More Bible Verses that Will Move You
50 Most Powerful Scriptures on Faith
60 Transcendent Verses on Trust
50 Strong Scriptures on Perseverance
68 Powerful Verses on Forgiveness
40 Uplifting Scriptures on Patience
Add Our Infographic Below to Your Pinterest Board
Hit the pin button below to add our infographic, with all the verses, to one of your Pinterest boards.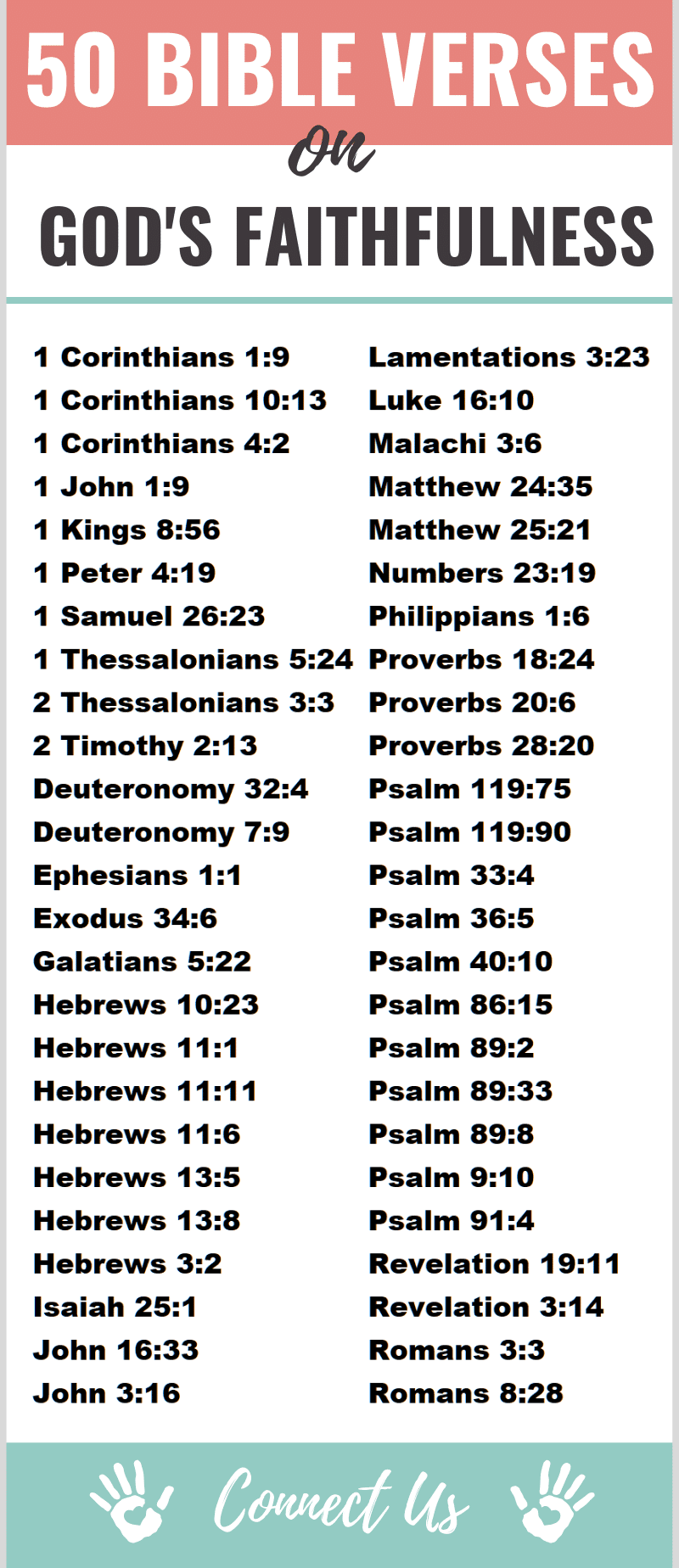 Author Bio
Natalie Regoli is a child of God, devoted wife, and mother of two boys. She has a Master's Degree in Law from The University of Texas. Natalie has been published in several national journals and has been practicing law for 18 years.