The word "disciples" appears 252 times throughout the books of the Bible. The graph below shows the locations of each appearance. It begins with Genesis in the top left and concludes with Revelation in the bottom right.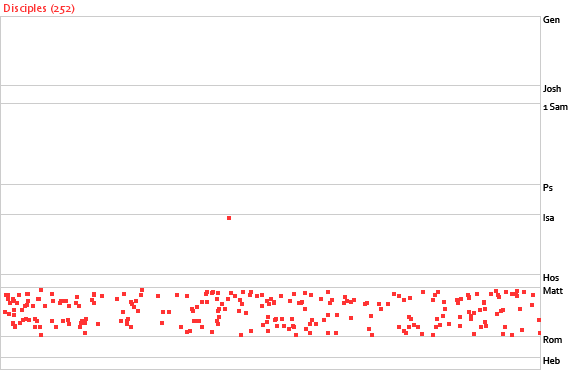 Here are the 50 most important Bible scriptures on discipleship.
Luke 14:27
"Whoever does not bear his own cross and come after me cannot be my disciple."
2 Timothy 2:2
And what you have heard from me in the presence of many witnesses entrust to faithful men who will be able to teach others also.
Luke 9:23
And he said to all, "If anyone would come after me, let him deny himself and take up his cross daily and follow me."
Acts 2:42
And they devoted themselves to the apostles' teaching and the fellowship, to the breaking of bread and the prayers.
Luke 6:40
"A disciple is not above his teacher, but everyone when he is fully trained will be like his teacher."
1 Corinthians 11:1
Be imitators of me, as I am of Christ.
1 Corinthians 4:1
This is how one should regard us, as servants of Christ and stewards of the mysteries of God.
1 John 3:16
By this we know love, that he laid down his life for us, and we ought to lay down our lives for the brothers.
1 Peter 2:21
For to this you have been called, because Christ also suffered for you, leaving you an example, so that you might follow in his steps.
1 Peter 3:15
But in your hearts honor Christ the Lord as holy, always being prepared to make a defense to anyone who asks you for a reason for the hope that is in you; yet do it with gentleness and respect.
1 Thessalonians 2:8
So, being affectionately desirous of you, we were ready to share with you not only the gospel of God but also our own selves, because you had become very dear to us.
1 Timothy 1:5
The aim of our charge is love that issues from a pure heart and a good conscience and a sincere faith.
2 Corinthians 5:15
And he died for all, that those who live might no longer live for themselves but for him who for their sake died and was raised.
2 Corinthians 5:17
Therefore, if anyone is in Christ, he is a new creation. The old has passed away; behold, the new has come.
2 Corinthians 5:20
Therefore, we are ambassadors for Christ, God making his appeal through us. We implore you on behalf of Christ, be reconciled to God.
Acts 1:8
But you will receive power when the Holy Spirit has come upon you, and you will be my witnesses in Jerusalem and in all Judea and Samaria, and to the end of the earth."
Acts 20:24
But I do not account my life of any value nor as precious to myself, if only I may finish my course and the ministry that I received from the Lord Jesus, to testify to the gospel of the grace of God.
Acts 9:36
Now there was in Joppa a disciple named Tabitha, which, translated, means Dorcas. She was full of good works and acts of charity.
Galatians 5:24
And those who belong to Christ Jesus have crucified the flesh with its passions and desires.
Galatians 6:6
One who is taught the word must share all good things with the one who teaches.
Hebrews 13:17
Obey your leaders and submit to them, for they are keeping watch over your souls, as those who will have to give an account. Let them do this with joy and not with groaning, for that would be of no advantage to you.
Isaiah 50:4
The Lord God has given me the tongue of those who are taught, that I may know how to sustain with a word him who is weary. Morning by morning he awakens; he awakens my ear to hear as those who are taught.
John 13:15
"For I have given you an example, that you also should do just as I have done to you."
John 13:35
"By this all people will know that you are my disciples, if you have love for one another."
John 15:16
"You did not choose me, but I chose you and appointed you that you should go and bear fruit and that your fruit should abide, so that whatever you ask the Father in my name, he may give it to you."
John 15:8
"By this my Father is glorified, that you bear much fruit and so prove to be my disciples."
John 3:16
For God so loved the world, that he gave his only Son, that whoever believes in him should not perish but have eternal life.
John 6:68
Simon Peter answered him, "Lord, to whom shall we go? You have the words of eternal life."
John 8:31
So Jesus said to the Jews who had believed in him, "If you abide in my word, you are truly my disciples."
Luke 14:26
"If anyone comes to me and does not hate his own father and mother and wife and children and brothers and sisters, yes, and even his own life, he cannot be my disciple."
Luke 14:33
"So therefore, any one of you who does not renounce all that he has cannot be my disciple."
Mark 1:35
And rising very early in the morning, while it was still dark, he departed and went out to a desolate place, and there he prayed.
Mark 11:23
"Truly, I say to you, whoever says to this mountain, 'Be taken up and thrown into the sea,' and does not doubt in his heart, but believes that what he says will come to pass, it will be done for him."
Mark 8:34
And calling the crowd to him with his disciples, he said to them, "If anyone would come after me, let him deny himself and take up his cross and follow me."
Matthew 10:24
"A disciple is not above his teacher, nor a servant above his master."
Matthew 10:37
"Whoever loves father or mother more than me is not worthy of me, and whoever loves son or daughter more than me is not worthy of me."
Matthew 10:38
"And whoever does not take his cross and follow me is not worthy of me."
Matthew 11:29
"Take my yoke upon you, and learn from me, for I am gentle and lowly in heart, and you will find rest for your souls."
Matthew 16:24
Then Jesus told his disciples, "If anyone would come after me, let him deny himself and take up his cross and follow me."
Matthew 28:19
"Go therefore and make disciples of all nations, baptizing them in the name of the Father and of the Son and of the Holy Spirit."
Matthew 4:19
And he said to them, "Follow me, and I will make you fishers of men."
Matthew 6:24
"No one can serve two masters, for either he will hate the one and love the other, or he will be devoted to the one and despise the other. You cannot serve God and money."
Matthew 6:33
"But seek first the kingdom of God and his righteousness, and all these things will be added to you."
Matthew 7:12
"So whatever you wish that others would do to you, do also to them, for this is the Law and the Prophets."
Matthew 7:21
"Not everyone who says to me, 'Lord, Lord,' will enter the kingdom of heaven, but the one who does the will of my Father who is in heaven."
Matthew 8:22
And Jesus said to him, "Follow me, and leave the dead to bury their own dead."
Matthew 9:9
As Jesus passed on from there, he saw a man called Matthew sitting at the tax booth, and he said to him, "Follow me." And he rose and followed him.
Proverbs 27:17
Iron sharpens iron, and one man sharpens another.
Romans 12:2
Do not be conformed to this world, but be transformed by the renewal of your mind, that by testing you may discern what is the will of God, what is good and acceptable and perfect.
Romans 8:29
For those whom he foreknew he also predestined to be conformed to the image of his Son, in order that he might be the firstborn among many brothers.
More Bible Verses that Will Move You
50 Most Powerful Scriptures on Faith
60 Transcendent Verses on Trust
50 Strong Scriptures on Perseverance
68 Powerful Verses on Forgiveness
40 Uplifting Scriptures on Patience
Add Our Infographic Below to Your Pinterest Board
Hit the pin button below to add our infographic, with all the verses, to one of your Pinterest boards.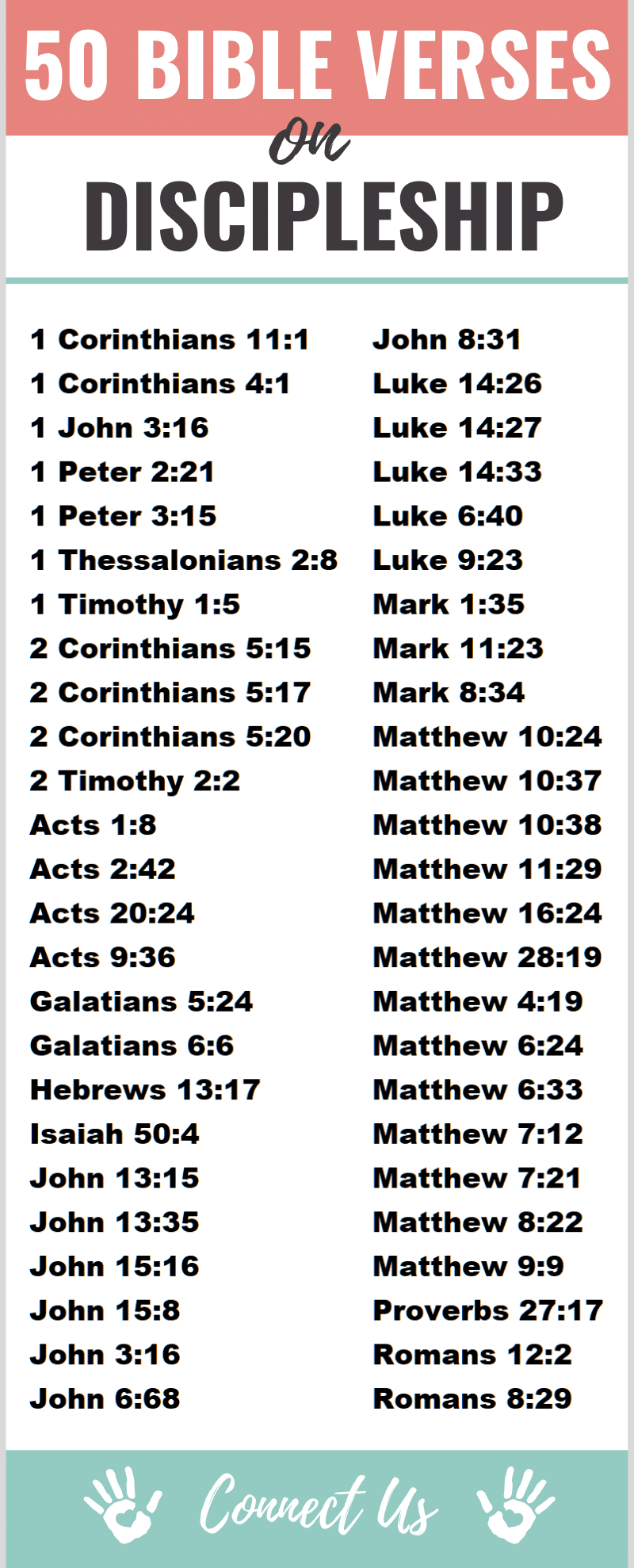 Author Bio
Natalie Regoli is a child of God, devoted wife, and mother of two boys. She has a Master's Degree in Law from The University of Texas. Natalie has been published in several national journals and has been practicing law for 18 years.