Here are the 50 most important Bible scriptures on marriage.
Hebrews 13:4
Let marriage be held in honor among all, and let the marriage bed be undefiled, for God will judge the sexually immoral and adulterous.
Proverbs 18:22
He who finds a wife finds a good thing and obtains favor from the Lord.
Genesis 2:24
Therefore a man shall leave his father and his mother and hold fast to his wife, and they shall become one flesh.
Proverbs 21:9
It is better to live in a corner of the housetop than in a house shared with a quarrelsome wife.
Proverbs 19:14
House and wealth are inherited from fathers, but a prudent wife is from the Lord.
1 Corinthians 11:11
Nevertheless, in the Lord woman is not independent of man nor man of woman.
1 Corinthians 11:12
For as woman was made from man, so man is now born of woman. And all things are from God.
1 Corinthians 11:3
But I want you to understand that the head of every man is Christ, the head of a wife is her husband, and the head of Christ is God.
1 Corinthians 13:13
So now faith, hope, and love abide, these three; but the greatest of these is love.
1 Corinthians 6:16
Or do you not know that he who is joined to a prostitute becomes one body with her? For, as it is written, "The two will become one flesh."
1 Corinthians 7:2
But because of the temptation to sexual immorality, each man should have his own wife and each woman her own husband.
1 Corinthians 7:3
The husband should give to his wife her conjugal rights, and likewise the wife to her husband.
1 Corinthians 7:39
A wife is bound to her husband as long as he lives. But if her husband dies, she is free to be married to whom she wishes, only in the Lord.
1 John 4:7
Beloved, let us love one another, for love is from God, and whoever loves has been born of God and knows God.
1 Peter 3:7
Likewise, husbands, live with your wives in an understanding way, showing honor to the woman as the weaker vessel, since they are heirs with you of the grace of life, so that your prayers may not be hindered.
1 Peter 4:8
Above all, keep loving one another earnestly, since love covers a multitude of sins.
1 Timothy 3:2
Therefore an overseer must be above reproach, the husband of one wife, sober-minded, self-controlled, respectable, hospitable, able to teach.
1 Timothy 5:14
So I would have younger widows marry, bear children, manage their households, and give the adversary no occasion for slander.
2 Corinthians 6:14
Do not be unequally yoked with unbelievers. For what partnership has righteousness with lawlessness? Or what fellowship has light with darkness?
Colossians 3:14
And above all these put on love, which binds everything together in perfect harmony.
Colossians 3:18
Wives, submit to your husbands, as is fitting in the Lord.
Colossians 3:19
Husbands, love your wives, and do not be harsh with them.
Deuteronomy 24:5
When a man is newly married, he shall not go out with the army or be liable for any other public duty. He shall be free at home one year to be happy with his wife whom he has taken.
Ecclesiastes 4:12
And though a man might prevail against one who is alone, two will withstand him—a threefold cord is not quickly broken.
Ecclesiastes 9:9
Enjoy life with the wife whom you love, all the days of your vain life that he has given you under the sun, because that is your portion in life and in your toil at which you toil under the sun.
Ephesians 4:2
With all humility and gentleness, with patience, bearing with one another in love.
Ephesians 4:32
Be kind to one another, tenderhearted, forgiving one another, as God in Christ forgave you.
Ephesians 5:21
Submitting to one another out of reverence for Christ.
Ephesians 5:25
Husbands, love your wives, as Christ loved the church and gave himself up for her.
Ephesians 5:28
In the same way husbands should love their wives as their own bodies. He who loves his wife loves himself.
Ephesians 5:31
"Therefore a man shall leave his father and mother and hold fast to his wife, and the two shall become one flesh."
Ephesians 5:33
However, let each one of you love his wife as himself, and let the wife see that she respects her husband.
Exodus 22:16
If a man seduces a virgin who is not betrothed and lies with her, he shall give the bride-price for her and make her his wife.
Ezekiel 16:8
"When I passed by you again and saw you, behold, you were at the age for love, and I spread the corner of my garment over you and covered your nakedness; I made my vow to you and entered into a covenant with you," declares the Lord God, "and you became mine."
Genesis 2:18
Then the Lord God said, "It is not good that the man should be alone; I will make him a helper fit for him."
Hosea 2:19
And I will betroth you to me forever. I will betroth you to me in righteousness and in justice, in steadfast love and in mercy.
Isaiah 54:5
For your Maker is your husband, the Lord of hosts is his name; and the Holy One of Israel is your Redeemer, the God of the whole earth he is called.
Isaiah 62:5
For as a young man marries a young woman, so shall your sons marry you, and as the bridegroom rejoices over the bride, so shall your God rejoice over you.
Jeremiah 29:11
"For I know the plans I have for you," declares the Lord, "plans for welfare and not for evil, to give you a future and a hope."
Jeremiah 29:6
Take wives and have sons and daughters; take wives for your sons, and give your daughters in marriage, that they may bear sons and daughters; multiply there, and do not decrease.
Luke 16:18
"Everyone who divorces his wife and marries another commits adultery, and he who marries a woman divorced from her husband commits adultery."
Malachi 2:16
"For the man who does not love his wife but divorces her," says the Lord, "the God of Israel, covers his garment with violence," says the Lord of hosts. "So guard yourselves in your spirit, and do not be faithless."
Mark 10:9
"What therefore God has joined together, let not man separate."
Matthew 19:9
"And I say to you: 'whoever divorces his wife, except for sexual immorality, and marries another, commits adultery.'"
Matthew 5:32
"But I say to you that everyone who divorces his wife, except on the ground of sexual immorality, makes her commit adultery, and whoever marries a divorced woman commits adultery."
Proverbs 12:4
An excellent wife is the crown of her husband, but she who brings shame is like rottenness in his bones.
Proverbs 21:19
It is better to live in a desert land than with a quarrelsome and fretful woman.
Proverbs 31:10
An excellent wife who can find? She is far more precious than jewels.
Psalm 85:10
Steadfast love and faithfulness meet; righteousness and peace kiss each other.
Romans 7:2
For a married woman is bound by law to her husband while he lives, but if her husband dies she is released from the law of marriage.
More Bible Verses that Will Move You
50 Most Powerful Scriptures on Faith
60 Transcendent Verses on Trust
50 Strong Scriptures on Perseverance
68 Powerful Verses on Forgiveness
40 Uplifting Scriptures on Patience
Add Our Infographic Below to Your Pinterest Board
Hit the pin button below to add our infographic, with all the verses, to one of your Pinterest boards.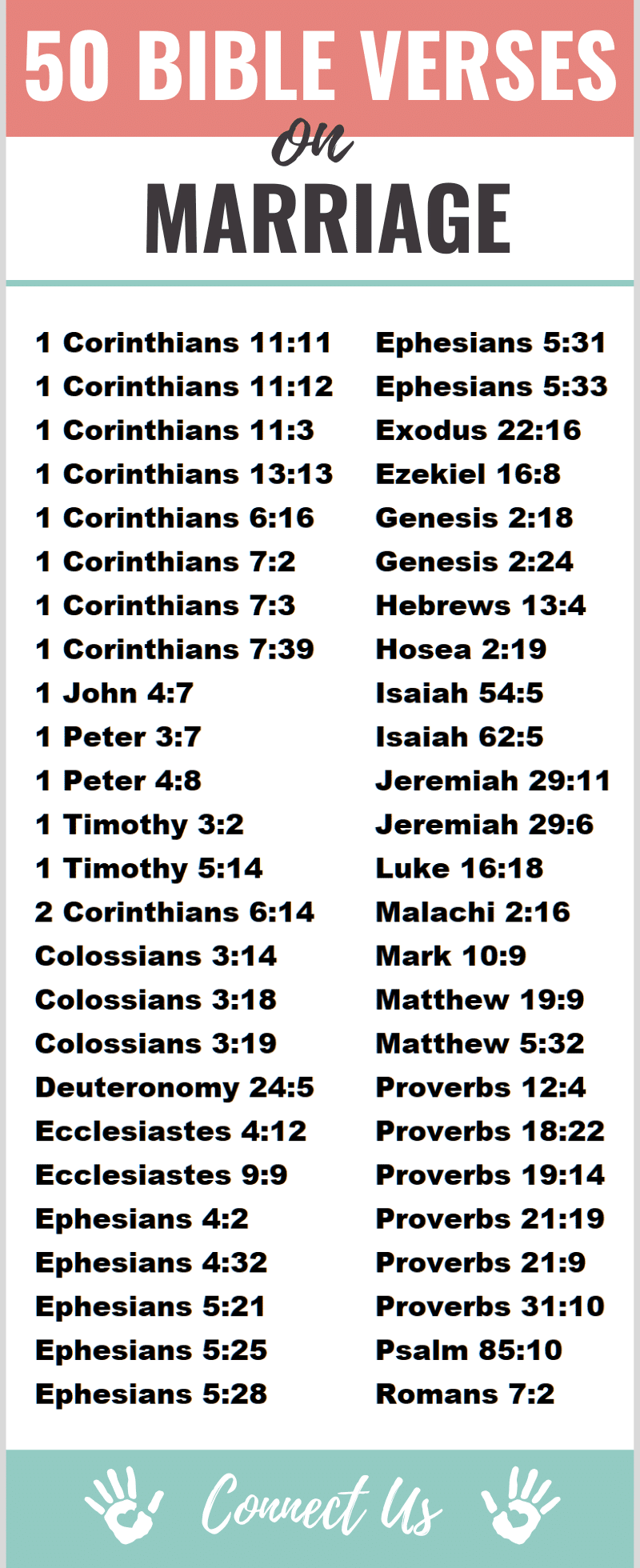 Author Bio
Natalie Regoli is a child of God, devoted wife, and mother of two boys. She has a Master's Degree in Law from The University of Texas. Natalie has been published in several national journals and has been practicing law for 18 years.