Here are the 50 most important Bible scriptures on temptation.
1 Corinthians 10:13
No temptation has overtaken you that is not common to man. God is faithful, and he will not let you be tempted beyond your ability, but with the temptation he will also provide the way of escape, that you may be able to endure it.
Matthew 26:41
"Watch and pray that you may not enter into temptation. The spirit indeed is willing, but the flesh is weak."
James 4:7
Submit yourselves therefore to God. Resist the devil, and he will flee from you.
Hebrews 2:18
For because he himself has suffered when tempted, he is able to help those who are being tempted.
Ephesians 6:11
Put on the whole armor of God, that you may be able to stand against the schemes of the devil.
1 Corinthians 6:13
Food is meant for the stomach and the stomach for food—and God will destroy both one and the other. The body is not meant for sexual immorality, but for the Lord, and the Lord for the body.
1 Corinthians 7:2
But because of the temptation to sexual immorality, each man should have his own wife and each woman her own husband.
1 Corinthians 7:5
Do not deprive one another, except perhaps by agreement for a limited time, that you may devote yourselves to prayer; but then come together again, so that Satan may not tempt you because of your lack of self-control.
1 John 1:9
If we confess our sins, he is faithful and just to forgive us our sins and to cleanse us from all unrighteousness.
1 John 2:16
For all that is in the world—the desires of the flesh and the desires of the eyes and pride in possessions—is not from the Father but is from the world.
1 John 4:4
Little children, you are from God and have overcome them, for he who is in you is greater than he who is in the world.
1 Peter 1:7
So that the tested genuineness of your faith—more precious than gold that perishes though it is tested by fire—may be found to result in praise and glory and honor at the revelation of Jesus Christ.
1 Peter 4:12
Beloved, do not be surprised at the fiery trial when it comes upon you to test you, as though something strange were happening to you.
1 Peter 4:7
The end of all things is at hand; therefore be self-controlled and sober-minded for the sake of your prayers.
1 Timothy 6:10
For the love of money is a root of all kinds of evils. It is through this craving that some have wandered away from the faith and pierced themselves with many pangs.
1 Timothy 6:9
But those who desire to be rich fall into temptation, into a snare, into many senseless and harmful desires that plunge people into ruin and destruction.
2 Chronicles 32:31
And so in the matter of the envoys of the princes of Babylon, who had been sent to him to inquire about the sign that had been done in the land, God left him to himself, in order to test him and to know all that was in his heart.
2 Corinthians 11:14
And no wonder, for even Satan disguises himself as an angel of light.
2 Corinthians 2:11
So that we would not be outwitted by Satan; for we are not ignorant of his designs.
2 Peter 2:9
Then the Lord knows how to rescue the godly from trials, and to keep the unrighteous under punishment until the day of judgment.
2 Peter 3:17
You therefore, beloved, knowing this beforehand, take care that you are not carried away with the error of lawless people and lose your own stability.
2 Timothy 4:18
The Lord will rescue me from every evil deed and bring me safely into his heavenly kingdom. To him be the glory forever and ever. Amen.
Ecclesiastes 7:26
And I find something more bitter than death: the woman whose heart is snares and nets, and whose hands are fetters. He who pleases God escapes her, but the sinner is taken by her.
Ephesians 4:27
And give no opportunity to the devil.
Galatians 5:17
For the desires of the flesh are against the Spirit, and the desires of the Spirit are against the flesh, for these are opposed to each other, to keep you from doing the things you want to do.
Galatians 6:1
Brothers, if anyone is caught in any transgression, you who are spiritual should restore him in a spirit of gentleness. Keep watch on yourself, lest you too be tempted.
Hebrews 12:4
In your struggle against sin you have not yet resisted to the point of shedding your blood.
Hebrews 4:15
For we do not have a high priest who is unable to sympathize with our weaknesses, but one who in every respect has been tempted as we are, yet without sin.
James 1:12
Blessed is the man who remains steadfast under trial, for when he has stood the test he will receive the crown of life, which God has promised to those who love him.
James 1:13
Let no one say when he is tempted, "I am being tempted by God," for God cannot be tempted with evil, and he himself tempts no one.
James 1:14
But each person is tempted when he is lured and enticed by his own desire.
James 1:15
Then desire when it has conceived gives birth to sin, and sin when it is fully grown brings forth death.
James 1:2
Count it all joy, my brothers, when you meet trials of various kinds.
James 1:3
For you know that the testing of your faith produces steadfastness.
Luke 11:4
"And forgive us our sins, for we ourselves forgive everyone who is indebted to us. And lead us not into temptation."
Luke 22:31
"Simon, Simon, behold, Satan demanded to have you, that he might sift you like wheat."
Luke 22:40
And when he came to the place, he said to them, "Pray that you may not enter into temptation."
Luke 22:46
And he said to them, "Why are you sleeping? Rise and pray that you may not enter into temptation."
Luke 8:14
"And as for what fell among the thorns, they are those who hear, but as they go on their way they are choked by the cares and riches and pleasures of life, and their fruit does not mature."
Mark 14:38
"Watch and pray that you may not enter into temptation. The spirit indeed is willing, but the flesh is weak."
Matthew 4:3
And the tempter came and said to him, "If you are the Son of God, command these stones to become loaves of bread."
Matthew 6:13
"And lead us not into temptation, but deliver us from evil."
Proverbs 14:27
The fear of the Lord is a fountain of life, that one may turn away from the snares of death.
Proverbs 3:5
Trust in the Lord with all your heart, and do not lean on your own understanding.
Revelation 12:11
"And they have conquered him by the blood of the Lamb and by the word of their testimony, for they loved not their lives even unto death."
Revelation 3:10
"Because you have kept my word about patient endurance, I will keep you from the hour of trial that is coming on the whole world, to try those who dwell on the earth."
Romans 12:21
Do not be overcome by evil, but overcome evil with good.
Romans 14:13
Therefore let us not pass judgment on one another any longer, but rather decide never to put a stumbling block or hindrance in the way of a brother.
Romans 6:23
For the wages of sin is death, but the free gift of God is eternal life in Christ Jesus our Lord.
Zechariah 13:9
"And I will put this third into the fire, and refine them as one refines silver, and test them as gold is tested. They will call upon my name, and I will answer them. I will say, 'They are my people'; and they will say, 'The Lord is my God.'"
More Bible Verses that Will Move You
50 Most Powerful Scriptures on Faith
60 Transcendent Verses on Trust
50 Strong Scriptures on Perseverance
68 Powerful Verses on Forgiveness
40 Uplifting Scriptures on Patience
Add Our Infographic Below to Your Pinterest Board
Hit the pin button below to add our infographic, with all the verses, to one of your Pinterest boards.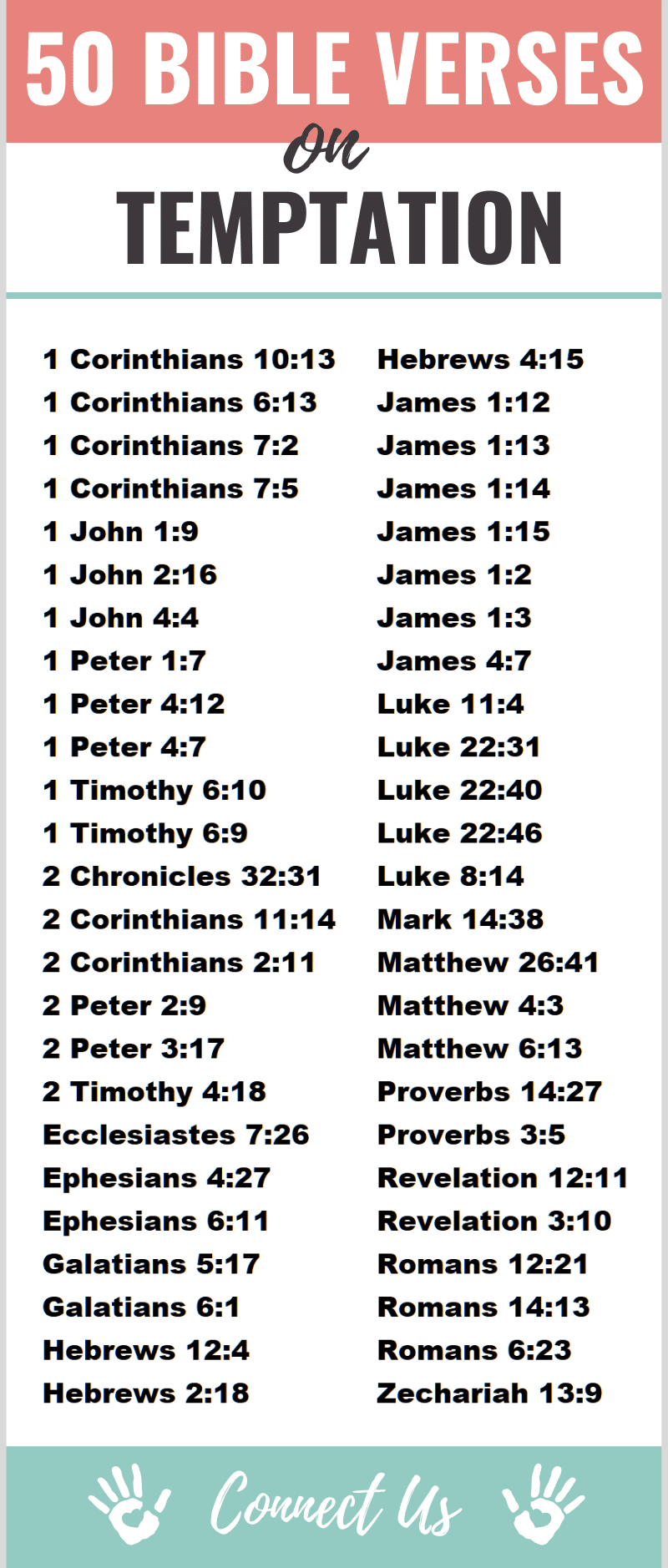 Author Bio
Natalie Regoli is a child of God, devoted wife, and mother of two boys. She has a Master's Degree in Law from The University of Texas. Natalie has been published in several national journals and has been practicing law for 18 years.