Here are the 50 most inspiring Bible scriptures on miracles.
Acts 4:30
While you stretch out your hand to heal, and signs and wonders are performed through the name of your holy servant Jesus.
John 4:48
So Jesus said to him, "Unless you see signs and wonders you will not believe."
Matthew 17:20
He said to them, "Because of your little faith. For truly, I say to you, if you have faith like a grain of mustard seed, you will say to this mountain, 'Move from here to there,' and it will move, and nothing will be impossible for you."
Acts 3:16
And his name—by faith in his name—has made this man strong whom you see and know, and the faith that is through Jesus has given the man this perfect health in the presence of you all.
Mark 16:17
"And these signs will accompany those who believe: in my name they will cast out demons; they will speak in new tongues."
1 Corinthians 12:10
To another the working of miracles, to another prophecy, to another the ability to distinguish between spirits, to another various kinds of tongues, to another the interpretation of tongues.
1 Corinthians 12:28
And God has appointed in the church first apostles, second prophets, third teachers, then miracles, then gifts of healing, helping, administrating, and various kinds of tongues.
1 Corinthians 12:31
But earnestly desire the higher gifts. And I will show you a still more excellent way.
1 Timothy 4:14
Do not neglect the gift you have, which was given you by prophecy when the council of elders laid their hands on you.
2 Corinthians 12:12
The signs of a true apostle were performed among you with utmost patience, with signs and wonders and mighty works.
2 Thessalonians 2:9
The coming of the lawless one is by the activity of Satan with all power and false signs and wonders.
2 Timothy 1:6
For this reason I remind you to fan into flame the gift of God, which is in you through the laying on of my hands.
Acts 14:3
So they remained for a long time, speaking boldly for the Lord, who bore witness to the word of his grace, granting signs and wonders to be done by their hands.
Acts 16:18
And this she kept doing for many days. Paul, having become greatly annoyed, turned and said to the spirit, "I command you in the name of Jesus Christ to come out of her." And it came out that very hour.
Acts 19:11
And God was doing extraordinary miracles by the hands of Paul.
Acts 19:6
And when Paul had laid his hands on them, the Holy Spirit came on them, and they began speaking in tongues and prophesying.
Acts 2:22
Men of Israel, hear these words: Jesus of Nazareth, a man attested to you by God with mighty works and wonders and signs that God did through him in your midst, as you yourselves know.
Acts 3:6
But Peter said, "I have no silver and gold, but what I do have I give to you. In the name of Jesus Christ of Nazareth, rise up and walk!"
Acts 9:34
And Peter said to him, "Aeneas, Jesus Christ heals you; rise and make your bed." And immediately he rose.
Daniel 3:28
Nebuchadnezzar answered and said, "Blessed be the God of Shadrach, Meshach, and Abednego, who has sent his angel and delivered his servants, who trusted in him, and set aside the king's command, and yielded up their bodies rather than serve and worship any god except their own God."
Exodus 10:17
Now therefore, forgive my sin, please, only this once, and plead with the Lord your God only to remove this death from me.
Exodus 14:31
Israel saw the great power that the Lord used against the Egyptians, so the people feared the Lord, and they believed in the Lord and in his servant Moses.
Exodus 4:30
Aaron spoke all the words that the Lord had spoken to Moses and did the signs in the sight of the people.
Hebrews 2:4
While God also bore witness by signs and wonders and various miracles and by gifts of the Holy Spirit distributed according to his will.
Jeremiah 32:27
"Behold, I am the Lord, the God of all flesh. Is anything too hard for me?"
Job 5:9
Who does great things and unsearchable, marvelous things without number.
Job 9:10
Who does great things beyond searching out, and marvelous things beyond number.
John 11:4
But when Jesus heard it he said, "This illness does not lead to death. It is for the glory of God, so that the Son of God may be glorified through it."
John 14:12
"Truly, truly, I say to you, whoever believes in me will also do the works that I do; and greater works than these will he do, because I am going to the Father."
John 2:11
This, the first of his signs, Jesus did at Cana in Galilee, and manifested his glory. And his disciples believed in him.
John 20:30
Now Jesus did many other signs in the presence of the disciples, which are not written in this book.
John 20:31
"But these are written so that you may believe that Jesus is the Christ, the Son of God, and that by believing you may have life in his name."
Jonah 1:17
And the Lord appointed a great fish to swallow up Jonah. And Jonah was in the belly of the fish three days and three nights.
Luke 1:37
"For nothing will be impossible with God."
Luke 11:29
When the crowds were increasing, he began to say, "This generation is an evil generation. It seeks for a sign, but no sign will be given to it except the sign of Jonah."
Luke 18:27
But he said, "What is impossible with men is possible with God."
Mark 16:20
And they went out and preached everywhere, while the Lord worked with them and confirmed the message by accompanying signs.
Mark 9:23
And Jesus said to him, "If you can! All things are possible for one who believes."
Matthew 12:28
"But if it is by the Spirit of God that I cast out demons, then the kingdom of God has come upon you."
Matthew 12:38
Then some of the scribes and Pharisees answered him, saying, "Teacher, we wish to see a sign from you."
Matthew 19:26
But Jesus looked at them and said, "With man this is impossible, but with God all things are possible."
Matthew 21:21
And Jesus answered them, "Truly, I say to you, if you have faith and do not doubt, you will not only do what has been done to the fig tree, but even if you say to this mountain, 'Be taken up and thrown into the sea,' it will happen."
Matthew 4:3
And the tempter came and said to him, "If you are the Son of God, command these stones to become loaves of bread."
Matthew 7:22
"On that day many will say to me, 'Lord, Lord, did we not prophesy in your name, and cast out demons in your name, and do many mighty works in your name?'"
Matthew 9:18
While he was saying these things to them, behold, a ruler came in and knelt before him, saying, "My daughter has just died, but come and lay your hand on her, and she will live."
Matthew 9:28
When he entered the house, the blind men came to him, and Jesus said to them, "Do you believe that I am able to do this?" They said to him, "Yes, Lord."
Matthew 9:33
And when the demon had been cast out, the mute man spoke. And the crowds marveled, saying, "Never was anything like this seen in Israel."
Psalm 105:5
Remember the wondrous works that he has done, his miracles, and the judgments he uttered.
Psalm 77:14
You are the God who works wonders; you have made known your might among the peoples.
Romans 15:19
By the power of signs and wonders, by the power of the Spirit of God—so that from Jerusalem and all the way around to Illyricum I have fulfilled the ministry of the gospel of Christ.
More Bible Verses that Will Move You
50 Most Powerful Scriptures on Faith
60 Transcendent Verses on Trust
50 Strong Scriptures on Perseverance
68 Powerful Verses on Forgiveness
40 Uplifting Scriptures on Patience
Add Our Infographic Below to Your Pinterest Board
Hit the pin button below to add our infographic, with all the verses, to one of your Pinterest boards.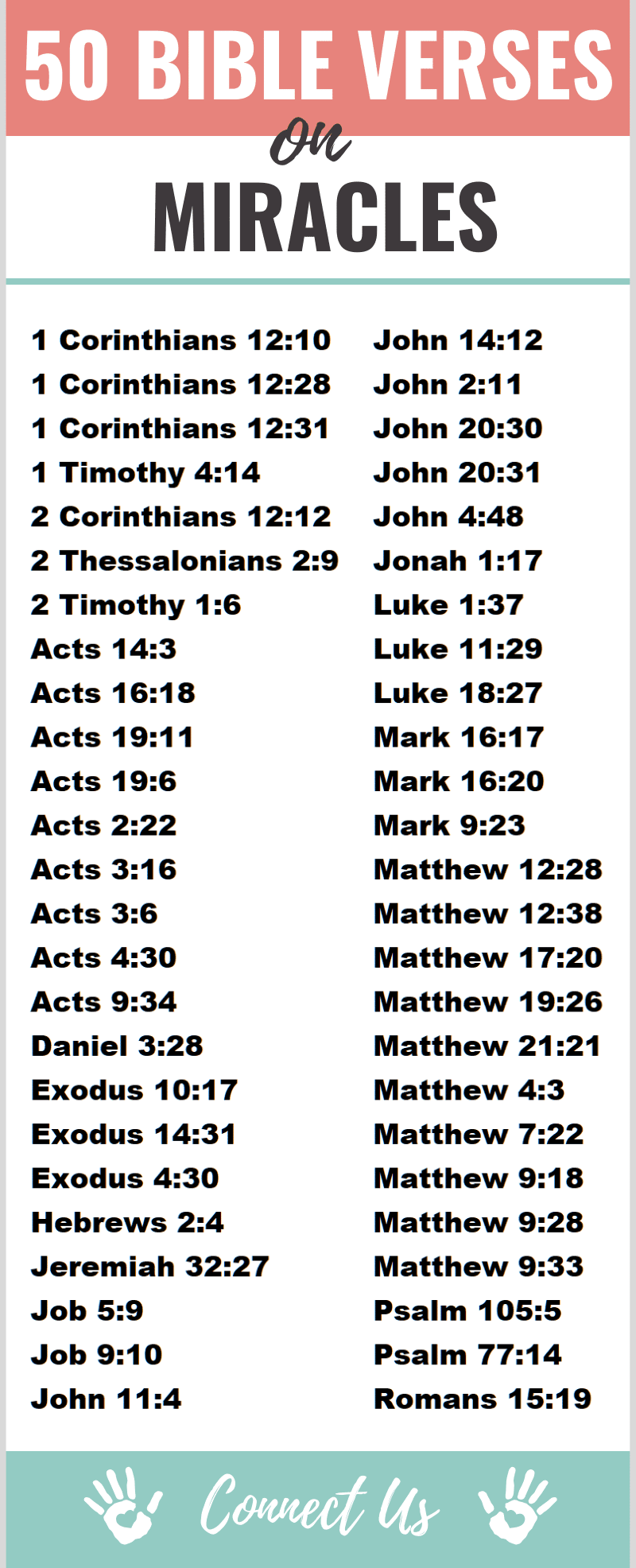 Author Bio
Natalie Regoli is a child of God, devoted wife, and mother of two boys. She has a Master's Degree in Law from The University of Texas. Natalie has been published in several national journals and has been practicing law for 18 years.