The word fear is found 453 times in the Old and New Testament. The image below reveals the locations of each occurrence. This cool graph starts with Genesis in the top left and ends with Revelation in the bottom right.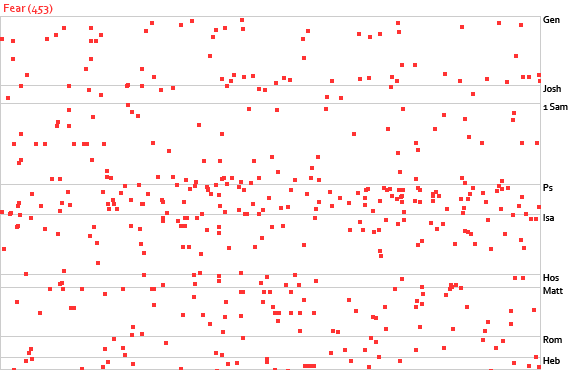 Here are the 50 most inspiring Bible scriptures on overcoming fear.
Isaiah 41:10
"Fear not, for I am with you; be not dismayed, for I am your God; I will strengthen you, I will help you, I will uphold you with my righteous right hand."
2 Timothy 1:7
For God gave us a spirit not of fear but of power and love and self-control.
1 Peter 5:7
Casting all your anxieties on him, because he cares for you.
1 John 4:18
There is no fear in love, but perfect love casts out fear. For fear has to do with punishment, and whoever fears has not been perfected in love.
John 16:33
"I have said these things to you, that in me you may have peace. In the world you will have tribulation. But take heart; I have overcome the world."
1 Corinthians 14:33
For God is not a God of confusion but of peace. As in all the churches of the saints.
1 Corinthians 15:52
In a moment, in the twinkling of an eye, at the last trumpet. For the trumpet will sound, and the dead will be raised imperishable, and we shall be changed.
1 John 4:1
Beloved, do not believe every spirit, but test the spirits to see whether they are from God, for many false prophets have gone out into the world.
1 John 5:5
Who is it that overcomes the world except the one who believes that Jesus is the Son of God?
Deuteronomy 3:22
You shall not fear them, for it is the Lord your God who fights for you.
Deuteronomy 31:6
Be strong and courageous. Do not fear or be in dread of them, for it is the Lord your God who goes with you. He will not leave you or forsake you.
Hebrews 2:14
Since therefore the children share in flesh and blood, he himself likewise partook of the same things, that through death he might destroy the one who has the power of death, that is, the devil.
Isaiah 26:3
You keep him in perfect peace whose mind is stayed on you, because he trusts in you.
Isaiah 35:4
Say to those who have an anxious heart, "Be strong; fear not! Behold, your God will come with vengeance, with the recompense of God. He will come and save you."
Isaiah 41:13
"For I, the Lord your God, hold your right hand; it is I who say to you, 'Fear not, I am the one who helps you.'"
Isaiah 43:1
But now thus says the Lord, he who created you, O Jacob, he who formed you, O Israel: "Fear not, for I have redeemed you; I have called you by name, you are mine."
Isaiah 46:11
Calling a bird of prey from the east, the man of my counsel from a far country. I have spoken, and I will bring it to pass; I have purposed, and I will do it.
Isaiah 54:4
Fear not, for you will not be ashamed; be not confounded, for you will not be disgraced; for you will forget the shame of your youth, and the reproach of your widowhood you will remember no more.
James 1:20
For the anger of man does not produce the righteousness of God.
John 1:1
"In the beginning was the Word, and the Word was with God, and the Word was God."
John 14:27
"Peace I leave with you; my peace I give to you. Not as the world gives do I give to you. Let not your hearts be troubled, neither let them be afraid."
John 14:6
Jesus said to him, "I am the way, and the truth, and the life. No one comes to the Father except through me."
John 3:16
For God so loved the world, that he gave his only Son, that whoever believes in him should not perish but have eternal life.
Joshua 1:9
"Have I not commanded you? Be strong and courageous. Do not be frightened, and do not be dismayed, for the Lord your God is with you wherever you go."
Luke 12:40
"You also must be ready, for the Son of Man is coming at an hour you do not expect."
Mark 13:9
"But be on your guard. For they will deliver you over to councils, and you will be beaten in synagogues, and you will stand before governors and kings for my sake, to bear witness before them."
Mark 5:36
But overhearing what they said, Jesus said to the ruler of the synagogue, "Do not fear, only believe."
Matthew 10:28
"And do not fear those who kill the body but cannot kill the soul. Rather fear him who can destroy both soul and body in hell."
Matthew 24:21
"For then there will be great tribulation, such as has not been from the beginning of the world until now, no, and never will be."
Matthew 24:22
"And if those days had not been cut short, no human being would be saved. But for the sake of the elect those days will be cut short."
Matthew 6:34
"Therefore do not be anxious about tomorrow, for tomorrow will be anxious for itself. Sufficient for the day is its own trouble."
Philippians 4:13
I can do all things through him who strengthens me.
Philippians 4:6
Do not be anxious about anything, but in everything by prayer and supplication with thanksgiving let your requests be made known to God.
Proverbs 1:7
The fear of the Lord is the beginning of knowledge; fools despise wisdom and instruction.
Proverbs 29:25
The fear of man lays a snare, but whoever trusts in the Lord is safe.
Proverbs 3:5
Trust in the Lord with all your heart, and do not lean on your own understanding.
Psalm 115:11
You who fear the Lord, trust in the Lord! He is their help and their shield.
Psalm 118:6
The Lord is on my side; I will not fear. What can man do to me?
Psalm 23:4
Even though I walk through the valley of the shadow of death, I will fear no evil, for you are with me; your rod and your staff, they comfort me.
Psalm 27:1
Of David. The Lord is my light and my salvation; whom shall I fear? The Lord is the stronghold of my life; of whom shall I be afraid?
Psalm 27:3
Though an army encamp against me, my heart shall not fear; though war arise against me, yet I will be confident.
Psalm 34:4
I sought the Lord, and he answered me and delivered me from all my fears.
Psalm 34:6
This poor man cried, and the Lord heard him and saved him out of all his troubles.
Psalm 55:22
Cast your burden on the Lord, and he will sustain you; he will never permit the righteous to be moved.
Psalm 56:11
In God I trust; I shall not be afraid. What can man do to me?
Psalm 56:3
When I am afraid, I put my trust in you.
Psalm 68:19
Blessed be the Lord, who daily bears us up; God is our salvation. Selah.
Revelation 12:11
And they have conquered him by the blood of the Lamb and by the word of their testimony, for they loved not their lives even unto death.
Revelation 21:4
"'He will wipe away every tear from their eyes, and death shall be no more, neither shall there be mourning, nor crying, nor pain anymore, for the former things have passed away.'"
Romans 8:15
For you did not receive the spirit of slavery to fall back into fear, but you have received the Spirit of adoption as sons, by whom we cry, "Abba! Father!"
More Bible Verses that Will Move You
50 Most Powerful Scriptures on Faith
60 Transcendent Verses on Trust
50 Strong Scriptures on Perseverance
68 Powerful Verses on Forgiveness
40 Uplifting Scriptures on Patience
Add Our Infographic Below to Your Pinterest Board
Hit the pin button below to add our infographic, with all the verses, to one of your Pinterest boards.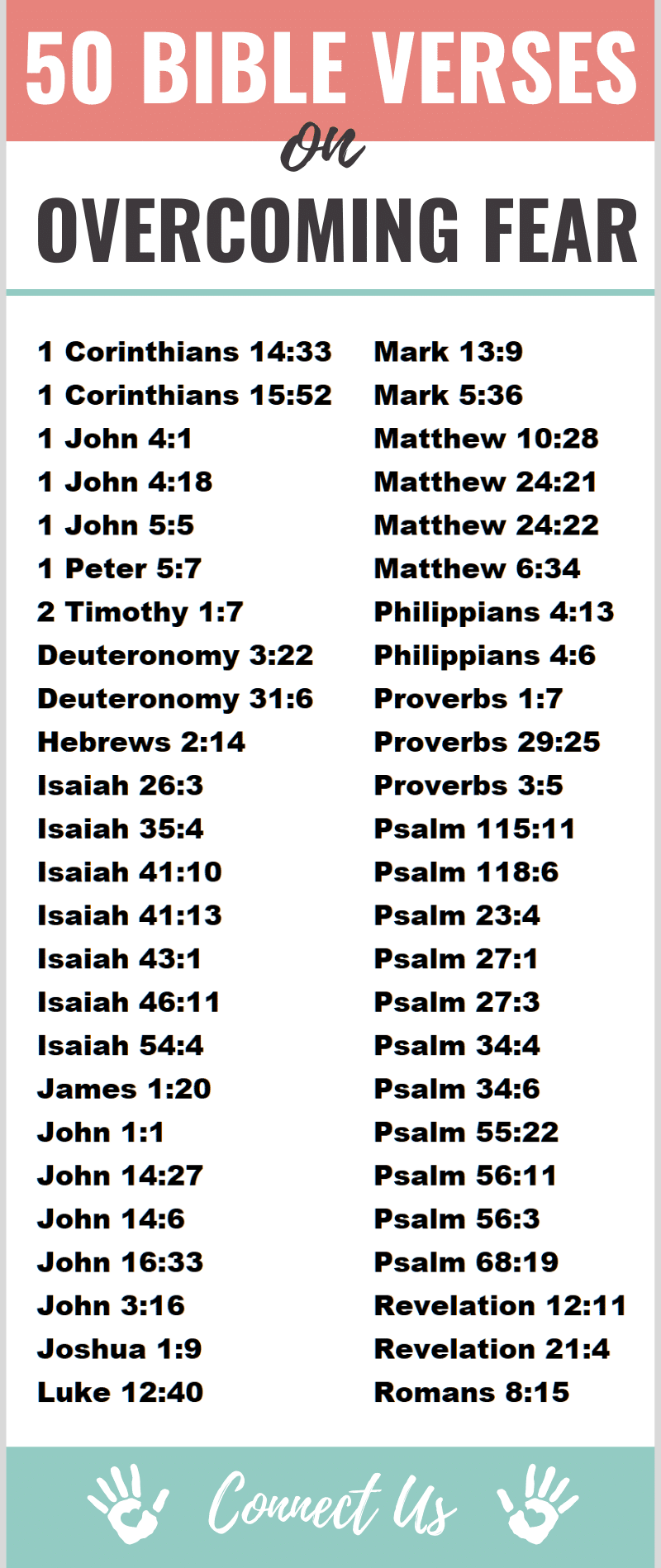 Author Bio
Natalie Regoli is a child of God, devoted wife, and mother of two boys. She has a Master's Degree in Law from The University of Texas. Natalie has been published in several national journals and has been practicing law for 18 years.