The word redeem is found 147 times in the Old and New Testament. The image below reveals the locations of each occurrence. This cool graph starts with Genesis in the top left and ends with Revelation in the bottom right.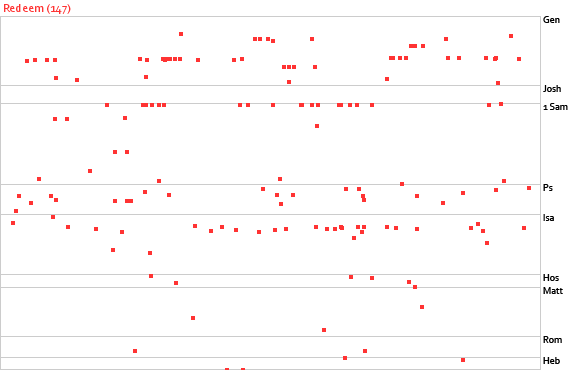 Here are the 50 most inspiring Bible scriptures on redemption.
Ephesians 1:7
In him we have redemption through his blood, the forgiveness of our trespasses, according to the riches of his grace.
Galatians 2:20
I have been crucified with Christ. It is no longer I who live, but Christ who lives in me. And the life I now live in the flesh I live by faith in the Son of God, who loved me and gave himself for me.
Colossians 1:14
In whom we have redemption, the forgiveness of sins.
Titus 2:14
Who gave himself for us to redeem us from all lawlessness and to purify for himself a people for his own possession who are zealous for good works.
1 John 3:16
By this we know love, that he laid down his life for us, and we ought to lay down our lives for the brothers.
1 Corinthians 1:30
And because of him you are in Christ Jesus, who became to us wisdom from God, righteousness and sanctification and redemption.
1 Corinthians 6:20
For you were bought with a price. So glorify God in your body.
1 Corinthians 7:23
You were bought with a price; do not become slaves of men.
1 John 3:3
And everyone who thus hopes in him purifies himself as he is pure.
1 John 4:1
Beloved, do not believe every spirit, but test the spirits to see whether they are from God, for many false prophets have gone out into the world.
1 Kings 1:29
And the king swore, saying, "As the Lord lives, who has redeemed my soul out of every adversity."
1 Peter 1:18
Knowing that you were ransomed from the futile ways inherited from your forefathers, not with perishable things such as silver or gold.
1 Peter 1:19
But with the precious blood of Christ, like that of a lamb without blemish or spot.
1 Timothy 2:6
Who gave himself as a ransom for all, which is the testimony given at the proper time.
2 Peter 3:9
The Lord is not slow to fulfill his promise as some count slowness, but is patient toward you, not wishing that any should perish, but that all should reach repentance.
Acts 20:28
Pay careful attention to yourselves and to all the flock, in which the Holy Spirit has made you overseers, to care for the church of God, which he obtained with his own blood.
Acts 3:19
Repent therefore, and turn again, that your sins may be blotted out.
Colossians 2:6
Therefore, as you received Christ Jesus the Lord, so walk in him.
Ephesians 1:14
Who is the guarantee of our inheritance until we acquire possession of it, to the praise of his glory.
Ephesians 5:2
And walk in love, as Christ loved us and gave himself up for us, a fragrant offering and sacrifice to God.
Exodus 13:13
Every firstborn of a donkey you shall redeem with a lamb, or if you will not redeem it you shall break its neck. Every firstborn of man among your sons you shall redeem.
Galatians 1:4
Who gave himself for our sins to deliver us from the present evil age, according to the will of our God and Father.
Galatians 3:13
Christ redeemed us from the curse of the law by becoming a curse for us—for it is written, "Cursed is everyone who is hanged on a tree."
Galatians 4:5
To redeem those who were under the law, so that we might receive adoption as sons.
Hebrews 9:12
He entered once for all into the holy places, not by means of the blood of goats and calves but by means of his own blood, thus securing an eternal redemption.
Hebrews 9:15
Therefore he is the mediator of a new covenant, so that those who are called may receive the promised eternal inheritance, since a death has occurred that redeems them from the transgressions committed under the first covenant.
Isaiah 44:22
"I have blotted out your transgressions like a cloud and your sins like mist; return to me, for I have redeemed you."
Isaiah 52:7
"How beautiful upon the mountains are the feet of him who brings good news, who publishes peace, who brings good news of happiness, who publishes salvation, who says to Zion, 'Your God reigns.'"
John 10:10
"The thief comes only to steal and kill and destroy. I came that they may have life and have it abundantly."
John 3:16
For God so loved the world, that he gave his only Son, that whoever believes in him should not perish but have eternal life.
Luke 2:38
And coming up at that very hour she began to give thanks to God and to speak of him to all who were waiting for the redemption of Jerusalem.
Mark 10:45
"For even the Son of Man came not to be served but to serve, and to give his life as a ransom for many."
Matthew 20:28
"Even as the Son of Man came not to be served but to serve, and to give his life as a ransom for many."
Psalm 107:2
Let the redeemed of the Lord say so, whom he has redeemed from trouble.
Psalm 111:9
He sent redemption to his people; he has commanded his covenant forever. Holy and awesome is his name!
Psalm 130:7
O Israel, hope in the Lord! For with the Lord there is steadfast love, and with him is plentiful redemption.
Psalm 27:14
Wait for the Lord; be strong, and let your heart take courage; wait for the Lord!
Revelation 5:10
And you have made them a kingdom and priests to our God, and they shall reign on the earth.
Revelation 5:9
And they sang a new song, saying, "Worthy are you to take the scroll and to open its seals, for you were slain, and by your blood you ransomed people for God from every tribe and language and people and nation."
Romans 10:10
For with the heart one believes and is justified, and with the mouth one confesses and is saved.
Romans 10:9
Because, if you confess with your mouth that Jesus is Lord and believe in your heart that God raised him from the dead, you will be saved.
Romans 2:4
Or do you presume on the riches of his kindness and forbearance and patience, not knowing that God's kindness is meant to lead you to repentance?
Romans 3:23
For all have sinned and fall short of the glory of God.
Romans 3:24
And are justified by his grace as a gift, through the redemption that is in Christ Jesus.
Romans 5:10
For if while we were enemies we were reconciled to God by the death of his Son, much more, now that we are reconciled, shall we be saved by his life.
Romans 5:18
Therefore, as one trespass led to condemnation for all men, so one act of righteousness leads to justification and life for all men.
Romans 5:8
But God shows his love for us in that while we were still sinners, Christ died for us.
Romans 6:23
For the wages of sin is death, but the free gift of God is eternal life in Christ Jesus our Lord.
Romans 6:4
We were buried therefore with him by baptism into death, in order that, just as Christ was raised from the dead by the glory of the Father, we too might walk in newness of life.
Romans 8:23
And not only the creation, but we ourselves, who have the firstfruits of the Spirit, groan inwardly as we wait eagerly for adoption as sons, the redemption of our bodies.
More Bible Verses that Will Move You
50 Most Powerful Scriptures on Faith
60 Transcendent Verses on Trust
50 Strong Scriptures on Perseverance
68 Powerful Verses on Forgiveness
40 Uplifting Scriptures on Patience
Add Our Infographic Below to Your Pinterest Board
Hit the pin button below to add our infographic, with all the verses, to one of your Pinterest boards.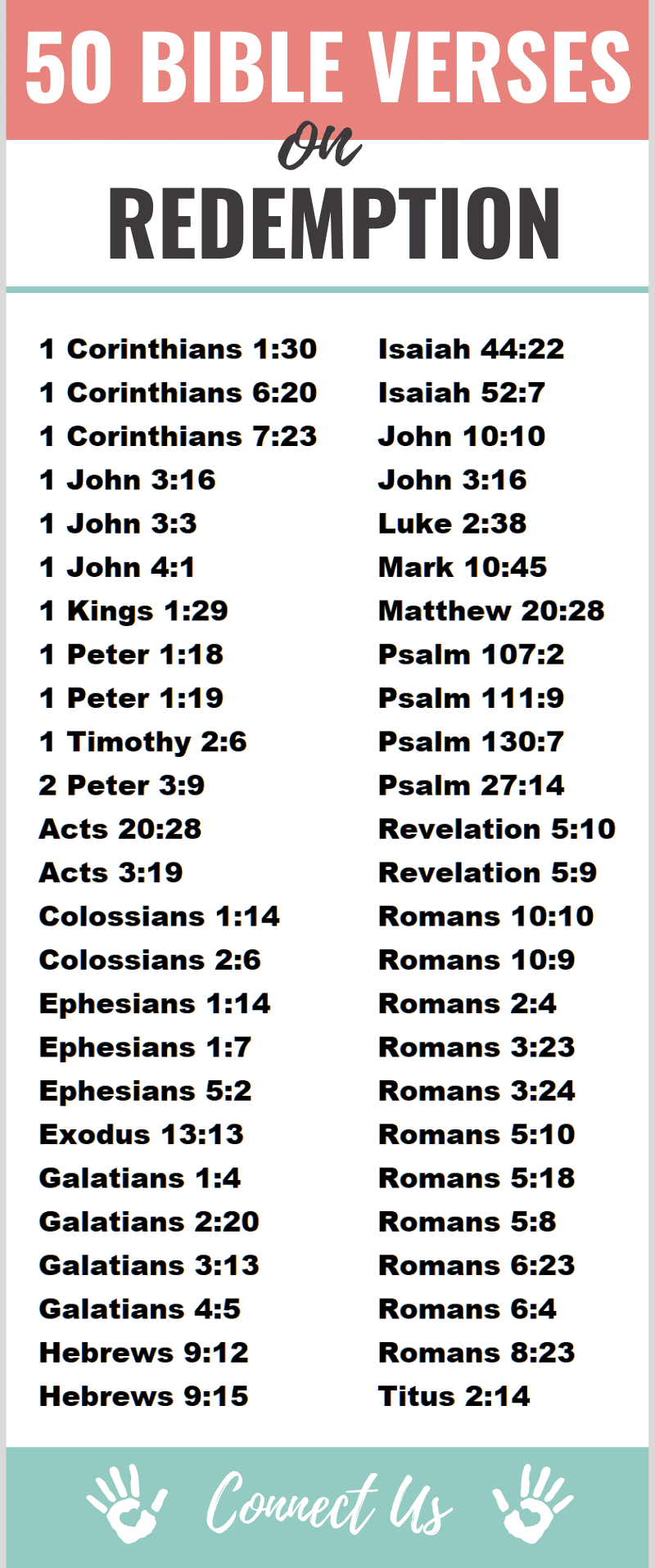 Author Bio
Natalie Regoli is a child of God, devoted wife, and mother of two boys. She has a Master's Degree in Law from The University of Texas. Natalie has been published in several national journals and has been practicing law for 18 years.