Galatians 5:1
"It is for freedom that Christ has set us free. Stand firm, then, and do not let yourselves be burdened again by a yoke of slavery."
Explanation and Commentary on Galatians 5:1
This verse explains that through faithfulness and obedience to Jesus, we are able to lead a Christian life without being subject to the obligations of religious rituals or ceremonies.
Paul the Apostle wrote these words in a letter where he was trying to turn the Galatian church away from its fall into "Legalism." "Legalism" is when you try to become righteous before God by obeying the Mosaic Law perfectly, rather than by faith in Jesus (Romans 9:30). There were people in the Galatian church, the Judaizers, who promised a superior spiritual status for living under the Mosaic Law.
One prominent example of Legalism is the Mosaic Law of circumcision. The Judaizers taught that if one was not circumcised and kept the Mosaic Law, one could not be saved (Acts 15:1). Paul tells us that being circumcised will not help at all with your salvation in Jesus Christ.
Paul was cautioning Galatians that they can be justified only by faith in Jesus and that the law of Moses was no longer in effect for Christians. He further cautioned that the Judaizers would be judged for promoting Legalism.
Breaking Down the Key Parts of Galatians 5:1
#1 "It is for freedom…"
By "freedom," this verse means that we can serve others in the name of the Lord and reap the reward of joy that comes from it (Galatians 5:13-15). Second, it means that we are free to follow the Spirit and produce good works that last forever because we have faith in God and obey God's word (Galatians 5:16-26). Last, it means we can be generous and help others, and especially our fellow Christians (Galatians 6:1-10).
#2 "…that Christ has set us free."
Christ has freed us from sin, condemnation, and death (Romans 6:22; 8:1–2).
#3 "Stand firm, then…"
Christians should be diligent and committed to maintaining our freedom.
#4 "…and do not let yourselves be burdened again…"
We should not allow ourselves to be made to perform the rituals and ceremonies of the Mosaic Law. Christ has freed us from those obligations. We must pay close attention to what we hear so that we do not slip back into bondage (Hebrews 2:1).
#5 "…by a yoke of slavery."
This refers to the heavy obligations of Jewish traditions that were burdensome, painful or expensive, and infringed on the freedom of Christians.
Bible Study on Galatians 5:1
Expert Overview of Galatians
Biblical Translations of Galatians 5:1
NIV
It is for freedom that Christ has set us free. Stand firm, then, and do not let yourselves be burdened again by a yoke of slavery.
NLT
So Christ has truly set us free. Now make sure that you stay free, and don't get tied up again in slavery to the law.
ESV
For freedom Christ has set us free; stand firm therefore, and do not submit again to a yoke of slavery.
KJV
Stand fast therefore in the liberty wherewith Christ hath made us free, and be not entangled again with the yoke of bondage.
NKJV
Stand fast therefore in the liberty by which Christ has made us free, and do not be entangled again with a yoke of bondage.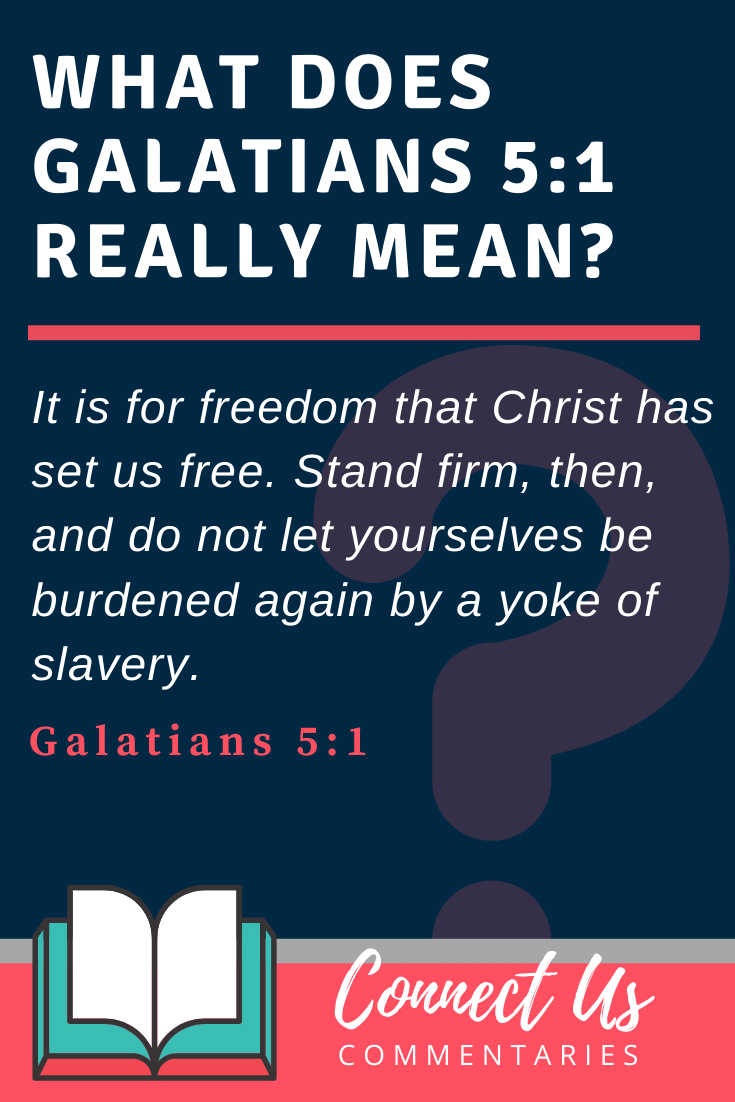 Author Bio
Natalie Regoli is a child of God, devoted wife, and mother of two boys. She has a Masters Degree in Law from The University of Texas. Natalie has been published in several national journals and has been practicing law for 18 years. If you would like to reach out to contact Natalie, then go here to
send her a message
.