The word blessed is found 312 times in the Old and New Testament. The image below reveals the locations of each occurrence. This cool graph starts with Genesis in the top left and ends with Revelation in the bottom right.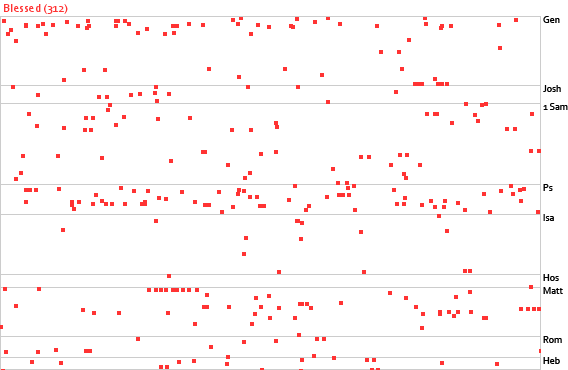 Here are the 50 most meaningful Bible scriptures on blessings.
Philippians 4:19
And my God will supply every need of yours according to his riches in glory in Christ Jesus.
James 1:17
Every good gift and every perfect gift is from above, coming down from the Father of lights with whom there is no variation or shadow due to change.
Luke 6:38
"Give, and it will be given to you. Good measure, pressed down, shaken together, running over, will be put into your lap. For with the measure you use it will be measured back to you."
Isaiah 41:10
"Fear not, for I am with you; be not dismayed, for I am your God; I will strengthen you, I will help you, I will uphold you with my righteous right hand."
2 Corinthians 9:8
And God is able to make all grace abound to you, so that having all sufficiency in all things at all times, you may abound in every good work.
1 Corinthians 15:10
But by the grace of God I am what I am, and his grace toward me was not in vain. On the contrary, I worked harder than any of them, though it was not I, but the grace of God that is with me.
1 Corinthians 2:9
But, as it is written, "What no eye has seen, nor ear heard, nor the heart of man imagined, what God has prepared for those who love him."
1 John 4:4
Little children, you are from God and have overcome them, for he who is in you is greater than he who is in the world.
1 Thessalonians 5:24
He who calls you is faithful; he will surely do it.
2 Chronicles 27:6
So Jotham became mighty, because he ordered his ways before the Lord his God.
2 Corinthians 13:14
The grace of the Lord Jesus Christ and the love of God and the fellowship of the Holy Spirit be with you all.
3 John 1:2
Beloved, I pray that all may go well with you and that you may be in good health, as it goes well with your soul.
Colossians 1:11
May you be strengthened with all power, according to his glorious might, for all endurance and patience with joy.
Deuteronomy 28:8
The Lord will command the blessing on you in your barns and in all that you undertake. And he will bless you in the land that the Lord your God is giving you.
Deuteronomy 7:13
He will love you, bless you, and multiply you. He will also bless the fruit of your womb and the fruit of your ground, your grain and your wine and your oil, the increase of your herds and the young of your flock, in the land that he swore to your fathers to give you.
Ecclesiastes 5:19
Everyone also to whom God has given wealth and possessions and power to enjoy them, and to accept his lot and rejoice in his toil—this is the gift of God.
Ephesians 1:3
Blessed be the God and Father of our Lord Jesus Christ, who has blessed us in Christ with every spiritual blessing in the heavenly places.
Ephesians 3:20
Now to him who is able to do far more abundantly than all that we ask or think, according to the power at work within us.
Exodus 15:26
Saying, "If you will diligently listen to the voice of the Lord your God, and do that which is right in his eyes, and give ear to his commandments and keep all his statutes, I will put none of the diseases on you that I put on the Egyptians, for I am the Lord, your healer."
Exodus 23:22
But if you carefully obey his voice and do all that I say, then I will be an enemy to your enemies and an adversary to your adversaries.
Genesis 12:2
"And I will make of you a great nation, and I will bless you and make your name great, so that you will be a blessing."
Genesis 28:20
Then Jacob made a vow, saying, "If God will be with me and will keep me in this way that I go, and will give me bread to eat and clothing to wear."
Habakkuk 3:19
God, the Lord, is my strength; he makes my feet like the deer's; he makes me tread on my high places. To the choirmaster: with stringed instruments.
Hebrews 12:11
For the moment all discipline seems painful rather than pleasant, but later it yields the peaceful fruit of righteousness to those who have been trained by it.
Isaiah 1:19
If you are willing and obedient, you shall eat the good of the land.
Isaiah 40:31
But they who wait for the Lord shall renew their strength; they shall mount up with wings like eagles; they shall run and not be weary; they shall walk and not faint.
Isaiah 54:17
"No weapon that is fashioned against you shall succeed, and you shall confute every tongue that rises against you in judgment. This is the heritage of the servants of the Lord and their vindication from me," declares the Lord.
James 1:12
Blessed is the man who remains steadfast under trial, for when he has stood the test he will receive the crown of life, which God has promised to those who love him.
Jeremiah 29:11
"For I know the plans I have for you, declares the Lord, plans for welfare and not for evil, to give you a future and a hope."
Joel 2:26
"You shall eat in plenty and be satisfied, and praise the name of the Lord your God, who has dealt wondrously with you. And my people shall never again be put to shame."
John 1:16
"And from his fullness we have all received, grace upon grace."
Malachi 3:10
"Bring the full tithe into the storehouse, that there may be food in my house. And thereby put me to the test," says the Lord of hosts, "if I will not open the windows of heaven for you and pour down for you a blessing until there is no more need."
Malachi 4:2
"But for you who fear my name, the sun of righteousness shall rise with healing in its wings. You shall go out leaping like calves from the stall."
Matthew 24:13
"But the one who endures to the end will be saved."
Philippians 1:6
And I am sure of this, that he who began a good work in you will bring it to completion at the day of Jesus Christ.
Philippians 2:13
For it is God who works in you, both to will and to work for his good pleasure.
Philippians 4:7
And the peace of God, which surpasses all understanding, will guard your hearts and your minds in Christ Jesus.
Proverbs 10:22
The blessing of the Lord makes rich, and he adds no sorrow with it.
Proverbs 10:7
The memory of the righteous is a blessing, but the name of the wicked will rot.
Proverbs 16:7
When a man's ways please the Lord, he makes even his enemies to be at peace with him.
Psalm 1:1
Blessed is the man who walks not in the counsel of the wicked, nor stands in the way of sinners, nor sits in the seat of scoffers.
Psalm 146:5
Blessed is he whose help is the God of Jacob, whose hope is in the Lord his God.
Psalm 147:13
For he strengthens the bars of your gates; he blesses your children within you.
Psalm 34:8
Oh, taste and see that the Lord is good! Blessed is the man who takes refuge in him!
Psalm 81:10
"I am the Lord your God, who brought you up out of the land of Egypt. Open your mouth wide, and I will fill it."
Psalm 84:11
For the Lord God is a sun and shield; the Lord bestows favor and honor. No good thing does he withhold from those who walk uprightly.
Revelation 2:10
"Do not fear what you are about to suffer. Behold, the devil is about to throw some of you into prison, that you may be tested, and for ten days you will have tribulation. Be faithful unto death, and I will give you the crown of life."
Romans 1:10
Always in my prayers, asking that somehow by God's will I may now at last succeed in coming to you.
Romans 12:14
Bless those who persecute you; bless and do not curse them.
Romans 15:13
May the God of hope fill you with all joy and peace in believing, so that by the power of the Holy Spirit you may abound in hope.
More Bible Verses that Will Move You
50 Most Powerful Scriptures on Faith
60 Transcendent Verses on Trust
50 Strong Scriptures on Perseverance
68 Powerful Verses on Forgiveness
40 Uplifting Scriptures on Patience
Add Our Infographic Below to Your Pinterest Board
Hit the pin button below to add our infographic, with all the verses, to one of your Pinterest boards.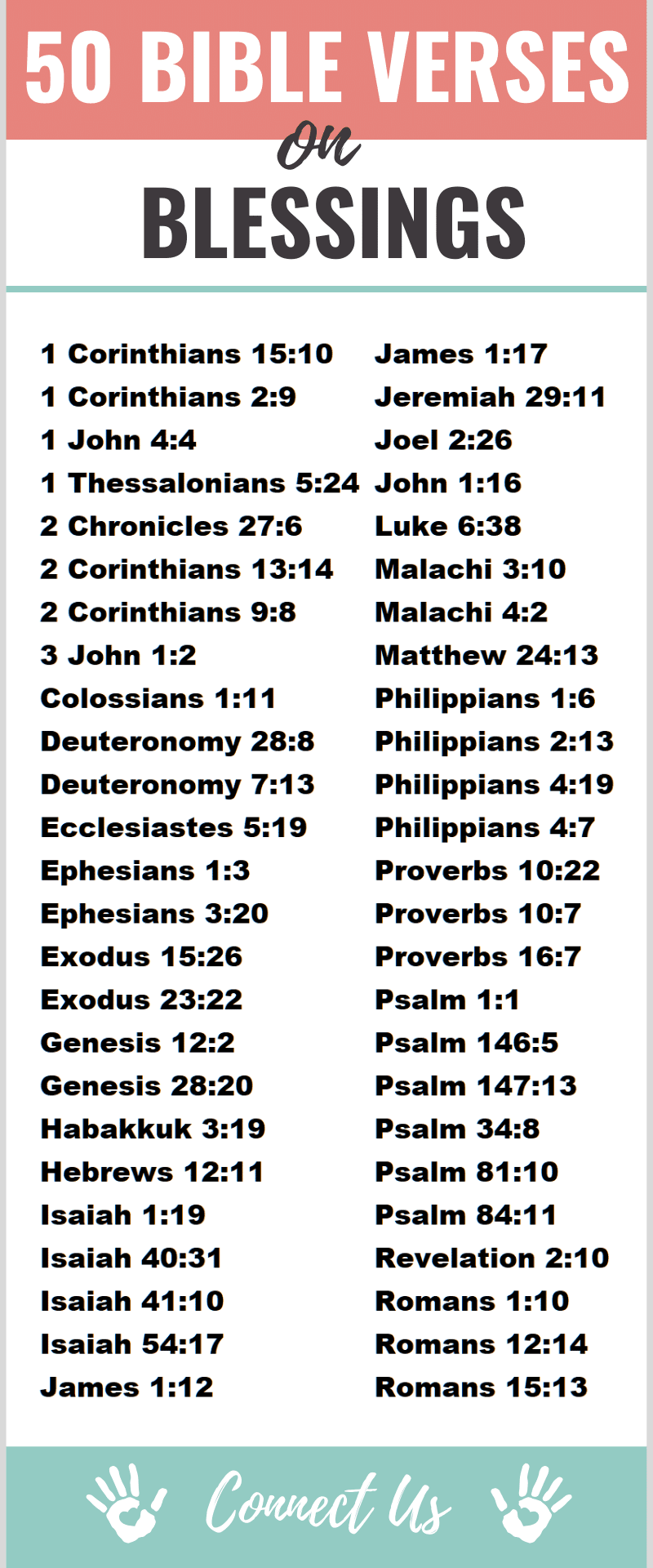 Author Bio
Natalie Regoli is a child of God, devoted wife, and mother of two boys. She has a Master's Degree in Law from The University of Texas. Natalie has been published in several national journals and has been practicing law for 18 years.