Jeremiah 31:3
"The Lord appeared to us in the past, saying: 'I have loved you with an everlasting love; I have drawn you with unfailing kindness.'"
Explanation and Commentary of Jeremiah 31:3
The Israelites have been suffering the discipline of God for failure to keep their side the covenant they have made with him. In the previous chapter, it says, "Because of your great guilt and many sins I have done these things to you" (Jer 30:15).
In this chapter, God promises to faithfully restore them again as he did in the past. No matter what we are going through in this life, we can always repent and turn back to him. He will forgive us just as he has taught us to forgive, seven times seventy (Mt 18:22). He loves us that much. But he also loves us so much that he will discipline us in order to bring us back.
Ultimately, God's unfailing kindness resulted in sending his Son, Jesus, to take on our sins and the wrath of God for our rebellion so that we could live and not die (Jn 3:16-18). He will draw us, but we must turn to him and leave behind our old ways. Rather than running from him, we must run to him.
Breaking Down the Key Parts of Jeremiah 31:3
#1 "The Lord appeared to us in the past,"
That the Lord had appeared to them is certain, but the Hebrew for "in the past" has been translated by some as "from afar." Jeremiah is either saying that the message of hope God was giving them was consistent with the one he is giving now (Jer 30) or he is saying that God is far away in the sense that they have gone far from God in their sin and rebellion, but God calls and can still be heard from that distance. The former is preferable, but either way, the important part is that God could be aloof and distant but chooses to come to us to bring us back to him by grace.
#2 "saying: 'I have loved you with an everlasting love;"
Why couldn't God just be done with his chosen people when they were so clearly unwilling to keep his commandments? Because his love is an everlasting love. He can discipline us for a while, but he never stops loving us, even when he seems distant. Everything he does to bring us to repentance, no matter how painful, is the work of a good Father whose love is everlasting.
#3 "I have drawn you with unfailing kindness."
In Hosea 2:14, after telling Hosea to go and take back his wife who had left him to become a prostitute, God says he will do the same thing with adulterous Israel.
"Therefore I am now going to allure her; I will lead her into the wilderness and speak tenderly to her."
Hosea 2:14
This is a picture of true grace. The source of God's willingness to show us so much grace, even when we have run after other Gods, is simply his love and kindness, which is unfailing. If God so loved and forgave us, especially in Christ on the cross, we should be like him and love and forgive others.
Expert Overview of Jeremiah
Biblical Translations of Jeremiah 31:3
NIV
The Lord appeared to us in the past, saying: "I have loved you with an everlasting love; I have drawn you with unfailing kindness."
NLT
Long ago the Lord said to Israel: "I have loved you, my people, with an everlasting love. With unfailing love I have drawn you to myself."
ESV
The Lord appeared to him from far away. "I have loved you with an everlasting love; therefore I have continued my faithfulness to you."
KJV
The Lord hath appeared of old unto me, saying, "Yea, I have loved thee with an everlasting love: therefore with lovingkindness have I drawn thee."
NKJV
The Lord has appeared of old to me, saying: "Yes, I have loved you with an everlasting love; Therefore with lovingkindness I have drawn you."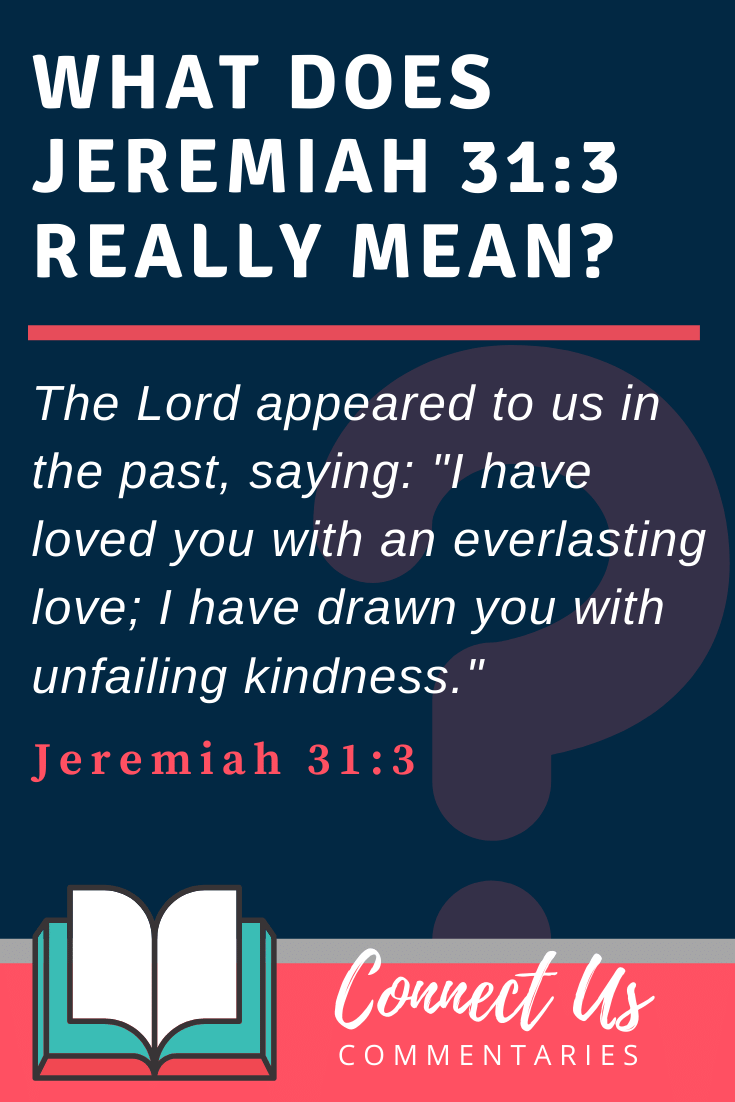 Author Bio
Natalie Regoli is a child of God, devoted wife, and mother of two boys. She has a Master's Degree in Law from The University of Texas. Natalie has been published in several national journals and has been practicing law for 18 years.