The word "mercy" appears 174 times throughout the books of the Bible. The graph below shows the locations of each appearance. It begins with Genesis in the top left and concludes with Revelation in the bottom right.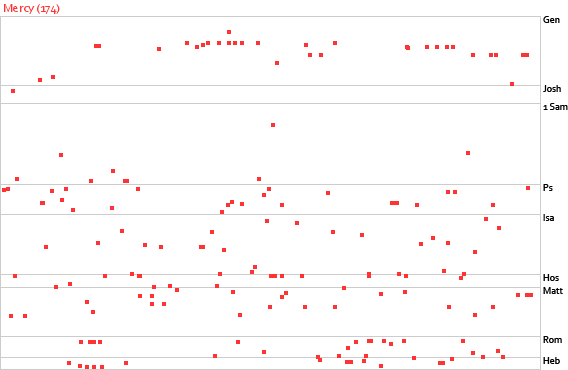 Here are the 50 most meaningful Bible scriptures on mercy.
Luke 6:36
"Be merciful, even as your Father is merciful."
James 2:13
For judgment is without mercy to one who has shown no mercy. Mercy triumphs over judgment.
Matthew 5:7
"Blessed are the merciful, for they shall receive mercy."
Matthew 9:13
"Go and learn what this means, 'I desire mercy, and not sacrifice.' For I came not to call the righteous, but sinners."
Hebrews 4:16
Let us then with confidence draw near to the throne of grace, that we may receive mercy and find grace to help in time of need.
1 Corinthians 10:13
No temptation has overtaken you that is not common to man. God is faithful, and he will not let you be tempted beyond your ability, but with the temptation he will also provide the way of escape, that you may be able to endure it.
1 John 1:9
If we confess our sins, he is faithful and just to forgive us our sins and to cleanse us from all unrighteousness.
1 Peter 1:3
Blessed be the God and Father of our Lord Jesus Christ! According to his great mercy, he has caused us to be born again to a living hope through the resurrection of Jesus Christ from the dead.
1 Peter 2:10
Once you were not a people, but now you are God's people; once you had not received mercy, but now you have received mercy.
1 Timothy 1:16
But I received mercy for this reason, that in me, as the foremost, Jesus Christ might display his perfect patience as an example to those who were to believe in him for eternal life.
2 Chronicles 30:9
For if you return to the Lord, your brothers and your children will find compassion with their captors and return to this land. For the Lord your God is gracious and merciful and will not turn away his face from you, if you return to him.
2 Corinthians 4:1
Therefore, having this ministry by the mercy of God, we do not lose heart.
2 Peter 3:9
The Lord is not slow to fulfill his promise as some count slowness, but is patient toward you, not wishing that any should perish, but that all should reach repentance.
2 Samuel 22:26
With the merciful you show yourself merciful; with the blameless man you show yourself blameless.
2 Samuel 24:14
Then David said to Gad, "I am in great distress. Let us fall into the hand of the Lord, for his mercy is great; but let me not fall into the hand of man."
Colossians 3:12
Put on then, as God's chosen ones, holy and beloved, compassionate hearts, kindness, humility, meekness, and patience.
Colossians 3:13
Bearing with one another and, if one has a complaint against another, forgiving each other; as the Lord has forgiven you, so you also must forgive.
Deuteronomy 7:2
And when the Lord your God gives them over to you, and you defeat them, then you must devote them to complete destruction. You shall make no covenant with them and show no mercy to them.
Ephesians 2:4
But God, being rich in mercy, because of the great love with which he loved us.
Exodus 33:19
And he said, "I will make all my goodness pass before you and will proclaim before you my name 'The Lord.' And I will be gracious to whom I will be gracious, and will show mercy on whom I will show mercy."
Hosea 12:6
"So you, by the help of your God, return, hold fast to love and justice, and wait continually for your God."
Hosea 4:1
Hear the word of the Lord, O children of Israel, for the Lord has a controversy with the inhabitants of the land. There is no faithfulness or steadfast love, and no knowledge of God in the land.
Hosea 6:6
"For I desire steadfast love and not sacrifice, the knowledge of God rather than burnt offerings."
Isaiah 30:18
Therefore the Lord waits to be gracious to you, and therefore he exalts himself to show mercy to you. For the Lord is a God of justice; blessed are all those who wait for him.
John 3:16
For God so loved the world, that he gave his only Son, that whoever believes in him should not perish but have eternal life.
John 3:17
"For God did not send his Son into the world to condemn the world, but in order that the world might be saved through him."
Jude 1:2
May mercy, peace, and love be multiplied to you.
Lamentations 3:22
The steadfast love of the Lord never ceases; his mercies never come to an end.
Luke 6:37
"Judge not, and you will not be judged; condemn not, and you will not be condemned; forgive, and you will be forgiven."
Matthew 23:23
"Woe to you, scribes and Pharisees, hypocrites! For you tithe mint and dill and cumin, and have neglected the weightier matters of the law: justice and mercy and faithfulness. These you ought to have done, without neglecting the others."
Micah 6:8
He has told you, O man, what is good; and what does the Lord require of you but to do justice, and to love kindness, and to walk humbly with your God?
Micah 7:18
Who is a God like you, pardoning iniquity and passing over transgression for the remnant of his inheritance? He does not retain his anger forever, because he delights in steadfast love.
Proverbs 11:17
A man who is kind benefits himself, but a cruel man hurts himself.
Proverbs 14:21
Whoever despises his neighbor is a sinner, but blessed is he who is generous to the poor.
Proverbs 14:31
Whoever oppresses a poor man insults his Maker, but he who is generous to the needy honors him.
Proverbs 21:21
Whoever pursues righteousness and kindness will find life, righteousness, and honor.
Proverbs 28:13
Whoever conceals his transgressions will not prosper, but he who confesses and forsakes them will obtain mercy.
Proverbs 3:3
Let not steadfast love and faithfulness forsake you; bind them around your neck; write them on the tablet of your heart.
Psalm 103:8
The Lord is merciful and gracious, slow to anger and abounding in steadfast love.
Psalm 145:9
The Lord is good to all, and his mercy is over all that he has made.
Psalm 18:25
With the merciful you show yourself merciful; with the blameless man you show yourself blameless.
Psalm 23:6
Surely goodness and mercy shall follow me all the days of my life, and I shall dwell in the house of the Lord forever.
Psalm 25:6
Remember your mercy, O Lord, and your steadfast love, for they have been from of old.
Psalm 51:1
To the choirmaster. A Psalm of David, when Nathan the prophet went to him, after he had gone in to Bathsheba. Have mercy on me, O God, according to your steadfast love; according to your abundant mercy blot out my transgressions.
Psalm 85:10
Steadfast love and faithfulness meet; righteousness and peace kiss each other.
Psalm 86:5
For you, O Lord, are good and forgiving, abounding in steadfast love to all who call upon you.
Romans 12:1
I appeal to you therefore, brothers, by the mercies of God, to present your bodies as a living sacrifice, holy and acceptable to God, which is your spiritual worship.
Romans 12:8
The one who exhorts, in his exhortation; the one who contributes, in generosity; the one who leads, with zeal; the one who does acts of mercy, with cheerfulness.
Romans 9:15
For he says to Moses, "I will have mercy on whom I have mercy, and I will have compassion on whom I have compassion."
Titus 3:5
He saved us, not because of works done by us in righteousness, but according to his own mercy, by the washing of regeneration and renewal of the Holy Spirit.
More Bible Verses that Will Move You
50 Most Powerful Scriptures on Faith
60 Transcendent Verses on Trust
50 Strong Scriptures on Perseverance
68 Powerful Verses on Forgiveness
40 Uplifting Scriptures on Patience
Add Our Infographic Below to Your Pinterest Board
Hit the pin button below to add our infographic, with all the verses, to one of your Pinterest boards.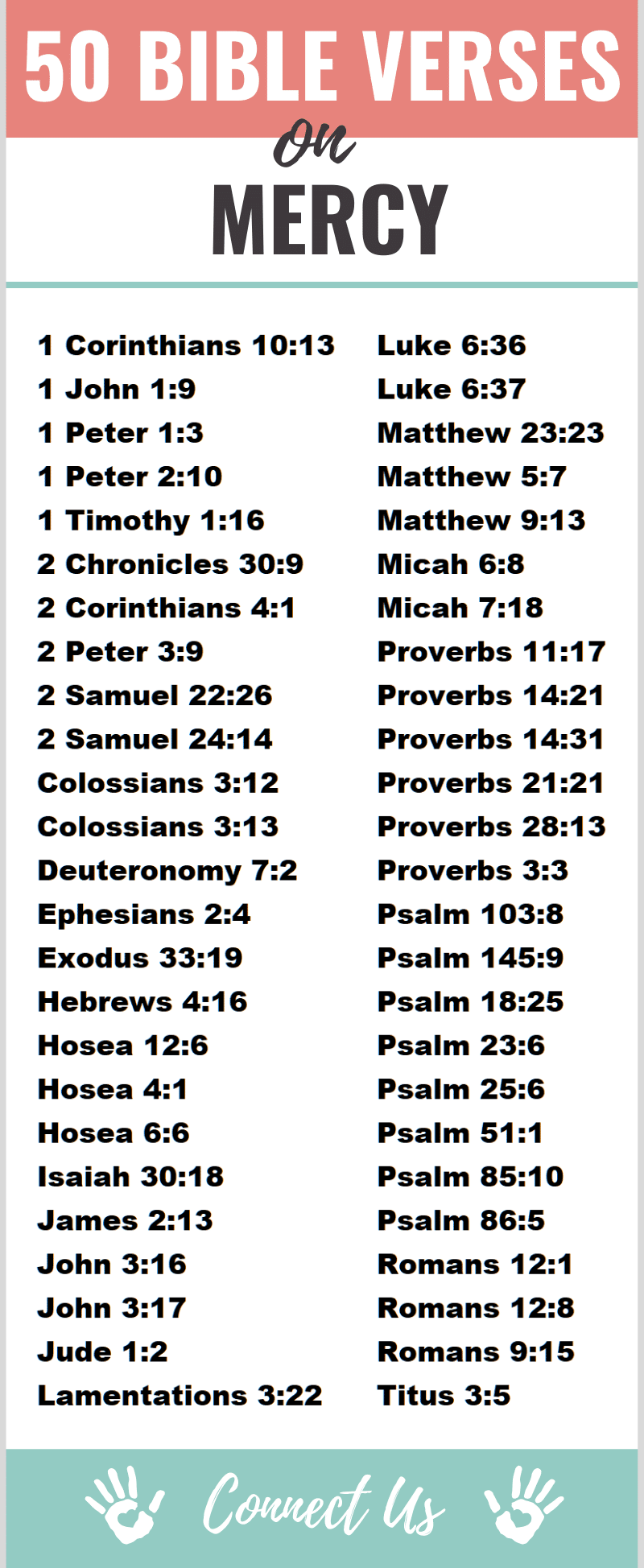 Author Bio
Natalie Regoli is a child of God, devoted wife, and mother of two boys. She has a Master's Degree in Law from The University of Texas. Natalie has been published in several national journals and has been practicing law for 18 years.