The word "praise" occurs 274 times in the Bible. The infographic below identifies the points of each occurrence. This graphic presentation starts with Genesis in the top left and concludes with Revelation in the bottom right.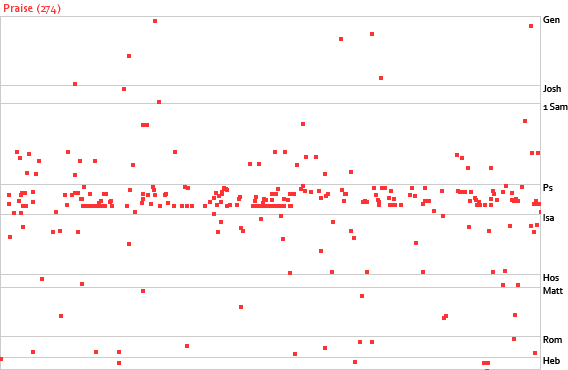 Here are the 50 most meaningful Bible scriptures on praise.
Hebrews 13:15
Through him then let us continually offer up a sacrifice of praise to God, that is, the fruit of lips that acknowledge his name.
Psalm 99:3
Let them praise your great and awesome name! Holy is he!
Psalm 109:30
With my mouth I will give great thanks to the Lord; I will praise him in the midst of the throng.
Psalm 106:1
Praise the Lord! Oh give thanks to the Lord, for he is good, for his steadfast love endures forever!
Psalm 71:8
My mouth is filled with your praise, and with your glory all the day.
1 Corinthians 15:57
But thanks be to God, who gives us the victory through our Lord Jesus Christ.
1 Peter 1:3
Blessed be the God and Father of our Lord Jesus Christ! According to his great mercy, he has caused us to be born again to a living hope through the resurrection of Jesus Christ from the dead.
1 Peter 2:9
But you are a chosen race, a royal priesthood, a holy nation, a people for his own possession, that you may proclaim the excellencies of him who called you out of darkness into his marvelous light.
Daniel 4:37
Now I, Nebuchadnezzar, praise and extol and honor the King of heaven, for all his works are right and his ways are just; and those who walk in pride he is able to humble.
Ephesians 3:20
Now to him who is able to do far more abundantly than all that we ask or think, according to the power at work within us.
Ephesians 3:21
To him be glory in the church and in Christ Jesus throughout all generations, forever and ever. Amen.
Ephesians 5:19
Addressing one another in psalms and hymns and spiritual songs, singing and making melody to the Lord with your heart.
Isaiah 25:1
O Lord, you are my God; I will exalt you; I will praise your name, for you have done wonderful things, plans formed of old, faithful and sure.
Isaiah 35:10
And the ransomed of the Lord shall return and come to Zion with singing; everlasting joy shall be upon their heads; they shall obtain gladness and joy, and sorrow and sighing shall flee away.
Isaiah 38:19
The living, the living, he thanks you, as I do this day; the father makes known to the children your faithfulness.
Isaiah 43:21
The people whom I formed for myself that they might declare my praise.
Isaiah 49:13
Sing for joy, O heavens, and exult, O earth; break forth, O mountains, into singing! For the Lord has comforted his people and will have compassion on his afflicted.
Isaiah 6:3
And one called to another and said: "Holy, holy, holy is the Lord of hosts; the whole earth is full of his glory!"
Isaiah 61:3
To grant to those who mourn in Zion— to give them a beautiful headdress instead of ashes, the oil of gladness instead of mourning, the garment of praise instead of a faint spirit; that they may be called oaks of righteousness, the planting of the Lord, that he may be glorified.
James 5:13
Is anyone among you suffering? Let him pray. Is anyone cheerful? Let him sing praise.
Jude 1:25
To the only God, our Savior, through Jesus Christ our Lord, be glory, majesty, dominion, and authority, before all time and now and forever. Amen.
Nehemiah 9:6
You are the Lord, you alone. You have made heaven, the heaven of heavens, with all their host, the earth and all that is on it, the seas and all that is in them; and you preserve all of them; and the host of heaven worships you.
Philippians 4:20
To our God and Father be glory forever and ever. Amen.
Psalm 104:33
I will sing to the Lord as long as I live; I will sing praise to my God while I have being.
Psalm 111:1
Praise the Lord! I will give thanks to the Lord with my whole heart, in the company of the upright, in the congregation.
Psalm 111:10
The fear of the Lord is the beginning of wisdom; all those who practice it have a good understanding. His praise endures forever!
Psalm 113:1
Praise the Lord! Praise, O servants of the Lord, praise the name of the Lord!
Psalm 113:2
Blessed be the name of the Lord from this time forth and forevermore!
Psalm 118:28
You are my God, and I will give thanks to you; you are my God; I will extol you.
Psalm 118:29
Oh give thanks to the Lord, for he is good; for his steadfast love endures forever!
Psalm 119:164
Seven times a day I praise you for your righteous rules.
Psalm 119:171
My lips will pour forth praise, for you teach me your statutes.
Psalm 119:175
Let my soul live and praise you, and let your rules help me.
Psalm 119:62
At midnight I rise to praise you, because of your righteous rules.
Psalm 119:7
I will praise you with an upright heart, when I learn your righteous rules.
Psalm 144:2
He is my steadfast love and my fortress, my stronghold and my deliverer, my shield and he in whom I take refuge, who subdues peoples under me.
Psalm 148:2
Praise him, all his angels; praise him, all his hosts!
Psalm 148:4
Praise him, you highest heavens, and you waters above the heavens!
Psalm 150:6
Let everything that has breath praise the Lord! Praise the Lord!
Psalm 34:1
Of David, when he changed his behavior before Abimelech, so that he drove him out, and he went away. I will bless the Lord at all times; his praise shall continually be in my mouth.
Psalm 69:30
I will praise the name of God with a song; I will magnify him with thanksgiving.
Psalm 71:14
But I will hope continually and will praise you yet more and more.
Psalm 71:15
My mouth will tell of your righteous acts, of your deeds of salvation all the day, for their number is past my knowledge.
Psalm 81:1
To the choirmaster: according to The Gittith. Of Asaph. Sing aloud to God our strength; shout for joy to the God of Jacob!
Psalm 99:5
Exalt the Lord our God; worship at his footstool! Holy is he!
Revelation 1:6
And made us a kingdom, priests to his God and Father, to him be glory and dominion forever and ever. Amen.
Revelation 11:16
And the twenty-four elders who sit on their thrones before God fell on their faces and worshiped God.
Revelation 14:3
And they were singing a new song before the throne and before the four living creatures and before the elders. No one could learn that song except the 144,000 who had been redeemed from the earth.
Revelation 14:7
And he said with a loud voice, "Fear God and give him glory, because the hour of his judgment has come, and worship him who made heaven and earth, the sea and the springs of water."
Romans 11:36
For from him and through him and to him are all things. To him be glory forever. Amen.
More Bible Verses that Will Move You
50 Most Powerful Scriptures on Faith
60 Transcendent Verses on Trust
50 Strong Scriptures on Perseverance
68 Powerful Verses on Forgiveness
40 Uplifting Scriptures on Patience
Add Our Infographic Below to Your Pinterest Board
Hit the pin button below to add our infographic, with all the verses, to one of your Pinterest boards.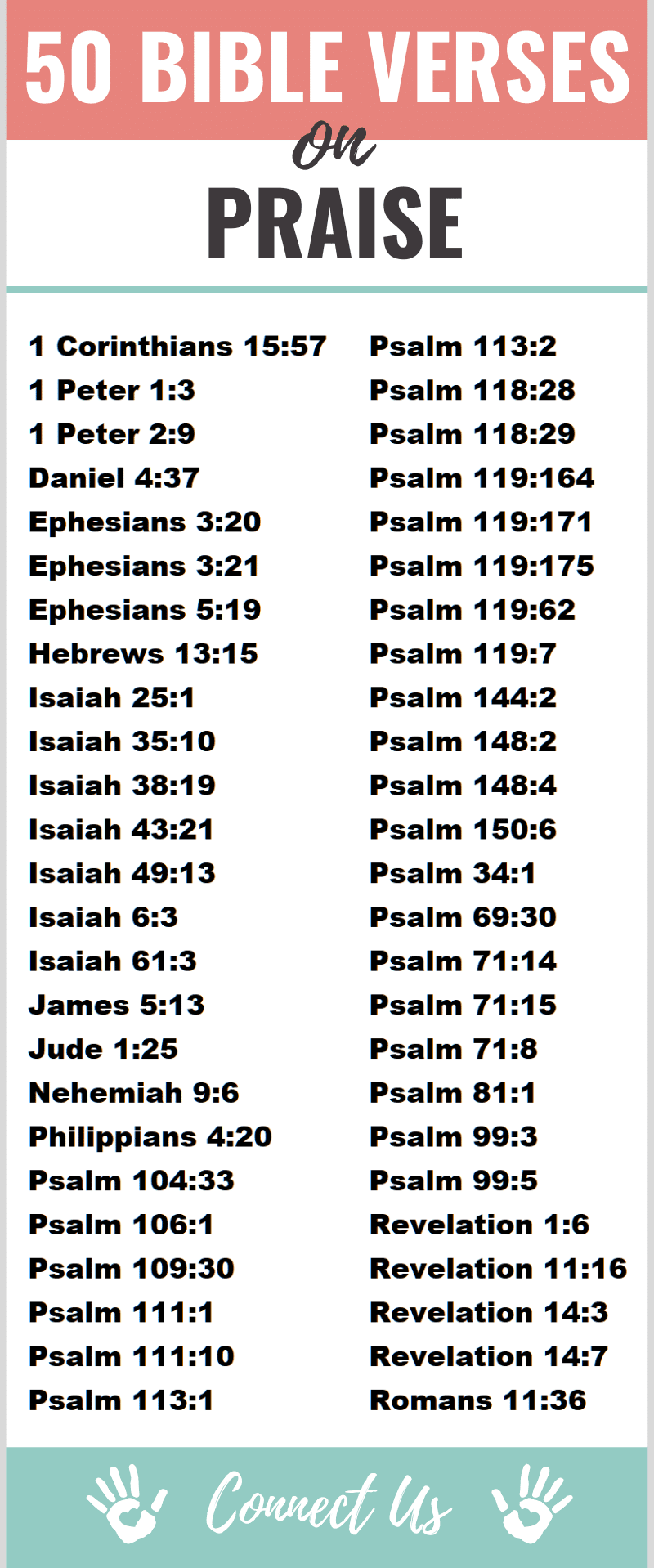 Author Bio
Natalie Regoli is a child of God, devoted wife, and mother of two boys. She has a Master's Degree in Law from The University of Texas. Natalie has been published in several national journals and has been practicing law for 18 years.