Here are the 50 most mighty Bible scriptures on victory.
Deuteronomy 20:4
For the Lord your God is he who goes with you to fight for you against your enemies, to give you the victory.
Philippians 4:13
I can do all things through him who strengthens me.
John 16:33
"I have said these things to you, that in me you may have peace. In the world you will have tribulation. But take heart; I have overcome the world."
1 Corinthians 15:57
But thanks be to God, who gives us the victory through our Lord Jesus Christ.
Psalm 108:13
With God we shall do valiantly; it is he who will tread down our foes.
1 Chronicles 11:14
But he took his stand in the midst of the plot and defended it and killed the Philistines. And the Lord saved them by a great victory.
1 Corinthians 10:13
No temptation has overtaken you that is not common to man. God is faithful, and he will not let you be tempted beyond your ability, but with the temptation he will also provide the way of escape, that you may be able to endure it.
1 Corinthians 15:51
Behold! I tell you a mystery. We shall not all sleep, but we shall all be changed,
1 Corinthians 15:52
In a moment, in the twinkling of an eye, at the last trumpet. For the trumpet will sound, and the dead will be raised imperishable, and we shall be changed.
1 Corinthians 15:55
O death, where is your victory? O death, where is your sting?
1 John 1:9
If we confess our sins, he is faithful and just to forgive us our sins and to cleanse us from all unrighteousness.
1 John 4:4
Little children, you are from God and have overcome them, for he who is in you is greater than he who is in the world.
1 John 5:4
For everyone who has been born of God overcomes the world. And this is the victory that has overcome the world—our faith.
1 Peter 3:18
For Christ also suffered once for sins, the righteous for the unrighteous, that he might bring us to God, being put to death in the flesh but made alive in the spirit,
1 Peter 5:8
Be sober-minded; be watchful. Your adversary the devil prowls around like a roaring lion, seeking someone to devour.
2 Corinthians 10:4
For the weapons of our warfare are not of the flesh but have divine power to destroy strongholds.
2 Corinthians 2:14
But thanks be to God, who in Christ always leads us in triumphal procession, and through us spreads the fragrance of the knowledge of him everywhere.
2 Corinthians 5:17
Therefore, if anyone is in Christ, he is a new creation. The old has passed away; behold, the new has come.
2 Peter 3:9
The Lord is not slow to fulfill his promise as some count slowness, but is patient toward you, not wishing that any should perish, but that all should reach repentance.
2 Timothy 2:15
Do your best to present yourself to God as one approved, a worker who has no need to be ashamed, rightly handling the word of truth.
2 Timothy 4:7
I have fought the good fight, I have finished the race, I have kept the faith.
Colossians 2:15
He disarmed the rulers and authorities and put them to open shame, by triumphing over them in him.
Ephesians 6:10
Finally, be strong in the Lord and in the strength of his might.
Ephesians 6:13
Therefore take up the whole armor of God, that you may be able to withstand in the evil day, and having done all, to stand firm.
Genesis 18:14
"Is anything too hard for the Lord? At the appointed time I will return to you, about this time next year, and Sarah shall have a son."
Hebrews 11:1
Now faith is the assurance of things hoped for, the conviction of things not seen.
Hebrews 13:6
So we can confidently say, "The Lord is my helper; I will not fear; what can man do to me?"
Isaiah 41:13
"For I, the Lord your God, hold your right hand; it is I who say to you, 'Fear not, I am the one who helps you.'"
James 5:13
Is anyone among you suffering? Let him pray. Is anyone cheerful? Let him sing praise.
Jeremiah 29:11
For I know the plans I have for you, declares the Lord, plans for welfare and not for evil, to give you a future and a hope.
John 14:26
"But the Helper, the Holy Spirit, whom the Father will send in my name, he will teach you all things and bring to your remembrance all that I have said to you."
John 14:6
Jesus said to him, "I am the way, and the truth, and the life. No one comes to the Father except through me."
John 3:16
For God so loved the world, that he gave his only Son, that whoever believes in him should not perish but have eternal life.
John 3:17
"For God did not send his Son into the world to condemn the world, but in order that the world might be saved through him."
Joshua 10:8
And the Lord said to Joshua, "Do not fear them, for I have given them into your hands. Not a man of them shall stand before you."
Luke 10:19
"Behold, I have given you authority to tread on serpents and scorpions, and over all the power of the enemy, and nothing shall hurt you."
Mark 11:24
"Therefore I tell you, whatever you ask in prayer, believe that you have received it, and it will be yours."
Matthew 16:18
"And I tell you, you are Peter, and on this rock I will build my church, and the gates of hell shall not prevail against it."
Proverbs 21:31
The horse is made ready for the day of battle, but the victory belongs to the Lord.
Proverbs 24:16
For the righteous falls seven times and rises again, but the wicked stumble in times of calamity.
Psalm 3:8
Salvation belongs to the Lord; your blessing be on your people! Selah
Psalm 60:12
With God we shall do valiantly; it is he who will tread down our foes.
Psalm 8:2
Out of the mouth of babies and infants, you have established strength because of your foes, to still the enemy and the avenger.
Revelation 12:10
And I heard a loud voice in heaven, saying, "Now the salvation and the power and the kingdom of our God and the authority of his Christ have come, for the accuser of our brothers has been thrown down, who accuses them day and night before our God."
Revelation 12:11
"And they have conquered him by the blood of the Lamb and by the word of their testimony, for they loved not their lives even unto death."
Romans 6:14
For sin will have no dominion over you, since you are not under law but under grace.
Romans 8:1
There is therefore now no condemnation for those who are in Christ Jesus.
Romans 8:28
And we know that for those who love God all things work together for good, for those who are called according to his purpose.
Romans 8:31
What then shall we say to these things? If God is for us, who can be against us?
Romans 8:37
No, in all these things we are more than conquerors through him who loved us.
More Bible Verses that Will Move You
50 Most Powerful Scriptures on Faith
60 Transcendent Verses on Trust
50 Strong Scriptures on Perseverance
68 Powerful Verses on Forgiveness
40 Uplifting Scriptures on Patience
Add Our Infographic Below to Your Pinterest Board
Hit the pin button below to add our infographic, with all the verses, to one of your Pinterest boards.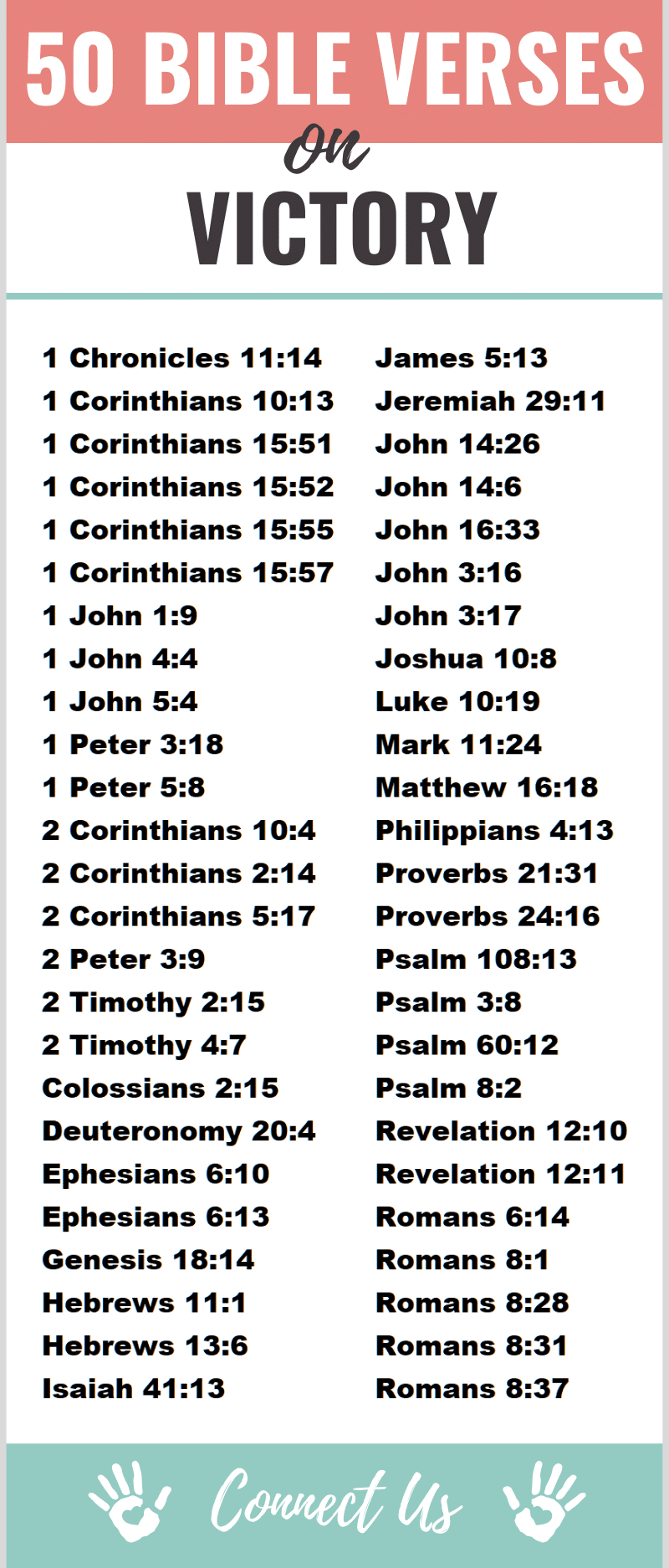 Author Bio
Natalie Regoli is a child of God, devoted wife, and mother of two boys. She has a Master's Degree in Law from The University of Texas. Natalie has been published in several national journals and has been practicing law for 18 years.