The word death is found 498 times in the Old and New Testament. The image below reveals the locations of each occurrence. This cool graph starts with Genesis in the top left and ends with Revelation in the bottom right.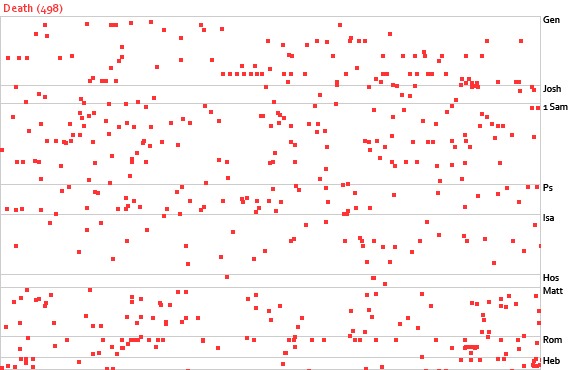 Here are the 50 most important Bible scriptures on death.
Revelation 21:4
"He will wipe away every tear from their eyes, and death shall be no more, neither shall there be mourning, nor crying, nor pain anymore, for the former things have passed away."
Romans 14:8
For if we live, we live to the Lord, and if we die, we die to the Lord. So then, whether we live or whether we die, we are the Lord's.
Ecclesiastes 12:7
And the dust returns to the earth as it was, and the spirit returns to God who gave it.
Luke 23:43
And he said to him, "Truly, I say to you, today you will be with me in Paradise."
John 3:16
For God so loved the world, that he gave his only Son, that whoever believes in him should not perish but have eternal life.
1 Corinthians 15:22
For as in Adam all die, so also in Christ shall all be made alive.
1 Corinthians 15:26
The last enemy to be destroyed is death.
1 Corinthians 15:51
Behold! I tell you a mystery. We shall not all sleep, but we shall all be changed.
1 Corinthians 15:55
"O death, where is your victory? O death, where is your sting?"
1 Thessalonians 4:13
But we do not want you to be uninformed, brothers, about those who are asleep, that you may not grieve as others do who have no hope.
1 Thessalonians 4:14
For since we believe that Jesus died and rose again, even so, through Jesus, God will bring with him those who have fallen asleep.
1 Timothy 6:7
For we brought nothing into the world, and we cannot take anything out of the world.
2 Corinthians 5:8
Yes, we are of good courage, and we would rather be away from the body and at home with the Lord.
Ecclesiastes 3:2
A time to be born, and a time to die; a time to plant, and a time to pluck up what is planted.
Ecclesiastes 7:1
A good name is better than precious ointment, and the day of death than the day of birth.
Ecclesiastes 9:10
Whatever your hand finds to do, do it with your might, for there is no work or thought or knowledge or wisdom in Sheol, to which you are going.
Ecclesiastes 9:5
For the living know that they will die, but the dead know nothing, and they have no more reward, for the memory of them is forgotten.
Ezekiel 18:21
"But if a wicked person turns away from all his sins that he has committed and keeps all my statutes and does what is just and right, he shall surely live; he shall not die."
Ezekiel 18:32
"For I have no pleasure in the death of anyone," declares the Lord God; "so turn, and live."
Genesis 3:19
"By the sweat of your face you shall eat bread, till you return to the ground, for out of it you were taken; for you are dust, and to dust you shall return."
Hebrews 13:14
For here we have no lasting city, but we seek the city that is to come.
Hebrews 2:14
Since therefore the children share in flesh and blood, he himself likewise partook of the same things, that through death he might destroy the one who has the power of death, that is, the devil.
Hebrews 9:27
And just as it is appointed for man to die once, and after that comes judgment.
Isaiah 25:8
He will swallow up death forever; and the Lord God will wipe away tears from all faces, and the reproach of his people he will take away from all the earth, for the Lord has spoken.
Isaiah 41:10
"Fear not, for I am with you; be not dismayed, for I am your God; I will strengthen you, I will help you, I will uphold you with my righteous right hand."
Job 14:14
If a man dies, shall he live again? All the days of my service I would wait, till my renewal should come.
John 11:25
Jesus said to her, "I am the resurrection and the life. Whoever believes in me, though he die, yet shall he live."
John 11:26
"And everyone who lives and believes in me shall never die. Do you believe this?"
John 5:24
"Truly, truly, I say to you, whoever hears my word and believes him who sent me has eternal life. He does not come into judgment, but has passed from death to life."
Luke 2:29
Lord, now you are letting your servant depart in peace, according to your word.
Matthew 10:28
"And do not fear those who kill the body but cannot kill the soul. Rather fear him who can destroy both soul and body in hell."
Matthew 11:28
"Come to me, all who labor and are heavy laden, and I will give you rest."
Matthew 5:4
"Blessed are those who mourn, for they shall be comforted."
Philippians 1:21
For to me to live is Christ, and to die is gain.
Proverbs 14:32
The wicked is overthrown through his evildoing, but the righteous finds refuge in his death.
Psalm 115:17
The dead do not praise the Lord, nor do any who go down into silence.
Psalm 116:15
Precious in the sight of the Lord is the death of his saints.
Psalm 146:4
When his breath departs, he returns to the earth; on that very day his plans perish.
Psalm 23:4
Even though I walk through the valley of the shadow of death, I will fear no evil, for you are with me; your rod and your staff, they comfort me.
Psalm 34:18
The Lord is near to the brokenhearted and saves the crushed in spirit.
Psalm 39:4
O Lord, make me know my end and what is the measure of my days; let me know how fleeting I am!
Psalm 73:26
My flesh and my heart may fail, but God is the strength of my heart and my portion forever.
Revelation 1:18
"And the living one. I died, and behold I am alive forevermore, and I have the keys of Death and Hades."
Revelation 14:13
And I heard a voice from heaven saying, "Write this: Blessed are the dead who die in the Lord from now on." "Blessed indeed," says the Spirit, "that they may rest from their labors, for their deeds follow them!"
Revelation 21:8
"But as for the cowardly, the faithless, the detestable, as for murderers, the sexually immoral, sorcerers, idolaters, and all liars, their portion will be in the lake that burns with fire and sulfur, which is the second death."
Romans 5:12
Therefore, just as sin came into the world through one man, and death through sin, and so death spread to all men because all sinned.
Romans 6:16
Do you not know that if you present yourselves to anyone as obedient slaves, you are slaves of the one whom you obey, either of sin, which leads to death, or of obedience, which leads to righteousness?
Romans 6:23
For the wages of sin is death, but the free gift of God is eternal life in Christ Jesus our Lord.
Romans 8:13
For if you live according to the flesh you will die, but if by the Spirit you put to death the deeds of the body, you will live.
Romans 8:18
For I consider that the sufferings of this present time are not worth comparing with the glory that is to be revealed to us.
More Bible Verses that Will Move You
50 Most Powerful Scriptures on Faith
60 Transcendent Verses on Trust
50 Strong Scriptures on Perseverance
68 Powerful Verses on Forgiveness
40 Uplifting Scriptures on Patience
Add Our Infographic Below to Your Pinterest Board
Hit the pin button below to add our infographic, with all the verses, to one of your Pinterest boards.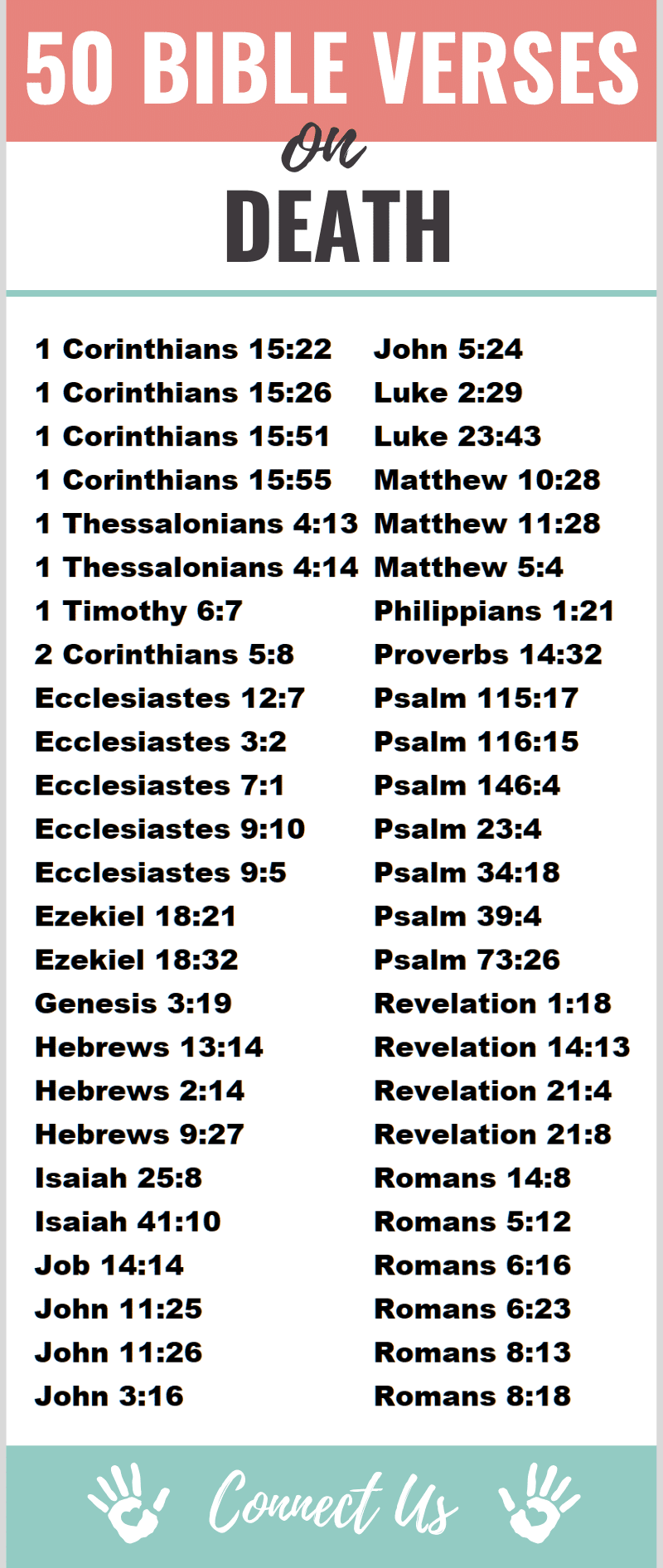 Author Bio
Natalie Regoli is a child of God, devoted wife, and mother of two boys. She has a Master's Degree in Law from The University of Texas. Natalie has been published in several national journals and has been practicing law for 18 years.