The word "discipline" appears 60 times throughout the books of the Bible. The graph below shows the locations of each appearance. It begins with Genesis in the top left and concludes with Revelation in the bottom right.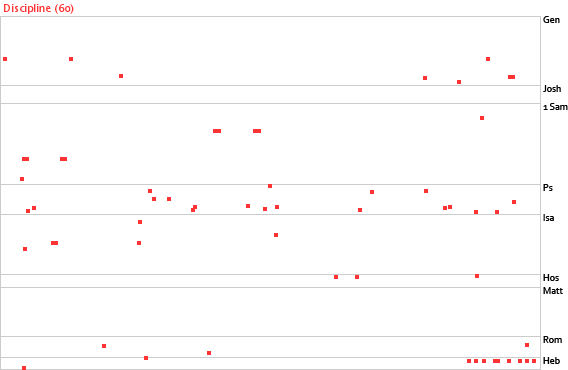 Here are the 50 most powerful Bible scriptures on discipline.
Hebrews 12:11
For the moment all discipline seems painful rather than pleasant, but later it yields the peaceful fruit of righteousness to those who have been trained by it.
Proverbs 12:1
Whoever loves discipline loves knowledge, but he who hates reproof is stupid.
Proverbs 13:24
Whoever spares the rod hates his son, but he who loves him is diligent to discipline him.
1 Corinthians 9:27
But I discipline my body and keep it under control, lest after preaching to others I myself should be disqualified.
Revelation 3:19
"Those whom I love, I reprove and discipline, so be zealous and repent."
1 Corinthians 11:32
But when we are judged by the Lord, we are disciplined so that we may not be condemned along with the world.
1 Peter 4:7
The end of all things is at hand; therefore be self-controlled and sober-minded for the sake of your prayers.
1 Timothy 1:20
Among whom are Hymenaeus and Alexander, whom I have handed over to Satan that they may learn not to blaspheme.
1 Timothy 4:7
Have nothing to do with irreverent, silly myths. Rather train yourself for godliness.
2 Corinthians 10:5
We destroy arguments and every lofty opinion raised against the knowledge of God, and take every thought captive to obey Christ.
2 Corinthians 7:10
For godly grief produces a repentance that leads to salvation without regret, whereas worldly grief produces death.
2 Samuel 19:6
Because you love those who hate you and hate those who love you. For you have made it clear today that commanders and servants are nothing to you, for today I know that if Absalom were alive and all of us were dead today, then you would be pleased.
2 Timothy 1:7
For God gave us a spirit not of fear but of power and love and self-control.
2 Timothy 2:15
Do your best to present yourself to God as one approved, a worker who has no need to be ashamed, rightly handling the word of truth.
Colossians 3:21
Fathers, do not provoke your children, lest they become discouraged.
Deuteronomy 8:5
Know then in your heart that, as a man disciplines his son, the Lord your God disciplines you.
Ephesians 6:4
Fathers, do not provoke your children to anger, but bring them up in the discipline and instruction of the Lord.
Exodus 20:12
"Honor your father and your mother, that your days may be long in the land that the Lord your God is giving you."
Galatians 6:1
Brothers, if anyone is caught in any transgression, you who are spiritual should restore him in a spirit of gentleness. Keep watch on yourself, lest you too be tempted.
Hebrews 13:17
Obey your leaders and submit to them, for they are keeping watch over your souls, as those who will have to give an account. Let them do this with joy and not with groaning, for that would be of no advantage to you.
Hebrews 5:8
Although he was a son, he learned obedience through what he suffered.
Isaiah 1:19
If you are willing and obedient, you shall eat the good of the land.
Isaiah 38:17
Behold, it was for my welfare that I had great bitterness; but in love you have delivered my life from the pit of destruction, for you have cast all my sins behind your back.
Isaiah 40:31
But they who wait for the Lord shall renew their strength; they shall mount up with wings like eagles; they shall run and not be weary; they shall walk and not faint.
Job 37:23
The Almighty—we cannot find him; he is great in power; justice and abundant righteousness he will not violate.
Job 5:17
Behold, blessed is the one whom God reproves; therefore despise not the discipline of the Almighty.
Proverbs 10:17
Whoever heeds instruction is on the path to life, but he who rejects reproof leads others astray.
Proverbs 13:1
A wise son hears his father's instruction, but a scoffer does not listen to rebuke.
Proverbs 13:18
Poverty and disgrace come to him who ignores instruction, but whoever heeds reproof is honored.
Proverbs 15:32
Whoever ignores instruction despises himself, but he who listens to reproof gains intelligence.
Proverbs 16:32
Whoever is slow to anger is better than the mighty, and he who rules his spirit than he who takes a city.
Proverbs 17:11
An evil man seeks only rebellion, and a cruel messenger will be sent against him.
Proverbs 18:9
Whoever is slack in his work is a brother to him who destroys.
Proverbs 19:18
Discipline your son, for there is hope; do not set your heart on putting him to death.
Proverbs 20:13
Love not sleep, lest you come to poverty; open your eyes, and you will have plenty of bread.
Proverbs 22:15
Folly is bound up in the heart of a child, but the rod of discipline drives it far from him.
Proverbs 22:6
Train up a child in the way he should go; even when he is old he will not depart from it.
Proverbs 23:13
Do not withhold discipline from a child; if you strike him with a rod, he will not die.
Proverbs 25:28
A man without self-control is like a city broken into and left without walls.
Proverbs 28:9
If one turns away his ear from hearing the law, even his prayer is an abomination.
Proverbs 29:15
The rod and reproof give wisdom, but a child left to himself brings shame to his mother.
Proverbs 29:17
Discipline your son, and he will give you rest; he will give delight to your heart.
Proverbs 3:12
For the Lord reproves him whom he loves, as a father the son in whom he delights.
Proverbs 30:17
The eye that mocks a father and scorns to obey a mother will be picked out by the ravens of the valley and eaten by the vultures.
Proverbs 6:23
For the commandment is a lamp and the teaching a light, and the reproofs of discipline are the way of life.
Psalm 119:105
Your word is a lamp to my feet and a light to my path.
Psalm 146:7
Who executes justice for the oppressed, who gives food to the hungry. The Lord sets the prisoners free.
Titus 1:8
But hospitable, a lover of good, self-controlled, upright, holy, and disciplined.
Titus 2:15
Declare these things; exhort and rebuke with all authority. Let no one disregard you.
Titus 3:10
As for a person who stirs up division, after warning him once and then twice, have nothing more to do with him.
More Bible Verses that Will Move You
50 Most Powerful Scriptures on Faith
60 Transcendent Verses on Trust
50 Strong Scriptures on Perseverance
68 Powerful Verses on Forgiveness
40 Uplifting Scriptures on Patience
Add Our Infographic Below to Your Pinterest Board
Hit the pin button below to add our infographic, with all the verses, to one of your Pinterest boards.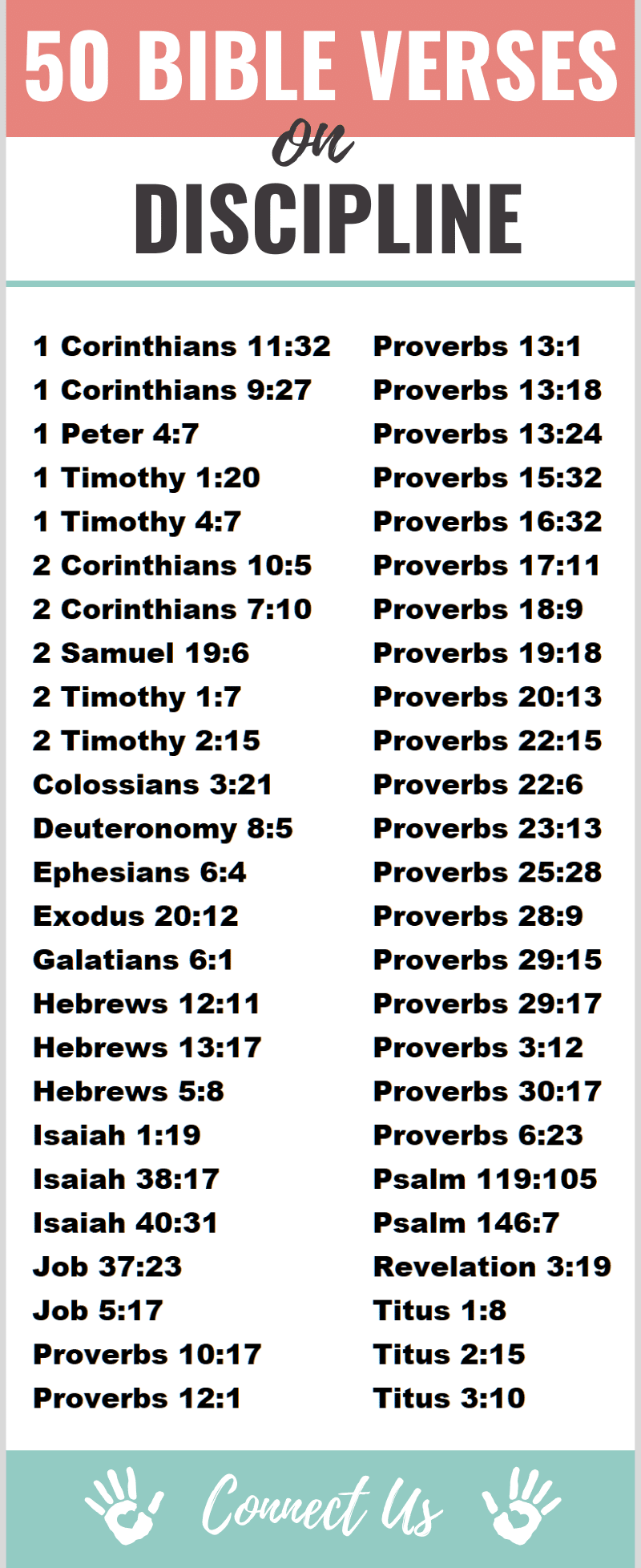 Author Bio
Natalie Regoli is a child of God, devoted wife, and mother of two boys. She has a Master's Degree in Law from The University of Texas. Natalie has been published in several national journals and has been practicing law for 18 years.