The word "mercy" occurs 174 times in the Bible. The infographic below identifies the points of each occurrence. This graphic presentation starts with Genesis in the top left and concludes with Revelation in the bottom right.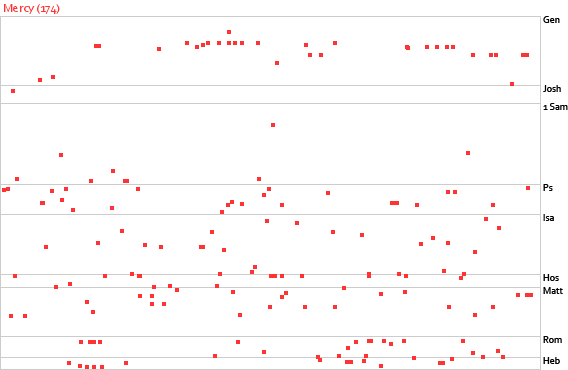 Here are the 50 most powerful Bible scriptures on God's mercy.
Hebrews 4:16
Let us then with confidence draw near to the throne of grace, that we may receive mercy and find grace to help in time of need.
James 2:13
For judgment is without mercy to one who has shown no mercy. Mercy triumphs over judgment.
Psalm 86:5
For you, O Lord, are good and forgiving, abounding in steadfast love to all who call upon you.
Luke 6:36
"Be merciful, even as your Father is merciful."
Micah 6:8
He has told you, O man, what is good; and what does the Lord require of you but to do justice, and to love kindness, and to walk humbly with your God?
1 Chronicles 16:34
Oh give thanks to the Lord, for he is good; for his steadfast love endures forever!
1 John 1:9
If we confess our sins, he is faithful and just to forgive us our sins and to cleanse us from all unrighteousness.
1 Peter 1:3
Blessed be the God and Father of our Lord Jesus Christ! According to his great mercy, he has caused us to be born again to a living hope through the resurrection of Jesus Christ from the dead.
1 Timothy 1:16
But I received mercy for this reason, that in me, as the foremost, Jesus Christ might display his perfect patience as an example to those who were to believe in him for eternal life.
2 Peter 3:9
The Lord is not slow to fulfill his promise as some count slowness, but is patient toward you, not wishing that any should perish, but that all should reach repentance.
2 Samuel 22:26
With the merciful you show yourself merciful; with the blameless man you show yourself blameless.
2 Samuel 24:14
Then David said to Gad, "I am in great distress. Let us fall into the hand of the Lord, for his mercy is great; but let me not fall into the hand of man."
Colossians 3:12
Put on then, as God's chosen ones, holy and beloved, compassionate hearts, kindness, humility, meekness, and patience.
Daniel 9:9
To the Lord our God belong mercy and forgiveness, for we have rebelled against him.
Deuteronomy 4:31
For the Lord your God is a merciful God. He will not leave you or destroy you or forget the covenant with your fathers that he swore to them.
Deuteronomy 7:9
Know therefore that the Lord your God is God, the faithful God who keeps covenant and steadfast love with those who love him and keep his commandments, to a thousand generations.
Ephesians 2:4
But God, being rich in mercy, because of the great love with which he loved us.
Exodus 34:6
The Lord passed before him and proclaimed, "The Lord, the Lord, a God merciful and gracious, slow to anger, and abounding in steadfast love and faithfulness."
Hosea 6:6
For I desire steadfast love and not sacrifice, the knowledge of God rather than burnt offerings.
Isaiah 30:18
Therefore the Lord waits to be gracious to you, and therefore he exalts himself to show mercy to you. For the Lord is a God of justice; blessed are all those who wait for him.
Jeremiah 3:12
Go, and proclaim these words toward the north, and say, "Return, faithless Israel," declares the Lord. "I will not look on you in anger, for I am merciful, declares the Lord;" "I will not be angry forever."
Joel 2:13
And rend your hearts and not your garments. Return to the Lord your God, for he is gracious and merciful, slow to anger, and abounding in steadfast love; and he relents over disaster.
John 3:16
For God so loved the world, that he gave his only Son, that whoever believes in him should not perish but have eternal life.
Jonah 4:2
And he prayed to the Lord and said, "O Lord, is not this what I said when I was yet in my country? That is why I made haste to flee to Tarshish; for I knew that you are a gracious God and merciful, slow to anger and abounding in steadfast love, and relenting from disaster."
Lamentations 3:22
The steadfast love of the Lord never ceases; his mercies never come to an end.
Luke 1:50
"And his mercy is for those who fear him from generation to generation."
Luke 1:78
"Because of the tender mercy of our God, whereby the sunrise shall visit us from on high."
Malachi 3:17
"They shall be mine," says the Lord of hosts, "in the day when I make up my treasured possession, and I will spare them as a man spares his son who serves him."
Matthew 23:23
"Woe to you, scribes and Pharisees, hypocrites! For you tithe mint and dill and cumin, and have neglected the weightier matters of the law: justice and mercy and faithfulness. These you ought to have done, without neglecting the others."
Matthew 5:7
"Blessed are the merciful, for they shall receive mercy."
Matthew 9:13
"Go and learn what this means, 'I desire mercy, and not sacrifice.' For I came not to call the righteous, but sinners."
Micah 7:18
Who is a God like you, pardoning iniquity and passing over transgression for the remnant of his inheritance? He does not retain his anger forever, because he delights in steadfast love.
Numbers 14:18
The Lord is slow to anger and abounding in steadfast love, forgiving iniquity and transgression, but he will by no means clear the guilty, visiting the iniquity of the fathers on the children, to the third and the fourth generation.
Proverbs 28:13
Whoever conceals his transgressions will not prosper, but he who confesses and forsakes them will obtain mercy.
Psalm 103:11
For as high as the heavens are above the earth, so great is his steadfast love toward those who fear him.
Psalm 103:17
But the steadfast love of the Lord is from everlasting to everlasting on those who fear him, and his righteousness to children's children.
Psalm 103:8
The Lord is merciful and gracious, slow to anger and abounding in steadfast love.
Psalm 106:1
Praise the Lord! Oh give thanks to the Lord, for he is good, for his steadfast love endures forever!
Psalm 107:1
Oh give thanks to the Lord, for he is good, for his steadfast love endures forever!
Psalm 130:7
O Israel, hope in the Lord! For with the Lord there is steadfast love, and with him is plentiful redemption.
Psalm 145:9
The Lord is good to all, and his mercy is over all that he has made.
Psalm 23:6
Surely goodness and mercy shall follow me all the days of my life, and I shall dwell in the house of the Lord forever.
Psalm 51:1
To the choirmaster. A Psalm of David, when Nathan the prophet went to him, after he had gone in to Bathsheba. Have mercy on me, O God, according to your steadfast love; according to your abundant mercy blot out my transgressions.
Psalm 86:15
But you, O Lord, are a God merciful and gracious, slow to anger and abounding in steadfast love and faithfulness.
Romans 12:1
I appeal to you therefore, brothers, by the mercies of God, to present your bodies as a living sacrifice, holy and acceptable to God, which is your spiritual worship.
Romans 5:8
But God shows his love for us in that while we were still sinners, Christ died for us.
Romans 6:14
For sin will have no dominion over you, since you are not under law but under grace.
Romans 9:15
For he says to Moses, "I will have mercy on whom I have mercy, and I will have compassion on whom I have compassion."
Romans 9:18
So then he has mercy on whomever he wills, and he hardens whomever he wills.
Titus 3:5
He saved us, not because of works done by us in righteousness, but according to his own mercy, by the washing of regeneration and renewal of the Holy Spirit.
More Bible Verses that Will Move You
50 Most Powerful Scriptures on Faith
60 Transcendent Verses on Trust
50 Strong Scriptures on Perseverance
68 Powerful Verses on Forgiveness
40 Uplifting Scriptures on Patience
Add Our Infographic Below to Your Pinterest Board
Hit the pin button below to add our infographic, with all the verses, to one of your Pinterest boards.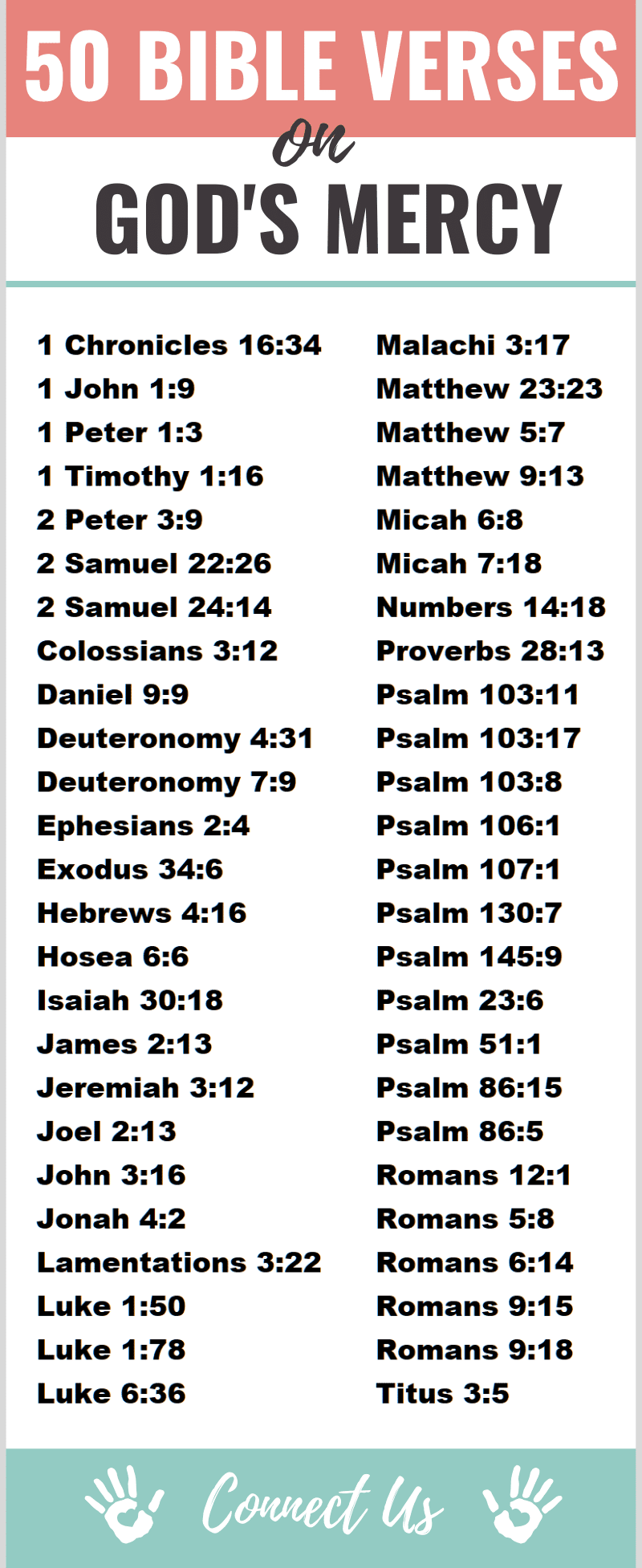 Author Bio
Natalie Regoli is a child of God, devoted wife, and mother of two boys. She has a Master's Degree in Law from The University of Texas. Natalie has been published in several national journals and has been practicing law for 18 years.