Here are the 50 most powerful Bible scriptures on holiness.
2 Corinthians 7:1
Since we have these promises, beloved, let us cleanse ourselves from every defilement of body and spirit, bringing holiness to completion in the fear of God.
Hebrews 12:14
Strive for peace with everyone, and for the holiness without which no one will see the Lord.
1 Peter 2:9
But you are a chosen race, a royal priesthood, a holy nation, a people for his own possession, that you may proclaim the excellencies of him who called you out of darkness into his marvelous light.
1 Thessalonians 4:7
For God has not called us for impurity, but in holiness.
2 Timothy 2:21
Therefore, if anyone cleanses himself from what is dishonorable, he will be a vessel for honorable use, set apart as holy, useful to the master of the house, ready for every good work.
1 Corinthians 3:16
Do you not know that you are God's temple and that God's Spirit dwells in you?
1 Corinthians 3:17
If anyone destroys God's temple, God will destroy him. For God's temple is holy, and you are that temple.
1 Corinthians 6:17
But he who is joined to the Lord becomes one spirit with him.
1 Corinthians 6:19
Or do you not know that your body is a temple of the Holy Spirit within you, whom you have from God? You are not your own.
1 Corinthians 6:20
For you were bought with a price. So glorify God in your body.
1 John 3:3
And everyone who thus hopes in him purifies himself as he is pure.
1 John 5:4
For everyone who has been born of God overcomes the world. And this is the victory that has overcome the world—our faith.
1 Peter 2:12
Keep your conduct among the Gentiles honorable, so that when they speak against you as evildoers, they may see your good deeds and glorify God on the day of visitation.
1 Peter 2:24
He himself bore our sins in his body on the tree, that we might die to sin and live to righteousness. By his wounds you have been healed.
1 Peter 4:1
Since therefore Christ suffered in the flesh, arm yourselves with the same way of thinking, for whoever has suffered in the flesh has ceased from sin.
1 Peter 4:7
The end of all things is at hand; therefore be self-controlled and sober-minded for the sake of your prayers.
1 Samuel 2:2
There is none holy like the Lord; there is none besides you; there is no rock like our God.
1 Thessalonians 3:13
So that he may establish your hearts blameless in holiness before our God and Father, at the coming of our Lord Jesus with all his saints.
1 Thessalonians 4:3
For this is the will of God, your sanctification: that you abstain from sexual immorality.
1 Thessalonians 4:4
That each one of you know how to control his own body in holiness and honor.
1 Thessalonians 5:23
Now may the God of peace himself sanctify you completely, and may your whole spirit and soul and body be kept blameless at the coming of our Lord Jesus Christ.
1 Timothy 6:11
But as for you, O man of God, flee these things. Pursue righteousness, godliness, faith, love, steadfastness, gentleness.
2 Peter 3:11
Since all these things are thus to be dissolved, what sort of people ought you to be in lives of holiness and godliness.
2 Timothy 2:16
But avoid irreverent babble, for it will lead people into more and more ungodliness.
2 Timothy 2:22
So flee youthful passions and pursue righteousness, faith, love, and peace, along with those who call on the Lord from a pure heart.
3 John 1:11
Beloved, do not imitate evil but imitate good. Whoever does good is from God; whoever does evil has not seen God.
Colossians 1:22
He has now reconciled in his body of flesh by his death, in order to present you holy and blameless and above reproach before him.
Ephesians 1:4
Even as he chose us in him before the foundation of the world, that we should be holy and blameless before him.
Ephesians 5:3
But sexual immorality and all impurity or covetousness must not even be named among you, as is proper among saints.
Exodus 15:11
Who is like you, O Lord, among the gods? Who is like you, majestic in holiness, awesome in glorious deeds, doing wonders?
Exodus 3:5
Then he said, "Do not come near; take your sandals off your feet, for the place on which you are standing is holy ground."
Hebrews 12:10
For they disciplined us for a short time as it seemed best to them, but he disciplines us for our good, that we may share his holiness.
Isaiah 35:8
And a highway shall be there, and it shall be called the Way of Holiness; the unclean shall not pass over it. It shall belong to those who walk on the way; even if they are fools, they shall not go astray.
Isaiah 57:15
For thus says the One who is high and lifted up, who inhabits eternity, whose name is Holy: "I dwell in the high and holy place, and also with him who is of a contrite and lowly spirit, to revive the spirit of the lowly, and to revive the heart of the contrite."
Isaiah 6:3
And one called to another and said: "Holy, holy, holy is the Lord of hosts; the whole earth is full of his glory!"
James 1:21
Therefore put away all filthiness and rampant wickedness and receive with meekness the implanted word, which is able to save your souls.
John 17:17
"Sanctify them in the truth; your word is truth."
Leviticus 11:45
"For I am the Lord who brought you up out of the land of Egypt to be your God. You shall therefore be holy, for I am holy."
Leviticus 19:2
"Speak to all the congregation of the people of Israel and say to them, 'You shall be holy, for I the Lord your God am holy.'"
Leviticus 20:26
"You shall be holy to me, for I the Lord am holy and have separated you from the peoples, that you should be mine."
Leviticus 20:7
"Consecrate yourselves, therefore, and be holy, for I am the Lord your God."
Luke 1:75
In holiness and righteousness before him all our days.
Matthew 5:48
"You therefore must be perfect, as your heavenly Father is perfect."
Philippians 1:10
So that you may approve what is excellent, and so be pure and blameless for the day of Christ.
Philippians 2:15
That you may be blameless and innocent, children of God without blemish in the midst of a crooked and twisted generation, among whom you shine as lights in the world.
Philippians 4:8
Finally, brothers, whatever is true, whatever is honorable, whatever is just, whatever is pure, whatever is lovely, whatever is commendable, if there is any excellence, if there is anything worthy of praise, think about these things.
Psalm 32:2
Blessed is the man against whom the Lord counts no iniquity, and in whose spirit there is no deceit.
Psalm 97:10
O you who love the Lord, hate evil! He preserves the lives of his saints; he delivers them from the hand of the wicked.
Romans 12:1
I appeal to you therefore, brothers, by the mercies of God, to present your bodies as a living sacrifice, holy and acceptable to God, which is your spiritual worship.
Romans 6:22
But now that you have been set free from sin and have become slaves of God, the fruit you get leads to sanctification and its end, eternal life.
More Bible Verses that Will Move You
50 Most Powerful Scriptures on Faith
60 Transcendent Verses on Trust
50 Strong Scriptures on Perseverance
68 Powerful Verses on Forgiveness
40 Uplifting Scriptures on Patience
Add Our Infographic Below to Your Pinterest Board
Hit the pin button below to add our infographic, with all the verses, to one of your Pinterest boards.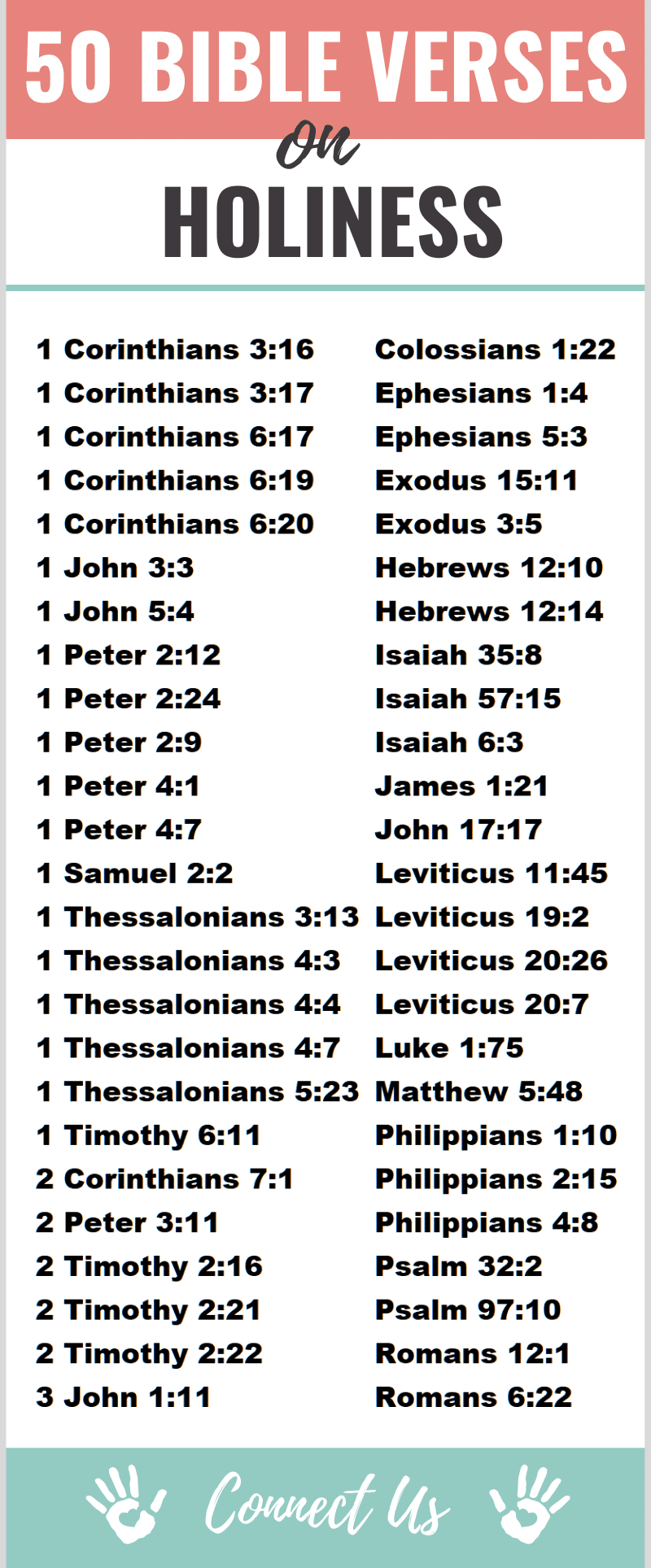 Author Bio
Natalie Regoli is a child of God, devoted wife, and mother of two boys. She has a Master's Degree in Law from The University of Texas. Natalie has been published in several national journals and has been practicing law for 18 years.