The word "salvation" appears 182 times throughout the books of the Bible. The graph below shows the locations of each appearance. It begins with Genesis in the top left and concludes with Revelation in the bottom right.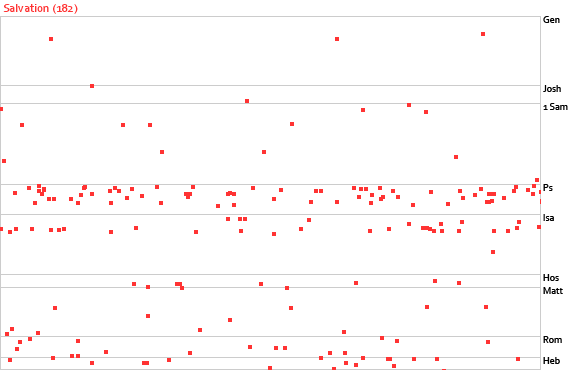 Here are the 50 most powerful Bible scriptures on salvation.
Titus 3:5
He saved us, not because of works done by us in righteousness, but according to his own mercy, by the washing of regeneration and renewal of the Holy Spirit.
Romans 10:9
Because, if you confess with your mouth that Jesus is Lord and believe in your heart that God raised him from the dead, you will be saved.
Acts 4:12
And there is salvation in no one else, for there is no other name under heaven given among men by which we must be saved.
Ephesians 2:8
For by grace you have been saved through faith. And this is not your own doing; it is the gift of God.
John 14:6
Jesus said to him, "I am the way, and the truth, and the life. No one comes to the Father except through me."
1 John 1:9
If we confess our sins, he is faithful and just to forgive us our sins and to cleanse us from all unrighteousness.
1 John 5:13
I write these things to you who believe in the name of the Son of God that you may know that you have eternal life.
1 Peter 2:24
He himself bore our sins in his body on the tree, that we might die to sin and live to righteousness. By his wounds you have been healed.
1 Peter 3:21
Baptism, which corresponds to this, now saves you, not as a removal of dirt from the body but as an appeal to God for a good conscience, through the resurrection of Jesus Christ.
1 Thessalonians 5:9
For God has not destined us for wrath, but to obtain salvation through our Lord Jesus Christ.
2 Corinthians 5:17
Therefore, if anyone is in Christ, he is a new creation. The old has passed away; behold, the new has come.
2 Corinthians 5:21
For our sake he made him to be sin who knew no sin, so that in him we might become the righteousness of God.
2 Corinthians 6:2
For he says, "In a favorable time I listened to you, and in a day of salvation I have helped you." Behold, now is the favorable time; behold, now is the day of salvation.
2 Peter 3:9
The Lord is not slow to fulfill his promise as some count slowness, but is patient toward you, not wishing that any should perish, but that all should reach repentance.
2 Thessalonians 2:13
But we ought always to give thanks to God for you, brothers beloved by the Lord, because God chose you as the firstfruits to be saved, through sanctification by the Spirit and belief in the truth.
2 Timothy 1:9
Who saved us and called us to a holy calling, not because of our works but because of his own purpose and grace, which he gave us in Christ Jesus before the ages began.
Acts 11:18
When they heard these things they fell silent. And they glorified God, saying, "Then to the Gentiles also God has granted repentance that leads to life."
Acts 16:31
And they said, "Believe in the Lord Jesus, and you will be saved, you and your household."
Acts 2:38
And Peter said to them, "Repent and be baptized every one of you in the name of Jesus Christ for the forgiveness of your sins, and you will receive the gift of the Holy Spirit."
Acts 22:16
And now why do you wait? Rise and be baptized and wash away your sins, calling on his name.
Acts 28:28
Therefore let it be known to you that this salvation of God has been sent to the Gentiles; they will listen.
Ephesians 1:13
In him you also, when you heard the word of truth, the gospel of your salvation, and believed in him, were sealed with the promised Holy Spirit.
Ephesians 2:10
For we are his workmanship, created in Christ Jesus for good works, which God prepared beforehand, that we should walk in them.
Galatians 2:21
I do not nullify the grace of God, for if righteousness were through the law, then Christ died for no purpose.
James 2:18
But someone will say, "You have faith and I have works." Show me your faith apart from your works, and I will show you my faith by my works.
John 1:12
But to all who did receive him, who believed in his name, he gave the right to become children of God.
John 3:16
For God so loved the world, that he gave his only Son, that whoever believes in him should not perish but have eternal life.
John 3:3
Jesus answered him, "Truly, truly, I say to you, unless one is born again he cannot see the kingdom of God."
John 3:36
"Whoever believes in the Son has eternal life; whoever does not obey the Son shall not see life, but the wrath of God remains on him."
John 3:5
Jesus answered, "Truly, truly, I say to you, unless one is born of water and the Spirit, he cannot enter the kingdom of God."
John 5:24
"Truly, truly, I say to you, whoever hears my word and believes him who sent me has eternal life. He does not come into judgment, but has passed from death to life."
John 6:37
"All that the Father gives me will come to me, and whoever comes to me I will never cast out."
John 6:44
"No one can come to me unless the Father who sent me draws him. And I will raise him up on the last day."
Jonah 2:9
But I with the voice of thanksgiving will sacrifice to you; what I have vowed I will pay. Salvation belongs to the Lord!
Mark 16:16
"Whoever believes and is baptized will be saved, but whoever does not believe will be condemned."
Matthew 7:21
"Not everyone who says to me, 'Lord, Lord,' will enter the kingdom of heaven, but the one who does the will of my Father who is in heaven."
Philippians 1:6
And I am sure of this, that he who began a good work in you will bring it to completion at the day of Jesus Christ.
Philippians 2:12
Therefore, my beloved, as you have always obeyed, so now, not only as in my presence but much more in my absence, work out your own salvation with fear and trembling.
Psalm 25:5
Lead me in your truth and teach me, for you are the God of my salvation; for you I wait all the day long.
Psalm 3:8
Salvation belongs to the Lord; your blessing be on your people! Selah.
Psalm 37:39
The salvation of the righteous is from the Lord; he is their stronghold in the time of trouble.
Psalm 60:5
That your beloved ones may be delivered, give salvation by your right hand and answer us!
Psalm 62:1
To the choirmaster: according to Jeduthun. A Psalm of David. For God alone my soul waits in silence; from him comes my salvation.
Revelation 3:5
"The one who conquers will be clothed thus in white garments, and I will never blot his name out of the book of life. I will confess his name before my Father and before his angels."
Romans 1:16
For I am not ashamed of the gospel, for it is the power of God for salvation to everyone who believes, to the Jew first and also to the Greek.
Romans 10:13
For "Everyone who calls on the name of the Lord will be saved."
Romans 3:23
For all have sinned and fall short of the glory of God.
Romans 5:8
But God shows his love for us in that while we were still sinners, Christ died for us.
Romans 6:14
For sin will have no dominion over you, since you are not under law but under grace.
Romans 6:23
For the wages of sin is death, but the free gift of God is eternal life in Christ Jesus our Lord.
More Bible Verses that Will Move You
50 Most Powerful Scriptures on Faith
60 Transcendent Verses on Trust
50 Strong Scriptures on Perseverance
68 Powerful Verses on Forgiveness
40 Uplifting Scriptures on Patience
Add Our Infographic Below to Your Pinterest Board
Hit the pin button below to add our infographic, with all the verses, to one of your Pinterest boards.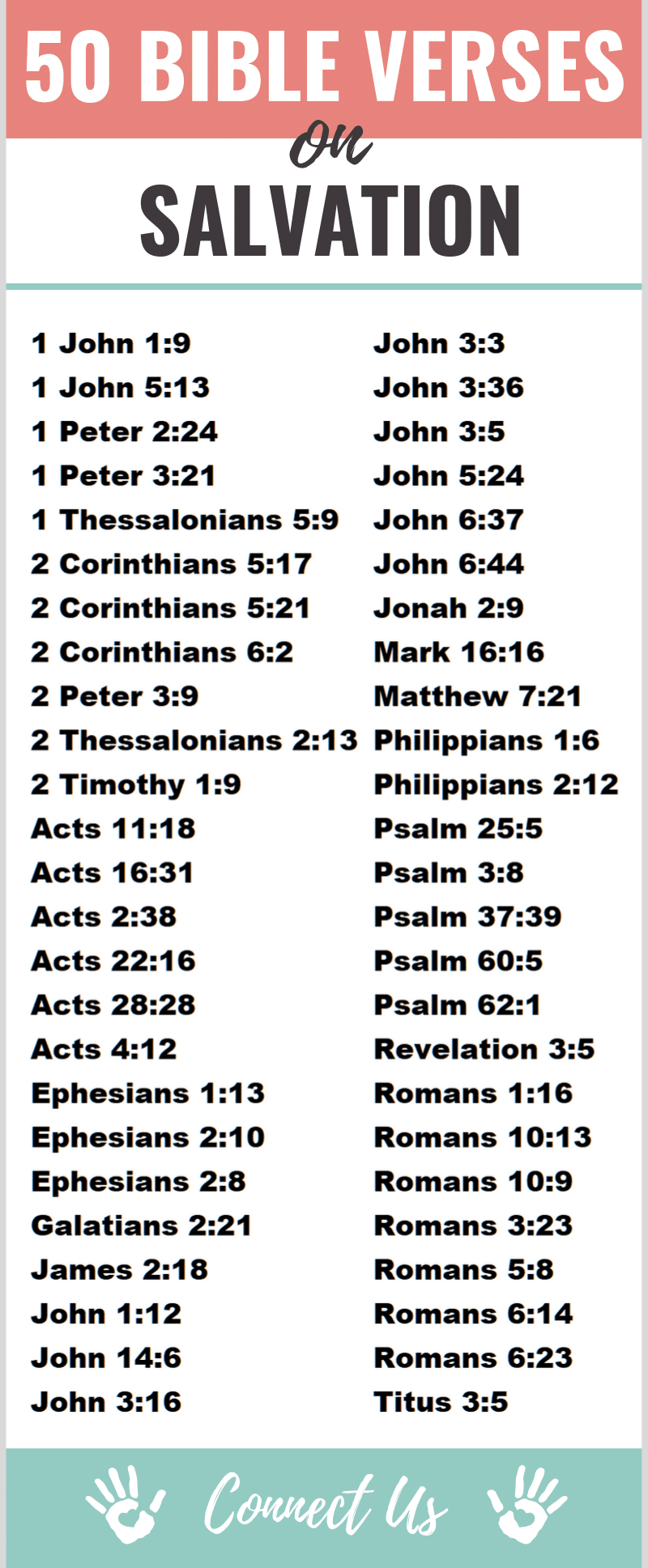 Author Bio
Natalie Regoli is a child of God, devoted wife, and mother of two boys. She has a Master's Degree in Law from The University of Texas. Natalie has been published in several national journals and has been practicing law for 18 years.