The word "angel" occurs 300 times in the Bible. The infographic below identifies the points of each occurrence. This graphic presentation starts with Genesis in the top left and concludes with Revelation in the bottom right.
Here are the 50 most transcendent Bible scriptures on angels.
Psalm 91:11
For he will command his angels concerning you to guard you in all your ways.
Hebrews 13:2
Do not neglect to show hospitality to strangers, for thereby some have entertained angels unawares.
Hebrews 1:14
Are they not all ministering spirits sent out to serve for the sake of those who are to inherit salvation?
Psalm 103:20
Bless the Lord, O you his angels, you mighty ones who do his word, obeying the voice of his word!
Psalm 34:7
The angel of the Lord encamps around those who fear him, and delivers them.
1 Peter 1:12
It was revealed to them that they were serving not themselves but you, in the things that have now been announced to you through those who preached the good news to you by the Holy Spirit sent from heaven, things into which angels long to look.
1 Timothy 5:21
In the presence of God and of Christ Jesus and of the elect angels I charge you to keep these rules without prejudging, doing nothing from partiality.
2 Kings 6:17
Then Elisha prayed and said, "O Lord, please open his eyes that he may see." So the Lord opened the eyes of the young man, and he saw, and behold, the mountain was full of horses and chariots of fire all around Elisha.
Acts 12:23
Immediately an angel of the Lord struck him down, because he did not give God the glory, and he was eaten by worms and breathed his last.
Acts 27:23
For this very night there stood before me an angel of the God to whom I belong and whom I worship.
Acts 5:19
But during the night an angel of the Lord opened the prison doors and brought them out, and said.
Acts 7:53
You who received the law as delivered by angels and did not keep it.
Acts 8:26
Now an angel of the Lord said to Philip, "Rise and go toward the south to the road that goes down from Jerusalem to Gaza." This is a desert place.
Colossians 1:16
For by him all things were created, in heaven and on earth, visible and invisible, whether thrones or dominions or rulers or authorities—all things were created through him and for him.
Colossians 2:18
Let no one disqualify you, insisting on asceticism and worship of angels, going on in detail about visions, puffed up without reason by his sensuous mind.
Daniel 6:22
My God sent his angel and shut the lions' mouths, and they have not harmed me, because I was found blameless before him; and also before you, O king, I have done no harm.
Daniel 9:21
While I was speaking in prayer, the man Gabriel, whom I had seen in the vision at the first, came to me in swift flight at the time of the evening sacrifice.
Exodus 23:20
"Behold, I send an angel before you to guard you on the way and to bring you to the place that I have prepared.
Genesis 2:1
Thus the heavens and the earth were finished, and all the host of them.
Hebrews 1:6
And again, when he brings the firstborn into the world, he says, "Let all God's angels worship him."
Hebrews 1:7
Of the angels he says, "He makes his angels winds, and his ministers a flame of fire."
Hebrews 12:22
But you have come to Mount Zion and to the city of the living God, the heavenly Jerusalem, and to innumerable angels in festal gathering.
Isaiah 6:2
Above him stood the seraphim. Each had six wings: with two he covered his face, and with two he covered his feet, and with two he flew.
Job 38:7
When the morning stars sang together and all the sons of God shouted for joy?
Jude 1:6
And the angels who did not stay within their own position of authority, but left their proper dwelling, he has kept in eternal chains under gloomy darkness until the judgment of the great day.
Jude 1:9
But when the archangel Michael, contending with the devil, was disputing about the body of Moses, he did not presume to pronounce a blasphemous judgment, but said, "The Lord rebuke you."
Judges 13:6
Then the woman came and told her husband, "A man of God came to me, and his appearance was like the appearance of the angel of God, very awesome. I did not ask him where he was from, and he did not tell me his name."
Luke 15:10
"Just so, I tell you, there is joy before the angels of God over one sinner who repents."
Luke 16:22
The poor man died and was carried by the angels to Abraham's side. The rich man also died and was buried.
Luke 2:13
And suddenly there was with the angel a multitude of the heavenly host praising God and saying.
Luke 20:36
"For they cannot die anymore, because they are equal to angels and are sons of God, being sons of the resurrection."
Luke 4:10
"For it is written, 'He will command his angels concerning you, to guard you.'"
Mark 8:38
"For whoever is ashamed of me and of my words in this adulterous and sinful generation, of him will the Son of Man also be ashamed when he comes in the glory of his Father with the holy angels."
Matthew 1:20
But as he considered these things, behold, an angel of the Lord appeared to him in a dream, saying, "Joseph, son of David, do not fear to take Mary as your wife, for that which is conceived in her is from the Holy Spirit."
Matthew 13:41
"The Son of Man will send his angels, and they will gather out of his kingdom all causes of sin and all law-breakers."
Matthew 18:10
"See that you do not despise one of these little ones. For I tell you that in heaven their angels always see the face of my Father who is in heaven."
Matthew 22:30
"For in the resurrection they neither marry nor are given in marriage, but are like angels in heaven."
Matthew 24:31
"And he will send out his angels with a loud trumpet call, and they will gather his elect from the four winds, from one end of heaven to the other."
Matthew 24:36
"But concerning that day and hour no one knows, not even the angels of heaven, nor the Son, but the Father only."
Matthew 25:31
"When the Son of Man comes in his glory, and all the angels with him, then he will sit on his glorious throne."
Matthew 26:53
"Do you think that I cannot appeal to my Father, and he will at once send me more than twelve legions of angels?"
Matthew 4:11
Then the devil left him, and behold, angels came and were ministering to him.
Nehemiah 9:6
You are the Lord, you alone. You have made heaven, the heaven of heavens, with all their host, the earth and all that is on it, the seas and all that is in them; and you preserve all of them; and the host of heaven worships you.
Psalm 148:2
Praise him, all his angels; praise him, all his hosts!
Psalm 68:17
The chariots of God are twice ten thousand, thousands upon thousands; the Lord is among them; Sinai is now in the sanctuary.
Revelation 1:1
The revelation of Jesus Christ, which God gave him to show to his servants the things that must soon take place. He made it known by sending his angel to his servant John.
Revelation 12:7
Now war arose in heaven, Michael and his angels fighting against the dragon. And the dragon and his angels fought back.
Revelation 19:10
Then I fell down at his feet to worship him, but he said to me, "You must not do that! I am a fellow servant with you and your brothers who hold to the testimony of Jesus. Worship God." For the testimony of Jesus is the spirit of prophecy.
Revelation 22:6
And he said to me, "These words are trustworthy and true. And the Lord, the God of the spirits of the prophets, has sent his angel to show his servants what must soon take place."
Revelation 22:9
But he said to me, "You must not do that! I am a fellow servant with you and your brothers the prophets, and with those who keep the words of this book. Worship God."
More Bible Verses that Will Move You
50 Most Powerful Scriptures on Faith
60 Transcendent Verses on Trust
50 Strong Scriptures on Perseverance
68 Powerful Verses on Forgiveness
40 Uplifting Scriptures on Patience
Add Our Infographic Below to Your Pinterest Board
Hit the pin button below to add our infographic, with all the verses, to one of your Pinterest boards.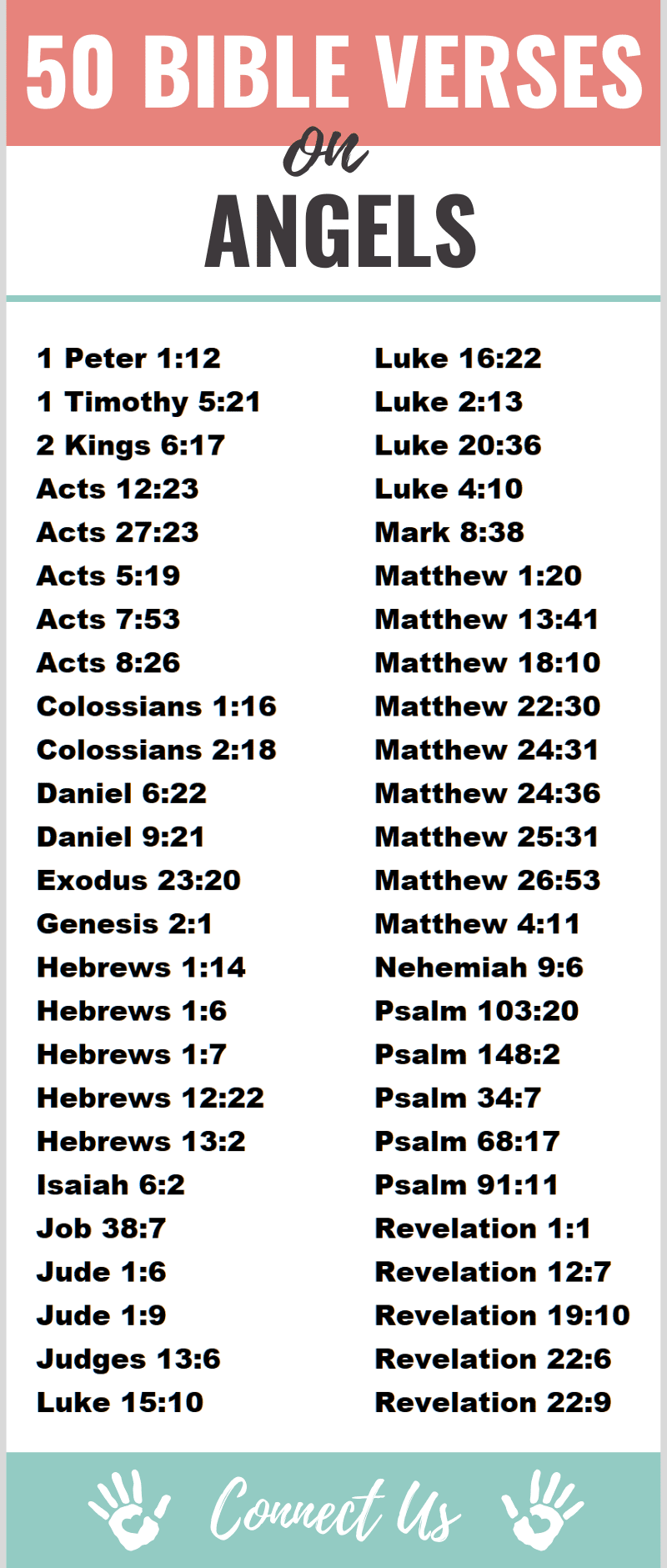 Author Bio
Natalie Regoli is a child of God, devoted wife, and mother of two boys. She has a Masters Degree in Law from The University of Texas. Natalie has been published in several national journals and has been practicing law for 18 years. If you would like to reach out to contact Natalie, then go here to
send her a message
.