Here are the 50 most transcendent Bible scriptures on persecution.
2 Timothy 3:12
Indeed, all who desire to live a godly life in Christ Jesus will be persecuted.
John 15:18
"If the world hates you, know that it has hated me before it hated you."
Matthew 5:10
"Blessed are those who are persecuted for righteousness' sake, for theirs is the kingdom of heaven."
Matthew 5:44
"But I say to you, Love your enemies and pray for those who persecute you."
2 Corinthians 12:10
For the sake of Christ, then, I am content with weaknesses, insults, hardships, persecutions, and calamities. For when I am weak, then I am strong.
1 John 3:1
See what kind of love the Father has given to us, that we should be called children of God; and so we are. The reason why the world does not know us is that it did not know him.
1 John 3:13
Do not be surprised, brothers, that the world hates you.
1 Peter 3:14
But even if you should suffer for righteousness' sake, you will be blessed. Have no fear of them, nor be troubled.
1 Peter 3:16
Having a good conscience, so that, when you are slandered, those who revile your good behavior in Christ may be put to shame.
1 Peter 3:17
For it is better to suffer for doing good, if that should be God's will, than for doing evil.
1 Peter 4:1
Since therefore Christ suffered in the flesh, arm yourselves with the same way of thinking, for whoever has suffered in the flesh has ceased from sin.
1 Peter 4:12
Beloved, do not be surprised at the fiery trial when it comes upon you to test you, as though something strange were happening to you.
1 Peter 4:16
Yet if anyone suffers as a Christian, let him not be ashamed, but let him glorify God in that name.
1 Peter 4:19
Therefore let those who suffer according to God's will entrust their souls to a faithful Creator while doing good.
1 Peter 5:8
Be sober-minded; be watchful. Your adversary the devil prowls around like a roaring lion, seeking someone to devour.
Acts 11:19
Now those who were scattered because of the persecution that arose over Stephen traveled as far as Phoenicia and Cyprus and Antioch, speaking the word to no one except Jews.
Acts 13:50
But the Jews incited the devout women of high standing and the leading men of the city, stirred up persecution against Paul and Barnabas, and drove them out of their district.
Acts 14:22
Strengthening the souls of the disciples, encouraging them to continue in the faith, and saying that through many tribulations we must enter the kingdom of God.
Acts 8:1
And Saul approved of his execution. And there arose on that day a great persecution against the church in Jerusalem, and they were all scattered throughout the regions of Judea and Samaria, except the apostles.
Amos 5:10
They hate him who reproves in the gate, and they abhor him who speaks the truth.
Galatians 5:11
But if I, brothers, still preach circumcision, why am I still being persecuted? In that case the offense of the cross has been removed.
Hebrews 12:3
Consider him who endured from sinners such hostility against himself, so that you may not grow weary or fainthearted.
Jeremiah 20:11
But the Lord is with me as a dread warrior; therefore my persecutors will stumble; they will not overcome me. They will be greatly shamed, for they will not succeed. Their eternal dishonor will never be forgotten.
John 15:19
"If you were of the world, the world would love you as its own; but because you are not of the world, but I chose you out of the world, therefore the world hates you."
John 15:20
"Remember the word that I said to you: 'A servant is not greater than his master.' If they persecuted me, they will also persecute you. If they kept my word, they will also keep yours."
John 16:2
"They will put you out of the synagogues. Indeed, the hour is coming when whoever kills you will think he is offering service to God."
John 16:33
"I have said these things to you, that in me you may have peace. In the world you will have tribulation. But take heart; I have overcome the world."
John 17:14
"I have given them your word, and the world has hated them because they are not of the world, just as I am not of the world."
Luke 6:22
"Blessed are you when people hate you and when they exclude you and revile you and spurn your name as evil, on account of the Son of Man!"
Luke 6:23
"Rejoice in that day, and leap for joy, for behold, your reward is great in heaven; for so their fathers did to the prophets."
Mark 10:30
"Who will not receive a hundredfold now in this time, houses and brothers and sisters and mothers and children and lands, with persecutions, and in the age to come eternal life."
Mark 13:13
"And you will be hated by all for my name's sake. But the one who endures to the end will be saved."
Mark 4:17
"And they have no root in themselves, but endure for a while; then, when tribulation or persecution arises on account of the word, immediately they fall away."
Matthew 10:22
"And you will be hated by all for my name's sake. But the one who endures to the end will be saved."
Matthew 13:21
"Yet he has no root in himself, but endures for a while, and when tribulation or persecution arises on account of the word, immediately he falls away."
Matthew 23:34
"Therefore I send you prophets and wise men and scribes, some of whom you will kill and crucify, and some you will flog in your synagogues and persecute from town to town."
Matthew 5:11
"Blessed are you when others revile you and persecute you and utter all kinds of evil against you falsely on my account."
Philippians 1:29
For it has been granted to you that for the sake of Christ you should not only believe in him but also suffer for his sake.
Psalm 23:4
Even though I walk through the valley of the shadow of death, I will fear no evil, for you are with me; your rod and your staff, they comfort me.
Psalm 31:15
My times are in your hand; rescue me from the hand of my enemies and from my persecutors!
Psalm 34:19
Many are the afflictions of the righteous, but the Lord delivers him out of them all.
Revelation 1:9
I, John, your brother and partner in the tribulation and the kingdom and the patient endurance that are in Jesus, was on the island called Patmos on account of the word of God and the testimony of Jesus.
Revelation 17:6
And I saw the woman, drunk with the blood of the saints, the blood of the martyrs of Jesus. When I saw her, I marveled greatly.
Revelation 2:10
"'Do not fear what you are about to suffer. Behold, the devil is about to throw some of you into prison, that you may be tested, and for ten days you will have tribulation. Be faithful unto death, and I will give you the crown of life.'"
Revelation 20:4
Then I saw thrones, and seated on them were those to whom the authority to judge was committed. Also I saw the souls of those who had been beheaded for the testimony of Jesus and for the word of God, and those who had not worshiped the beast or its image and had not received its mark on their foreheads or their hands. They came to life and reigned with Christ for a thousand years.
Revelation 6:10
They cried out with a loud voice, "O Sovereign Lord, holy and true, how long before you will judge and avenge our blood on those who dwell on the earth?"
Revelation 7:14
I said to him, "Sir, you know." And he said to me, "These are the ones coming out of the great tribulation. They have washed their robes and made them white in the blood of the Lamb.
Romans 12:14
Bless those who persecute you; bless and do not curse them.
Romans 8:35
Who shall separate us from the love of Christ? Shall tribulation, or distress, or persecution, or famine, or nakedness, or danger, or sword?
Romans 8:7
For the mind that is set on the flesh is hostile to God, for it does not submit to God's law; indeed, it cannot.
More Bible Verses that Will Move You
50 Most Powerful Scriptures on Faith
60 Transcendent Verses on Trust
50 Strong Scriptures on Perseverance
68 Powerful Verses on Forgiveness
40 Uplifting Scriptures on Patience
Add Our Infographic Below to Your Pinterest Board
Hit the pin button below to add our infographic, with all the verses, to one of your Pinterest boards.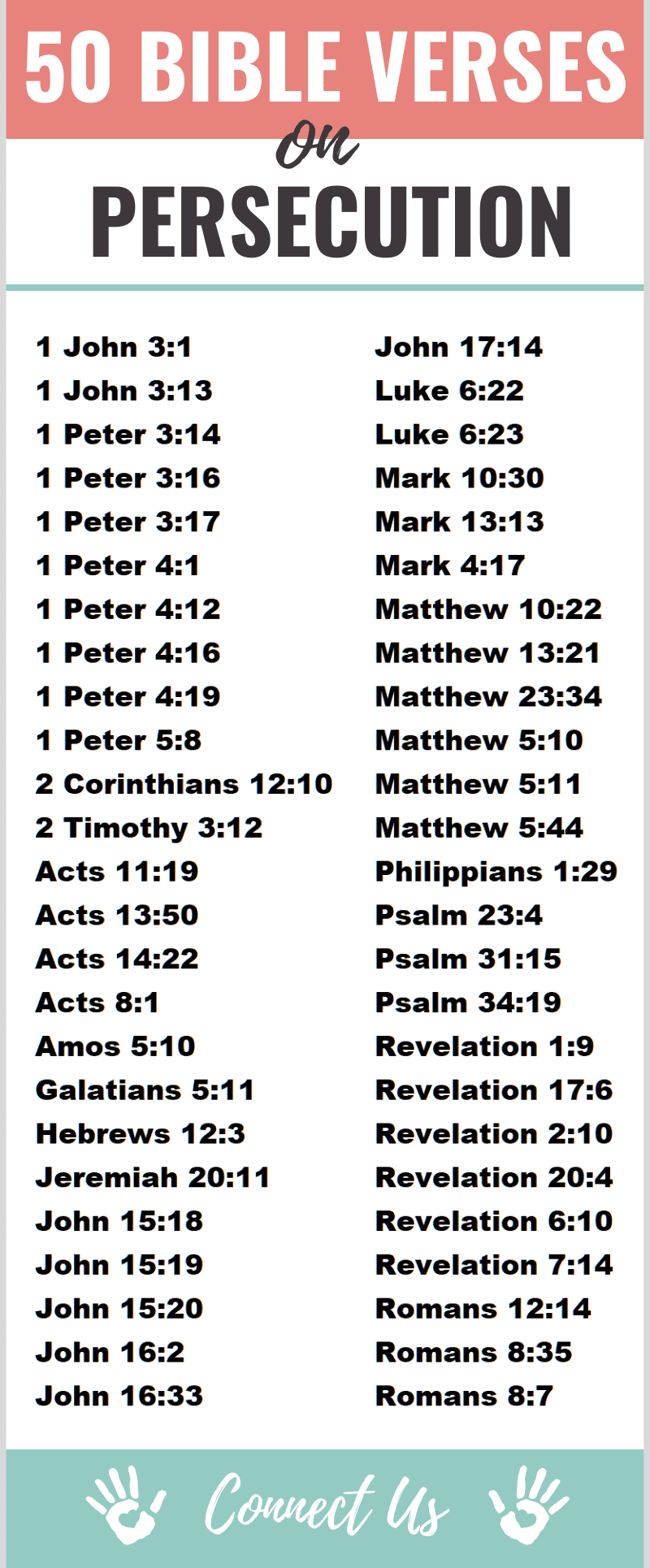 Author Bio
Natalie Regoli is a child of God, devoted wife, and mother of two boys. She has a Master's Degree in Law from The University of Texas. Natalie has been published in several national journals and has been practicing law for 18 years.