We have compiled the 60 most powerful scriptures from the Bible on servanthood. The verses are organized by book.
The word "serve" appears 309 times throughout the books of the Bible. The graph below shows the locations of each appearance. It begins with Genesis in the top left, and concludes with Revelation in the bottom right.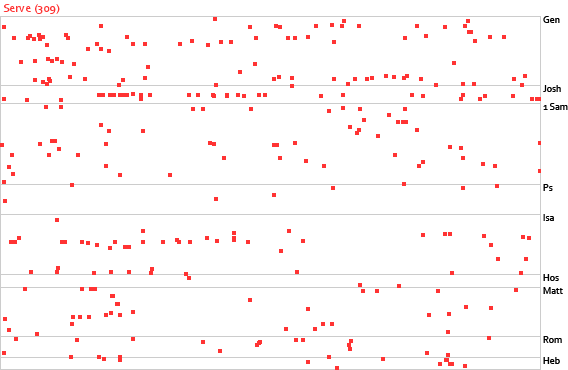 1 Corinthians 15:58
Therefore, my beloved brothers, be steadfast, immovable, always abounding in the work of the Lord, knowing that in the Lord your labor is not in vain.
1 Corinthians 16:14
Let all that you do be done in love.
1 Corinthians 9:19
For though I am free from all, I have made myself a servant to all, that I might win more of them.
1 John 3:18
Little children, let us not love in word or talk, but in deed and in truth.
1 Peter 1:15-16
But as he who called you is holy, you also be holy in all your conduct, since it is written, "You shall be holy, for I am holy."
1 Peter 2:16
Live as people who are free, not using your freedom as a cover-up for evil, but living as servants of God.
1 Peter 4:2
So as to live for the rest of the time in the flesh no longer for human passions but for the will of God.
1 Samuel 12:24
Only fear the Lord and serve him faithfully with all your heart. For consider what great things he has done for you.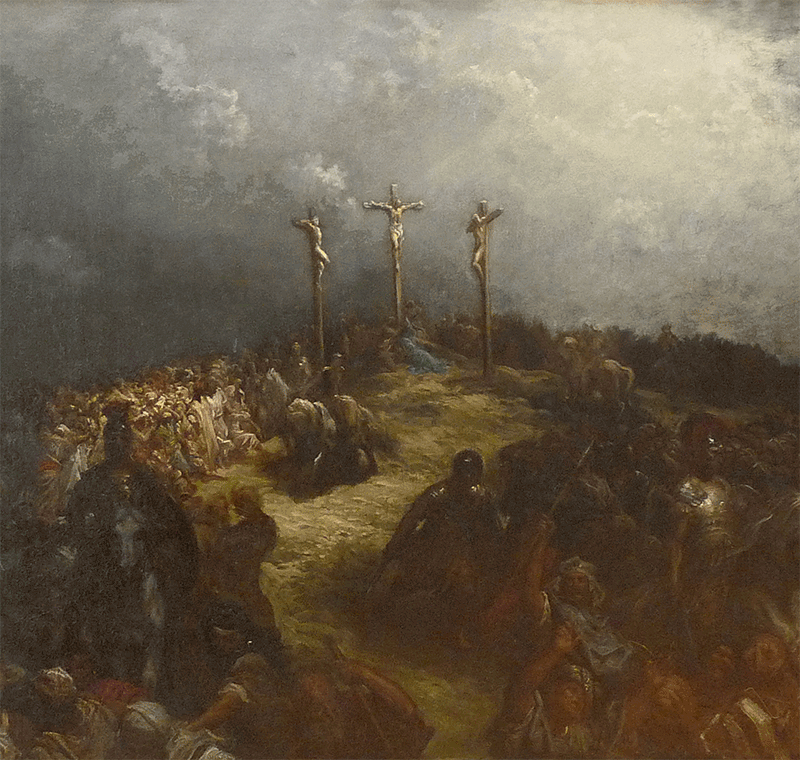 1 Timothy 3:13
For those who serve well as deacons gain a good standing for themselves and also great confidence in the faith that is in Christ Jesus.
1 Timothy 5:8
But if anyone does not provide for his relatives, and especially for members of his household, he has denied the faith and is worse than an unbeliever.
2 Chronicles 15:7
But you, take courage! Do not let your hands be weak, for your work shall be rewarded.
2 Corinthians 4:5
For what we proclaim is not ourselves, but Jesus Christ as Lord, with ourselves as your servants for Jesus' sake.
2 Timothy 3:16-17
All Scripture is breathed out by God and profitable for teaching, for reproof, for correction, and for training in righteousness, that the man of God may be competent, equipped for every good work.
Acts 1:8
But you will receive power when the Holy Spirit has come upon you, and you will be my witnesses in Jerusalem and in all Judea and Samaria, and to the end of the earth.
Acts 20:35
In all things I have shown you that by working hard in this way we must help the weak and remember the words of the Lord Jesus, how he himself said, 'It is more blessed to give than to receive.'
Acts 26:6-7
And now I stand here on trial because of my hope in the promise made by God to our fathers, to which our twelve tribes hope to attain, as they earnestly worship night and day. And for this hope I am accused by Jews, O king!
Colossians 3:17
And whatever you do, in word or deed, do everything in the name of the Lord Jesus, giving thanks to God the Father through him.
Colossians 3:24
Knowing that from the Lord you will receive the inheritance as your reward. You are serving the Lord Christ.
Deuteronomy 13:4
You shall walk after the Lord your God and fear him and keep his commandments and obey his voice, and you shall serve him and hold fast to him.
Ephesians 2:10
For we are his workmanship, created in Christ Jesus for good works, which God prepared beforehand, that we should walk in them.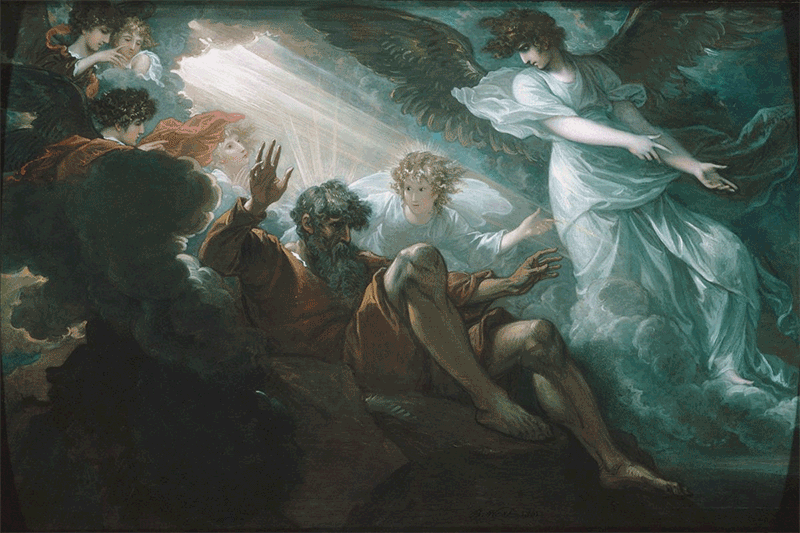 Ephesians 4:32
Be kind to one another, tenderhearted, forgiving one another, as God in Christ forgave you.
Ephesians 5:21
Submitting to one another out of reverence for Christ.
Ephesians 6:1
Children, obey your parents in the Lord, for this is right.
Galatians 5:13-14
For you were called to freedom, brothers. Only do not use your freedom as an opportunity for the flesh, but through love serve one another. For the whole law is fulfilled in one word: "You shall love your neighbor as yourself."
Galatians 6:10
So then, as we have opportunity, let us do good to everyone, and especially to those who are of the household of faith.
Galatians 6:2
Bear one another's burdens, and so fulfill the law of Christ.
Galatians 6:9
And let us not grow weary of doing good, for in due season we will reap, if we do not give up.
Hebrews 10:24-25
And let us consider how to stir up one another to love and good works, not neglecting to meet together, as is the habit of some, but encouraging one another, and all the more as you see the Day drawing near.
Hebrews 13:16
Do not neglect to do good and to share what you have, for such sacrifices are pleasing to God.
Hebrews 6:10
For God is not unjust so as to overlook your work and the love that you have shown for his name in serving the saints, as you still do.
Hebrews 9:14
How much more will the blood of Christ, who through the eternal Spirit offered himself without blemish to God, purify our conscience from dead works to serve the living God.
Isaiah 58:10
If you pour yourself out for the hungry and satisfy the desire of the afflicted, then shall your light rise in the darkness and your gloom be as the noonday.
James 1:22
But be doers of the word, and not hearers only, deceiving yourselves.
James 1:27
Religion that is pure and undefiled before God, the Father, is this: to visit orphans and widows in their affliction, and to keep oneself unstained from the world.
John 12:26
If anyone serves me, he must follow me; and where I am, there will my servant be also. If anyone serves me, the Father will honor him.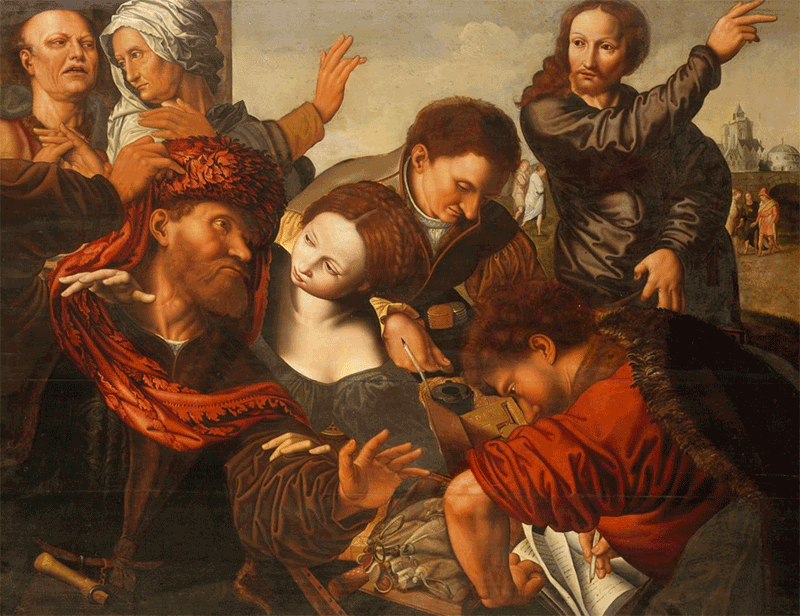 John 13:14
If I then, your Lord and Teacher, have washed your feet, you also ought to wash one another's feet.
John 13:15
For I have given you an example, that you also should do just as I have done to you.
John 15:12
This is my commandment, that you love one another as I have loved you.
John 15:13
Greater love has no one than this, that someone lay down his life for his friends.
Luke 22:27
For who is the greater, one who reclines at table or one who serves? Is it not the one who reclines at table? But I am among you as the one who serves.
Luke 6:35
But love your enemies, and do good, and lend, expecting nothing in return, and your reward will be great, and you will be sons of the Most High, for he is kind to the ungrateful and the evil.
Luke 6:38
Give, and it will be given to you. Good measure, pressed down, shaken together, running over, will be put into your lap. For with the measure you use it will be measured back to you.
Mark 10:44-45
And whoever would be first among you must be slave of all. For even the Son of Man came not to be served but to serve, and to give his life as a ransom for many.
Mark 9:35
And he sat down and called the twelve. And he said to them, "If anyone would be first, he must be last of all and servant of all."
Matthew 10:42
And whoever gives one of these little ones even a cup of cold water because he is a disciple, truly, I say to you, he will by no means lose his reward.
Matthew 20:28
Even as the Son of Man came not to be served but to serve, and to give his life as a ransom for many.
Matthew 23:11
The greatest among you shall be your servant.
Matthew 25:21
His master said to him, 'Well done, good and faithful servant. You have been faithful over a little; I will set you over much. Enter into the joy of your master.'
Matthew 25:40
And the King will answer them, "Truly, I say to you, as you did it to one of the least of these my brothers, you did it to me."
Matthew 6:24
No one can serve two masters, for either he will hate the one and love the other, or he will be devoted to the one and despise the other. You cannot serve God and money.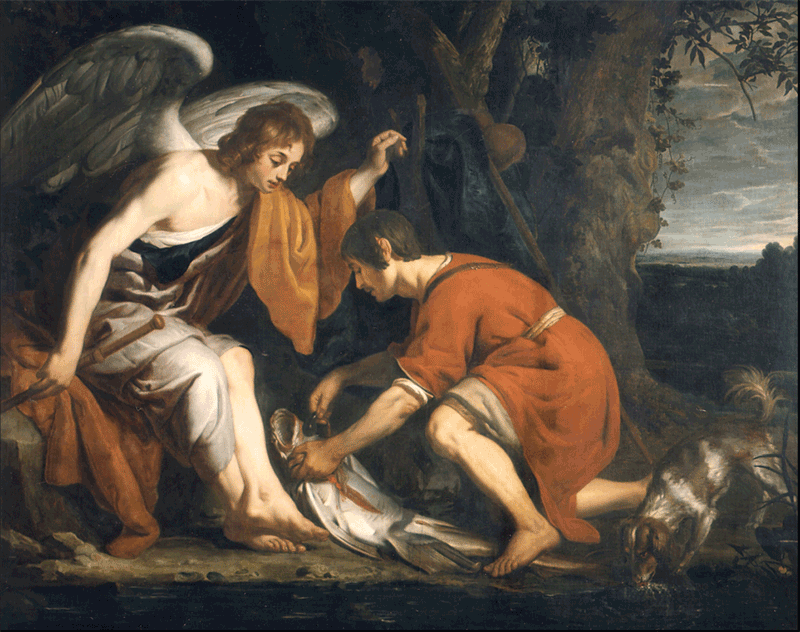 Matthew 6:33
But seek first the kingdom of God and his righteousness, and all these things will be added to you.
Philippians 2:4
Let each of you look not only to his own interests, but also to the interests of others.
Philippians 2:7
But made himself nothing, taking the form of a servant, being born in the likeness of men.
Proverbs 11:25
Whoever brings blessing will be enriched, and one who waters will himself be watered.
Proverbs 19:17
Whoever is generous to the poor lends to the Lord, and he will repay him for his deed.
Romans 12:1
I appeal to you therefore, brothers, by the mercies of God, to present your bodies as a living sacrifice, holy and acceptable to God, which is your spiritual worship.
Romans 12:11
Do not be slothful in zeal, be fervent in spirit, serve the Lord.
Romans 12:20
To the contrary, "if your enemy is hungry, feed him; if he is thirsty, give him something to drink; for by so doing you will heap burning coals on his head."
Romans 6:16
Do you not know that if you present yourselves to anyone as obedient slaves, you are slaves of the one whom you obey, either of sin, which leads to death, or of obedience, which leads to righteousness?
Romans 7:6
But now we are released from the law, having died to that which held us captive, so that we serve in the new way of the Spirit and not in the old way of the written code.
Titus 3:8
The saying is trustworthy, and I want you to insist on these things, so that those who have believed in God may be careful to devote themselves to good works. These things are excellent and profitable for people.
About the Editor of Our Blog
Natalie Regoli is our editor-in-chief. The goal of ConnectUs is to publish compelling content that addresses some of the biggest issues the world faces. If you would like to reach out to contact Natalie, then go here to
send her a message
.