The word "rest" appears 549 times throughout the books of the Bible. The graph below shows the locations of each appearance. It begins with Genesis in the top left and concludes with Revelation in the bottom right.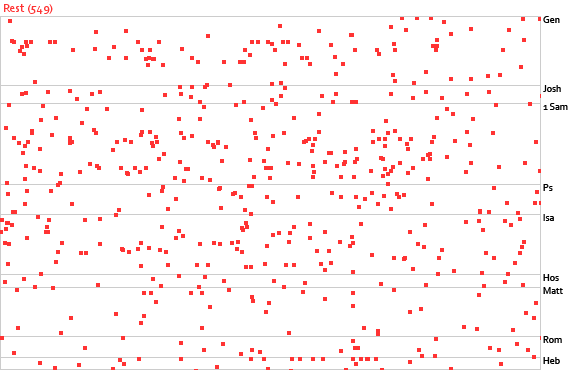 Here are the 70 most comforting Bible scriptures on rest.
Exodus 33:14
And he said, "My presence will go with you, and I will give you rest."
Psalm 127:2
It is in vain that you rise up early and go late to rest, eating the bread of anxious toil; for he gives to his beloved sleep.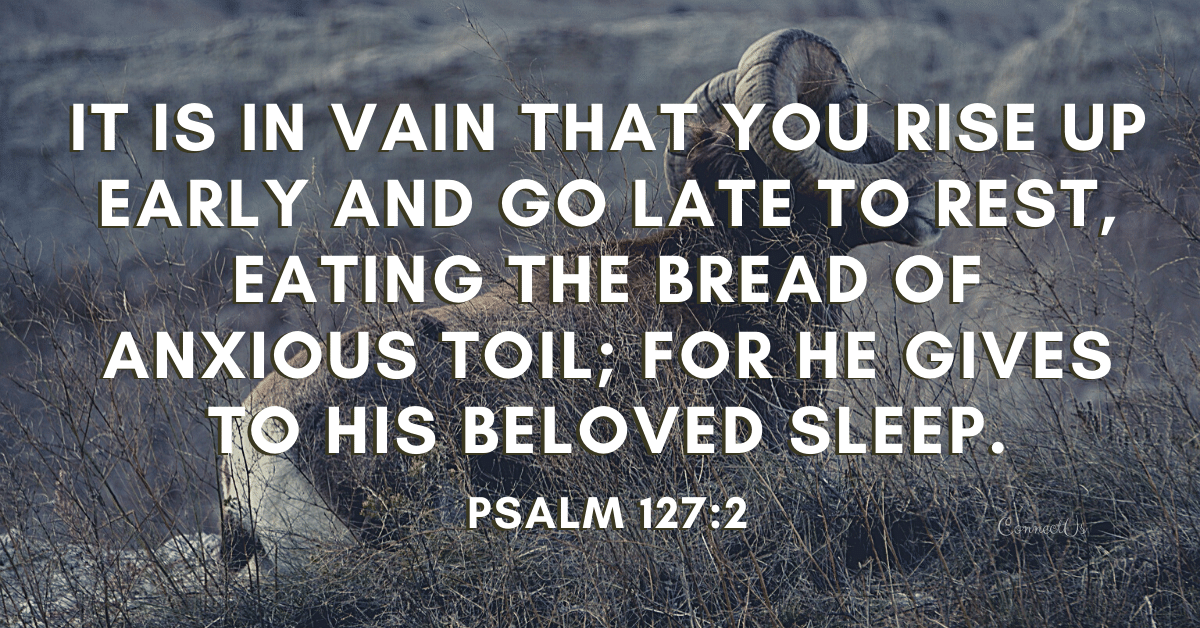 Mark 6:31
And he said to them, "Come away by yourselves to a desolate place and rest a while." For many were coming and going, and they had no leisure even to eat.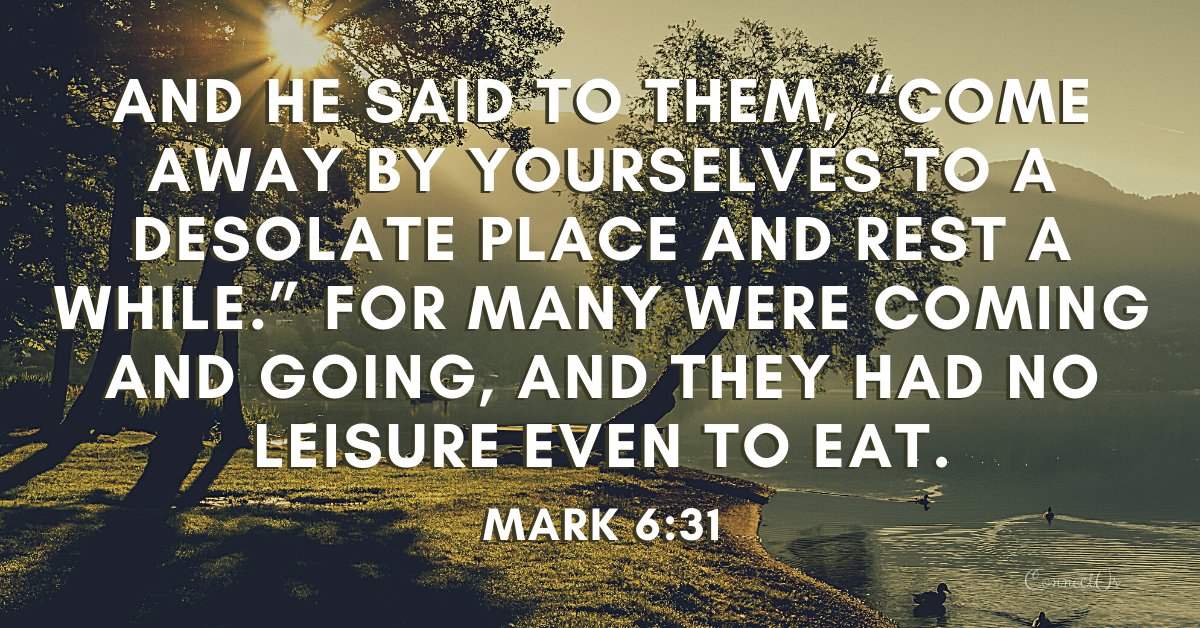 Psalm 4:8
In peace I will both lie down and sleep; for you alone, O Lord, make me dwell in safety.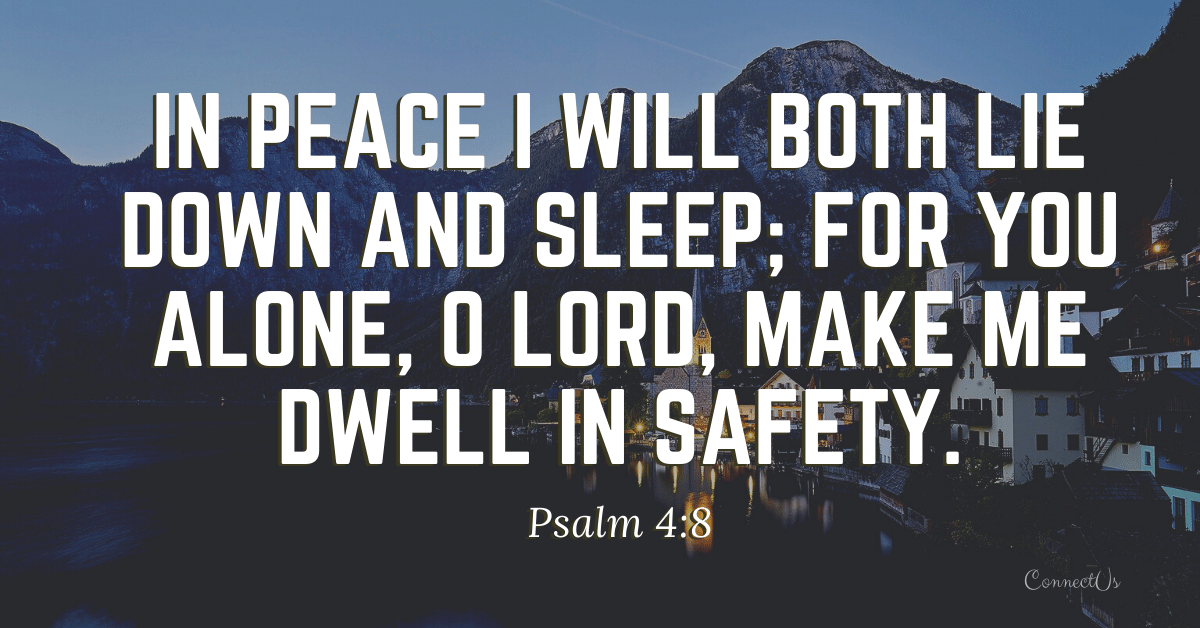 Psalm 37:7
Be still before the Lord and wait patiently for him; fret not yourself over the one who prospers in his way, over the man who carries out evil devices!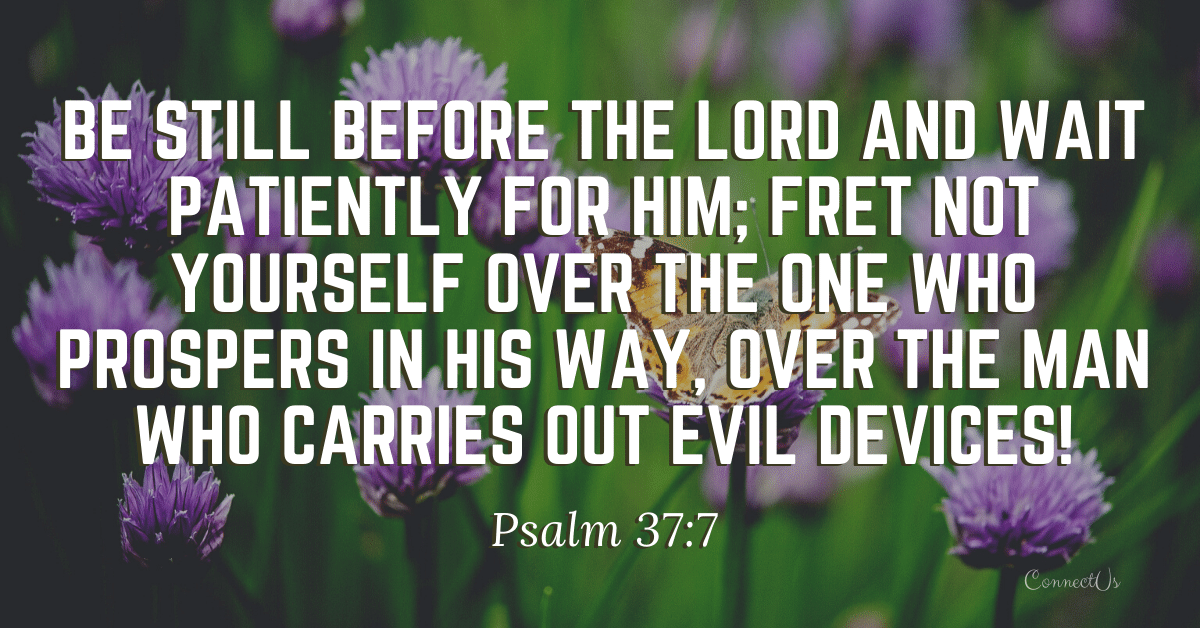 1 Chronicles 16:11
Seek the Lord and his strength; seek his presence continually!
1 Chronicles 22:9
Behold, a son shall be born to you who shall be a man of rest. I will give him rest from all his surrounding enemies. For his name shall be Solomon, and I will give peace and quiet to Israel in his days.
1 Peter 4:7
The end of all things is at hand; therefore be self-controlled and sober-minded for the sake of your prayers.
1 Peter 5:7
Casting all your anxieties on him, because he cares for you.
2 Corinthians 5:17
Therefore, if anyone is in Christ, he is a new creation. The old has passed away; behold, the new has come.
2 Thessalonians 1:7
And to grant relief to you who are afflicted as well as to us, when the Lord Jesus is revealed from heaven with his mighty angels.
2 Timothy 1:7
For God gave us a spirit not of fear but of power and love and self-control.
Ecclesiastes 4:6
Better is a handful of quietness than two hands full of toil and a striving after wind.
Ecclesiastes 5:12
Sweet is the sleep of a laborer, whether he eats little or much, but the full stomach of the rich will not let him sleep.
Exodus 16:23
He said to them, "This is what the Lord has commanded: 'Tomorrow is a day of solemn rest, a holy Sabbath to the Lord; bake what you will bake and boil what you will boil, and all that is left over lay aside to be kept till the morning.'"
Exodus 20:11
For in six days the Lord made heaven and earth, the sea, and all that is in them, and rested on the seventh day. Therefore the Lord blessed the Sabbath day and made it holy.
Exodus 23:12
Six days you shall do your work, but on the seventh day you shall rest; that your ox and your donkey may have rest, and the son of your servant woman, and the alien, may be refreshed.
Exodus 31:15
Six days shall work be done, but the seventh day is a Sabbath of solemn rest, holy to the Lord. Whoever does any work on the Sabbath day shall be put to death.
Exodus 31:17
It is a sign forever between me and the people of Israel that in six days the Lord made heaven and earth, and on the seventh day he rested and was refreshed.
Exodus 34:21
Six days you shall work, but on the seventh day you shall rest. In plowing time and in harvest you shall rest.
Exodus 35:2
Six days work shall be done, but on the seventh day you shall have a Sabbath of solemn rest, holy to the Lord. Whoever does any work on it shall be put to death.
Genesis 2:3
So God blessed the seventh day and made it holy, because on it God rested from all his work that he had done in creation.
Genesis 8:4
And in the seventh month, on the seventeenth day of the month, the ark came to rest on the mountains of Ararat.
Hebrews 4:11
Let us therefore strive to enter that rest, so that no one may fall by the same sort of disobedience.
Hebrews 4:4
For he has somewhere spoken of the seventh day in this way: "And God rested on the seventh day from all his works."
Hebrews 4:7
Again he appoints a certain day, "Today," saying through David so long afterward, in the words already quoted, "Today, if you hear his voice, do not harden your hearts."
Isaiah 14:3
When the Lord has given you rest from your pain and turmoil and the hard service with which you were made to serve.
Isaiah 26:3
You keep him in perfect peace whose mind is stayed on you, because he trusts in you.
Isaiah 30:15
For thus said the Lord God, the Holy One of Israel, "In returning and rest you shall be saved; in quietness and in trust shall be your strength." But you were unwilling.
Isaiah 32:17
And the effect of righteousness will be peace, and the result of righteousness, quietness and trust forever.
Isaiah 40:31
But they who wait for the Lord shall renew their strength; they shall mount up with wings like eagles; they shall run and not be weary; they shall walk and not faint.
Isaiah 48:22
"There is no peace," says the Lord, "for the wicked."
Jeremiah 31:25
"For I will satisfy the weary soul, and every languishing soul I will replenish."
Jeremiah 33:12
Thus says the Lord of hosts: "In this place that is waste, without man or beast, and in all of its cities, there shall again be habitations of shepherds resting their flocks."
Jeremiah 6:16
Thus says the Lord: "Stand by the roads, and look, and ask for the ancient paths, where the good way is; and walk in it, and find rest for your souls. But they said, 'We will not walk in it.'"
John 14:27
"Peace I leave with you; my peace I give to you. Not as the world gives do I give to you. Let not your hearts be troubled, neither let them be afraid."
John 16:33
"I have said these things to you, that in me you may have peace. In the world you will have tribulation. But take heart; I have overcome the world."
John 3:16
For God so loved the world, that he gave his only Son, that whoever believes in him should not perish but have eternal life.
Leviticus 23:3
Six days shall work be done, but on the seventh day is a Sabbath of solemn rest, a holy convocation. You shall do no work. It is a Sabbath to the Lord in all your dwelling places.
Leviticus 25:4
But in the seventh year there shall be a Sabbath of solemn rest for the land, a Sabbath to the Lord. You shall not sow your field or prune your vineyard.
Luke 1:37
"For nothing will be impossible with God."
Mark 2:27
And he said to them, "The Sabbath was made for man, not man for the Sabbath."
Mark 6:32
And they went away in the boat to a desolate place by themselves.
Matthew 11:28
"Come to me, all who labor and are heavy laden, and I will give you rest."
Matthew 11:29
"Take my yoke upon you, and learn from me, for I am gentle and lowly in heart, and you will find rest for your souls."
Matthew 26:45
Then he came to the disciples and said to them, "Sleep and take your rest later on. See, the hour is at hand, and the Son of Man is betrayed into the hands of sinners."
Matthew 8:24
And behold, there arose a great storm on the sea, so that the boat was being swamped by the waves; but he was asleep.
Philippians 4:6
Do not be anxious about anything, but in everything by prayer and supplication with thanksgiving let your requests be made known to God.
Philippians 4:7
And the peace of God, which surpasses all understanding, will guard your hearts and your minds in Christ Jesus.
Proverbs 1:33
"But whoever listens to me will dwell secure and will be at ease, without dread of disaster."
Proverbs 17:1
Better is a dry morsel with quiet than a house full of feasting with strife.
Proverbs 19:23
The fear of the Lord leads to life, and whoever has it rests satisfied; he will not be visited by harm.
Proverbs 3:24
If you lie down, you will not be afraid; when you lie down, your sleep will be sweet.
Psalm 116:7
Return, O my soul, to your rest; for the Lord has dealt bountifully with you.
Psalm 23:2
He makes me lie down in green pastures. He leads me beside still waters.
Psalm 3:5
I lay down and slept; I woke again, for the Lord sustained me.
Psalm 34:8
Oh, taste and see that the Lord is good! Blessed is the man who takes refuge in him!
Psalm 4:4
Be angry, and do not sin; ponder in your own hearts on your beds, and be silent. Selah.
Psalm 46:10
"Be still, and know that I am God. I will be exalted among the nations, I will be exalted in the earth!"
Psalm 55:6
And I say, "Oh, that I had wings like a dove! I would fly away and be at rest."
Psalm 62:1
To the choirmaster: according to Jeduthun. A Psalm of David. For God alone my soul waits in silence; from him comes my salvation.
Psalm 62:5
For God alone, O my soul, wait in silence, for my hope is from him.
Psalm 73:26
My flesh and my heart may fail, but God is the strength of my heart and my portion forever.
Psalm 91:1
He who dwells in the shelter of the Most High will abide in the shadow of the Almighty.
Revelation 14:11
And the smoke of their torment goes up forever and ever, and they have no rest, day or night, these worshipers of the beast and its image, and whoever receives the mark of its name.
Revelation 14:13
And I heard a voice from heaven saying, "Write this: Blessed are the dead who die in the Lord from now on." "Blessed indeed," says the Spirit, "that they may rest from their labors, for their deeds follow them!"
Revelation 6:11
Then they were each given a white robe and told to rest a little longer, until the number of their fellow servants and their brothers should be complete, who were to be killed as they themselves had been.
Romans 15:13
May the God of hope fill you with all joy and peace in believing, so that by the power of the Holy Spirit you may abound in hope.
Song of Solomon 1:7
Tell me, you whom my soul loves, where you pasture your flock, where you make it lie down at noon; for why should I be like one who veils herself beside the flocks of your companions?
Zephaniah 3:17
The Lord your God is in your midst, a mighty one who will save; he will rejoice over you with gladness; he will quiet you by his love; he will exult over you with loud singing.
More Bible Verses that Will Move You
50 Most Powerful Scriptures on Faith
60 Transcendent Verses on Trust
50 Strong Scriptures on Perseverance
68 Powerful Verses on Forgiveness
40 Uplifting Scriptures on Patience
Add Our Infographic Below to Your Pinterest Board
Hit the pin button below to add our infographic, with all the verses, to one of your Pinterest boards.


Author Bio
Natalie Regoli is a child of God, devoted wife, and mother of two boys. She has a Master's Degree in Law from The University of Texas. Natalie has been published in several national journals and has been practicing law for 18 years.