Proverbs 31:30
"Charm is deceptive, and beauty is fleeting, but a woman who fears the Lord is to be praised."
Explanation and Commentary on Proverbs 31:30
The Godly woman described in Proverbs 31 has one main defining trait from which all the others spring forth. "She fears the Lord." She is a Christian and has surrendered her life to Christ.
She has traded the world's way of defining womanhood for God's way. She trusts him over the culture, worldly men and women, and perhaps even her own feelings. She is a blessed woman because God has blessed her. God has blessed her because she belongs to him, who she lovingly fears as her Father.
The world values charm, but a charming woman is not to be trusted as there is always a motive behind the charm. The world values beauty, as does God (SoS 4:7) and men, but the external beauty of a woman must be kept in its proper place of priority. At the very least, the outward beauty will fade into old age. It is truly sad to see an elderly woman desperate to cling to her most prized possessions- her youth and beauty. This is not a woman to be praised.
Breaking Down the Key Parts of Proverbs 31:30
#1 "Charm is deceptive,"
"Like a coating of silver dross on earthenware are fervent lips with an evil heart. Enemies disguise themselves with their lips, but in their hearts they harbor deceit. Though their speech is charming, do not believe them, for seven abominations fill their hearts" (Prov 26:23-25). There are those who are naturally charming because they are innocent of deceit and have goodness in their hearts. But this verse is speaking of a common type of charm that hides deceptive motives.
#2 "and beauty is fleeting;"
Because of the fall, humans get old and die of the decay. "All people are like grass, and all their faithfulness is like the flowers of the field. The grass withers and the flowers fall" (Isa 40:6). God made you fearfully and wonderfully, and he even decided how you would look as you age. It is not wrong to want to look pleasing to your husband (1 Cor 7:34), but there is a cost when beauty becomes an idol. The world's way is for women to dress to entice. God's way is the cultivation of inner beauty (1 Pt 3:5).
#3 "but the woman who fears the Lord is to be praised."
The Kingdom life runs on the love and the fear of the Lord. In this way, we can trust God with everything, even what we look like. The woman who fears the Lord will have external beauty in its proper place. She will love her neighbor, be a blessing to others, and show hospitality without employing deceptive charm to get her way. If you see a woman like this, especially if she is your wife, mother, or daughter, praise her and the God who made her.
Hit the play button below for a simple explanation of this verse.
Here is a very nice 7-minute video commentary breaking down the meaning of Proverbs 31:30.
This incredible 8-minute video below will make you an expert on the book of Proverbs.
Biblical Translations of Proverbs 31:30
NIV
Charm is deceptive, and beauty is fleeting; but a woman who fears the Lord is to be praised.
NLT
Charm is deceptive, and beauty does not last; but a woman who fears the Lord will be greatly praised.
ESV
Charm is deceitful, and beauty is vain, but a woman who fears the Lord is to be praised.
KJV
Favour is deceitful, and beauty is vain: but a woman that feareth the Lord, she shall be praised.
NKJV
Charm is deceitful and beauty is passing, But a woman who fears the Lord, she shall be praised.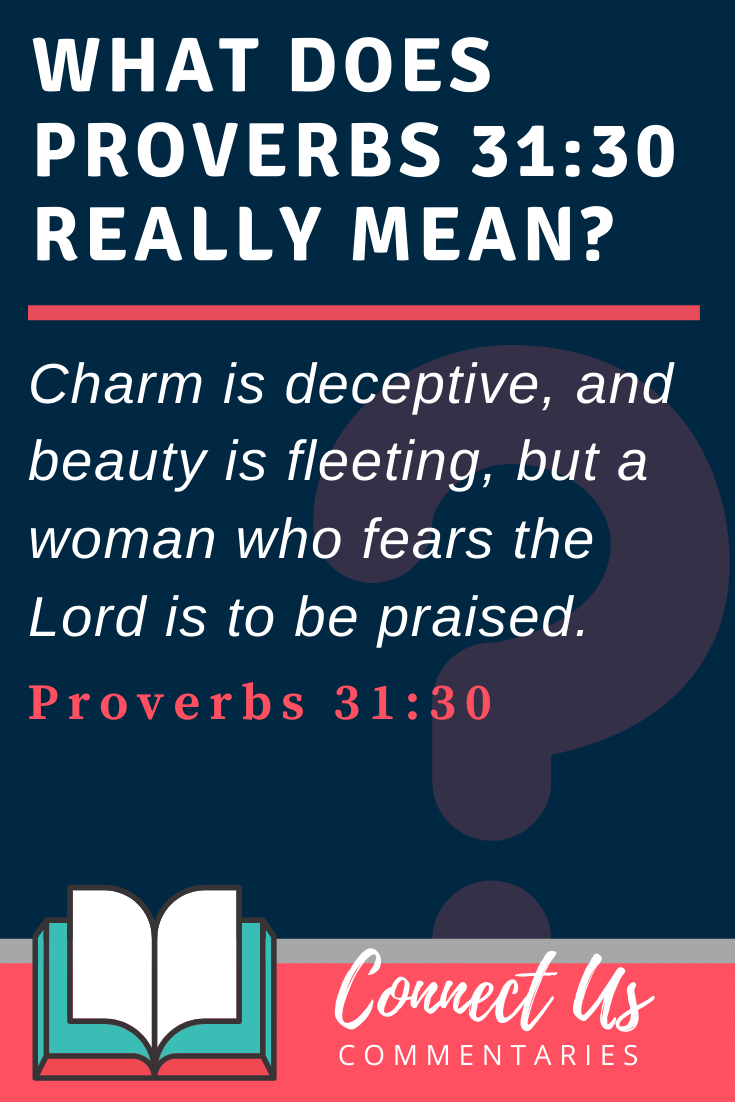 Author Bio
Natalie Regoli is a child of God, devoted wife, and mother of two boys. She has a Master's Degree in Law from The University of Texas. Natalie has been published in several national journals and has been practicing law for 18 years.