Dogs come into our lives and become our family. Here are 10 powerful prayers for your dog. Along with the prayers are printable images for you to use or share.
Prayer of Playfulness
Dear Lord, I'm so happy that I get to share life with my dog. I pray that every day is filled with laughter, joy, and playful energy. I pray that the difficult times in life can be overcome with fun times. May we look at life through a lens of childlike joy. Please remind me of this gift whenever times get tough. Thank You for this joy in my life, Lord. In Jesus' loving name, Amen.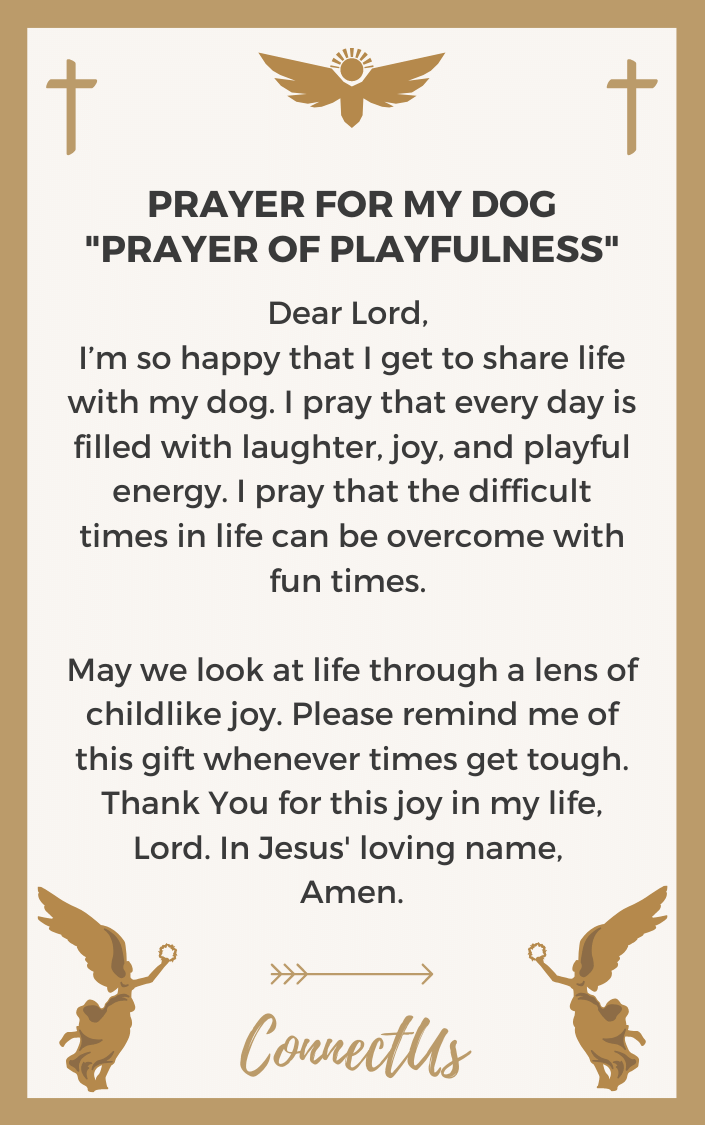 Loyalty Prayer
Gracious God, thank You for a loyal companion. My dog has always been a dependable friend by my side. I am reminded every day of this incredible gift and that You too are a loyal supporter in my life. I pray that my dog and I can continue to be blessed with a durable and everlasting friendship. May our love for each other be strong, the same as my love for You. In Jesus' glorious name, Amen.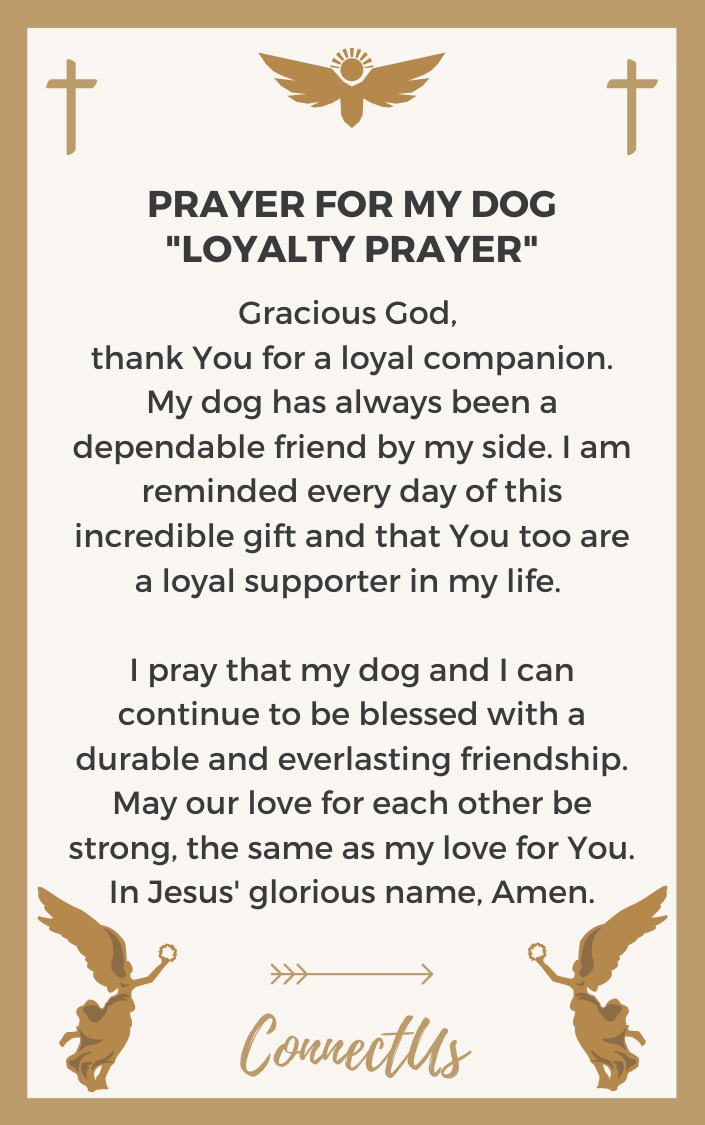 Prayer of Companionship on Hard Days
Jesus, my Savior, I praise You for the companion You have placed in my life. When the days are hard, I know that I can rely on my dog to keep me company. When I struggle to find love in this world, I know that my dog will greet me with love. When I feel alone, I know my dog will keep me company and remind me of Your continuous presence and support in my life. I am reminded every day of the great gift of companionship. Thank You for this, Jesus. In Your name, Amen.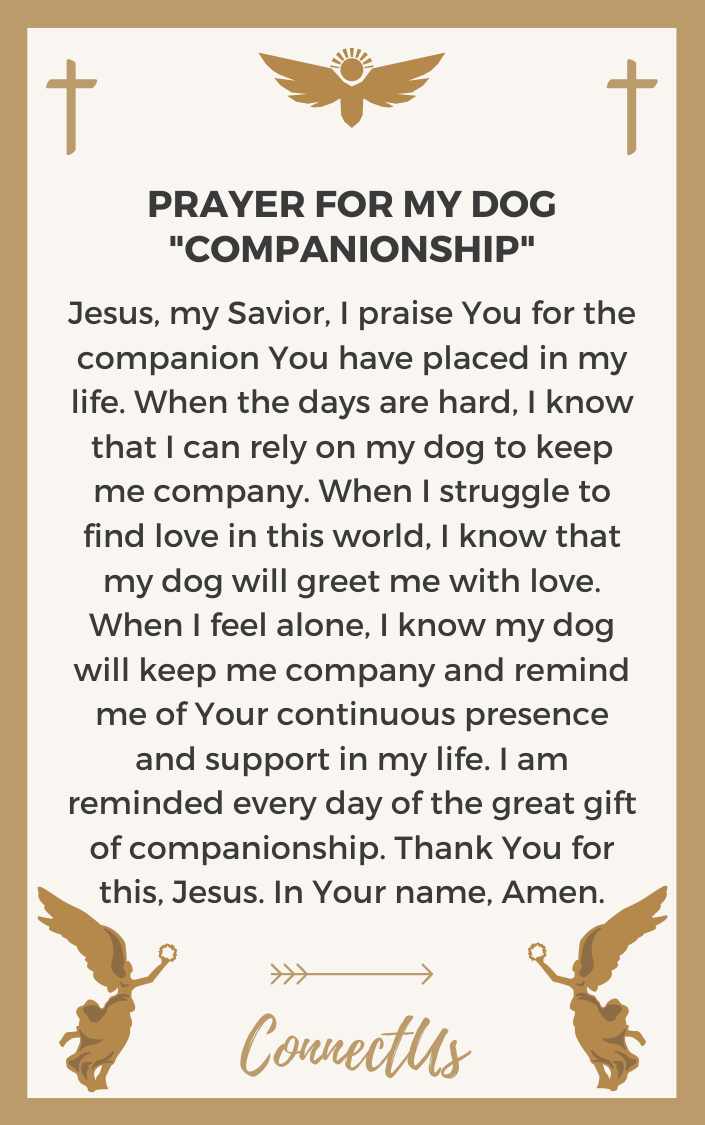 Prayer of Peace
Jesus, Prince of Peace, I love my dog so dearly. Today, my thoughts and prayers are with them. Please give my dog peace and comfort. May their day ahead be blissful and within Your presence. Please teach me to be a peaceful figure to my dog so they can live comfortably and happily. I pray that with every new moment, my dog feels at ease. In Your miraculous name, Amen.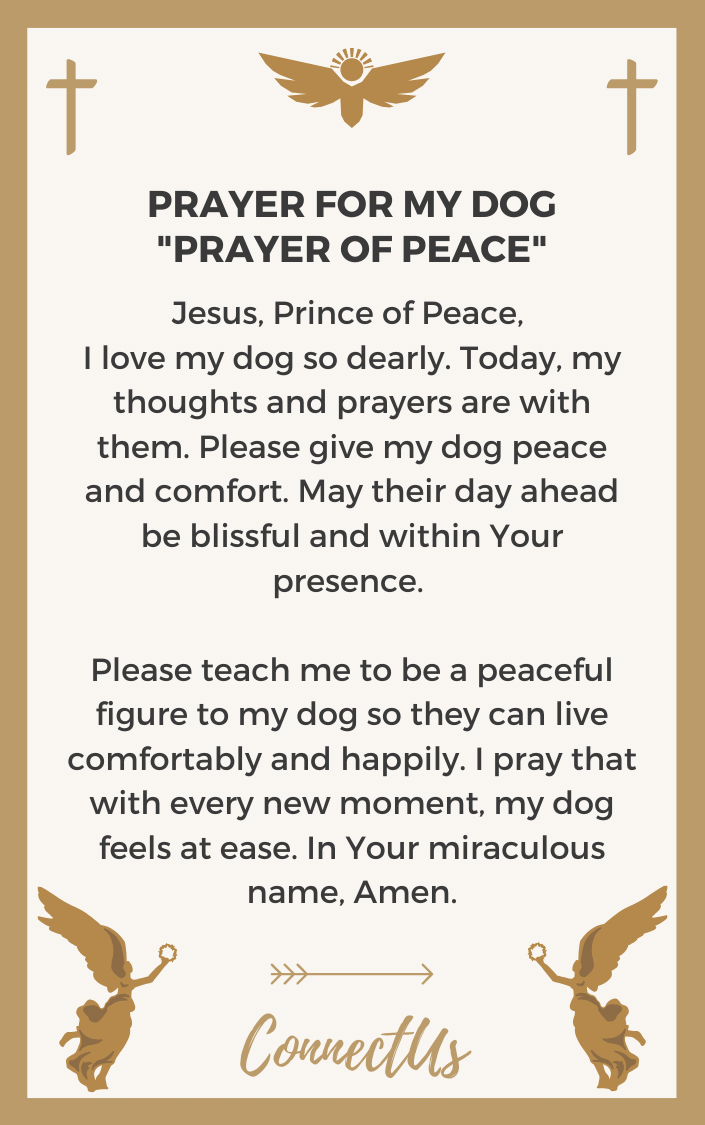 Prayer of Health
Jesus, the Great Physician, I am so incredibly grateful for my dog. We share a special bond and help each other every day. Please provide good health to my dog so our future together can be prosperous and joyful. Please take away any pain they feel. Please cleanse them in strength and healthfulness. I ask this so we can continue to support each other with able hearts and bodies. In Your almighty name, Amen.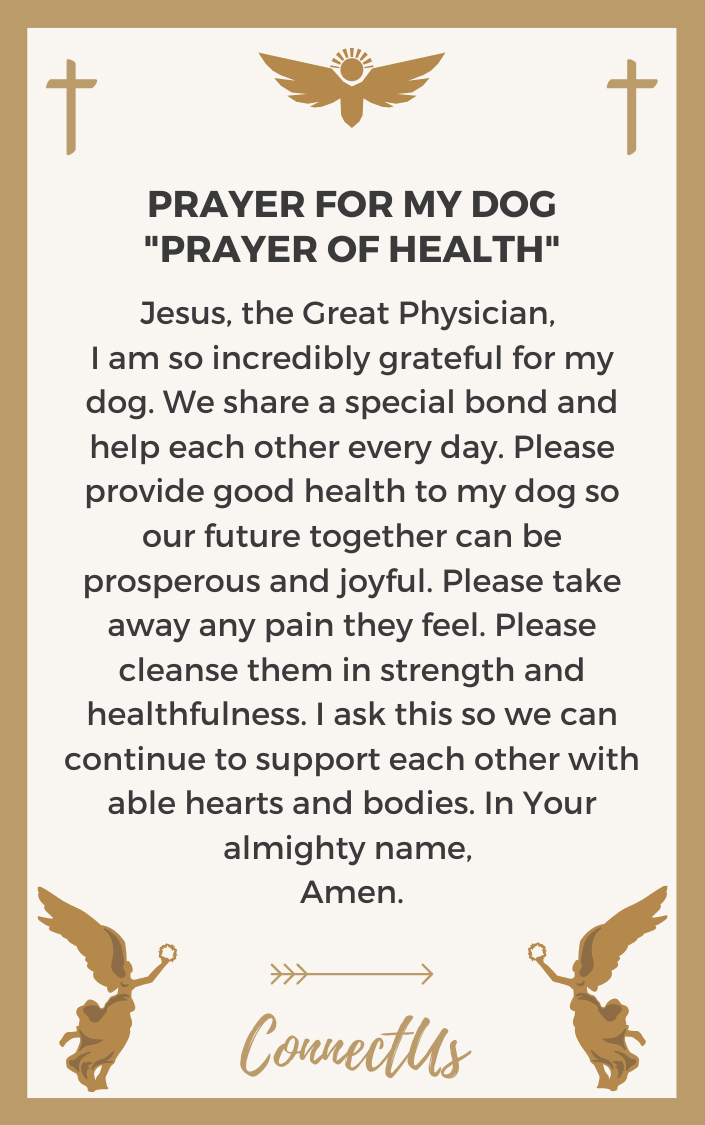 Prayer of Joy
Compassionate and Gracious God, my heart is full of the utmost joy. I have a puppy at my feet and I know that I will find excitement every day through this friendship. Lord, I pray that even in life's greatest trials I can remember the joy this sweet dog gives me. I pray that in the darkest of times I can remember the loyal gift You have blessed me with. I know that leaning on this reminder will help me overcome any challenge. Thank You for this reflection and persistent joy. I love You, Lord. In Your Son's joyous name, Amen.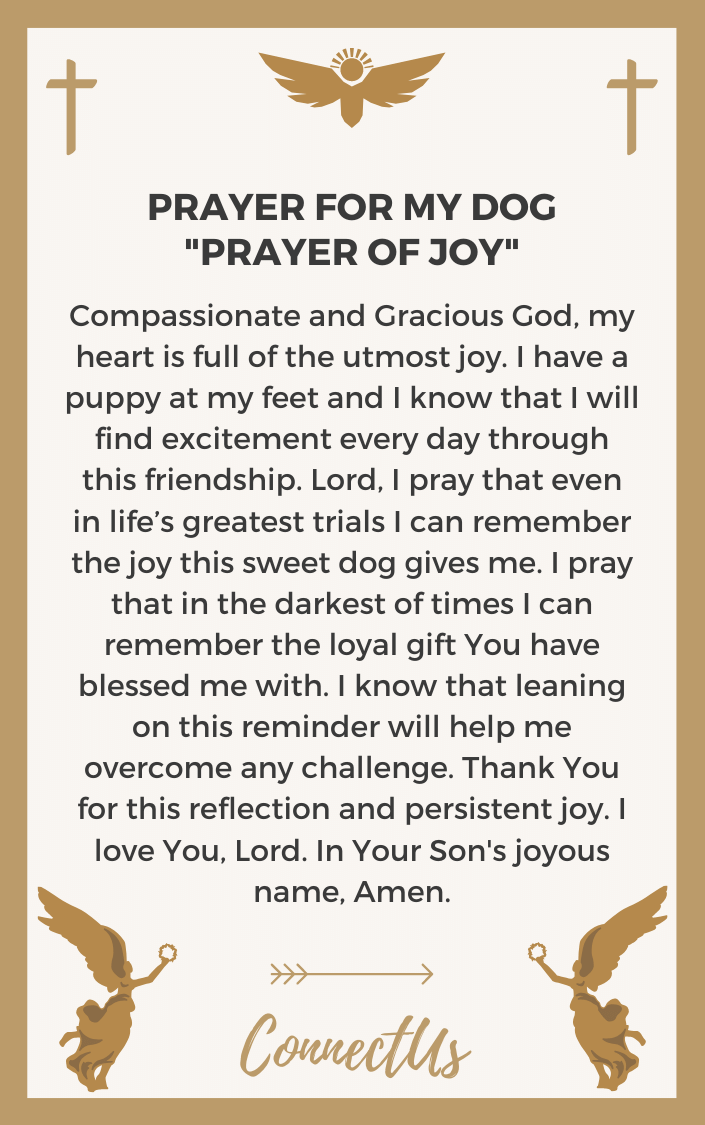 New Seasons Prayer
Father of Compassion, I know that change is inevitable and Your plan for me will have many twists and turns. Through these changes, please keep one thing constant. Please keep my dog and me as good companions to each other. We have supported and loved each other for so long. I pray that our love continues through the many seasons of life. May our friendship carry us through. I ask this because I know You stay with me during the changing seasons. I love You, Lord. In Jesus' name, Amen.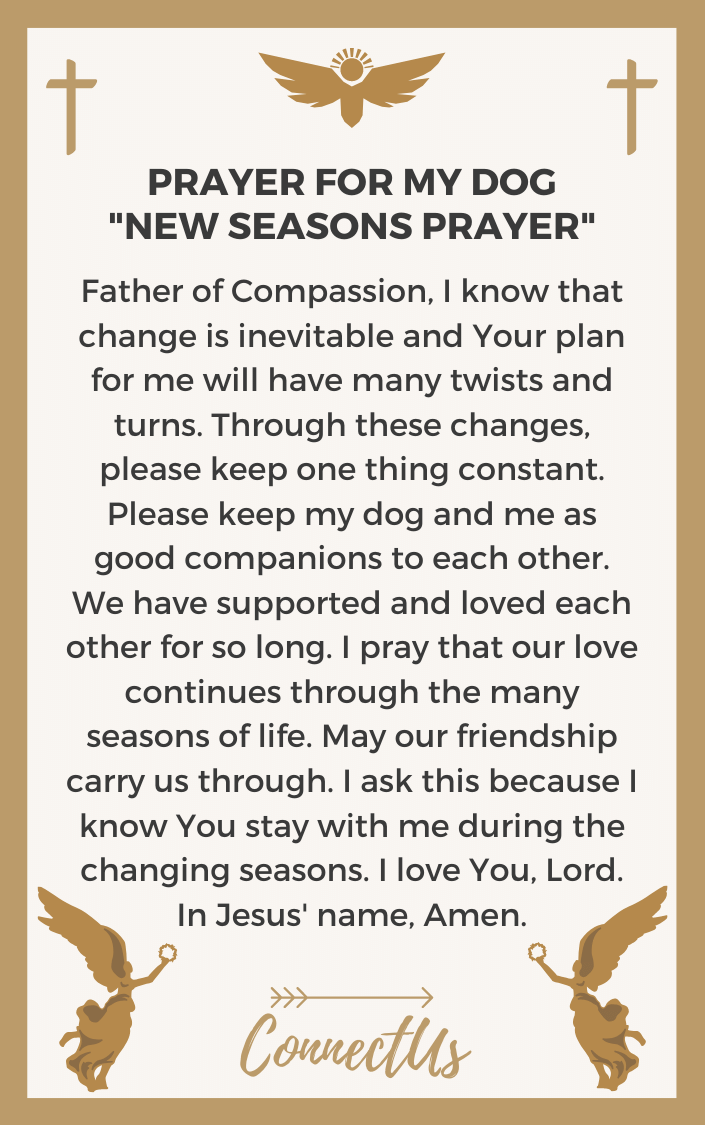 Good Morning Prayer
Heavenly Father, I am greeted with a new day. I know Your gifts will be plentiful today. Please watch over my dog and me today, Lord. May our day be full of Your gentle presence and love. May we stay safe and healthy. Through the good and bad, keep our hearts loyal to each other and You. With this new day, I sing new praises. Thank You for today, Lord, and for my incredible companion. In Your Son's holy name, Amen.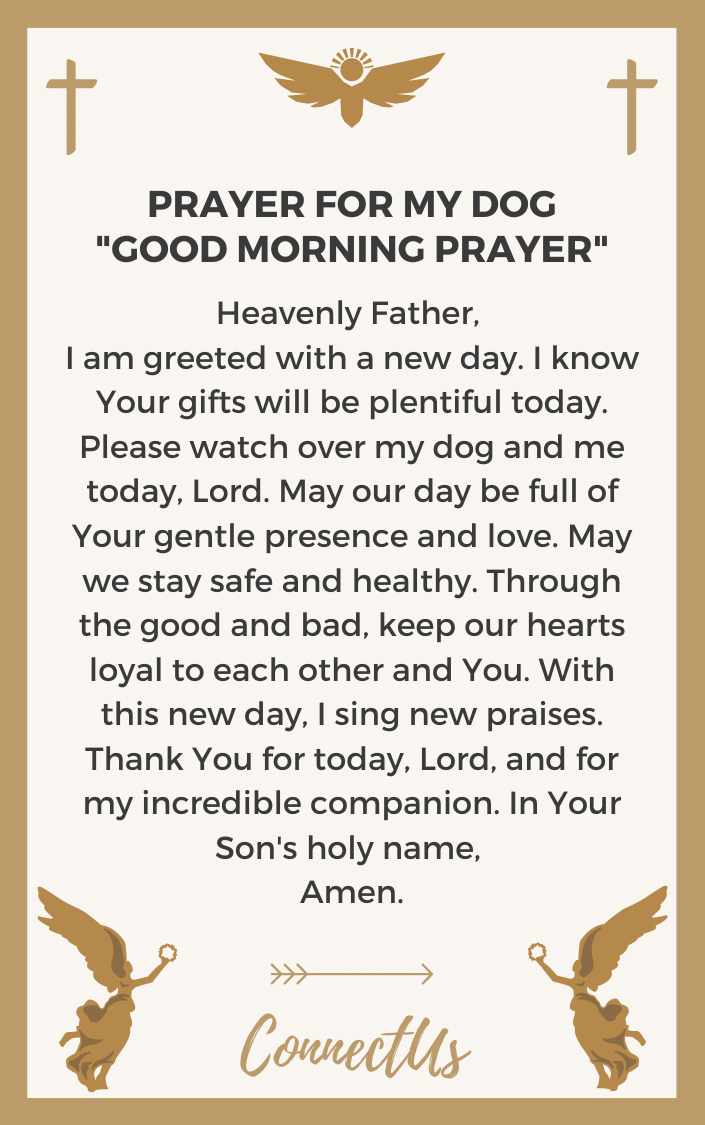 Prayer for My New Dog
O God of Loving Devotion, my heart is full of excitement. I have a new dog and with that, a new companion to walk through life together. I am so joyful and grateful for this opportunity. Please bless my new dog. Please give them good health and an energetic spirit. May this new friendship give me even more reasons to praise You, Lord. May I seek You during the highs and lows of this chapter. Please bless this new beginning. In Jesus' name, Amen.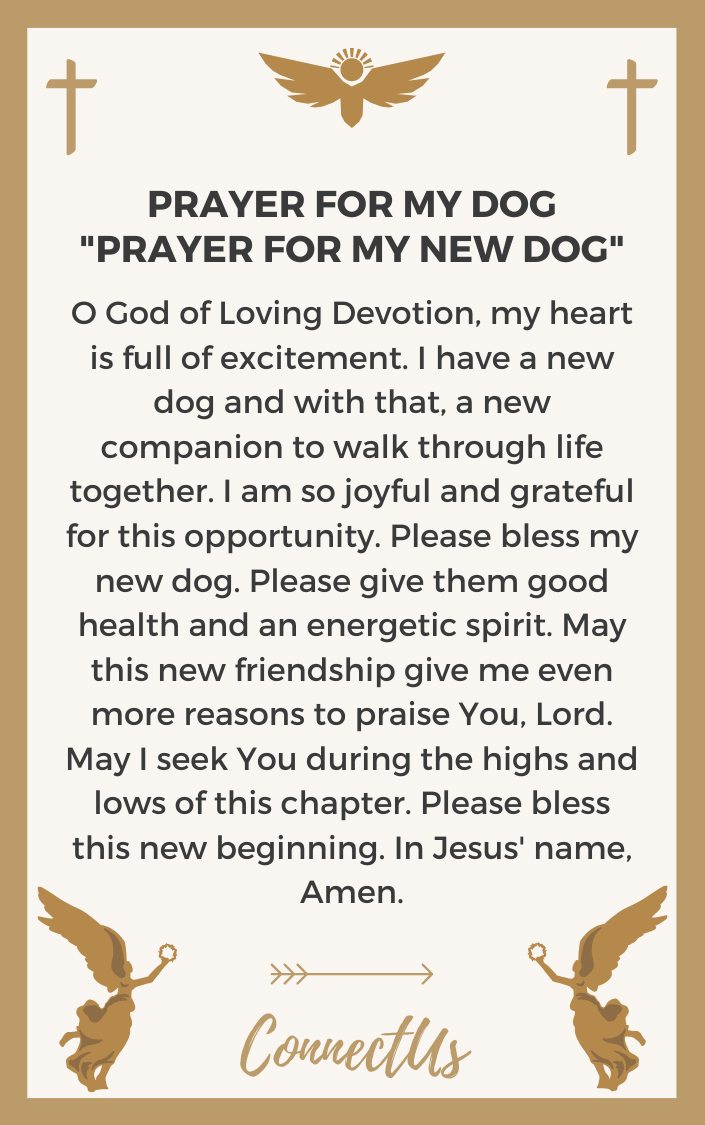 Gratitude Prayer
O Jehovah, my God, I am so grateful for Your everlasting blessings. I thank You, in particular today, for my most loyal companion, my dog. Thank You for blessing me with this joyful and spritely spirit. My dog brings sunshine to gloomy days. I am reminded through this dog of Your overwhelming gifts of loyalty and love. I pray that my gratitude remains strong and true. Thank You for this special gift, Lord. I love You. In Jesus' faithful name, Amen.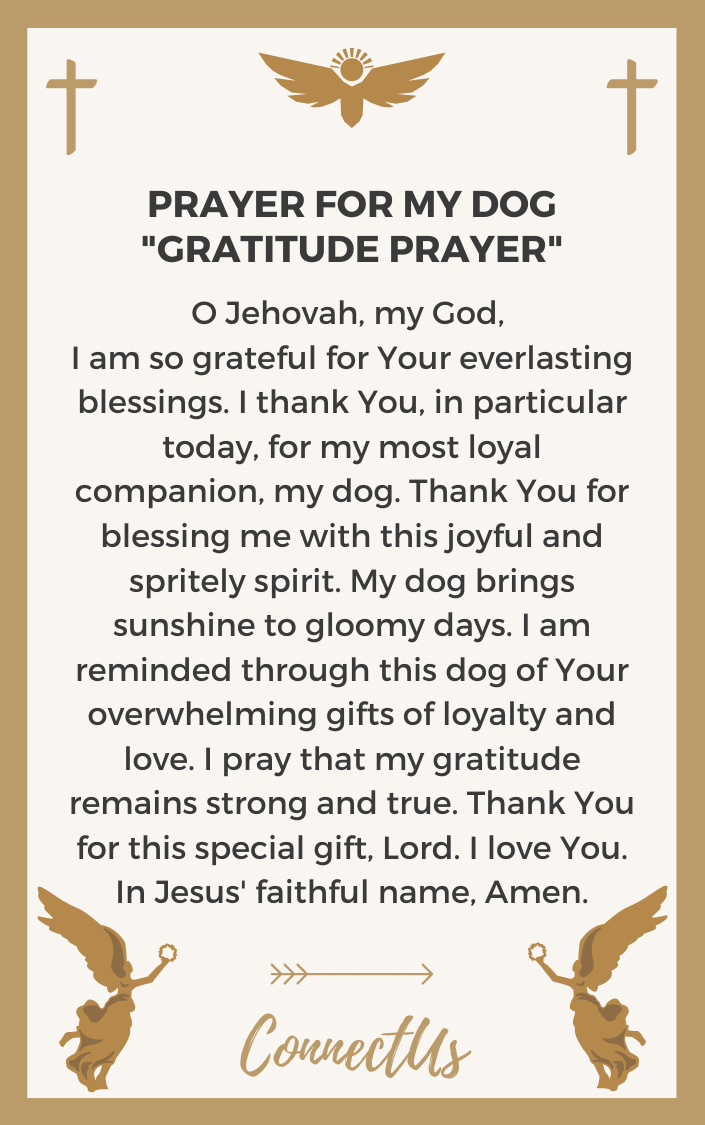 Most Popular Prayers by Topic
For Hard Times
For Financial Prosperity
For Physical Health
For Emotional Health
For Protection
For a Marriage
For Babies and Pregnancy
For Family
For Spiritual Warfare
For Spiritual Health
For a Death
For the Workplace
For Bedtime
Our 10 week prayer journal will guide you through your daily prayers and help you plan out your prayer week. It is completely free. You can
click here to get it now
.

Author Bio
Natalie Regoli is a child of God, devoted wife, and mother of two boys. She has a Master's Degree in Law from The University of Texas. Natalie has been published in several national journals and has been practicing law for 18 years.