The word "prayer" appears 164 times throughout the books of the Bible. The graph below shows the locations of each appearance. It begins with Genesis in the top left and concludes with Revelation in the bottom right.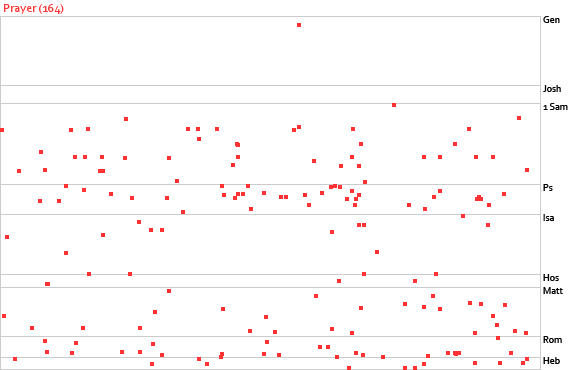 Here are the 25 most powerful Bible scriptures on God hearing our prayers.
Psalm 66:17-20
I cried to him with my mouth, and high praise was on my tongue. If I had cherished iniquity in my heart, the Lord would not have listened. But truly God has listened; he has attended to the voice of my prayer. Blessed be God, because he has not rejected my prayer or removed his steadfast love from me!
Proverbs 15:29
The Lord is far from the wicked, but he hears the prayer of the righteous.
Isaiah 65:24
Before they call I will answer; while they are yet speaking I will hear.
Jeremiah 33:3
Call to me and I will answer you, and will tell you great and hidden things that you have not known.
Jeremiah 29:12-13
Then you will call upon me and come and pray to me, and I will hear you. You will seek me and find me, when you seek me with all your heart.
Matthew 6:8
Do not be like them, for your Father knows what you need before you ask him.
Matthew 6:9-13
"Pray then like this: 'Our Father in heaven, hallowed be your name. Your kingdom come, your will be done, on earth as it is in heaven. Give us this day our daily bread, and forgive us our debts, as we also have forgiven our debtors. And lead us not into temptation, but deliver us from evil.'"
Matthew 18:20 ESV
"For where two or three are gathered in my name, there am I among them."
Mark 11:22-25 
And Jesus answered them, "Have faith in God. Truly, I say to you, whoever says to this mountain, 'Be taken up and thrown into the sea,' and does not doubt in his heart, but believes that what he says will come to pass, it will be done for him. Therefore I tell you, whatever you ask in prayer, believe that you have received it, and it will be yours. And whenever you stand praying, forgive, if you have anything against anyone, so that your Father also who is in heaven may forgive you your trespasses."
Luke 11:9-13 ESV
And I tell you, ask, and it will be given to you; seek, and you will find; knock, and it will be opened to you. For everyone who asks receives, and the one who seeks finds, and to the one who knocks it will be opened. What father among you, if his son asks for a fish, will instead of a fish give him a serpent; or if he asks for an egg, will give him a scorpion? If you then, who are evil, know how to give good gifts to your children, how much more will the heavenly Father give the Holy Spirit to those who ask him!"
John 3:16
For God so loved the world, that he gave his only Son, that whoever believes in him should not perish but have eternal life.
John 9:31
We know that God does not listen to sinners, but if anyone is a worshiper of God and does his will, God listens to him.
John 16:24
Until now you have asked nothing in my name. Ask, and you will receive, that your joy may be full.
Romans 8:26-7
Likewise the Spirit helps us in our weakness. For we do not know what to pray for as we ought, but the Spirit himself intercedes for us with groanings too deep for words. And he who searches hearts knows what is the mind of the Spirit, because the Spirit intercedes for the saints according to the will of God.
2 Corinthians 4:17
For this light momentary affliction is preparing for us an eternal weight of glory beyond all comparison.
Ephesians 1:11
In him we have obtained an inheritance, having been predestined according to the purpose of him who works all things according to the counsel of his will.
Philippians 4:6
Do not be anxious about anything, but in everything by prayer and supplication with thanksgiving let your requests be made known to God.
Hebrews 11:1
Now faith is the assurance of things hoped for, the conviction of things not seen.
Hebrews 8:13
In speaking of a new covenant, he makes the first one obsolete. And what is becoming obsolete and growing old is ready to vanish away.
James 5:13-15 
Is anyone among you suffering? Let him pray. Is anyone cheerful? Let him sing praise. Is anyone among you sick? Let him call for the elders of the church, and let them pray over him, anointing him with oil in the name of the Lord. And the prayer of faith will save the one who is sick, and the Lord will raise him up. And if he has committed sins, he will be forgiven.
1 Peter 3:12
For the eyes of the Lord are on the righteous, and his ears are open to their prayer. But the face of the Lord is against those who do evil.

1 John 2:1
My little children, I am writing these things to you so that you may not sin. But if anyone does sin, we have an advocate with the Father, Jesus Christ the righteous.
1 John 2:2
He is the propitiation for our sins, and not for ours only but also for the sins of the whole world.
1 John 5:14-15
And this is the confidence that we have toward him, that if we ask anything according to his will he hears us. And if we know that he hears us in whatever we ask, we know that we have the requests that we have asked of him.
Revelation 22:17
The Spirit and the Bride say, "Come." And let the one who hears say, "Come." And let the one who is thirsty come; let the one who desires take the water of life without price.
More Bible Verses that Will Move You
50 Most Powerful Scriptures on Faith
60 Transcendent Verses on Trust
50 Strong Scriptures on Perseverance
68 Powerful Verses on Forgiveness
40 Uplifting Scriptures on Patience
Author Bio
Natalie Regoli is a child of God, devoted wife, and mother of two boys. She has a Master's Degree in Law from The University of Texas. Natalie has been published in several national journals and has been practicing law for 18 years.