Depression can make you feel helpless, but you can look to our almighty Helper to find your way out of it. Here are 25 uplifting prayers for depression. Along with the prayers are printable images for you to use or share.
Prayer to Conquer My Emotions
All-Powerful One, please come alongside me and help me to conquer these emotions of guilt, helplessness, and worthlessness that keep me bound. Oh God, guide and direct my thoughts along the right paths, assist me and strengthen me in mind and body, protect and defend me against the lies of the devil, give me success in this battle and victory over depression. In the Name of Jesus, my Mediator, I pray. Amen.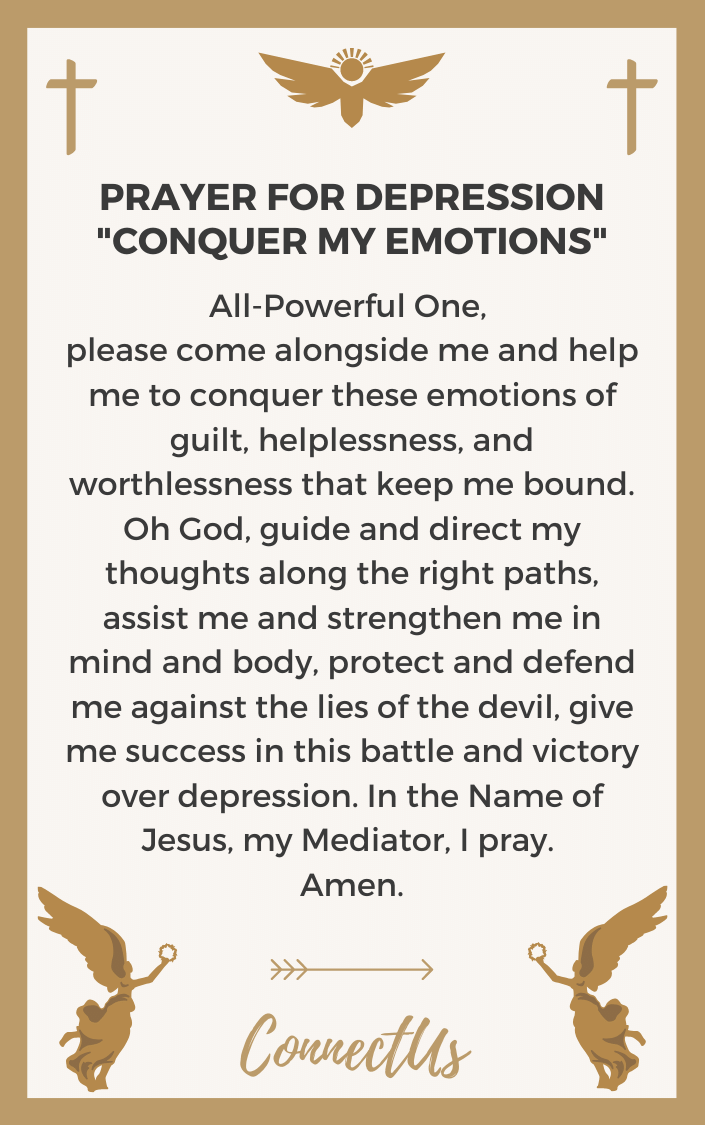 Prayer for Good Sleep
My All-Sufficient Source, I ask for Your provision in the area of sleep. You know how fatigued I am. You know how my sleep patterns are disturbed, due to this illness of depression. I'm either sleeping too much, or I'm having trouble falling asleep or staying asleep. Lord, may I find true rest under the shadow of Your wings. May I sleep deeply and soundly for the right amount of time, with healing sleep that restores my mental function and my body's energy. Amen.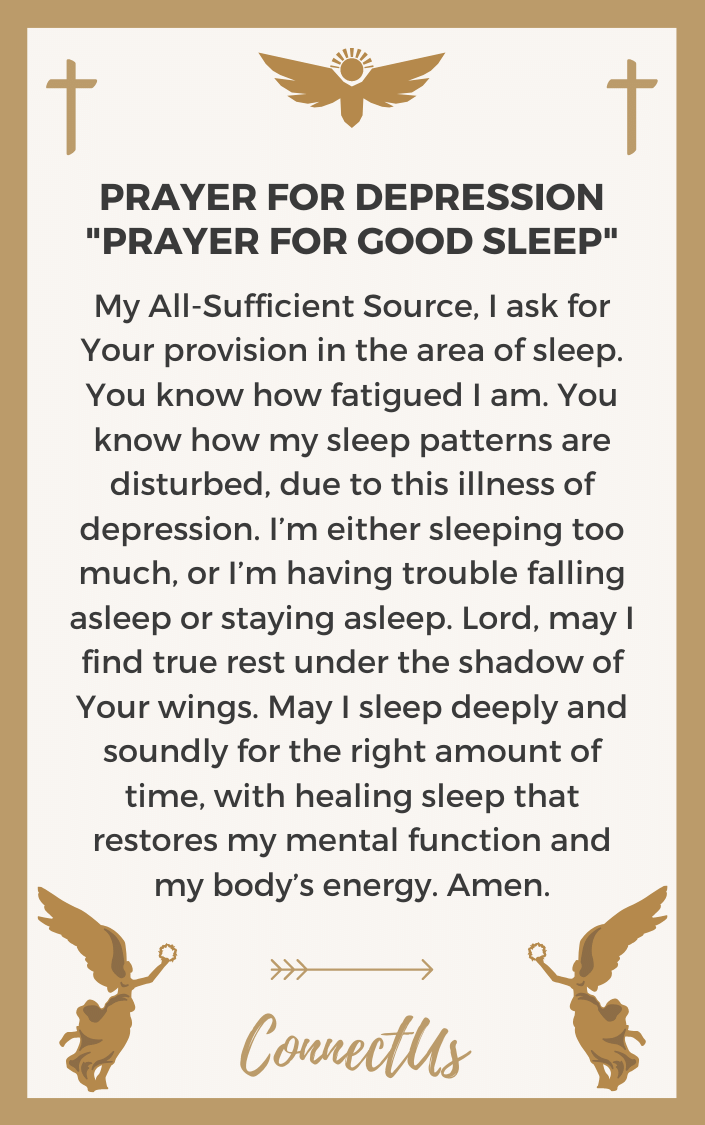 Take Action Prayer
O Lord of Hosts, I am seeking Your help in taking action to get mentally healthier and to rebuild a sense of routine in my life. Guide me in this journey, I pray. I humble myself under Your mighty power, knowing that You will lift me up. I thank You that You will restore, support, and strengthen me. You will place me on a firm foundation; all power to You forever! Amen.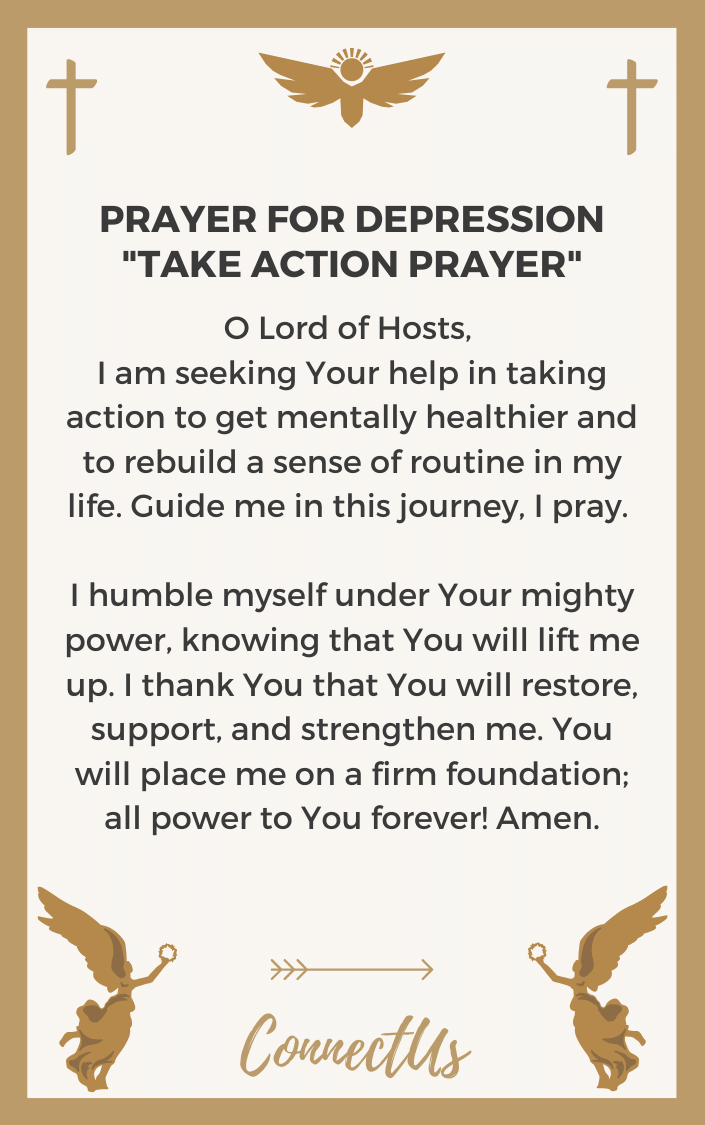 Prayer for a Way Out
My God, You are unique in Your beauty and compassion. Look upon my condition, I pray, as both my mind and my body are in pain. I can't bear the thought of getting out of bed and facing the day. A dark cloud surrounds me, and these aches and pains are lingering. O Lord, breakthrough and make a way out for me. I will praise You, Lord, at all times. Amen.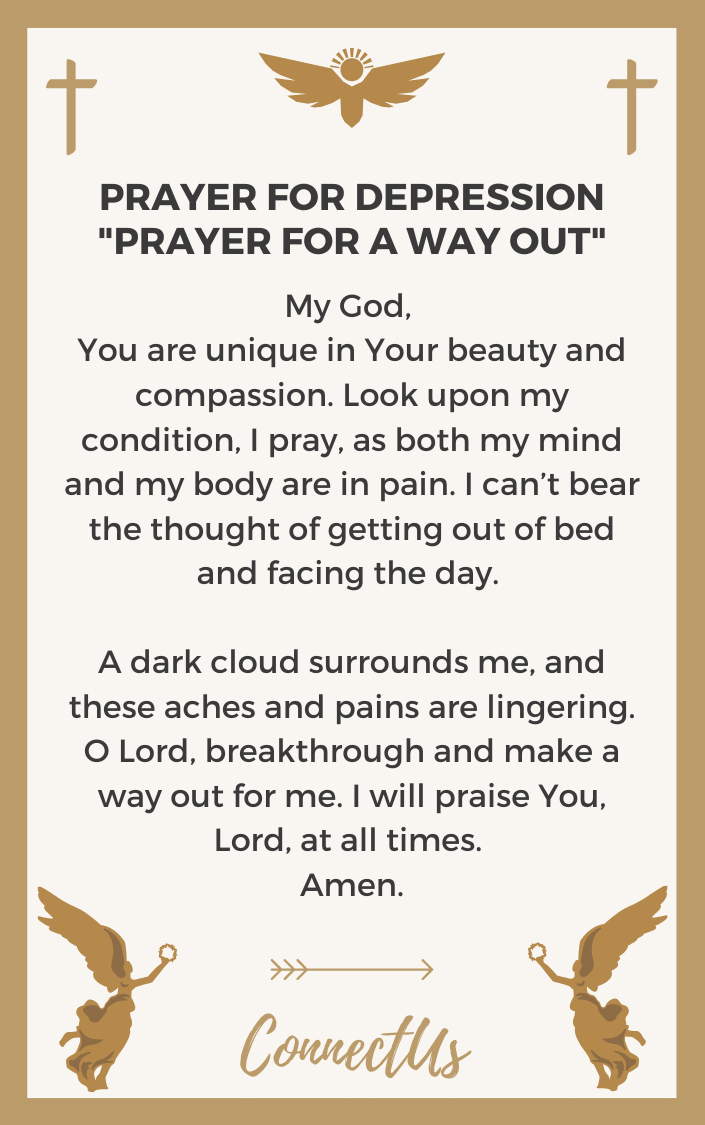 Fight for Me Prayer
Lord of heaven's armies, come fight for me. I lack energy, and getting through my daily routines is becoming hard for me to manage. I don't feel like I can keep going. Fight for me, God, and lift me out of this slimy pit of misery. You are my steadfast hope. Fix my steps, and prevent me from falling in again! Thank You, Lord, that when You are for me, nothing can be against me. Amen.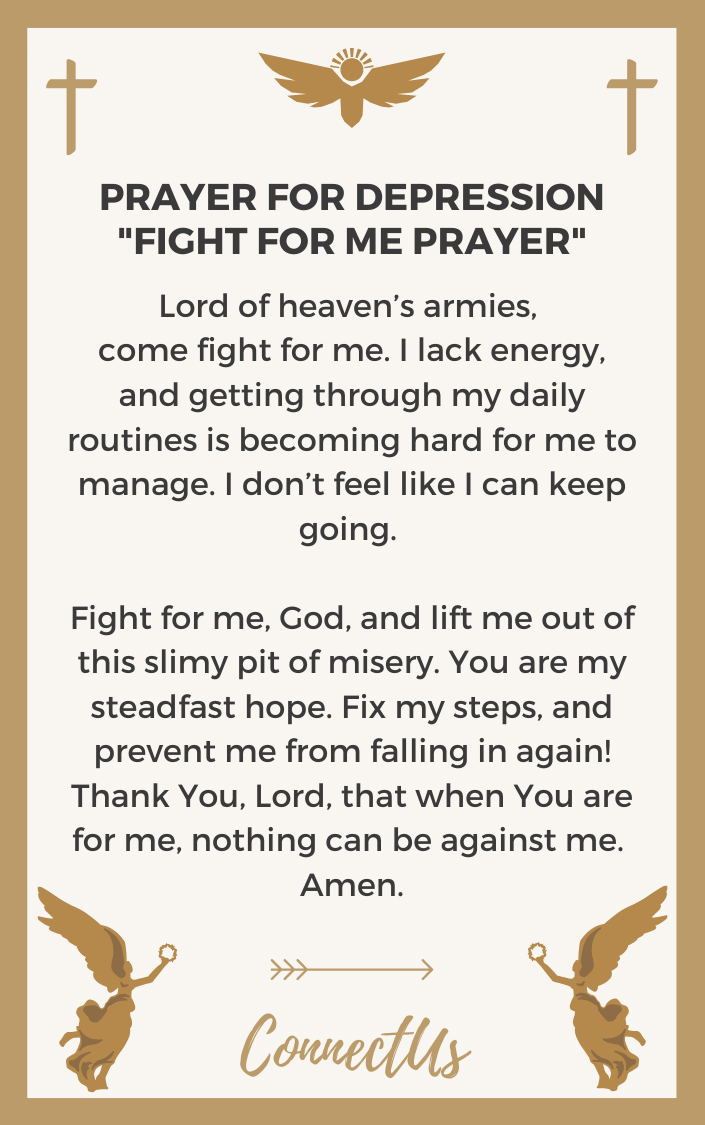 Prayer for Uplifting Focus
Omnipresent God, in all places simultaneously, You know the condition of my heart. You know my sadness and loneliness. Lord, please help me to focus my thoughts on what is true and honorable and right. Help me to focus on Your blessings and love and provision, rather than fixating on negativity and problems. Be with me, God of Peace, and lift me out of this despair. Amen.
Prayer for Pessimistic Feelings
My Lord, my All-Sufficient One, I am overwhelmed by these low, pessimistic feelings that never seem to end. Please hear me and help me. I thank You, God, that You are always with me, You personally go before me, and You will never fail me nor abandon me. I do not need to be afraid or discouraged. When I pass through these waters, You are with me. Thank You for Your constant presence. Amen.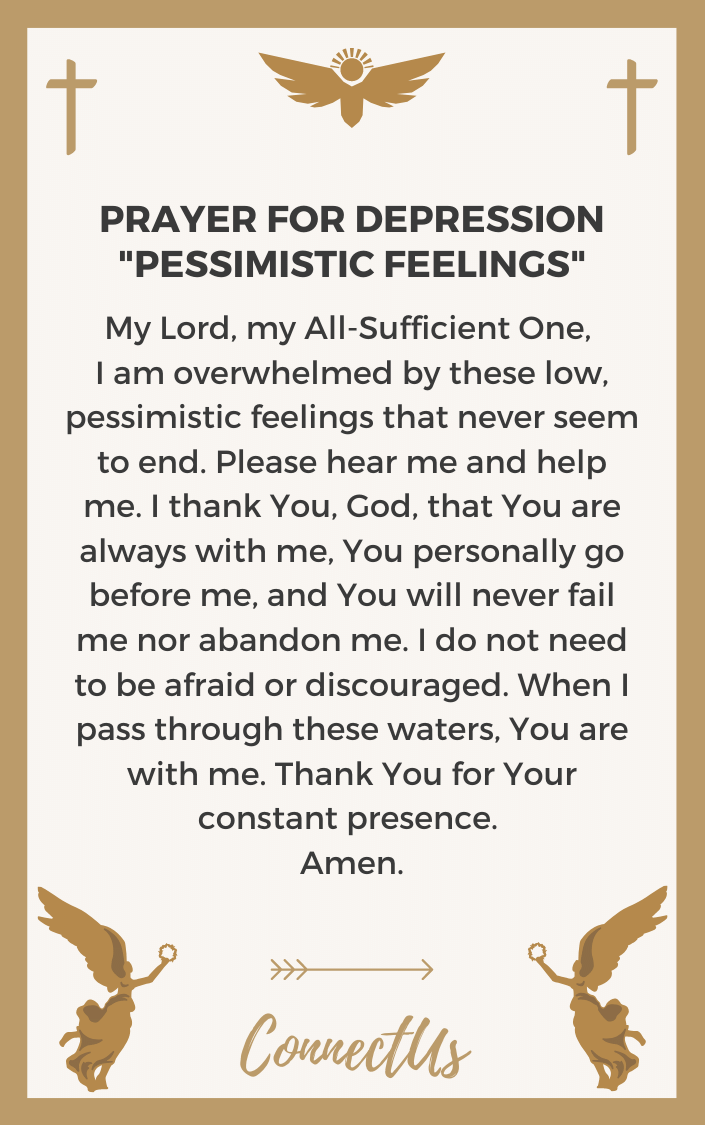 Prayer to Resist the Devil
Jehovah Jireh, my Provider, please come alongside me with Your loving-kindness. I'm having trouble focusing on things I need to pay attention to, I'm forgetting details, and I'm having a hard time making decisions. I'm just tired all the time and feel hopeless. Lord, Your Word says that if I resist the devil, he will flee from me. So, in the Name of Jesus, I command depression to leave, and for my brain to function correctly. Amen.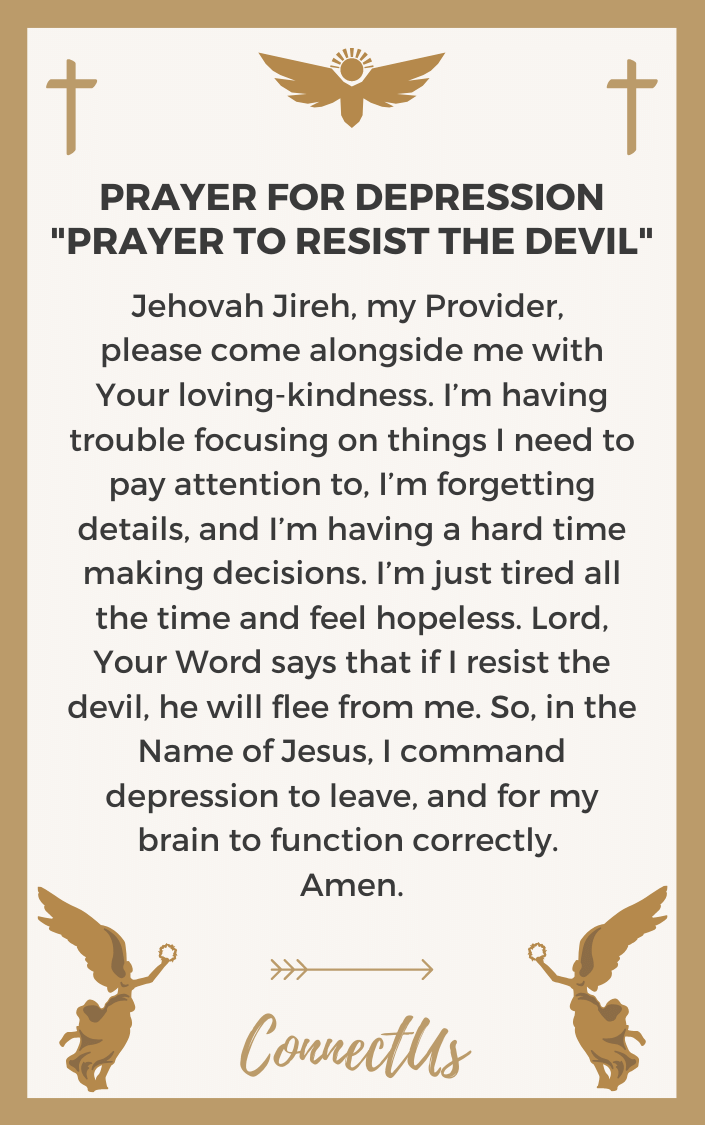 Prayer for Freedom
Oh God, You see me always, and You know how this depression is just robbing me from living an active and normal life. I'm just a shell of a person. Lord, please heal my brain and my body. I rest assured that the same divine power that enabled the Israelites to be freed from slavery in Egypt will bring about my freedom from this disease and that I will once again have abundant life. Amen.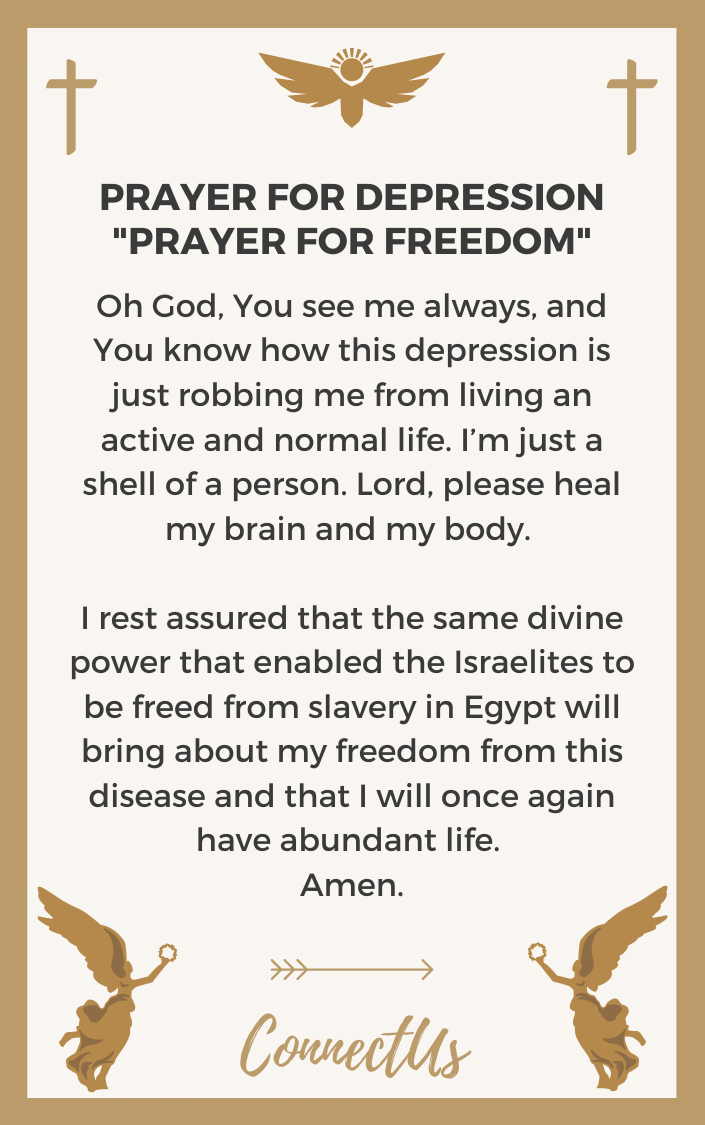 Prayer to My Faithful Companion
Lord, my Companion, You know how irritable and restless I've been feeling. You know I have lost interest in the things that once were pleasurable to me. O Lord, please don't fail me. Please lift me out of these harmful thought patterns. Help me to be fearless and not to descend into the darkness. Lord, with You as my faithful companion, this depression will be conquered. Amen.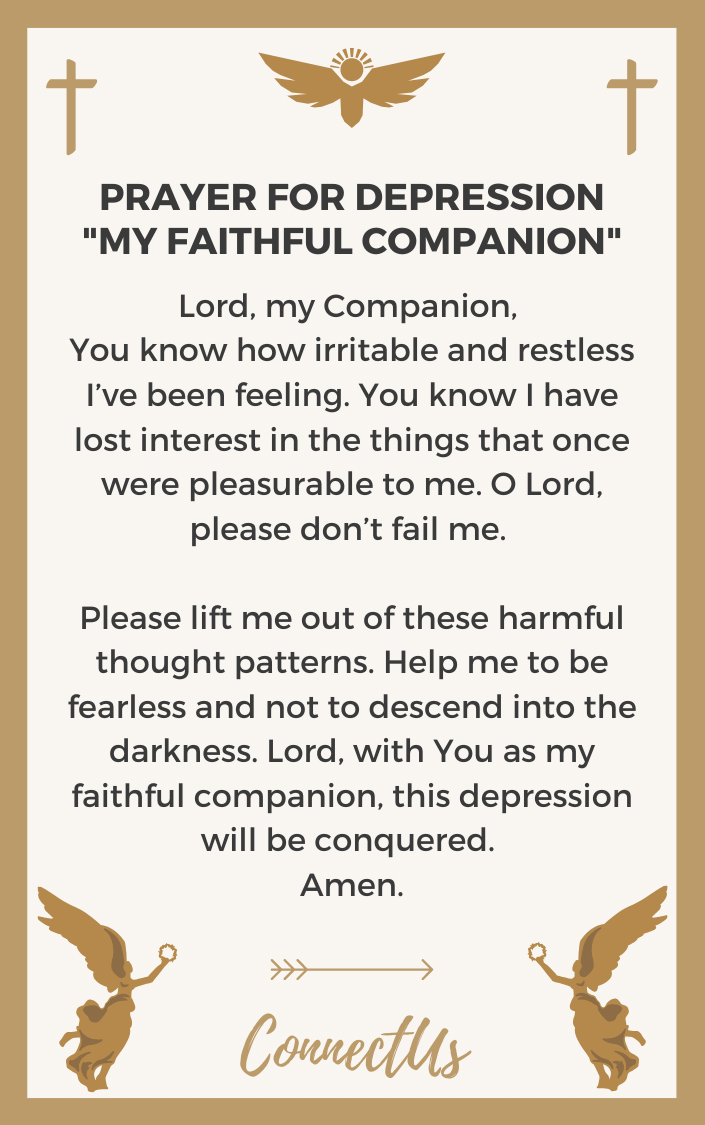 Prayer for the Oil of Gladness
Jehovah Rapha, my God who heals, these empty and sad feelings are persisting, and I'm frequently anxious and finding myself engaging in unhealthy eating patterns. Please intervene, precious Healer, and may the power of Your Holy Spirit flow through my brain and body with the oil of gladness and renewal. I thank You that Your eyes watch over me and Your ears are open to my cries for help. Amen.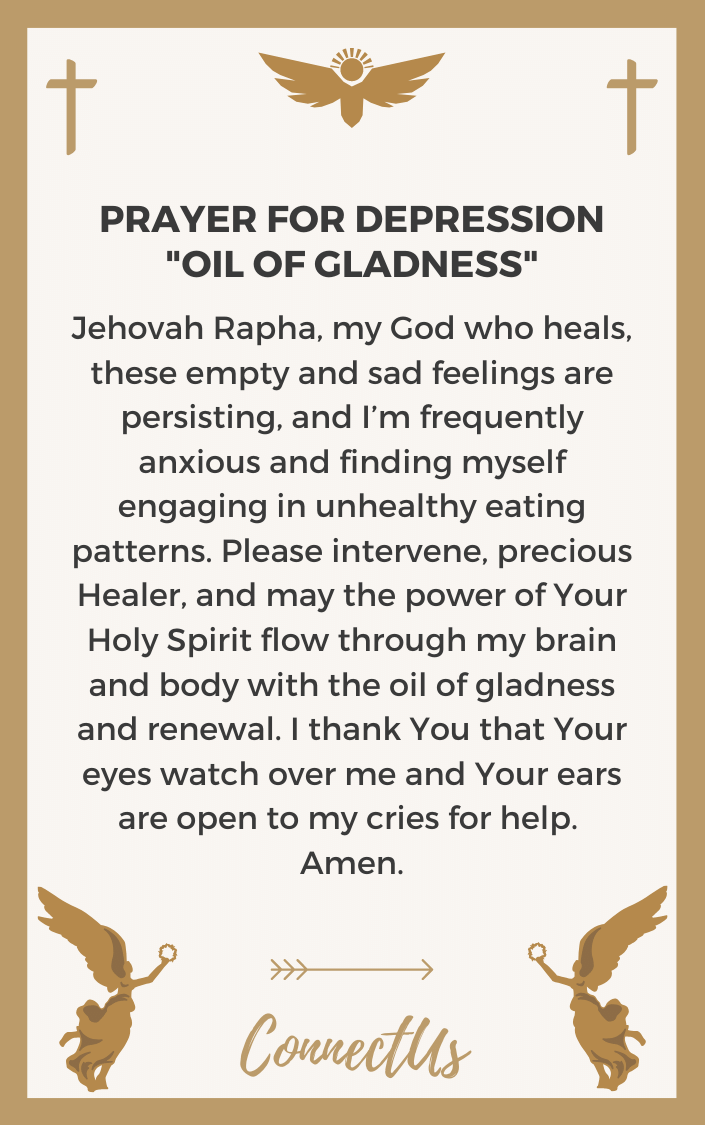 Prayer for Hopelessness
O Lord, my Guardian, You know my thoughts. You know how hopeless I feel. It just seems like nothing good will ever happen, and sometimes that dark voice whispers that I should just end it all. Dear Lord, pull me out of this pit! I know You are close to the brokenhearted, and You rescue those whose spirit is crushed. I take refuge in You during this time of trouble. Guard me against harming myself. Amen.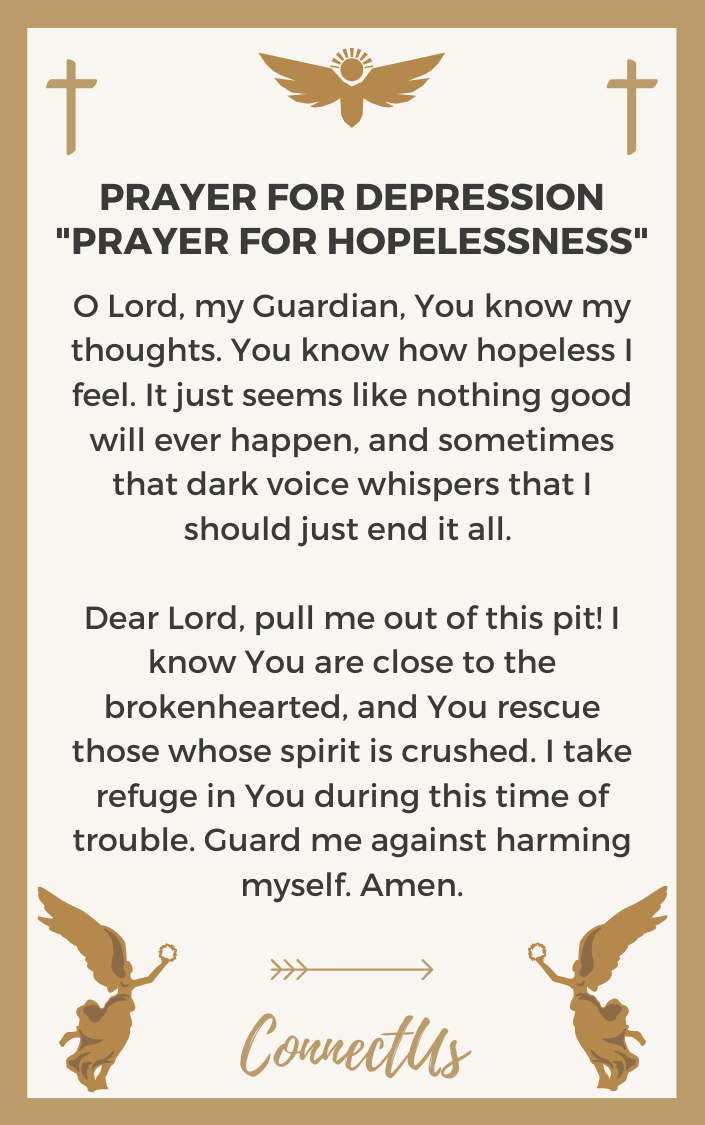 Prayer for Radiant Joy
Heavenly Father, You know full well what is passing in my life. You know I feel helpless and worthless. I feel so bad about myself and how I've been living my life. I pray to You in my desperation, that You will lift me out of despair and remind me that I am loved and accepted by You. I thank You that when I look to You for help, my face will be radiant with joy and no shadow of shame will darken my face. Amen.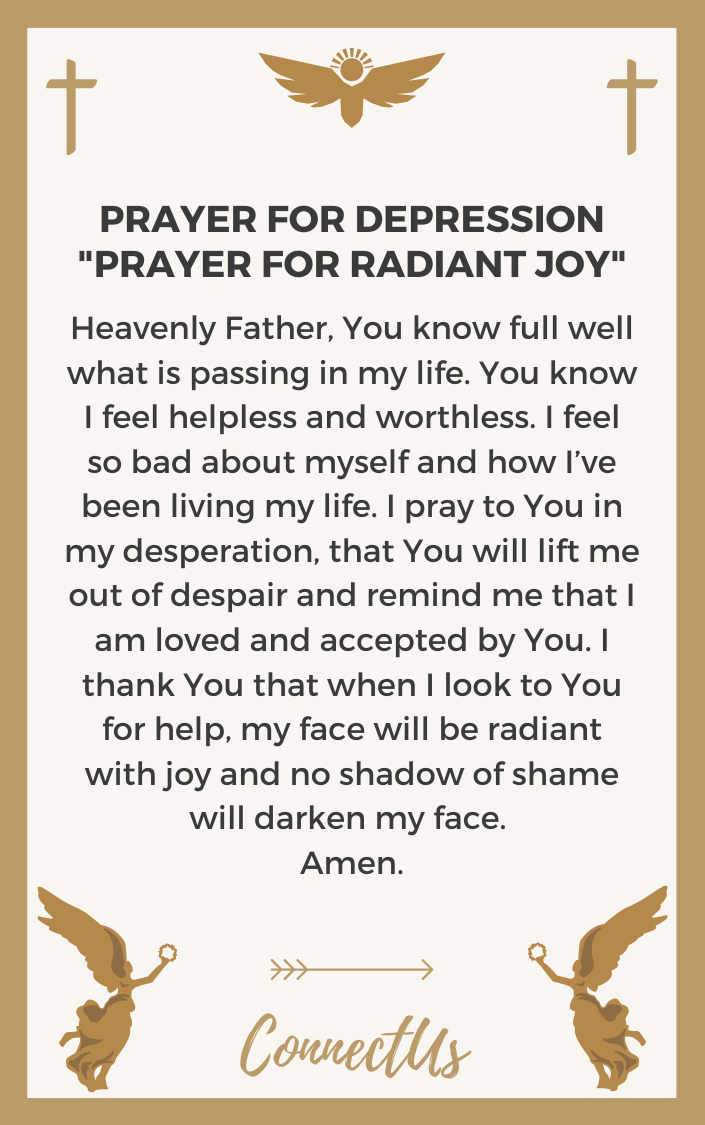 Prayer of Victory
Jehovah Nissi, You Lord are my banner. I praise You that I stand in victory. Even though these symptoms of depression continue on, and I am extremely tired and thinking more slowly, I know that there is a higher reality, based on Your Word, which tells me that by Your stripes I am healed. All who are helpless can take heart. Father, may Your healing manifest quickly! I constantly speak out Your praises! Amen.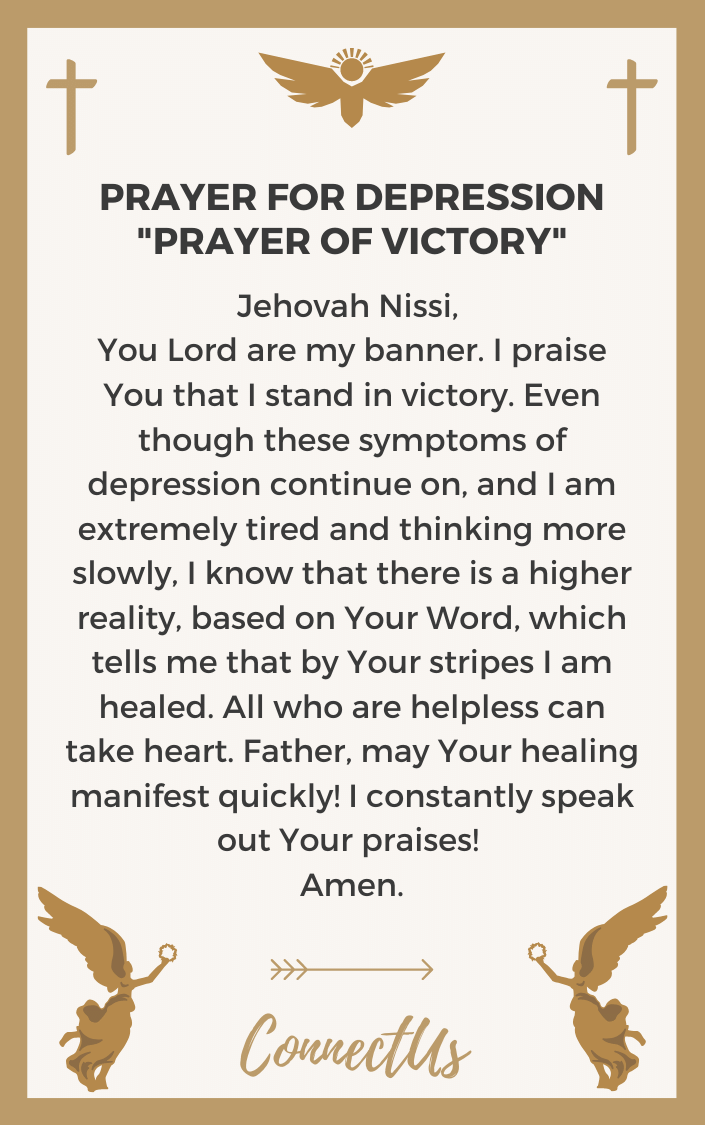 Save Me from Myself Prayer
Eternal God, my thoughts are dwelling today on my losses and failures. Hope eludes me, and I sometimes want to kill myself. O Father, save me from myself! I thank You that Your angel is a guard and that You surround and defend all who fear You. You surround me with songs of deliverance. Your cover me with Your mercy and peace and comfort. I will tell of Your greatness, I will exalt Your Name, Jesus, for You are my Mediator, pleading for me at the Father's right hand. Amen.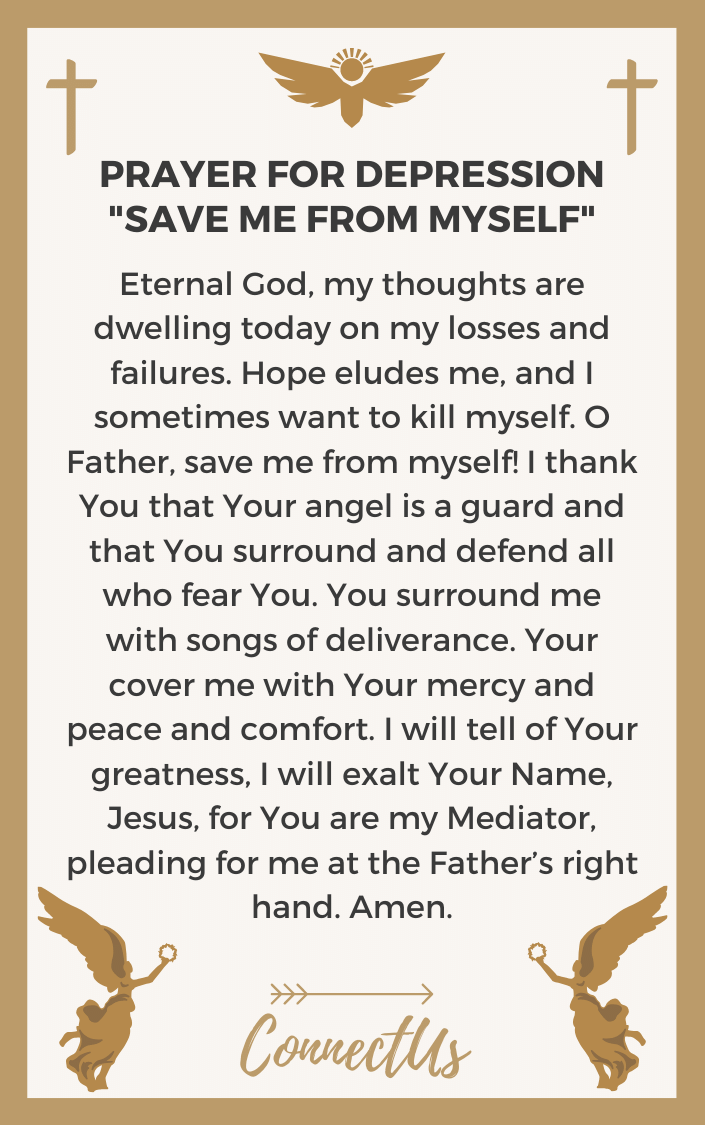 Joy is Mine Prayer
My God, You are constant in character; You are the same yesterday, today, and forever. Just as Jesus walked the earth and healed all who came to Him, You extend Your healing hand today. Lord, please stretch forth Your hand in healing now, for my mood is so low, and my digestive issues are so severe that I can hardly eat anything. My Lord, I will taste and see that You are good, and joy is mine when I take refuge in You. Amen.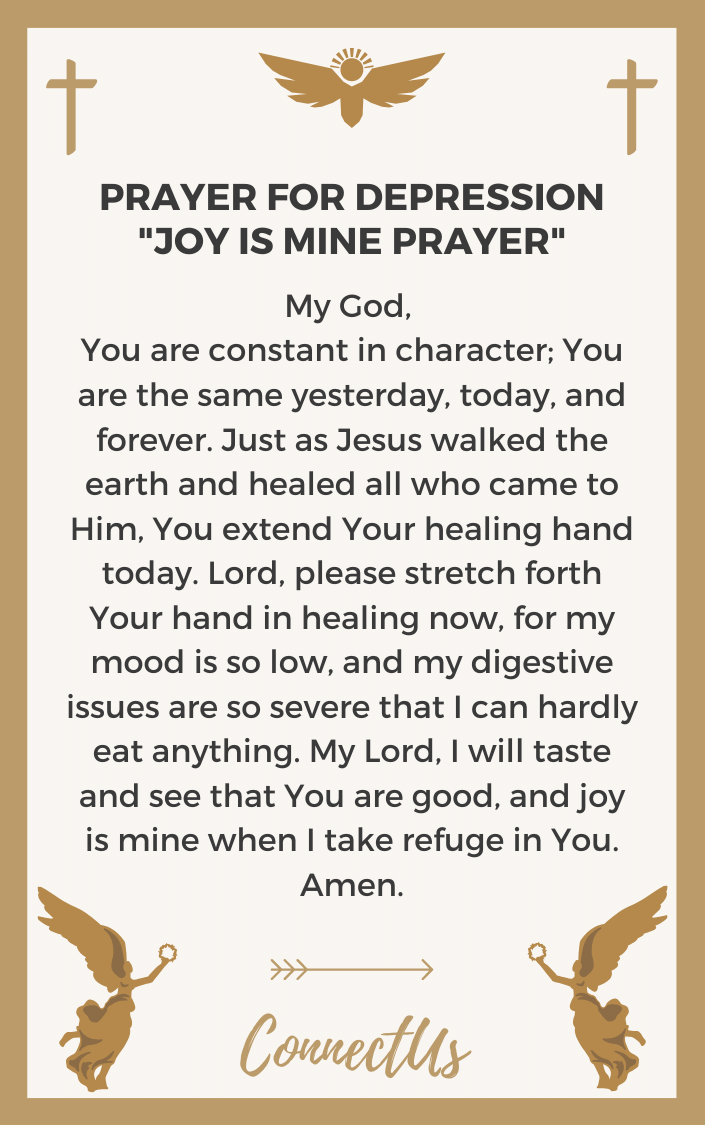 Clothe Me with the Garment of Praise Prayer
God Most High, I'm so irritable today, so restless. I feel more cranky than usual. Lord, how long? Will I ever feel joy again? Will I ever be in a good mood again? Lord, please clothe me with the garment of praise in exchange for the spirit of heaviness. Lord, I revere You, and I know that those who fear You have all they need. My eyes are fixed on You. I am waiting, as I praise Your Name. Amen.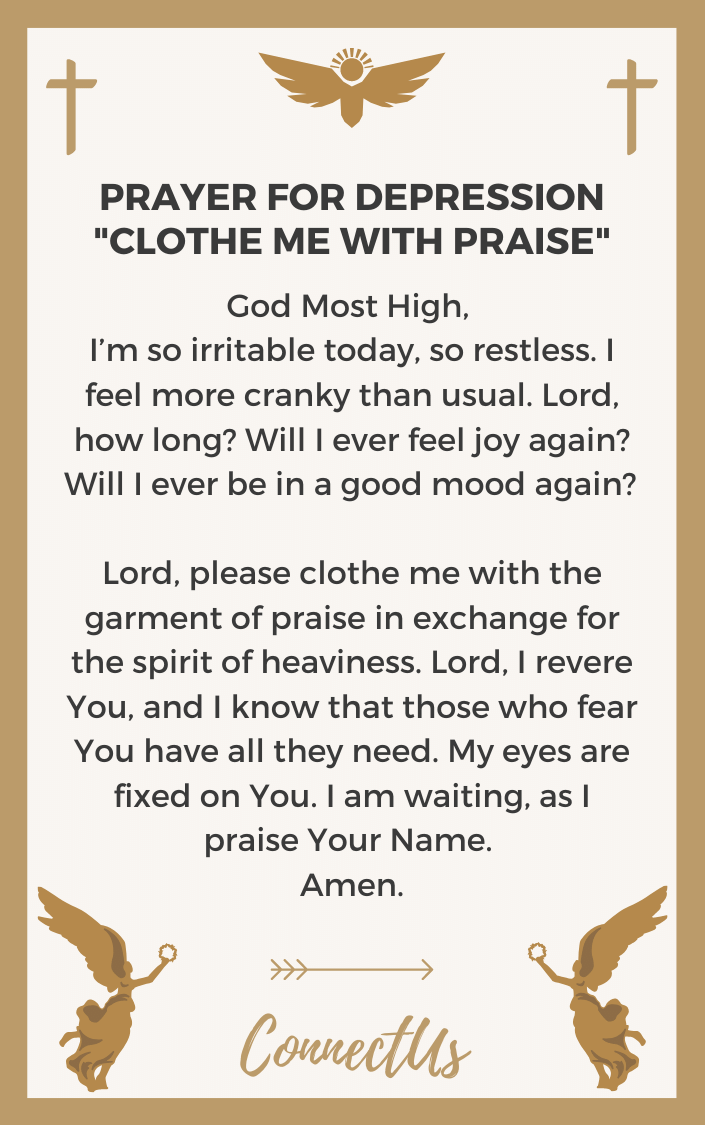 Prayer for Divine Light
Jehovah Shalom, Lord of Peace, my chest is heavy, and I just want to stay in bed. I don't want to even move, this depression is so debilitating. O Lord, take my sorrows and touch these weary bones, so I can rise to dance again. Lord, as I seek You in my trouble, send floods of Your divine light into my mind, to renew it, and establish it in security and peace. Praise You, merciful Savior. Amen.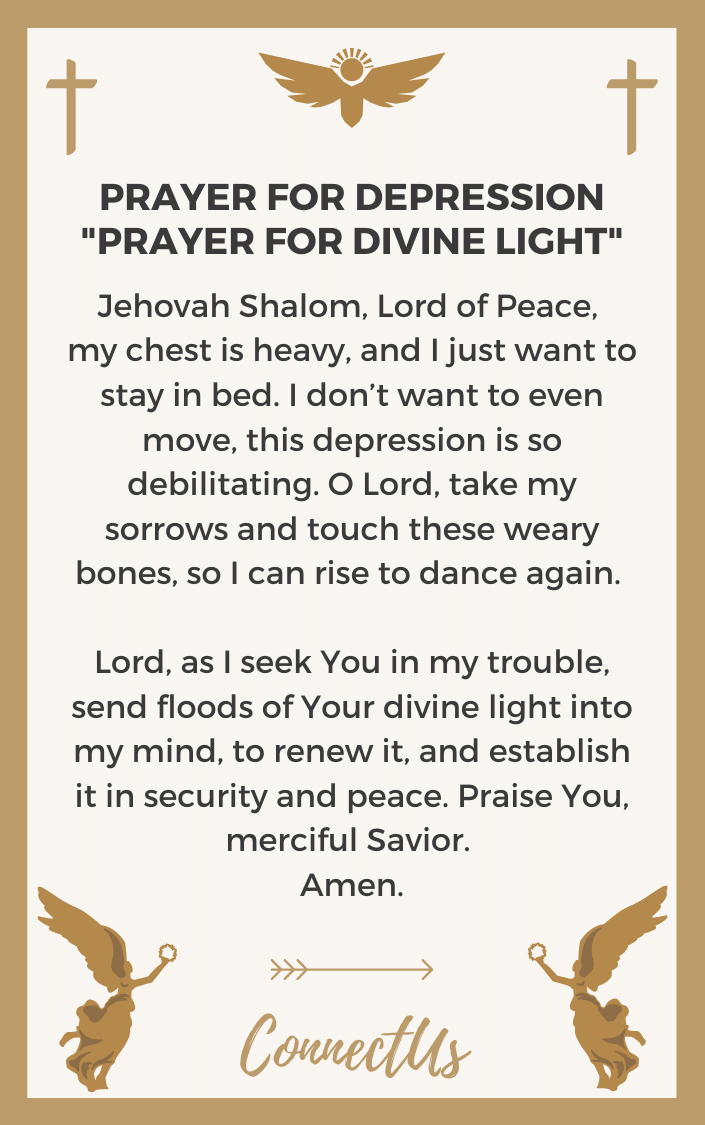 Prayer for Divine Intervention
O Lord my Shepherd, I need Your care and guidance. I feel so down that I just don't want to be around anyone. I know that withdrawing from others and wallowing in self-pity is only making me feel worse, but I can't seem to break this cycle. I need Your divine intervention. I thank You that when my heart is sad and I look to You, Your light breaks through the clouds, bringing radiant hope and joy. My mind is calm and assured that You will protect me. Amen.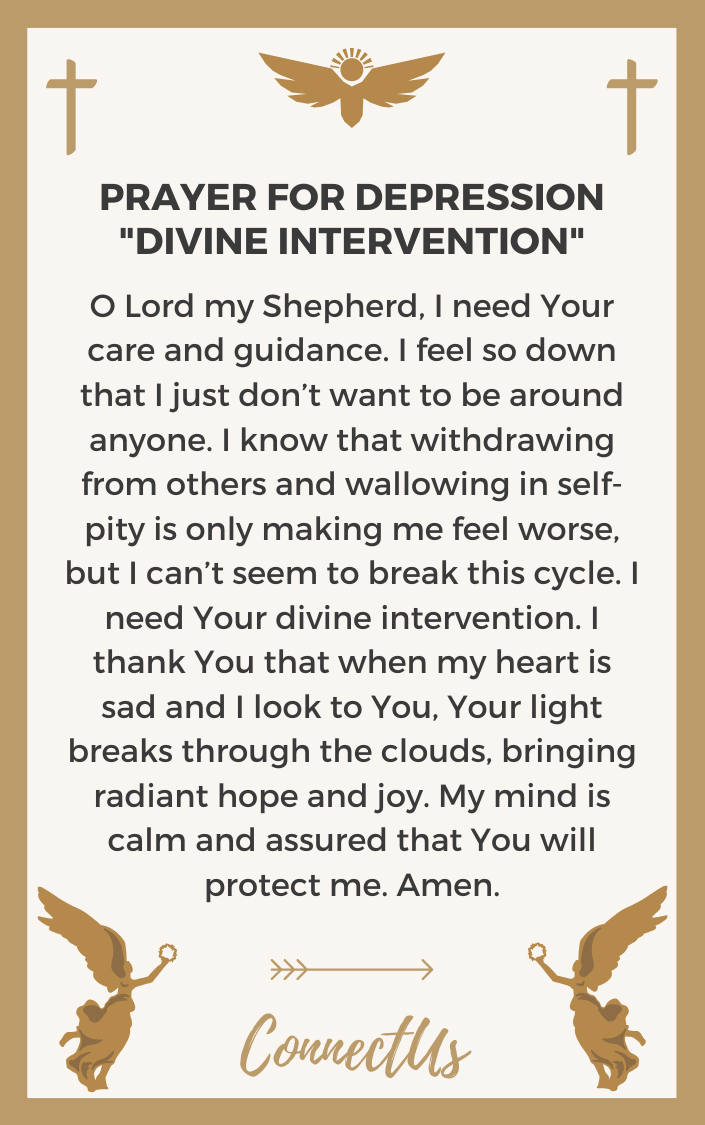 Prayer for Rivers of Mercy
Everlasting God, I've lost interest in pretty much everything I once enjoyed. I don't even have a desire to eat anymore. O Father, let this dry and thirsty soul be quenched with Your rivers of mercy. Put a new song in my mouth, a hymn of praise to You. Your joy is my strength alone. Let others see the work You have done to restore me to perfect mental health and be amazed, and put their trust in You. Amen.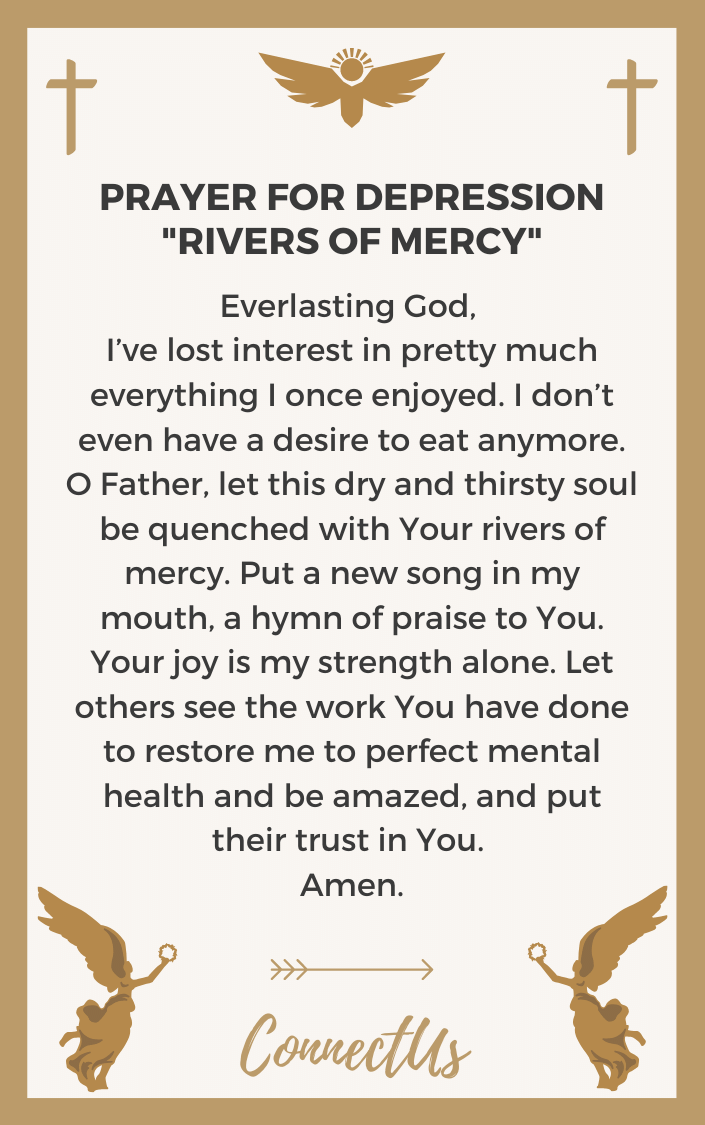 Prayer for a Positive Outlook
God Almighty, may Your power pervade my mind and body and help me adopt a positive outlook for the future. I'm having trouble concentrating, even with small things, and I feel overwhelmed when I need to make even a minor decision. Why am I so discouraged? Why is my heart so sad? I will put my hope in You, God, for You will save me and restore me. Amen.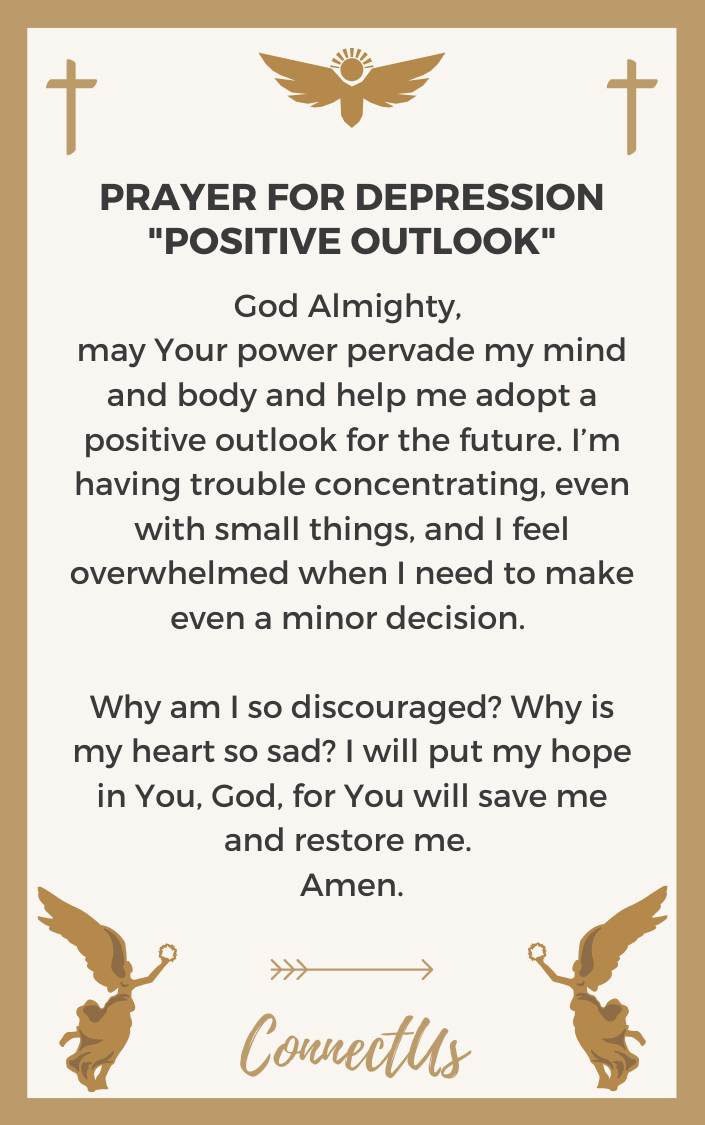 Prayer for Changed Attitude
Lord, You are the beginning and the end, the one and only God. I am awed that I have access to You, Lord of the ages, and I humbly ask that You help me change my attitude so this depression no longer controls me. Help me change it so it no longer negatively impacts my day-to-day life. I give my worries and cares to You, for You care for me. In the Name of Jesus, my Savior, and Healer, Amen.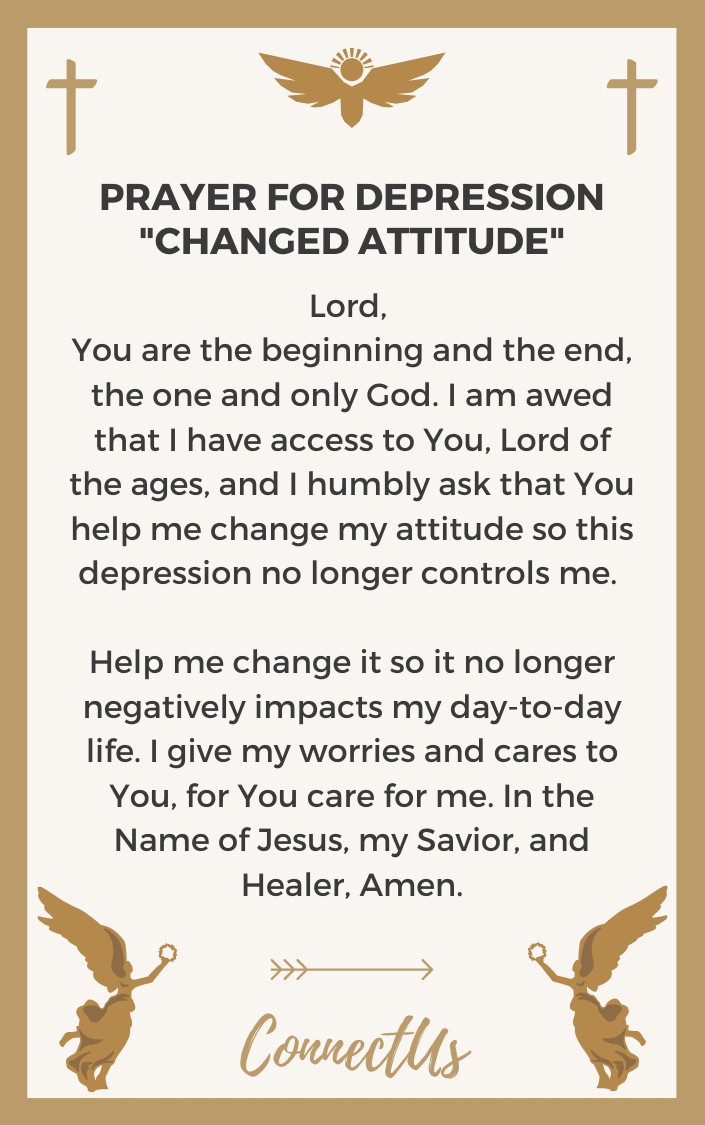 Heal My Mental Abilities Prayer
O Self-Existent One, this depression is making it tough for me to focus, and I'm having trouble remembering details. Lord, You know that I need to be mentally sharp for my job, so I am asking for Your healing of my mental abilities. Restore my mood to one of optimism and cheerfulness. I know that everything is possible with You, God, and I choose to believe in Your miracle-working power at work in my life. Amen.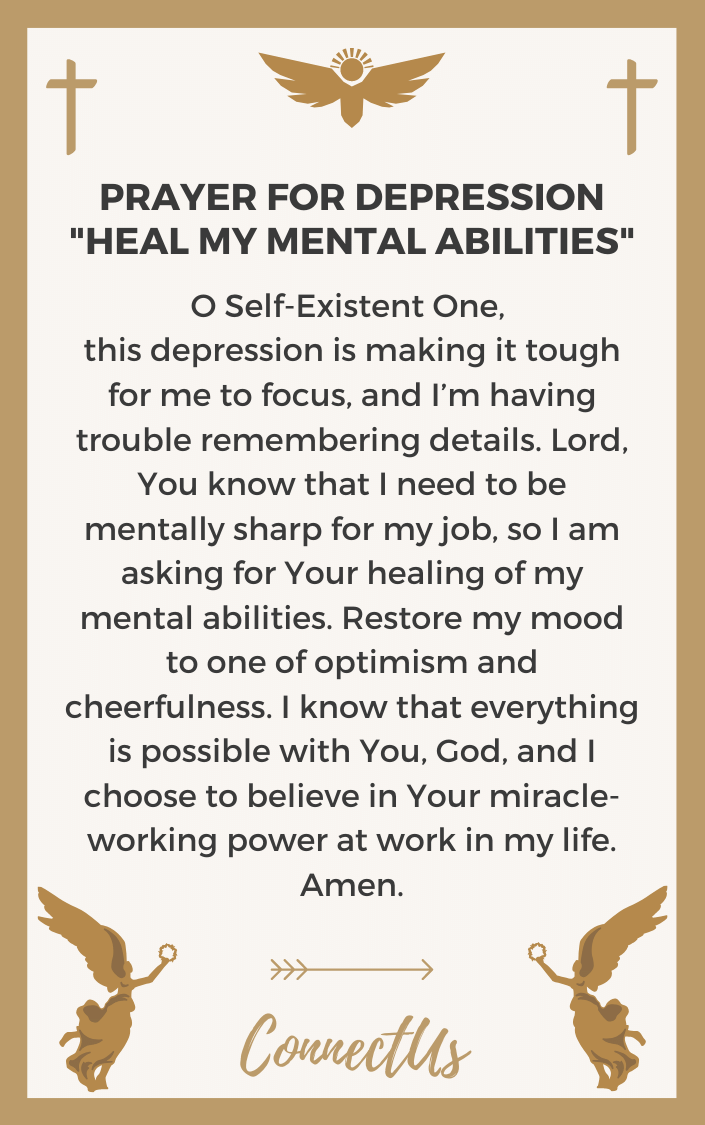 Prayer for Energy
My Unchanging God, I'm asking for Your aid in being intentional about things I can do to lift my mood, such as exercising, volunteering, and getting outside. I know that these activities will help pull me out of depression, and yet I lack the energy. Lord, provide the discipline, the will-power, and the energy that I need to be proactive about subduing depression. Amen.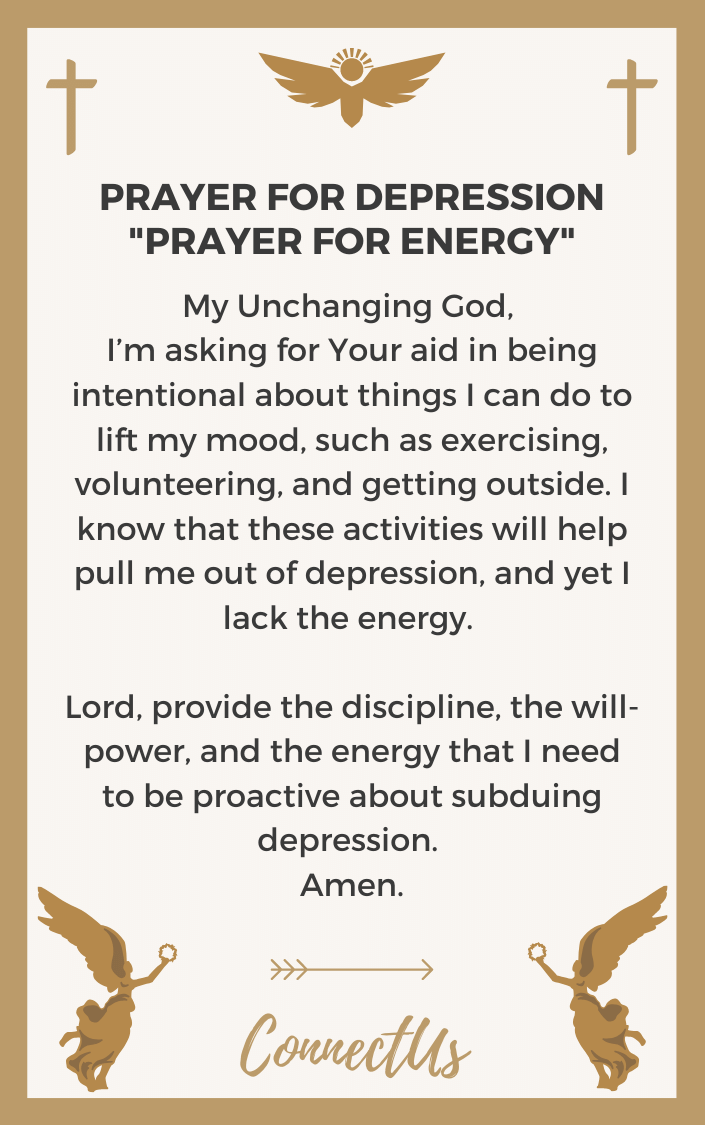 Prayer for Overwhelming Victory
O Lord, my spirits are at rock-bottom, please raise me up. Holy Spirit, teach me to pray with faith which counts on the answer of God. Help me remember that nothing can separate me from Your love, neither my fears for today nor my worries for tomorrow. Help me take action on the sure confidence that overwhelming victory is mine through Christ who loves me. Amen.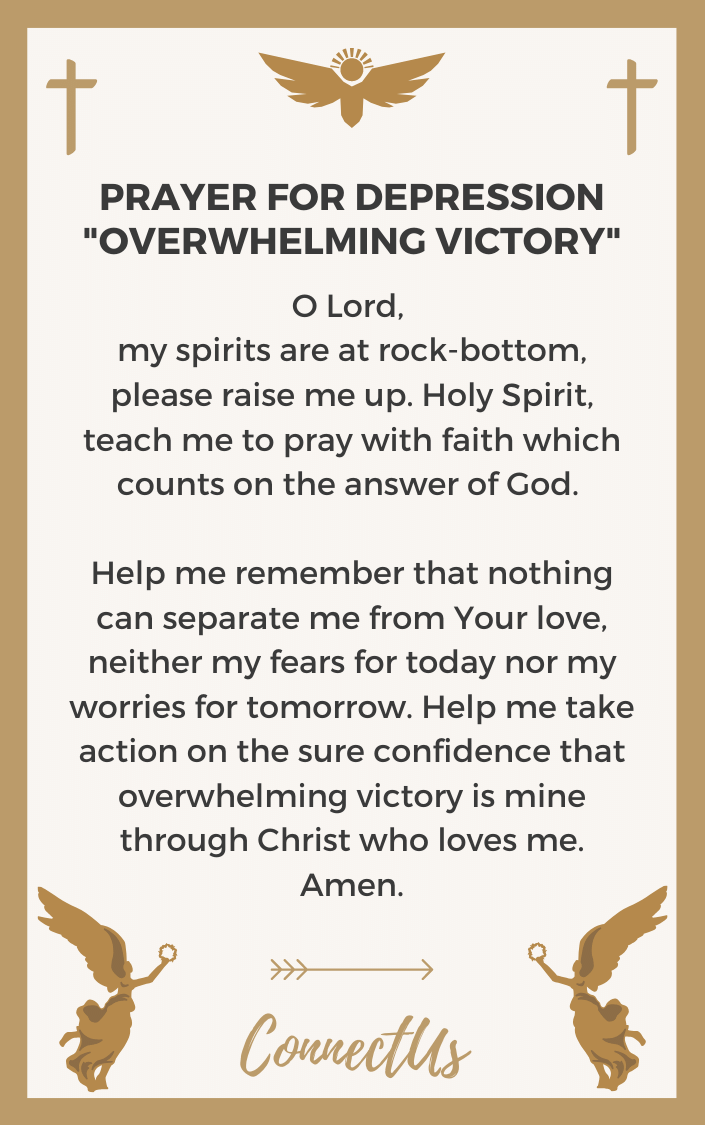 Most Popular Prayers by Topic
For Hard Times
For Financial Prosperity
For Physical Health
For Emotional Health
For Protection
For a Marriage
For Babies and Pregnancy
For Family
For Spiritual Warfare
For Spiritual Health
For a Death
For the Workplace
For Bedtime
Our 10 week prayer journal will guide you through your daily prayers and help you plan out your prayer week. It is completely free. You can
click here to get it now
.

Author Bio
Natalie Regoli is a child of God, devoted wife, and mother of two boys. She has a Masters Degree in Law from The University of Texas. Natalie has been published in several national journals and has been practicing law for 18 years.