Here are the 40 most compelling Bible scriptures on honesty.
Proverbs 12:22
Lying lips are an abomination to the Lord, but those who act faithfully are his delight.
Proverbs 19:1
Better is a poor person who walks in his integrity than one who is crooked in speech and is a fool.
John 8:32
"And you will know the truth, and the truth will set you free."
2 Corinthians 8:21
For we aim at what is honorable not only in the Lord's sight but also in the sight of man.
Proverbs 11:3
The integrity of the upright guides them, but the crookedness of the treacherous destroys them.
1 John 3:18
Little children, let us not love in word or talk but in deed and in truth.
1 Peter 2:12
Keep your conduct among the Gentiles honorable, so that when they speak against you as evildoers, they may see your good deeds and glorify God on the day of visitation.
2 Corinthians 4:2
But we have renounced disgraceful, underhanded ways. We refuse to practice cunning or to tamper with God's word, but by the open statement of the truth we would commend ourselves to everyone's conscience in the sight of God.
2 Corinthians 7:2
Make room in your hearts for us. We have wronged no one, we have corrupted no one, we have taken advantage of no one.
2 Kings 12:15
And they did not ask an accounting from the men into whose hand they delivered the money to pay out to the workmen, for they dealt honestly.
2 Timothy 2:15
Do your best to present yourself to God as one approved, a worker who has no need to be ashamed, rightly handling the word of truth.
Acts 24:16
So I always take pains to have a clear conscience toward both God and man.
Colossians 3:9
Do not lie to one another, seeing that you have put off the old self with its practices.
Ephesians 4:15
Rather, speaking the truth in love, we are to grow up in every way into him who is the head, into Christ.
Ephesians 4:25
Therefore, having put away falsehood, let each one of you speak the truth with his neighbor, for we are members one of another.
Ephesians 4:28
Let the thief no longer steal, but rather let him labor, doing honest work with his own hands, so that he may have something to share with anyone in need.
Exodus 20:16
"You shall not bear false witness against your neighbor."
Hebrews 13:18
Pray for us, for we are sure that we have a clear conscience, desiring to act honorably in all things.
James 1:26
If anyone thinks he is religious and does not bridle his tongue but deceives his heart, this person's religion is worthless.
John 14:6
Jesus said to him, "I am the way, and the truth, and the life. No one comes to the Father except through me."
Leviticus 19:11
"You shall not steal; you shall not deal falsely; you shall not lie to one another."
Leviticus 19:35
"You shall do no wrong in judgment, in measures of length or weight or quantity."
Luke 16:10
"One who is faithful in a very little is also faithful in much, and one who is dishonest in a very little is also dishonest in much."
Luke 6:31
"And as you wish that others would do to you, do so to them."
Matthew 5:37
"Let what you say be simply 'Yes' or 'No'; anything more than this comes from evil."
Matthew 7:12
"So whatever you wish that others would do to you, do also to them, for this is the Law and the Prophets."
Philippians 4:8
Finally, brothers, whatever is true, whatever is honorable, whatever is just, whatever is pure, whatever is lovely, whatever is commendable, if there is any excellence, if there is anything worthy of praise, think about these things.
Proverbs 10:9
Whoever walks in integrity walks securely, but he who makes his ways crooked will be found out.
Proverbs 11:1
A false balance is an abomination to the Lord, but a just weight is his delight.
Proverbs 12:17
Whoever speaks the truth gives honest evidence, but a false witness utters deceit.
Proverbs 16:11
A just balance and scales are the Lord's; all the weights in the bag are his work.
Proverbs 16:13
Righteous lips are the delight of a king, and he loves him who speaks what is right.
Proverbs 16:28
A dishonest man spreads strife, and a whisperer separates close friends.
Proverbs 16:8
Better is a little with righteousness than great revenues with injustice.
Proverbs 20:23
Unequal weights are an abomination to the Lord, and false scales are not good.
Proverbs 21:3
To do righteousness and justice is more acceptable to the Lord than sacrifice.
Proverbs 28:18
Whoever walks in integrity will be delivered, but he who is crooked in his ways will suddenly fall.
Proverbs 28:6
Better is a poor man who walks in his integrity than a rich man who is crooked in his ways.
Proverbs 4:25
Let your eyes look directly forward, and your gaze be straight before you.
Psalm 51:6
Behold, you delight in truth in the inward being, and you teach me wisdom in the secret heart.
More Bible Verses that Will Move You
50 Most Powerful Scriptures on Faith
60 Transcendent Verses on Trust
50 Strong Scriptures on Perseverance
68 Powerful Verses on Forgiveness
40 Uplifting Scriptures on Patience
Add Our Infographic Below to Your Pinterest Board
Hit the pin button below to add our infographic, with all the verses, to one of your Pinterest boards.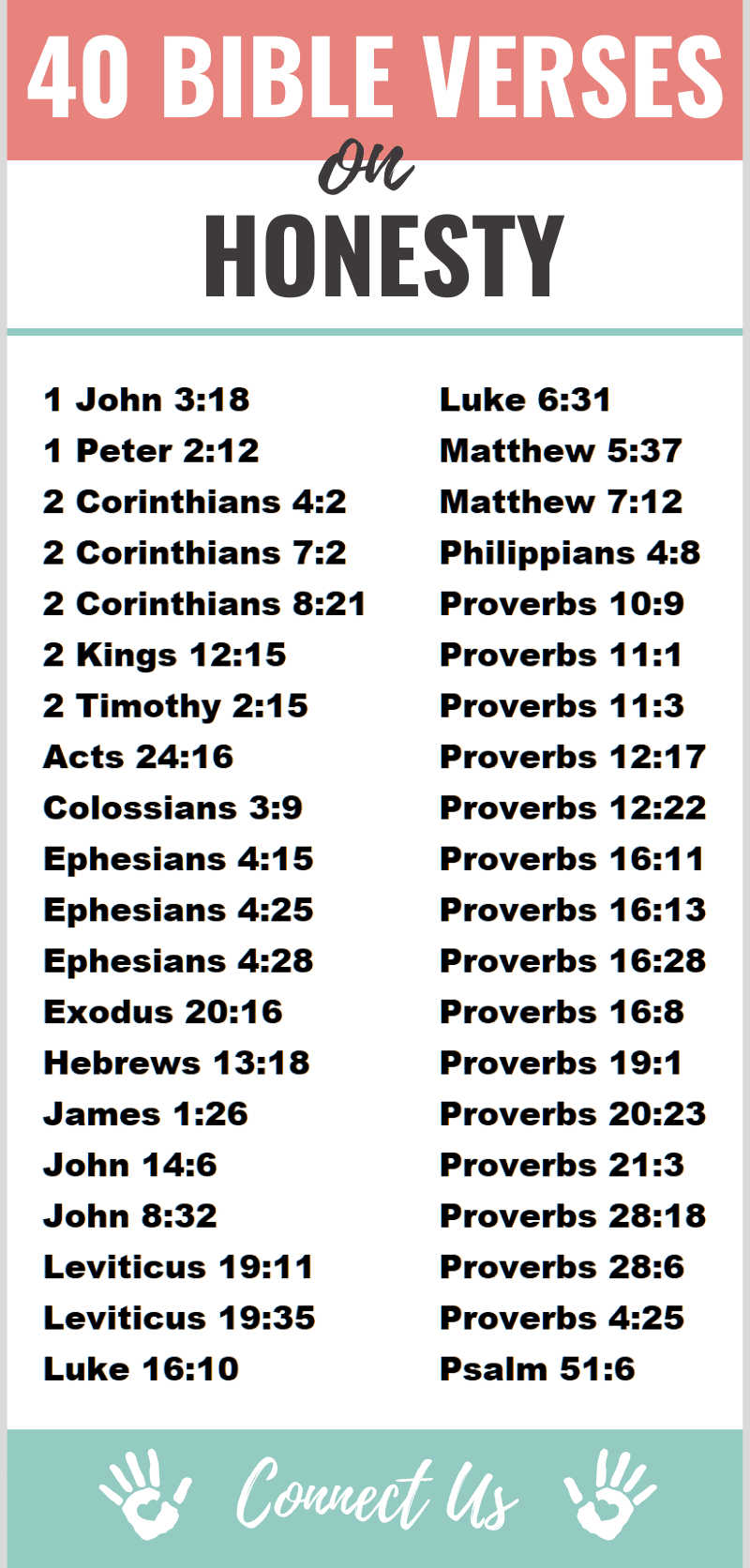 Author Bio
Natalie Regoli is a child of God, devoted wife, and mother of two boys. She has a Master's Degree in Law from The University of Texas. Natalie has been published in several national journals and has been practicing law for 18 years.