Here are the 25 most uplifting prayers for fast recovery. Along with the prayers are printable images for you to use or share.
Remove Impurities Prayer
Heavenly Father, I come before you glorifying and exalting your holy name. You are our healer, our restorer, and our comfort in our weak moments. I ask for your mighty touch at this time of recovery. Give me the strength to persevere through the bodily pains I am having. Quicken my recovery. Renew all the cells of my organs. Remove all the impurities in my body. Make me whole again. Be my peace and my hope. Amen.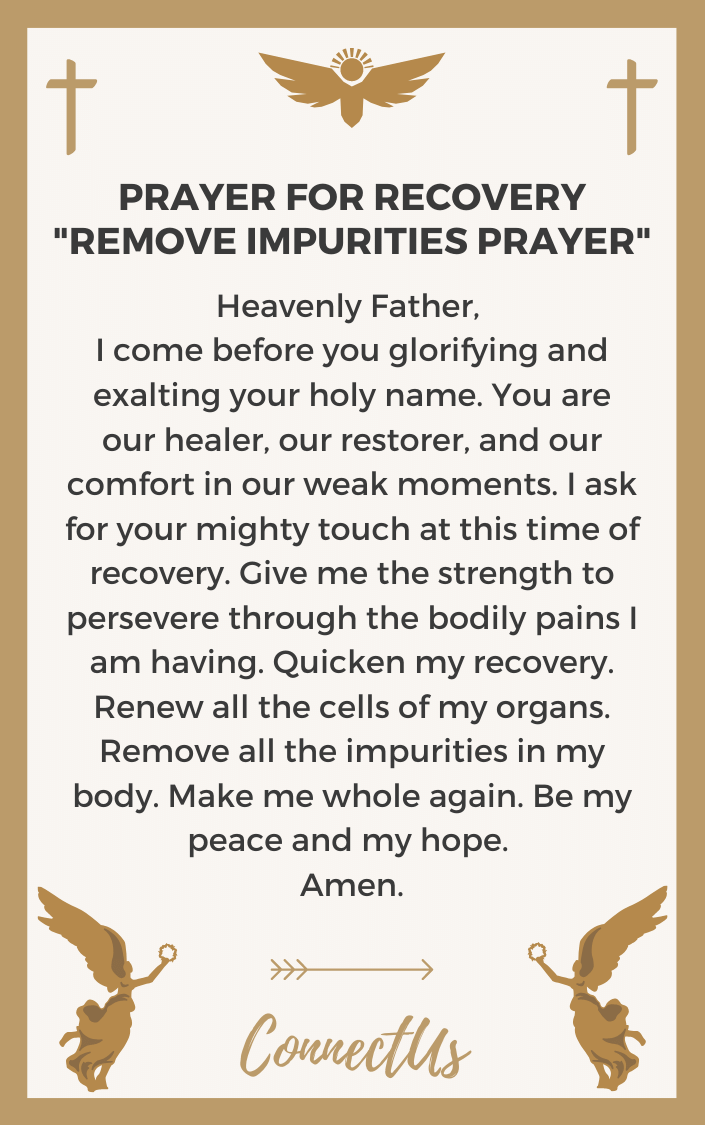 By His Blood Prayer
King of kings, I bow down before you seeking your healing power in my life. Thank you for your son, Jesus Christ, whose blood took away our inequities and our sicknesses. By His blood, we are healed. In this time of recovery from an illness, I ask that you may restore my appetite. Restore the strength in my bones. Take my pain away. Let my body regain its normal functioning, both externally and internally. My trust is in you. Amen.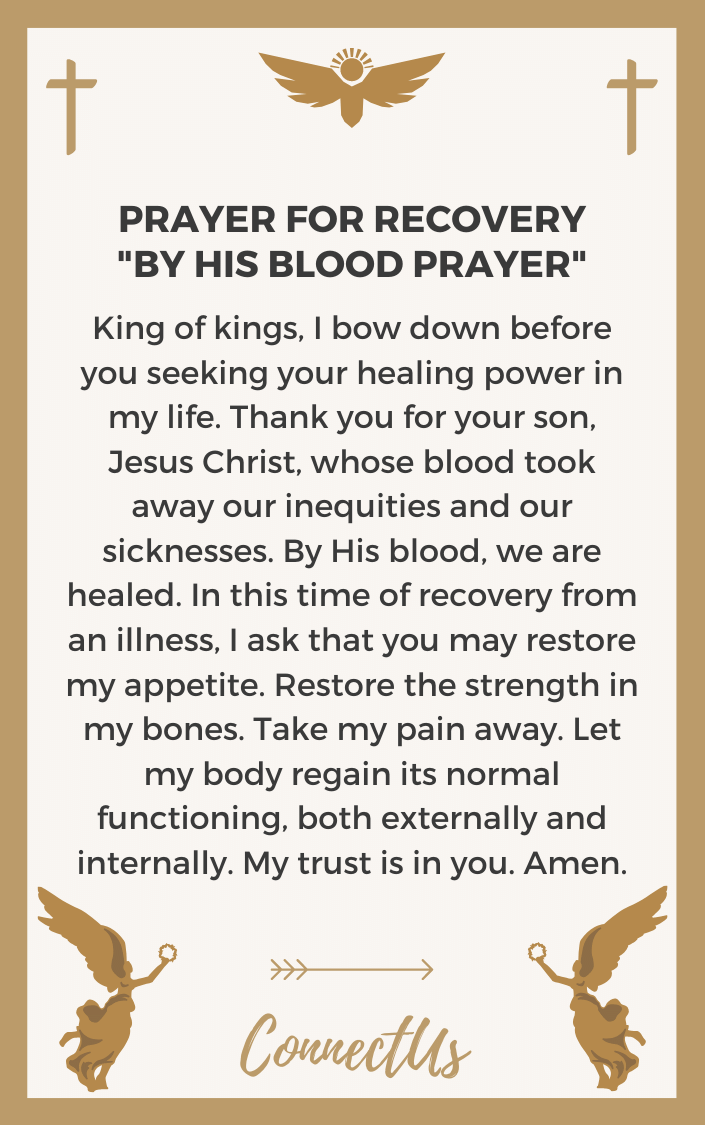 Mental Health Prayer
Heavenly Father, we humble ourselves before you praying for all people suffering from mental illnesses. Mental health is a very sensitive illness, there are no external signs and symptoms. Most people suffer in silence. The recovery process is normally long and unguaranteed. But in you, nothing is impossible. Let their minds see a new world and in a new way. Restore their sanity. Let your strength and your peace take them through their recovery. Guide their thoughts to be always positive and self-reassuring. Amen.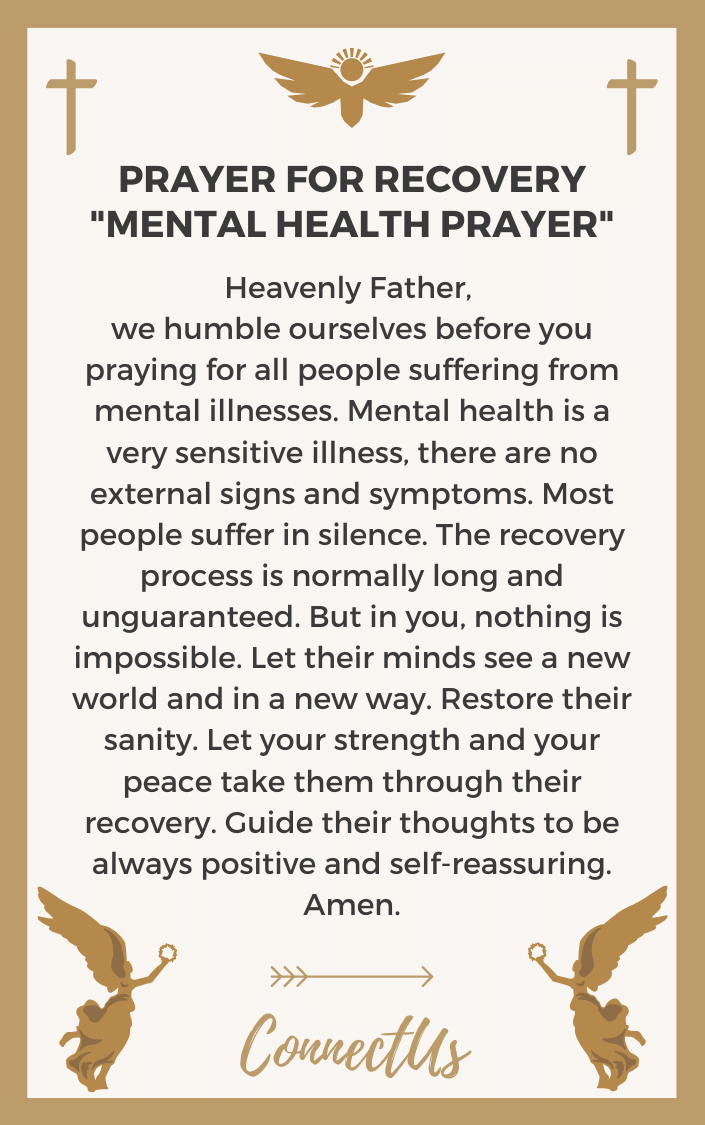 Accident Prayer
Everlasting Father, I bow down before you asking for your mighty intervention in the recovery of people who had been involved in accidents. Restore their health. You are the giver and the taker of life and you saved them so that they can serve the purpose you've called them to serve on earth. Let them glorify you, for they have seen your mighty hand at work. May they get well soon and resume their normal lives. Amen.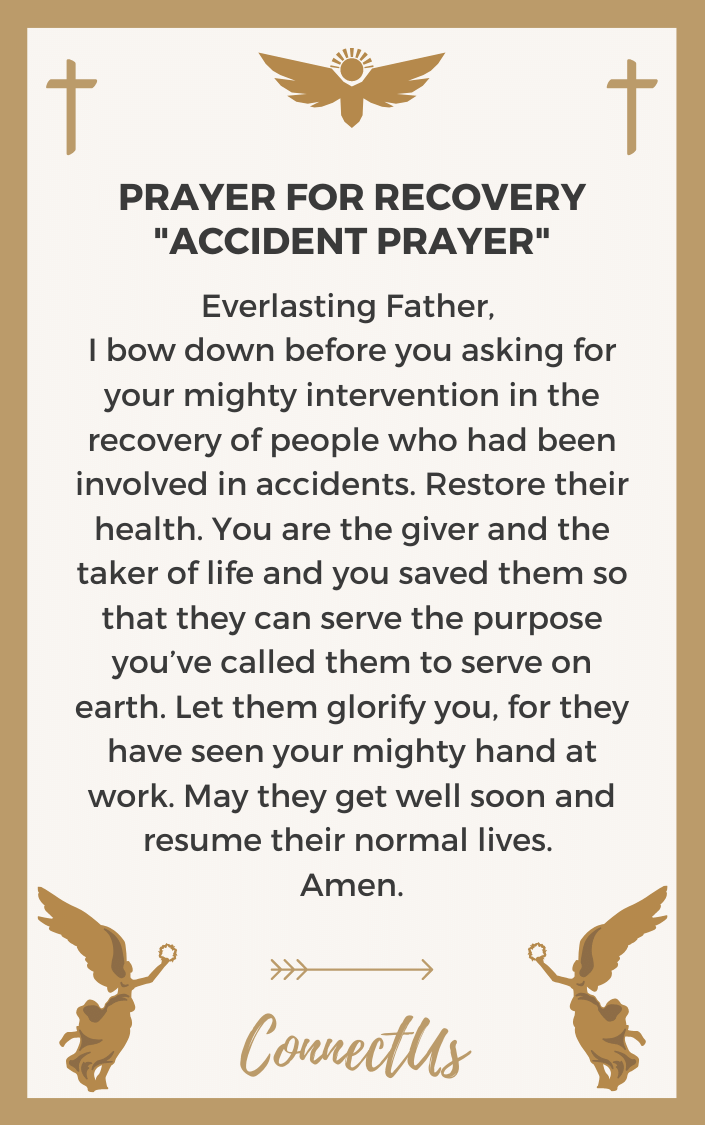 New Creation Prayer
Jesus Christ, you took upon yourself our transgressions and our diseases on the cross so that we may be set free. Thank you. In your powerful name, we are healed, we are forgiven, and we are new creations. We ask you to lend us a shoulder to lean on as we recover from our past addictions, our shame and guilt, our fears and anxieties, and our sicknesses. Let our focus be on your finished work on the cross. Amen.
Addiction Prayer
Eternal Father, we are on our knees praying for the fast recovery of addicts at rehabilitation centers, hospitals, and homes. You are the one who has detached them from their addictions. Hold their hands lest they fall back into addiction. Give them the strength to stand firm and resist their urges. Open their eyes to see the goodness around them in a sober state. Open their ears to listen to the testimonies of people who've overcome addictions of all kinds. Lead them on their journey to recovery. Amen.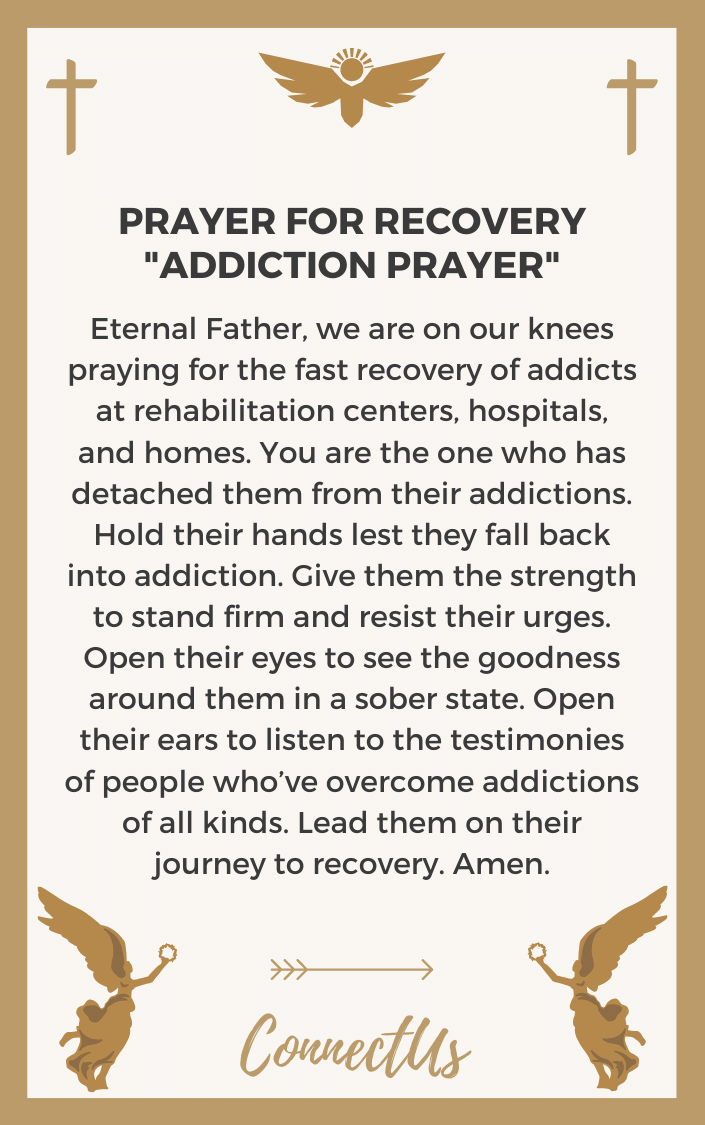 Perfect Timing Prayer
Holy Spirit, I come before you seeking comfort during my recovery period. I feel stagnant. I am not seeing any progress. Come to my rescue. I desire to get my life running as usual again. Intervene for my fast recovery. I know that God has perfect timing for everything; let my heart find rest in His promises. Fill my heart with the unending love of God that I may find peace. Amen.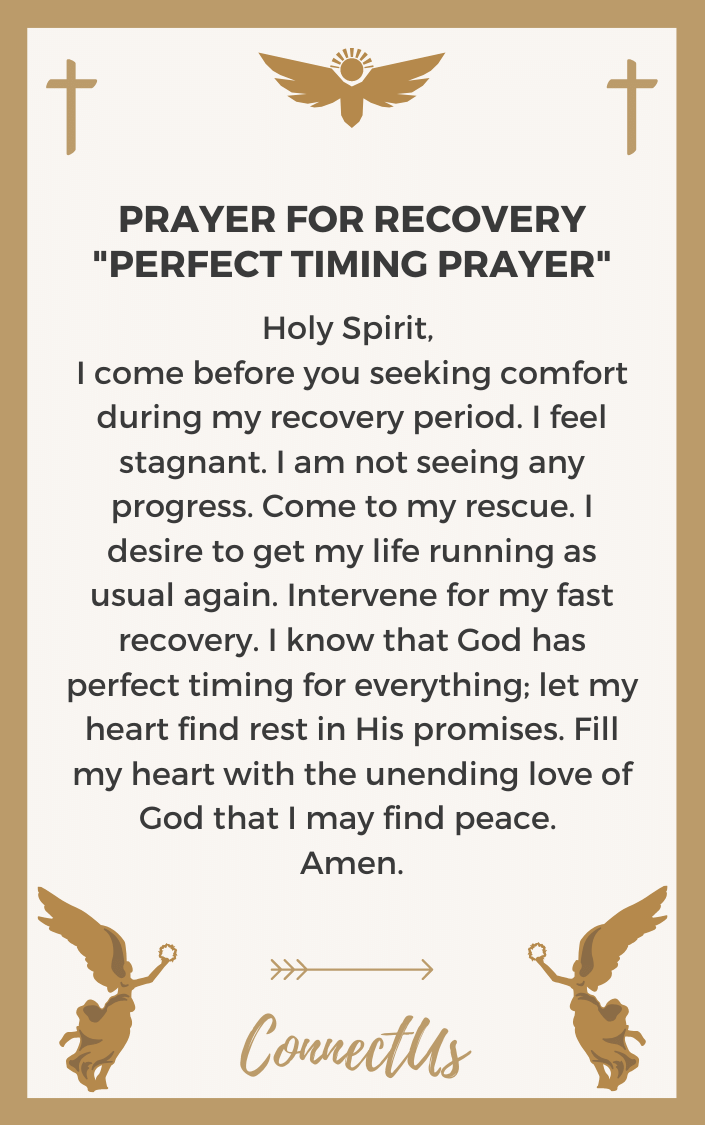 Guidance Prayer
Mighty God, thank you for your love which endures forever. Your mercies are new every morning; your grace is sufficient in my life. I stand before you asking for your guidance in my recovery journey. I have been sick and I have seen and felt your hand of healing; thank you. Give me wisdom and obedience to follow the instructions given by the doctors. Give me the strength I need to endure to the finish line. Be my source of hope, Lord. Amen.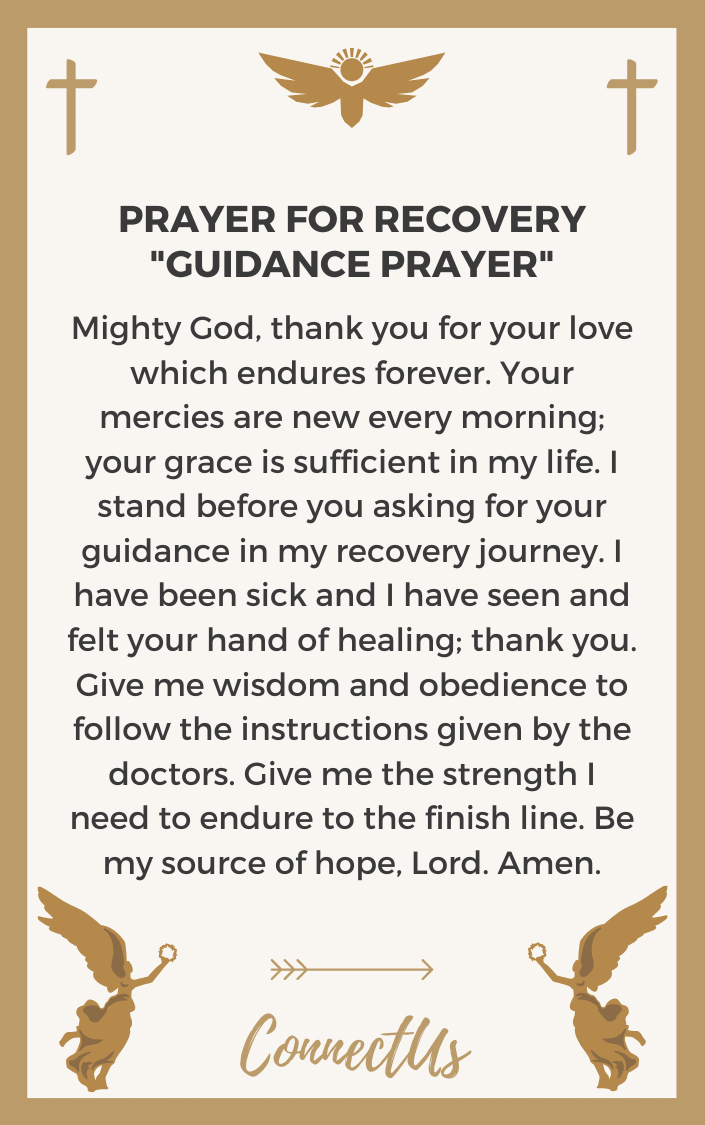 Search for Peace Prayer
Son of God, we come before you searching for peace. It cannot be found elsewhere but in you. Let me find rest in you. Let your love search through my soul and cleanse it. Give me hope that I will recover soon and I will get back to serving you the way you desire. Restore my health. Restore my spirit. Restore my faith. I depend on you for my full and fast recovery. Amen.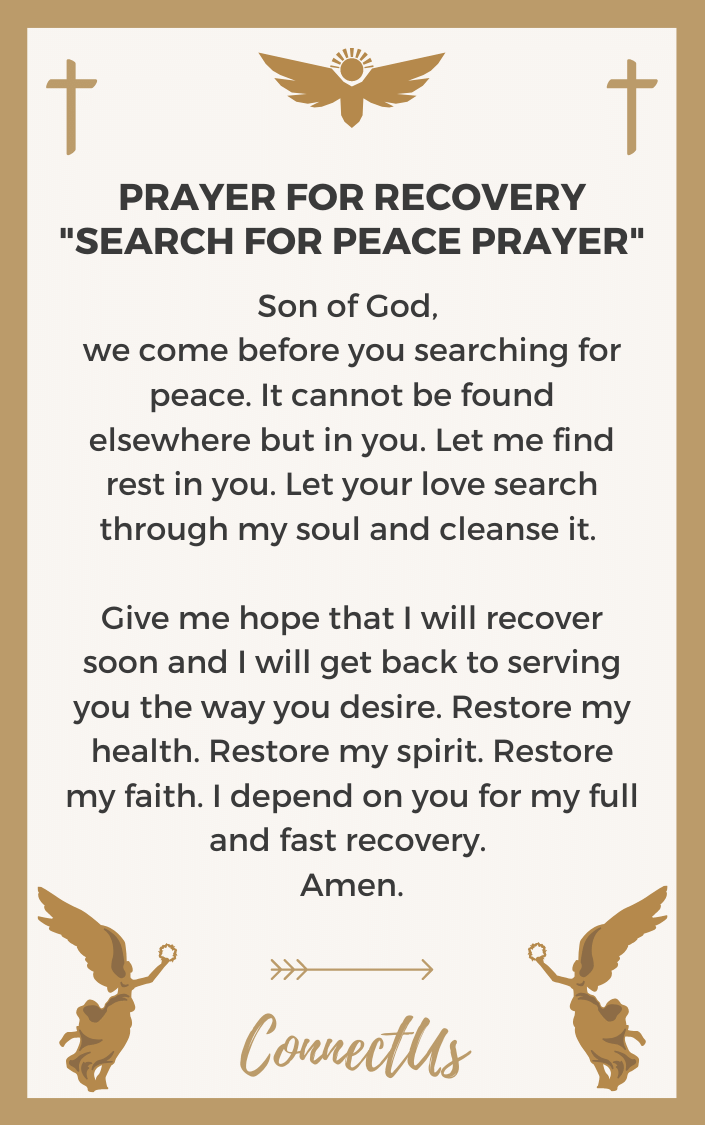 Heal My Wounds Prayer
God in heaven, I bow down before you with thanksgiving for how far you've brought me. You've been by my side all through my struggles. I trust you in my recovery that you will go before me and make rough places smooth. I pray that you may heal all my wounds. Allow my body to function the way you intended it to function. Let your healing search through my body and fix every abnormal cell. Help me recover well and quickly according to your will. Amen.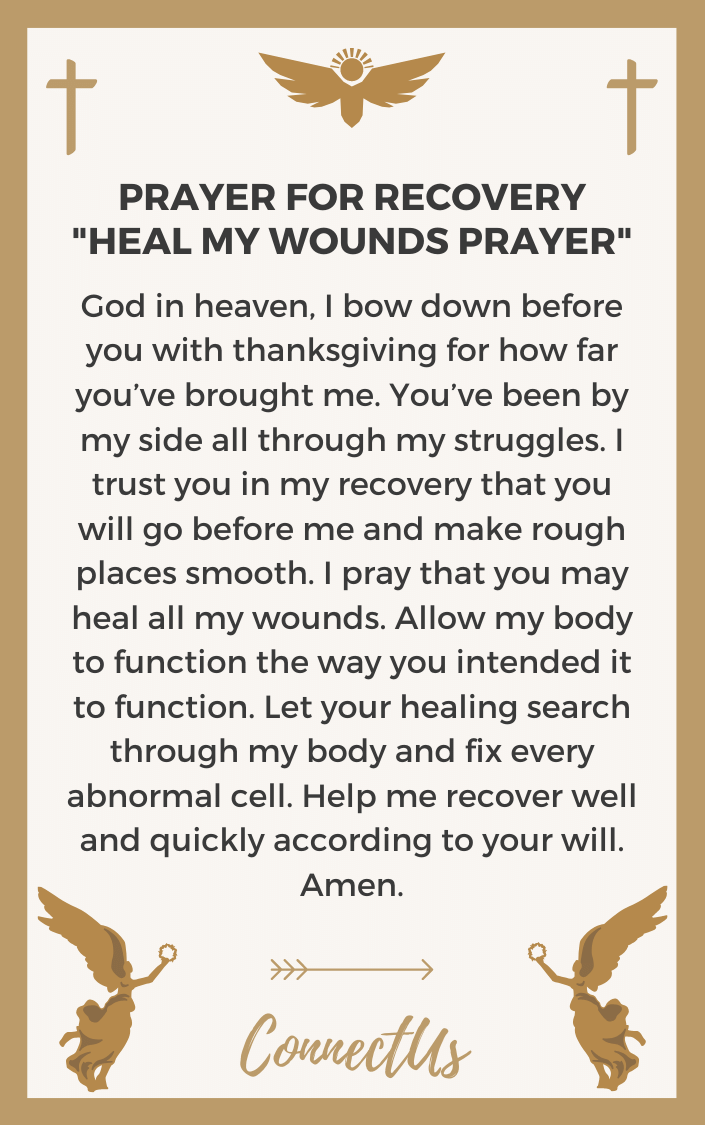 Sing Your Praises Prayer
Everlasting King, I am on my knees asking for your peace in this time of recovery. Let my heart sing your praises, for I know that you are my healer and my restorer. My faith is firmly grounded on you. I fully trust in your healing power. I know that with you, all my pains and my fears will be gone. Help me get well soon. Amen.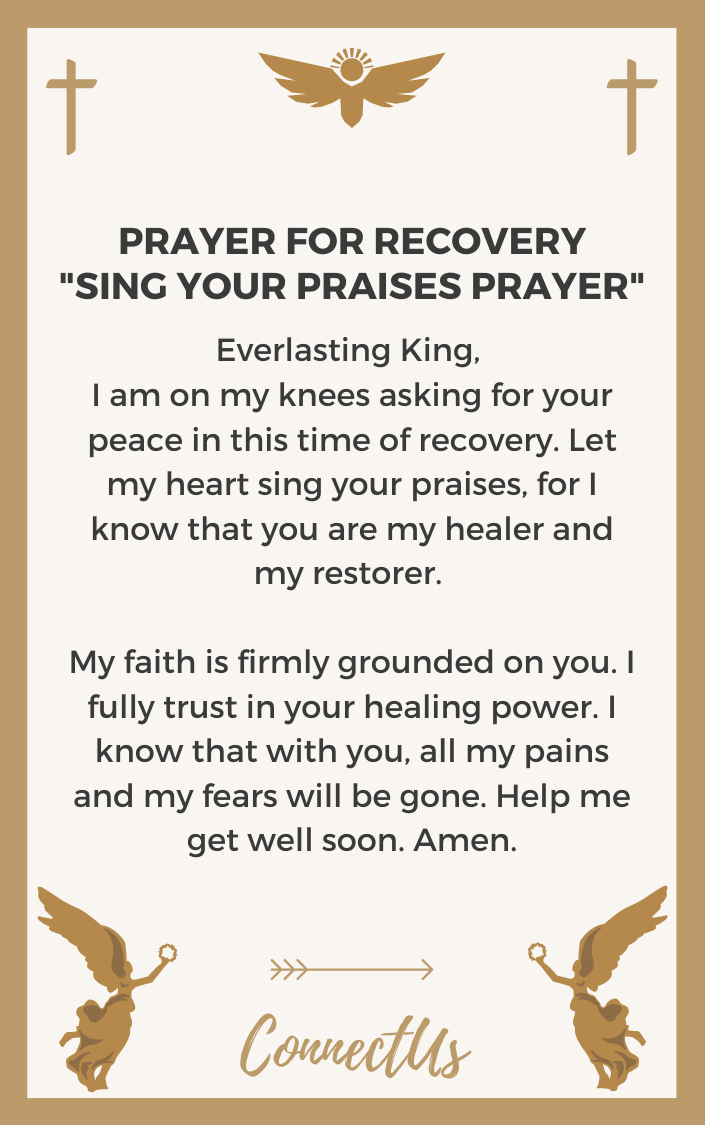 Faithfulness Prayer
Gracious Lord, I submit all my fears and my anxieties to you. I pray that you scatter the crippling thoughts in my head about how difficult my recovery is. Replace them with meditations on your faithfulness and your grace. Help me see that your faithfulness and grace is so abundant in my life. Be my rock as I nurse back my health. Hold my hand and lead me back to perfect health. Nothing is impossible with you. Amen.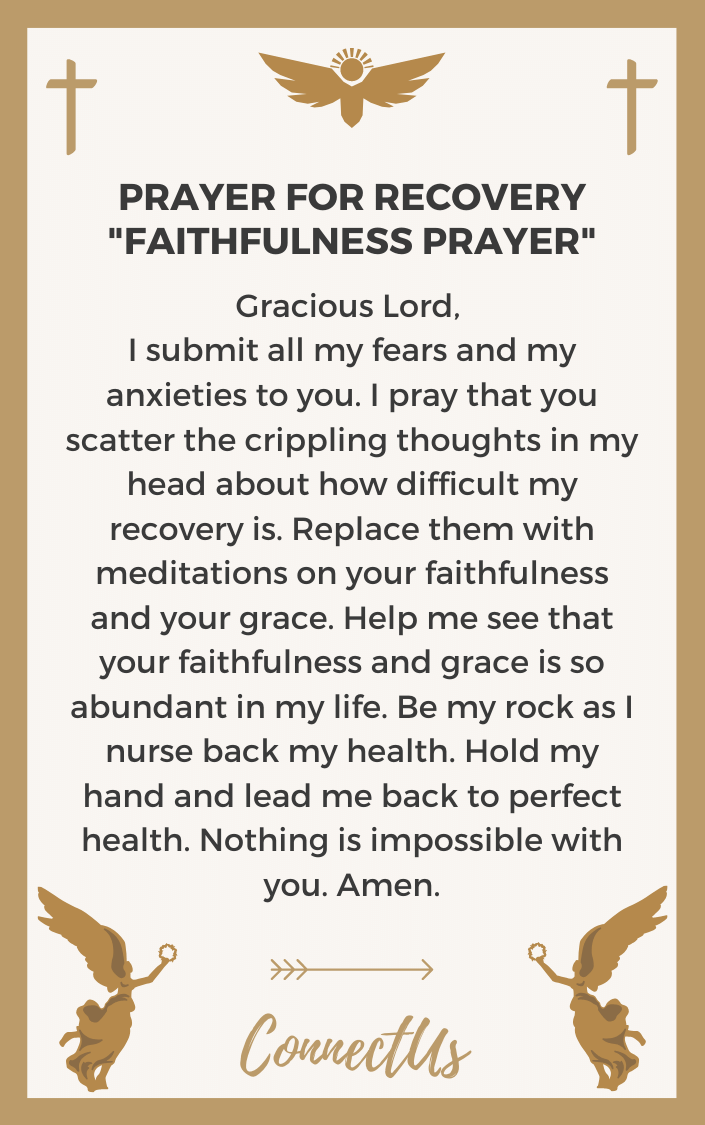 Burdened with Worry Prayer
Lamb of God, I am burdened with worries concerning my health. I cast them all to you because you care. In you, I am whole. By your blood, I am healed. Take charge of my recovery process and renew every ailing cell of my body. Encourage me to stand firm in faith as your healing power runs through my body. You are my true friend, my source of strength, and my resting place. Amen.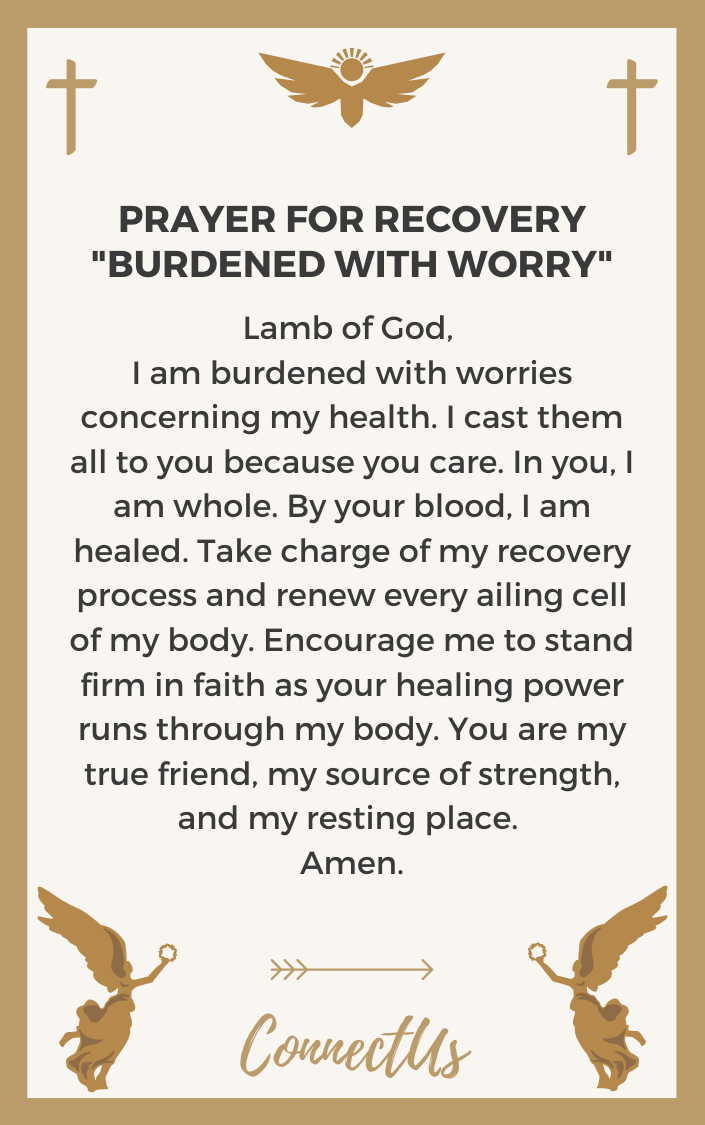 My Trust in You Prayer
God, I bow down before you asking for your help in my mental recovery. I put all my trust in you that you may give me a quick recovery. You were with me when I was lost. When I didn't know who I was, you held my hand. Let my eyes focus on the reward you have for me at the finish line. Help me internalize your promises of sufficient grace and divine healing. My soul relies on your promise of eternal life. Amen.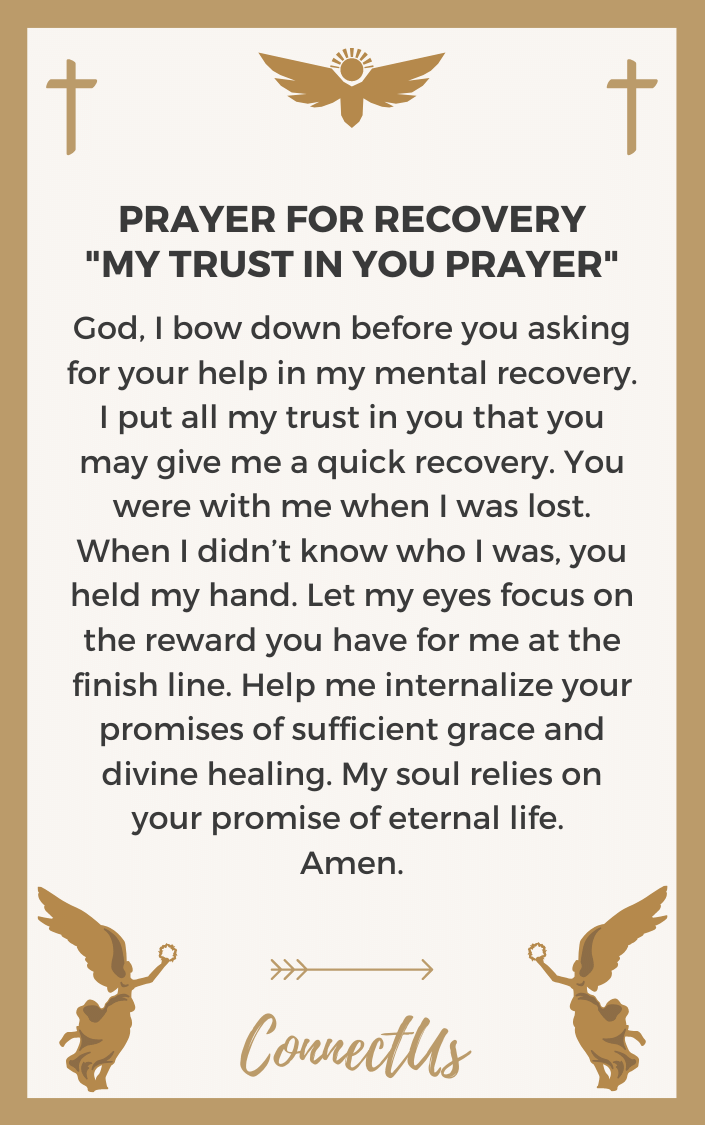 My Restorer Prayer
Almighty King, you are my healer. My trust is in your saving power. Blessed is your name. I declare that with you, all pains, fears, and anxieties are gone. Let your strength keep me going until I fully recover. Let your Holy Spirit comfort me. Keep my eyes fixed on you as my restorer. Help me get well soon. I rebuke the devil's plans to interfere with my progress. Amen.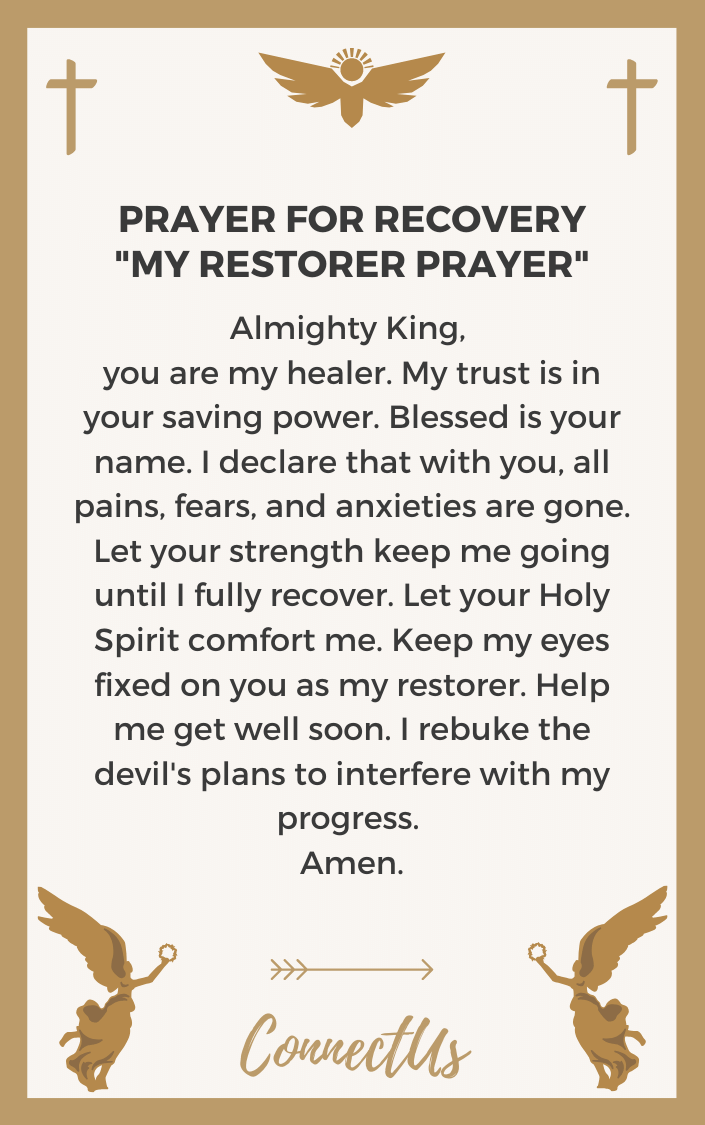 Hear Their Cries Prayer
Sovereign God, we come before you in prayers for those who seek your divine healing. Hear their cries and grant them the desires of their hearts. Let the blood of your son, Jesus Christ, cleanse their souls and cover them so that the devil cannot harm them. Grant them quick recovery so that they can get back to their lives to serve the purpose you've called them to do on this earth. Let their recovery bring glory to you. Amen.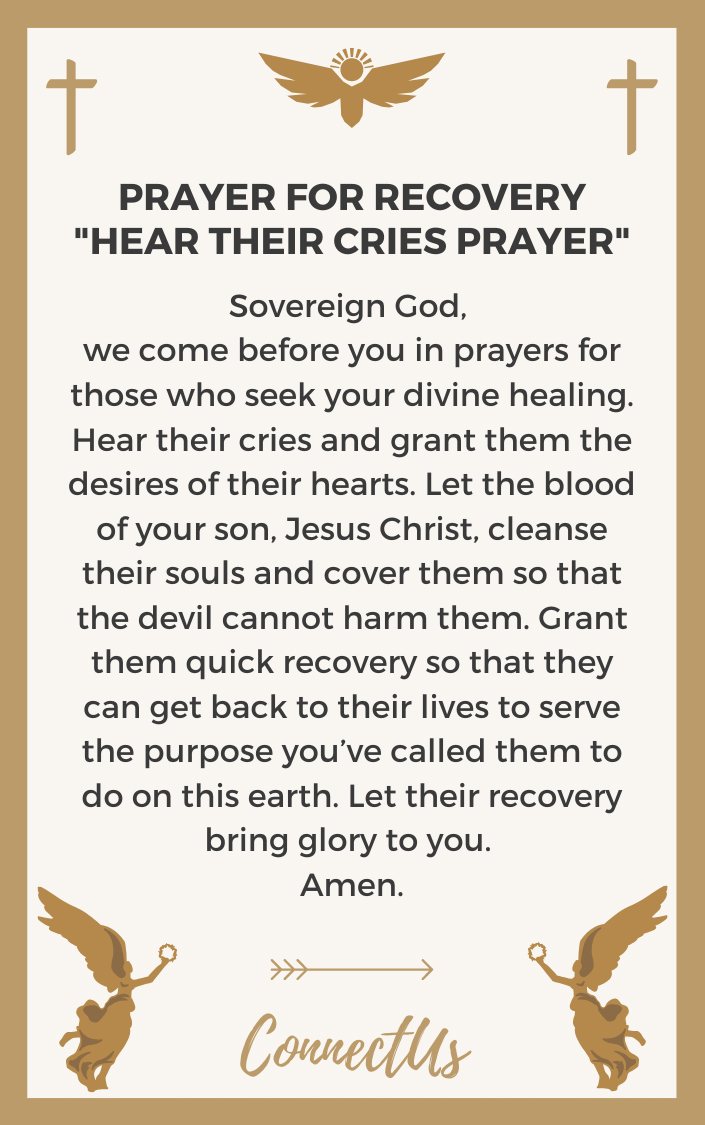 Nourish Our Souls Prayer
Holy Spirit, we welcome you into our hearts. Help us take care of our bodies; they are your temples. Guide us as we strive to keep them pure and pleasing before our Father. Give us the wisdom to know what's good and what's bad. Heal our wounds. Give us a fast recovery from our challenges. Nourish our souls. Give us strength. Be our peace and hope. Amen.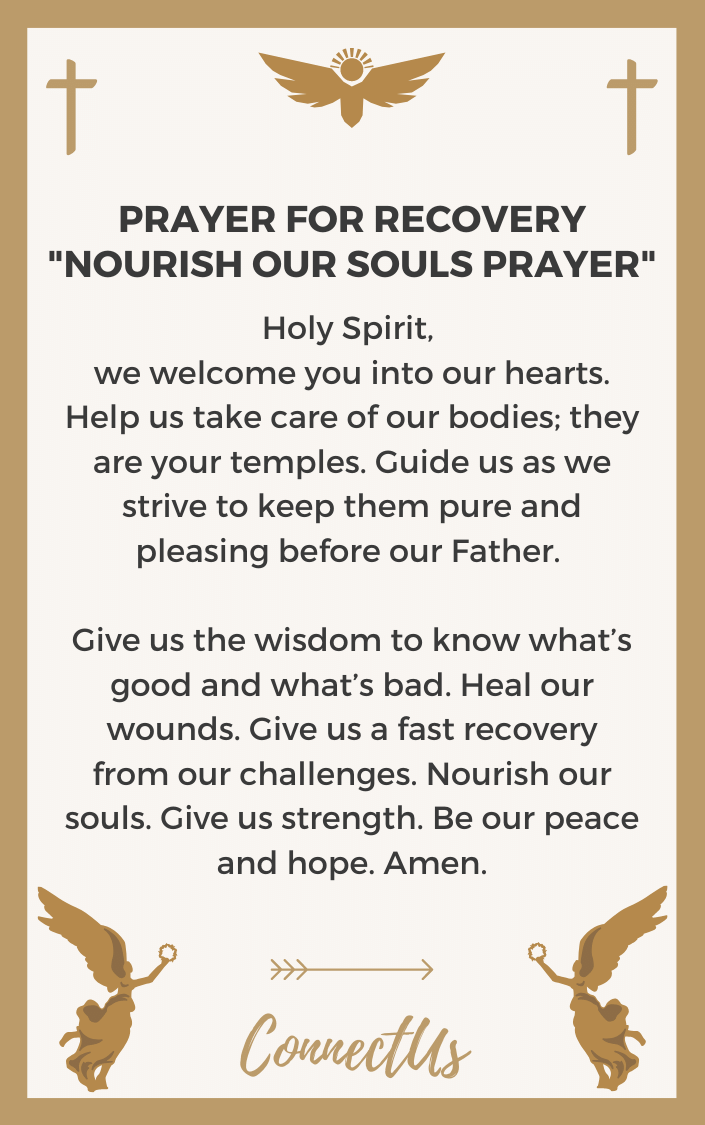 Overcome Prayer
Heavenly Father, I thank you for the gift of good health you've given me. I pray that you help me overcome the small challenges I am facing right now and regain my health. Let the blood of Jesus Christ wash away any doubt concerning your power to deliver divine healing to me. Give me hope of better days ahead. Quicken my recovery so that I may focus on helping others to know you and to accept the true gospel of Jesus Christ. I count on you. Amen.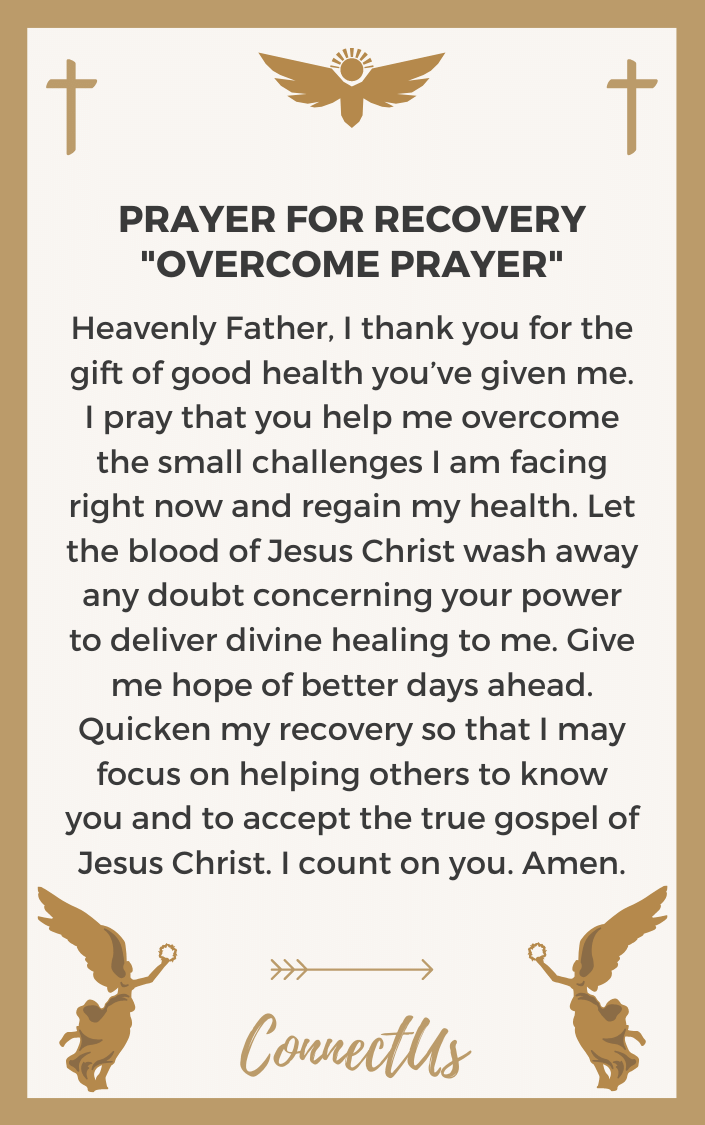 Whole Again Prayer
Almighty God, we acknowledge your presence in our lives as our healer, our defender, our provider, and our protector. Heal our broken hearts. Redeem our souls. Make us whole again, spiritually, physically, and emotionally. Help us get well soon, Lord. Guide our souls to look up to you for all our needs and surrender our self-dependence attitudes. Guard our minds against thinking of other ways of meeting our needs other than from you. Amen.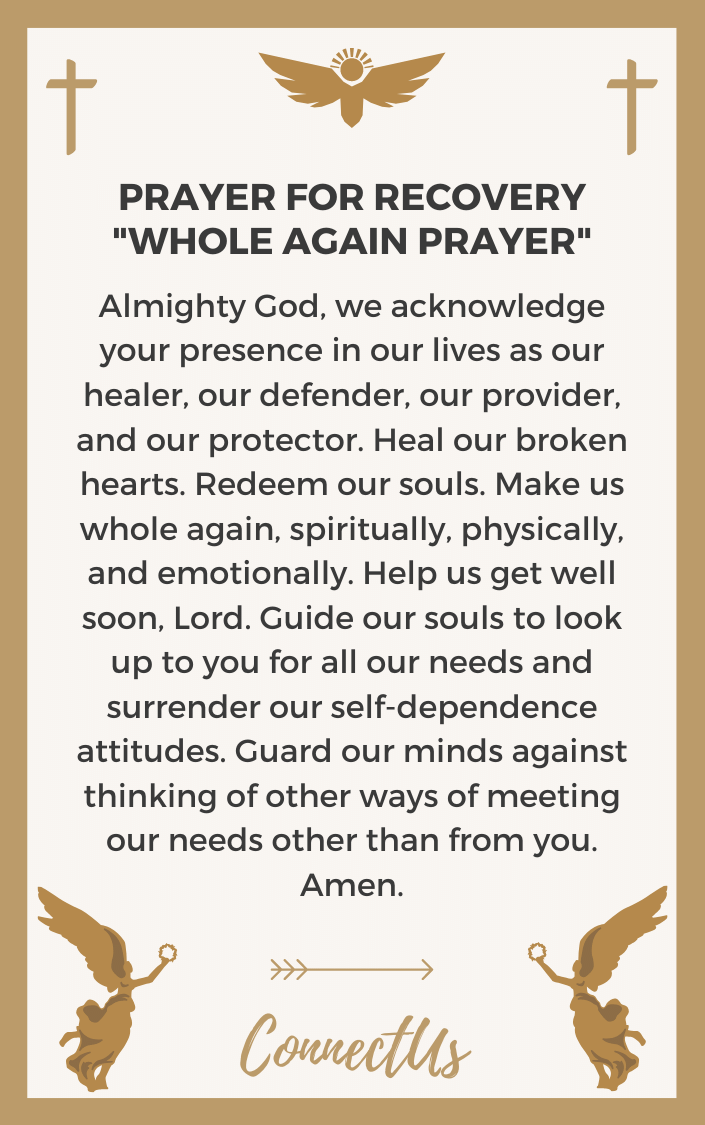 Rejuvenation Prayer
Mighty Father, I bow down before you in this time of recovery after an illness. I am asking for the peace of mind and strength of body to be able to get back to my normal life. I ask for your wisdom to understand that you are my healer and my restorer; you will be with me during these tough times and always. Give me a positive response to the medication I am taking. Rejuvenate my body that I may live a fulfilling life. Help me recover soon. Amen.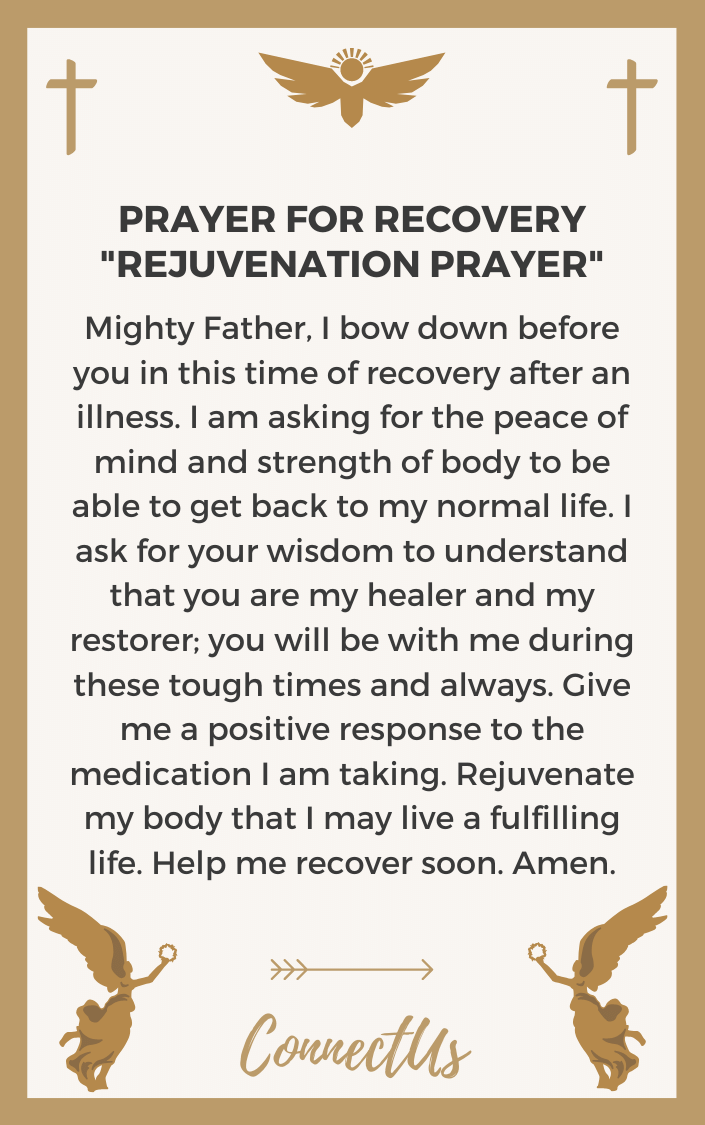 Touch Their Hearts Prayer
Everlasting Father, I come before you with thanksgiving for the divine healing I am experiencing in my life. I now ask for your patience, wisdom, and strength while undergoing the recovery process. Regenerate my cells that I may get well soon. Touch the hearts of my loved ones to offer me emotional, spiritual, and moral support during these times of need. Give them the patience to deal with my needs while I am recovering. Let their hearts be cheerful in helping me. Amen.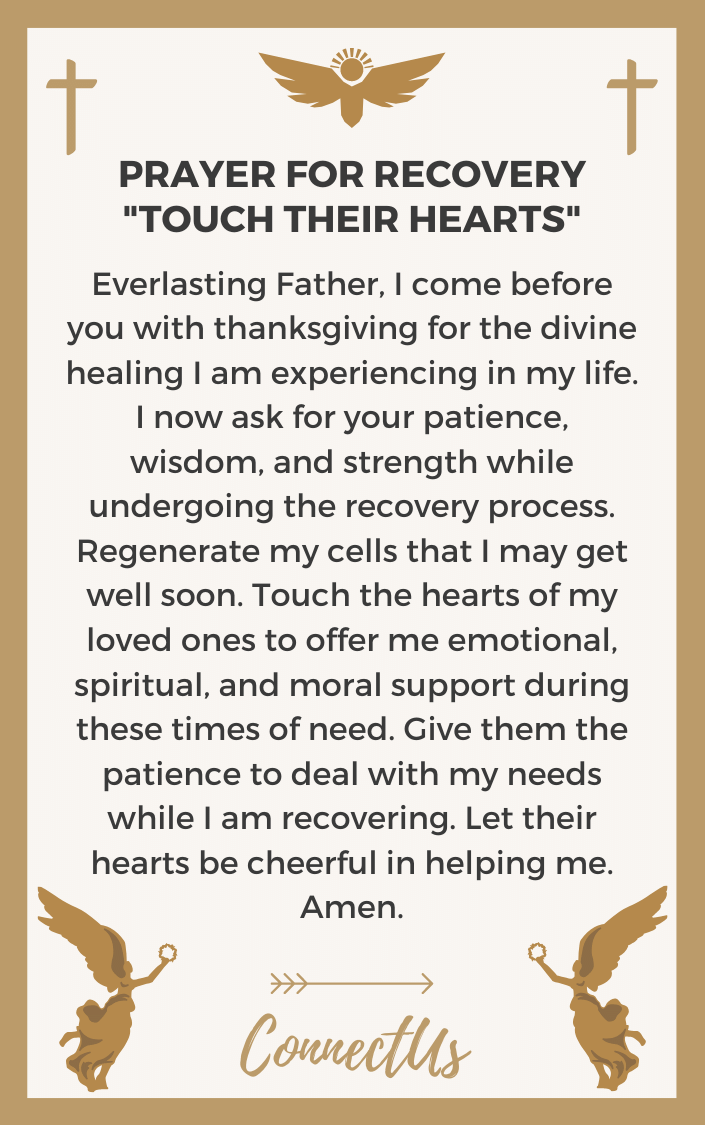 Hold My Hand Prayer
Heavenly King, my heart is full of gratitude for the goodness I've seen in you. You are kind and loving. You are our healer and our redeemer. My heart meditates on your promise of healing and restoration. You are a faithful God. Your peace wins over my restlessness as I recover. Hold my hand as I regain my health. Let the recovery process be smooth and fast, Lord. Amen.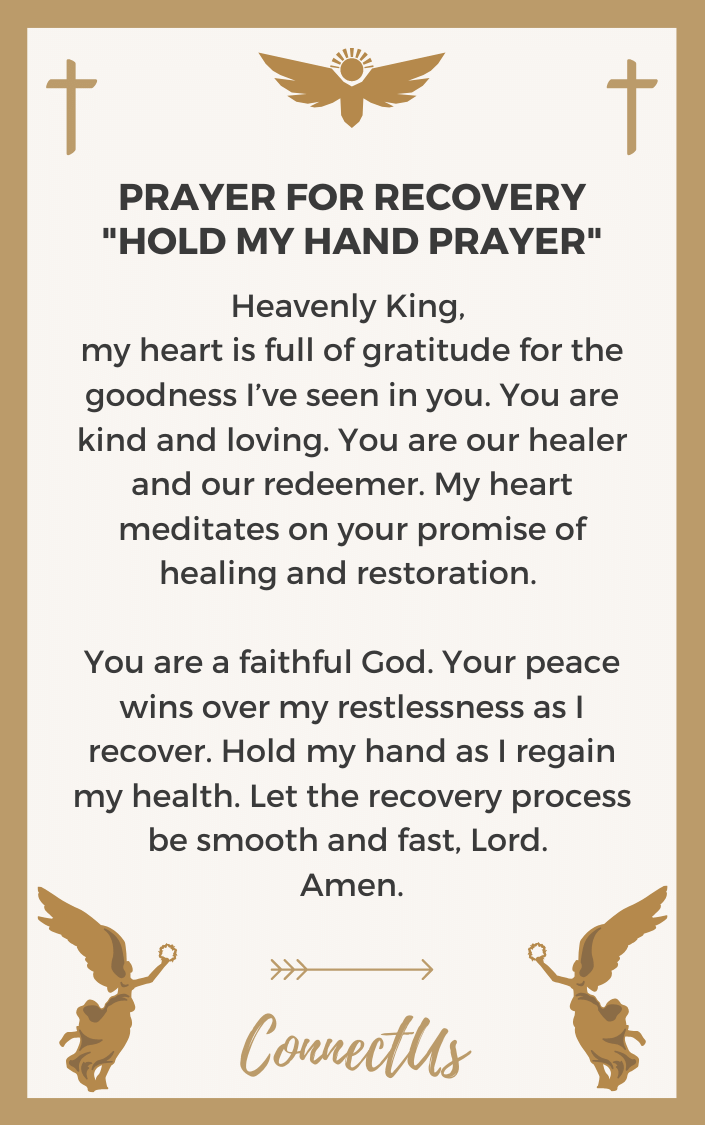 Ease My Pain Prayer
Faithful God, I humble myself before you during these tough times of constant pain. Ease my pain. I ask for your strength and comfort as I take my medication. Revitalize my body and quicken my recovery. Send your Holy Spirit to minister to me on your promises. Let him fill my mind with your peace, which surpasses human understanding. Amen.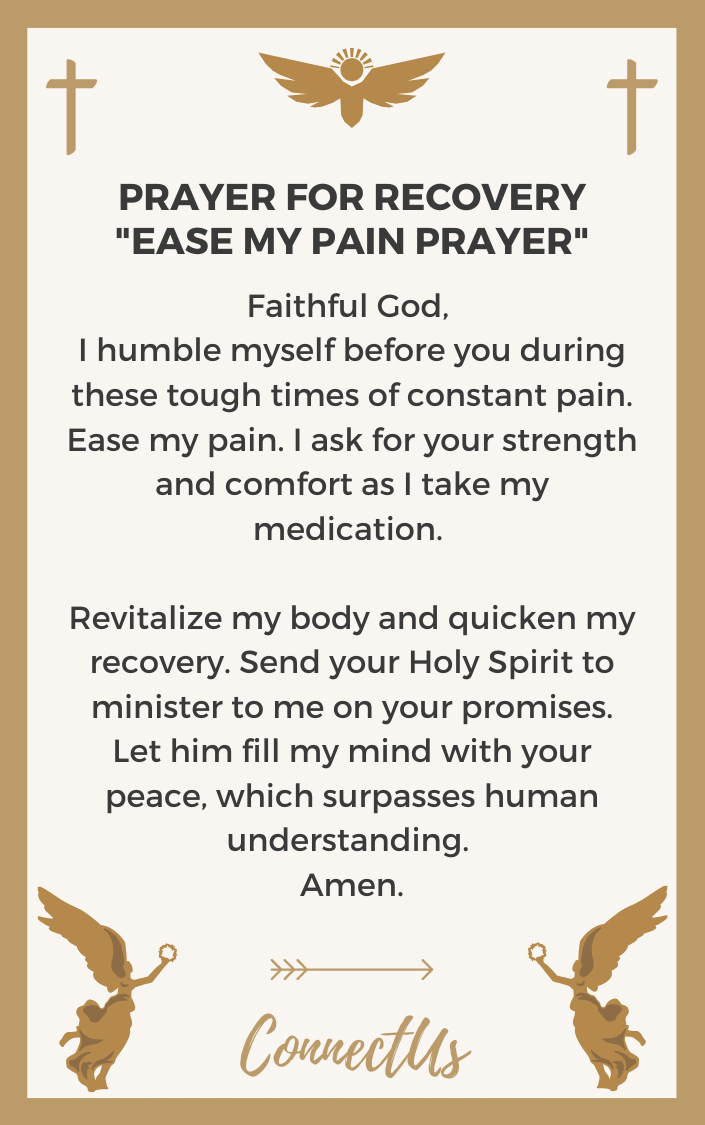 Greatest Physician Prayer
King of kings, I ask for your hand of healing. Touch every sick part of my body. Restore all my physiological processes and make me whole again. Be magnified in me, for you are the greatest physician. You reverse doctors' reports. You heal even the most complicated conditions on earth. Nothing is impossible with you. Speed my recovery. Help me resume my routine soon. Let your will be done in my life. Amen.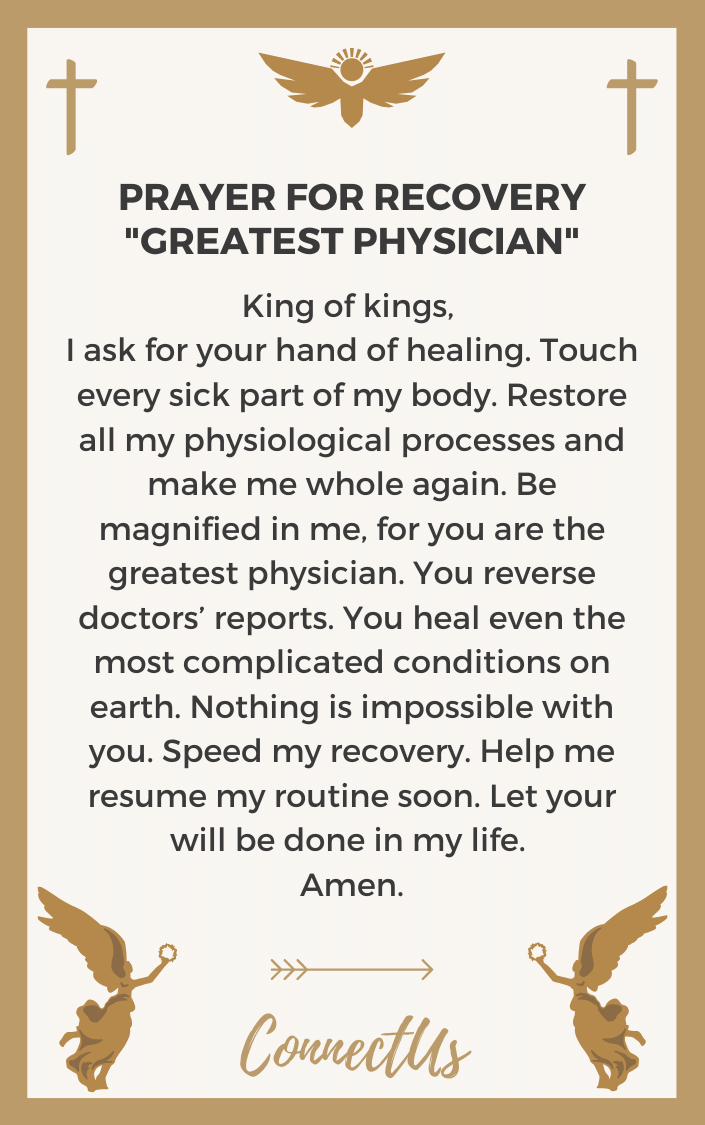 Return to Normalcy Prayer
Lord, I come before you with thanksgiving for the touch of your healing hand. You are the greatest physician among physicians. I pray that I regain full recovery and get back to my normal life soon. My family and friends are waiting for me to get better. They are praying for my recovery. Please answer their prayers, following your will. I bow before you for restoration. Have your way in me, Lord. Amen.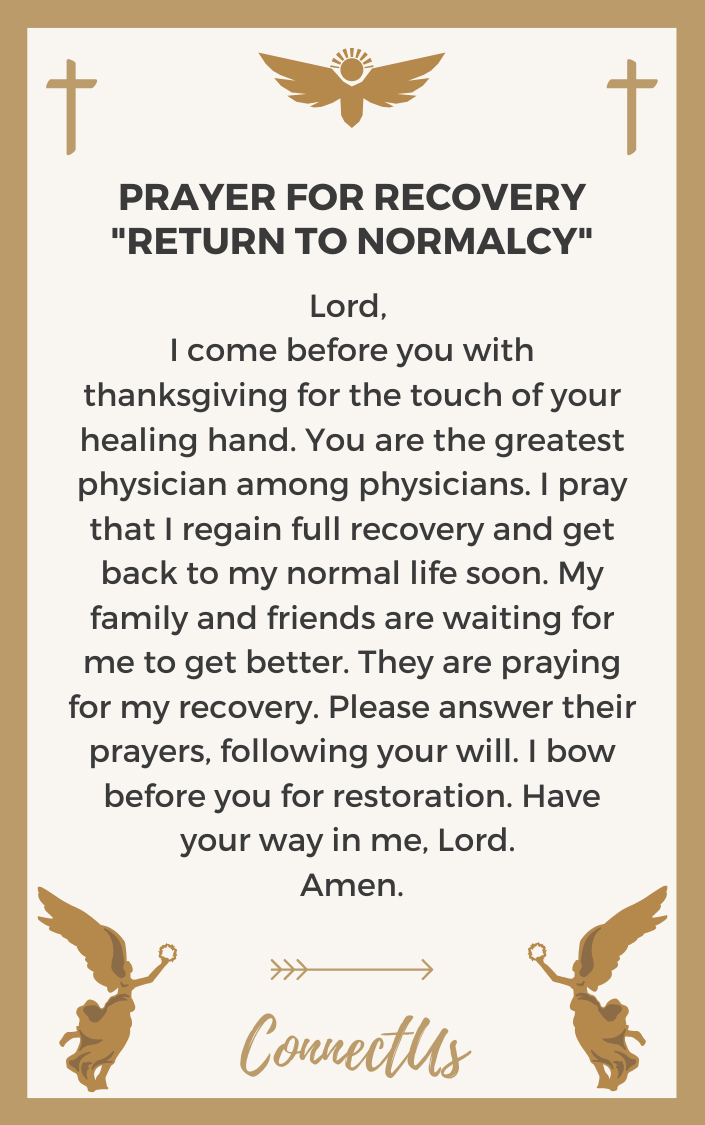 Most Popular Prayers by Topic
For Hard Times
For Financial Prosperity
For Physical Health
For Emotional Health
For Protection
For a Marriage
For Babies and Pregnancy
For Family
For Spiritual Warfare
For Spiritual Health
For a Death
For the Workplace
For Bedtime
Our 10 week prayer journal will guide you through your daily prayers and help you plan out your prayer week. It is completely free. You can
click here to get it now
.

Author Bio
Natalie Regoli is a child of God, devoted wife, and mother of two boys. She has a Master's Degree in Law from The University of Texas. Natalie has been published in several national journals and has been practicing law for 18 years.