Here are the 30 best Bible scriptures on temperance.
Galatians 5:23
Gentleness, self-control; against such things there is no law.
1 Corinthians 9:27
But I discipline my body and keep it under control, lest after preaching to others I myself should be disqualified.
Titus 2:12
Training us to renounce ungodliness and worldly passions, and to live self-controlled, upright, and godly lives in the present age.
2 Peter 1:6
And knowledge with self-control, and self-control with steadfastness, and steadfastness with godliness.
Proverbs 25:16
If you have found honey, eat only enough for you, lest you have your fill of it and vomit it.
1 Corinthians 9:25
Every athlete exercises self-control in all things. They do it to receive a perishable wreath, but we an imperishable.
1 Peter 5:8
Be sober-minded; be watchful. Your adversary the devil prowls around like a roaring lion, seeking someone to devour.
1 Thessalonians 5:21
But test everything; hold fast what is good.
1 Timothy 3:2
Therefore an overseer must be above reproach, the husband of one wife, sober-minded, self-controlled, respectable, hospitable, able to teach.
1 Timothy 3:3
Not a drunkard, not violent but gentle, not quarrelsome, not a lover of money.
1 Timothy 3:8
Deacons likewise must be dignified, not double-tongued, not addicted to much wine, not greedy for dishonest gain.
1 Timothy 4:12
Let no one despise you for your youth, but set the believers an example in speech, in conduct, in love, in faith, in purity.
2 Corinthians 5:21
For our sake he made him to be sin who knew no sin, so that in him we might become the righteousness of God.
2 Peter 1:5
For this very reason, make every effort to supplement your faith with virtue, and virtue with knowledge.
2 Timothy 1:7
For God gave us a spirit not of fear but of power and love and self-control.
2 Timothy 4:5
As for you, always be sober-minded, endure suffering, do the work of an evangelist, fulfill your ministry.
Acts 24:25
And as he reasoned about righteousness and self-control and the coming judgment, Felix was alarmed and said, "Go away for the present. When I get an opportunity I will summon you."
Daniel 1:8
But Daniel resolved that he would not defile himself with the king's food, or with the wine that he drank. Therefore he asked the chief of the eunuchs to allow him not to defile himself.
Ephesians 5:18
And do not get drunk with wine, for that is debauchery, but be filled with the Spirit.
Galatians 5:16
But I say, walk by the Spirit, and you will not gratify the desires of the flesh.
Galatians 5:22
But the fruit of the Spirit is love, joy, peace, patience, kindness, goodness, faithfulness.
John 8:32
"And you will know the truth, and the truth will set you free."
Philippians 4:13
I can do all things through him who strengthens me.
Philippians 4:5
Let your reasonableness be known to everyone. The Lord is at hand.
Proverbs 25:28
A man without self-control is like a city broken into and left without walls.
Romans 13:14
But put on the Lord Jesus Christ, and make no provision for the flesh, to gratify its desires.
Titus 1:7
For an overseer, as God's steward, must be above reproach. He must not be arrogant or quick-tempered or a drunkard or violent or greedy for gain.
Titus 1:8
But hospitable, a lover of good, self-controlled, upright, holy, and disciplined.
Titus 2:2
Older men are to be sober-minded, dignified, self-controlled, sound in faith, in love, and in steadfastness.
Titus 2:3
Older women likewise are to be reverent in behavior, not slanderers or slaves to much wine. They are to teach what is good.
More Bible Verses that Will Move You
50 Most Powerful Scriptures on Faith
60 Transcendent Verses on Trust
50 Strong Scriptures on Perseverance
68 Powerful Verses on Forgiveness
40 Uplifting Scriptures on Patience
Add Our Infographic Below to Your Pinterest Board
Hit the pin button below to add our infographic, with all the verses, to one of your Pinterest boards.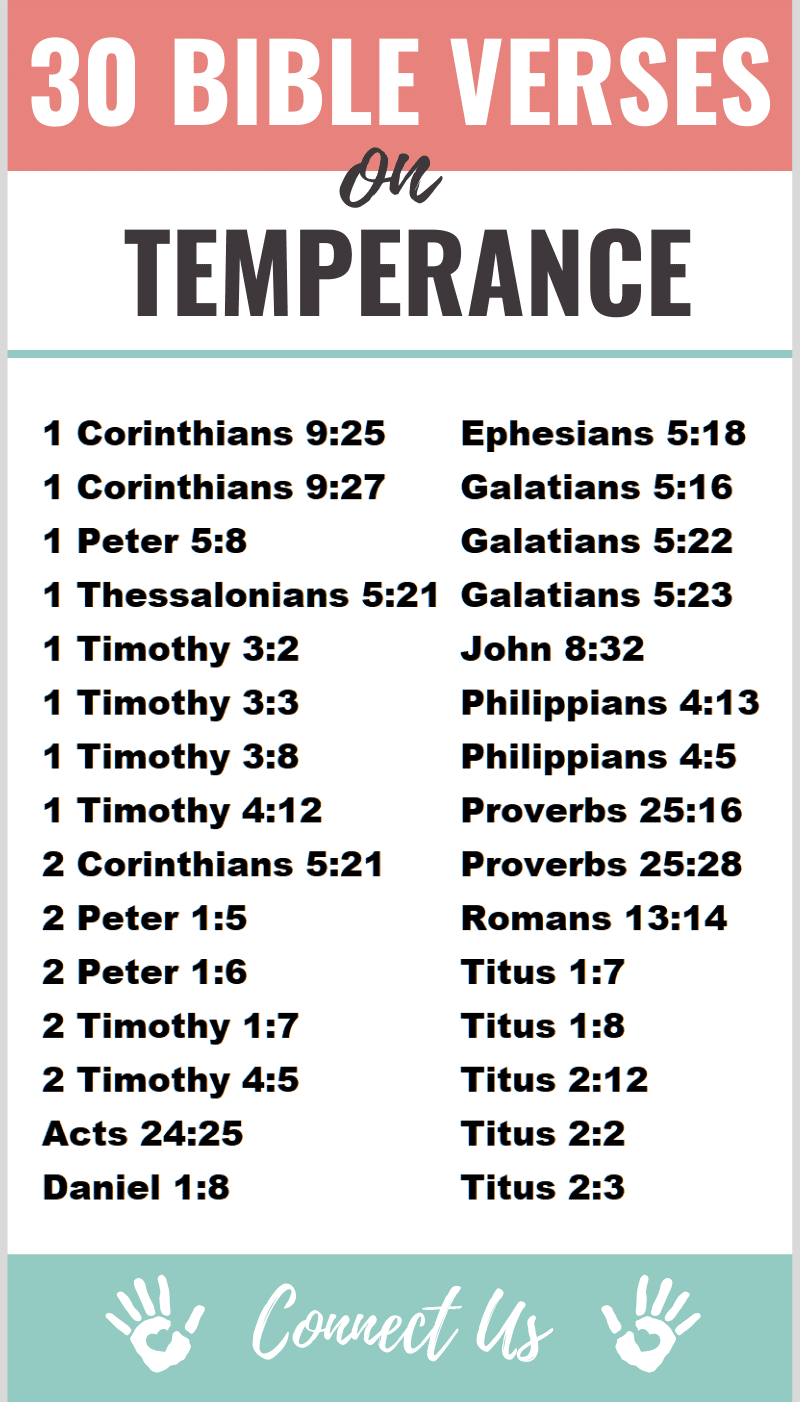 Author Bio
Natalie Regoli is a child of God, devoted wife, and mother of two boys. She has a Masters Degree in Law from The University of Texas. Natalie has been published in several national journals and has been practicing law for 18 years. If you would like to reach out to contact Natalie, then go here to
send her a message
.